Not long ago, transport network company Grab announced that the Bus Marketplace — a service in which you can book your bus tickets in advance — is already in its app. At least for Filipino commuters who had preregistered for it.
Today, you will notice that it has silently rolled out two new services — GrabFamily and GrabPet.
GrabFamily is for families that are traveling with babies and need a car seat. Yes, there is one that's provided by Grab itself, as stated here. Expect to find alcohol, baby wipes, an emesis bag, and tissue, too. The maximum number of adults allowed is five.
Upon checking and trying different pickup and dropoff locations, we've discovered that this is the third most expensive service after GrabCar Premium and GrabPet.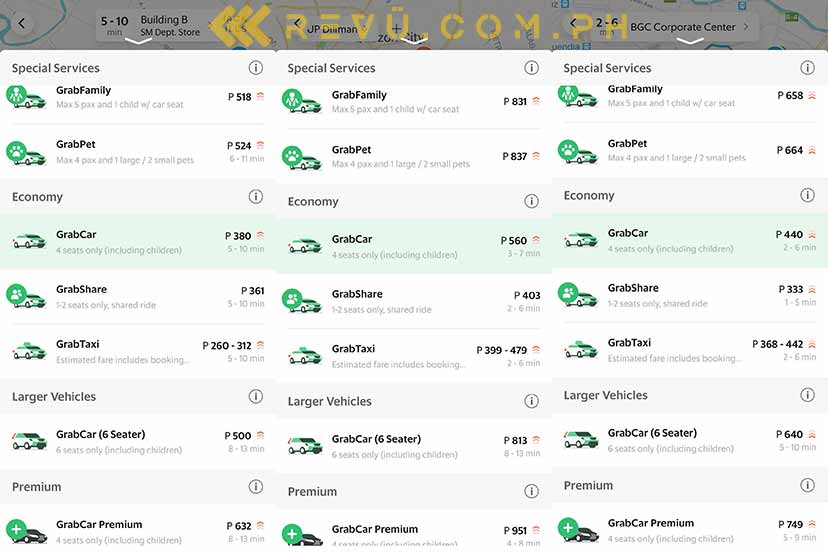 We had actually wondered when the company would offer this. After all, it's such a hassle for those with babies to bring a car seat. This development should make traveling for families with small kids less stressful.
GrabPet, on the other hand, is in compliance with the Land Transportation Franchising and Regulatory Board's Memorandum circular 2019-019. And as we mentioned earlier, it is the second most expensive of Grab's services. At most four people with one large or two small pets are allowed to use this.
Only certain pets — those without fleas or parasites — are allowed for now, and you must be with them the whole time. Here is how you should transport them.

You can learn more about the service here.
For people like us here at Revü who have many pets — Pomeranians as babies, in our case — this is such a relief. These days, more than ever, when traffic is getting worse, we hate bringing our own car; we just Uber Grab. So as much as we don't like the monopoly of Grab in the Philippines today, we're just glad that it has addressed one area animal lovers may need.
So, have you tried GrabFamily or GrabPet yet? Let us know how your experience with any of the two services was.
Added information sent to us by Grab via direct message.
---