Market-research firm Counterpoint Research's Quarterly Market Monitor Q2 2019 is out.
As we at Revü had expected, Samsung landed the top spot on the list of 10 smartphone brands with the highest number of shipments worldwide. After all, the second quarter was the time Huawei, its biggest competitor in the Android category, got caught in the trade war between the United States and China.
Add to that the fact that it killed its J series and introduced more value-for-money phones in the Galaxy A lineup.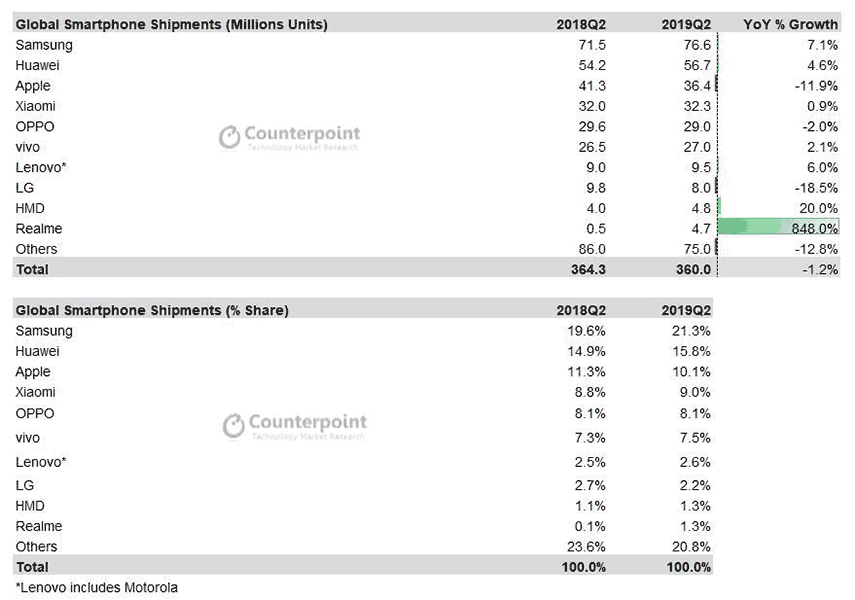 But two things jumped out at us from the data above:
That Huawei still managed to grow its business, achieving a 4.6% increase year-over-year. This is courtesy of a strong performance in its home market.
That Realme's year-over-year growth is a whopping 846%. It has entered the top 10 for the first time. Sure, you can say that it could be because of a low starting point — Realme was established in May 2018. But we argue that a company won't register that kind of growth in so short a time if it's not great at what it does.
Counterpoint Research pointed out that the combined global market share of major Chinese brands Huawei, OPPO, Vivo, Xiaomi, and Realme — which it refers to as HOVXR — reached 42% from April to June this year, the highest it has ever been.
That's remarkable, considering that shipments worldwide dropped 1.2% year-over-year during that period, making it the seventh consecutive quarter of decline.
Research analyst Varun Mishra explained that "heavy marketing, faster portfolio refresh, high-spec devices at aggressive prices, and multi-channel presence are some of the key reasons why Chinese brands fared better than the local and global OEMs."
---