Estimated reading time: 3 minutes
Earlier today, LG announced it will exit the mobile-phone business by July 31. We can't say we didn't see it coming. But it's also something we didn't want to happen even if we had sort of a falling out after we published the story No more LG phone business in PH, so G8 ThinQ won't arrive here, which was picked up by international sites. We've always believed that more competition is better for consumers.

So what happens to current LG units? What will LG focus on moving forward? Read this.
What LG phone owners should expect
First, the good news: Fortunately for current owners of LG smartphones, the South Korean manufacturer has promised to continue rolling out Android 11 updates to supported devices. Among those that are expected to get the OS upgrade are the LG Velvet 5G, Velvet 4G, G8X, G8S, Wing, K52, and K42.
It seems that some of its models will be updated to Android 12, too, but LG warns its plan is dependent on Google's distribution schedule and the outcome of software tests of each unit.
The bad news is the company has been known to lag behind its rivals when it comes to update rollouts, so there's a chance the timeline might be pushed back.
As for after-sales service, LG says it will comply with the standards of each country that they operate in. In Korea, for example, there's a two-year warranty period for smartphones and a four-year period for components. Below, you can see a translated screenshot of an FAQ found on LG Korea's website.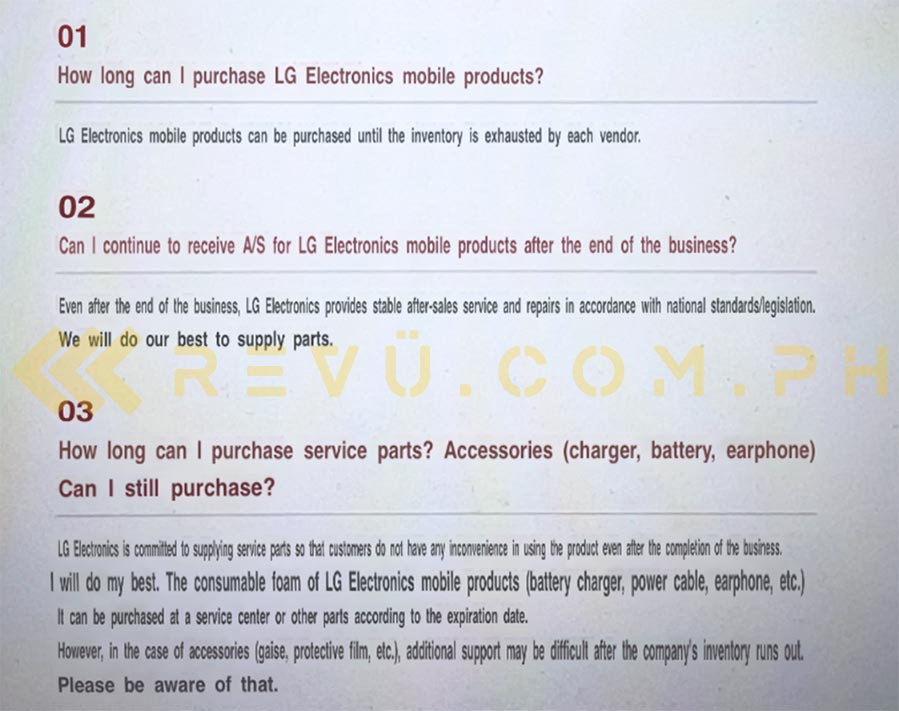 What now for LG
LG reveals it will now reallocate its resources to growth areas, such as "electric-vehicle components, connected devices, smart homes, robotics, artificial intelligence, and business-to-business solutions, as well as platforms and services."
Recall that in December, the company and automotive supplier Magna International announced they're setting up a billion-dollar joint venture — tentatively called LG Magna e-Powertrain — that will make key components for electric cars.
Most of the 3,700 employees who are currently part of the mobile division are expected to be transferred to the said joint venture, which will be launched in July. Smartphone-production lines in Vietnam and Brazil, for example, will be realigned to manufacture home appliances, according to the Korea Times.
---