Estimated reading time: 9 minutes

Working from home can be both a luxury and a curse. For us here at Revü, that is very much true — even before the quarantine lockdowns and shift to remote work. Having virtual meetings, recording audio, or shooting video is, at times, impossible in the company of six small yet loud (and protective) dogs who want nothing else but your undivided attention and bark at the slightest of triggers.
Our home office can be one of the quietest spots in the neighborhood one minute and an absolute circus the next. All it takes usually is the ring of a doorbell to send our canine family members into a barking frenzy. We'll take every help we can get in whatever shape or form, and one such device that has made us more productive through the chaos are the Huawei FreeBuds 4i.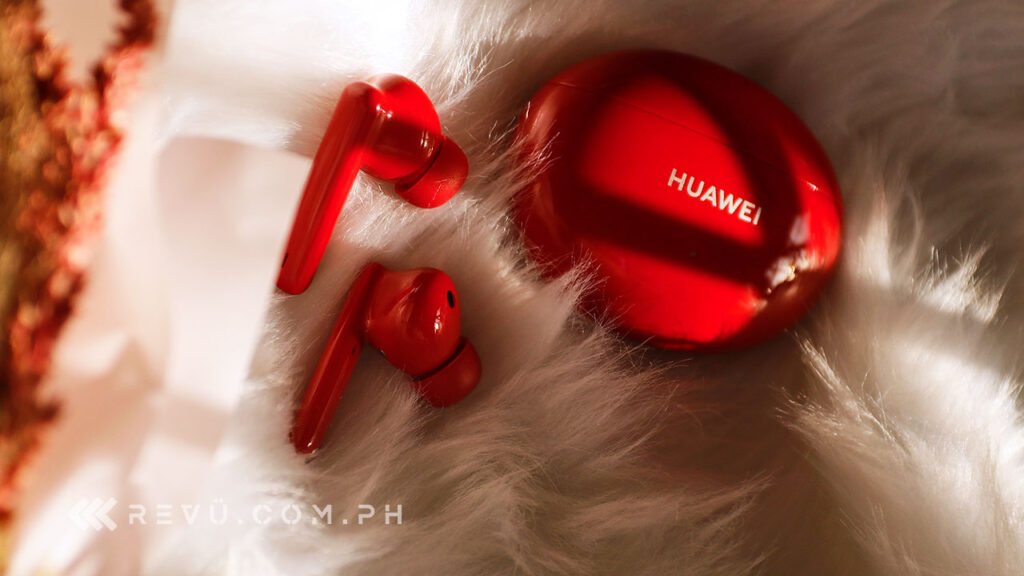 We're particularly impressed with the earphones' noise-cancelling and transparency features, which make it easier for us to focus and stay on task and take part in online meetings, even in a noisy environment. The FreeBuds 4i do a consistently commendable job of detecting ambient noise and reducing it significantly. The in-ear design also helps, while the silicone tips provide a tight seal around your ear to bolster the quieting effect.
Huawei, of course, has cemented its status as one of the top wireless-earphones brands in the world and looks to continue surging to new highs in the category. That should come as no surprise to anyone who owns a pair of Huawei earbuds. They're made of quality materials; they generally sound good and last long on a single charge; and the noise cancelling of newer models is dependable, if not remarkable. The Huawei FreeBuds 4i are all of that and more.
In the Philippines, these buds carry a suggested retail price of P3,599 (around $75 converted), which isn't a lot for what you are getting. You can buy the FreeBuds 4i offline and from Huawei Store Online Philippines and the company's flagship shops on Lazada and Shopee. And you can connect with users in Huawei Community, too.
Excellent ANC and so much more
In case you missed our review, the Huawei FreeBuds 4i's active noise cancellation works by analyzing the noise in your environment through dedicated microphones on each bud, producing a waveform of the said noise and then creating the anti-noise that actively cancels out sound waves from ambient noise.
This feature works best with constant, low-frequency sound, such as the hum of a fan at lower speeds and the noise of a gas engine running. The ANC on the FreeBuds 4i generally does a solid job neutralizing background sound. If you don't own any premium headphones with active noise cancellation, you'd probably be impressed by how effective these buds are at drowning distractions.
Are they able to block out the noise coming from our canine co-workers? Not totally. But coupled with some beats blaring to help us focus on work, we tend to be more productive and less distracted at home with the earbuds on. White noise, such as the whirring of a fan or an air purifier and soft sound of an air conditioner, is easily drowned out, though.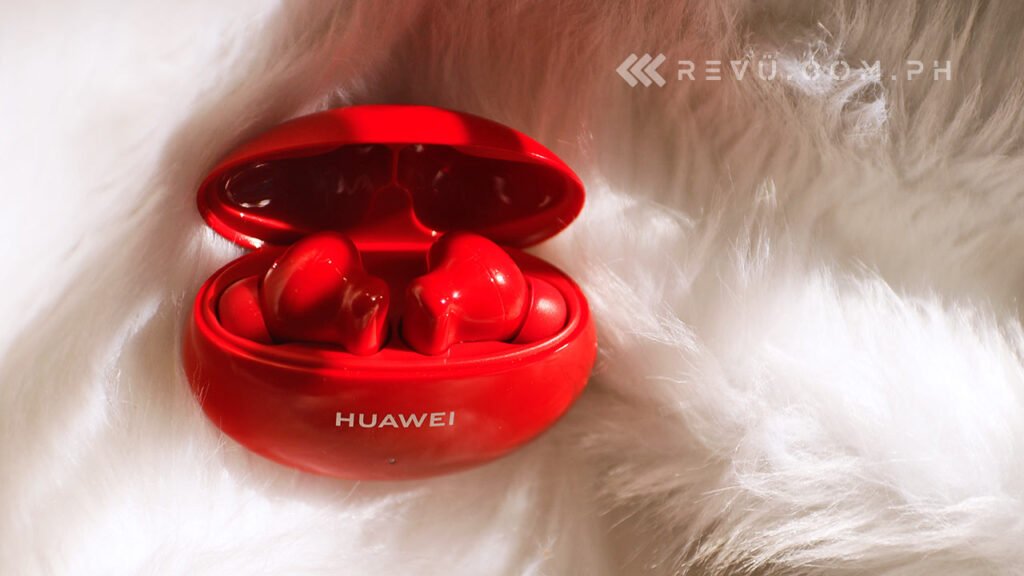 Inversely, for times when you need to hear the environment around you, the Huawei FreeBuds 4i is equipped with an awareness or transparency setting, which activates the earphones' outer microphones to boost the volume of ambient sounds and make them more audible. This allows you to have conversations without the need to remove the buds or pause or stop audio playback.
It's extremely useful for when you're in a store or restaurant and need to ask a question or give a short answer to one. When shooting video at home, the convenience of being able to hear or give instructions while monitoring the audio from our camera is a huge help.
In terms of sound quality, the Huawei FreeBuds 4i deliver, in large part thanks to their 10mm dynamic-coil drivers and "sensitive polymer-composing diaphragms," which is basically a material that helps the earbuds provide high-quality audio.
These earphones sound really good for the price and can fill most needs. They can get loud and bassy with some equalizer tweaks, but by default, the sound performance is punchy yet balanced when streaming songs over Huawei's Music app.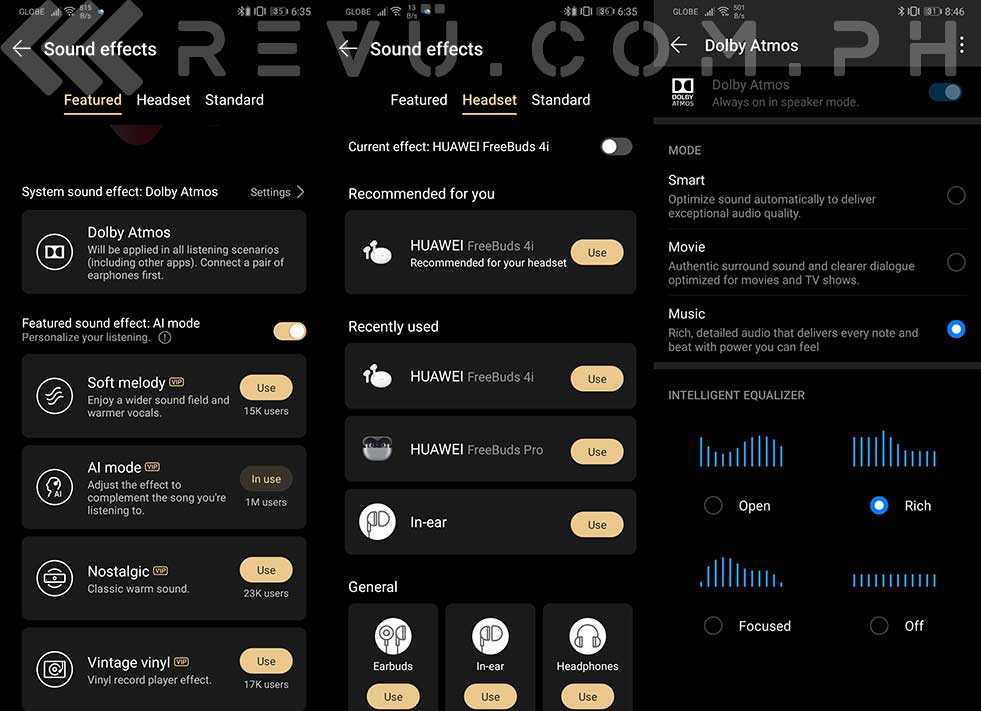 The vocals are clear and great for consuming podcasts, which is something we do on a daily basis to catch up with what's going on in the world of tech and basketball. As Lakers fans who have an active NBA League Pass subscription, we've used the FreeBuds 4i to tune into live games on our smartphones during the wee hours and found them to be fantastic for listening to commentary.
The latency isn't as bad as other wireless earphones when gaming, either. And that's always good to hear, especially if you're into first-person shooters and MOBA like League of Legends: Wild Rift and Mobile Legends. We also hooked up the FreeBuds 4i to the Huawei Vision S Series TV using Bluetooth and got minimal lag while playing NBA 2K21 on the Xbox Series X.
Huawei claims the FreeBuds 4i are capable of providing up to 10 hours of continuous playback at 50% volume with noise cancellation disabled. That claim is surprisingly close to accurate, which is to say the battery life here is slightly better than most of its competitors. Each bud has a 55mAh battery, while the case packs a 215mAh cell.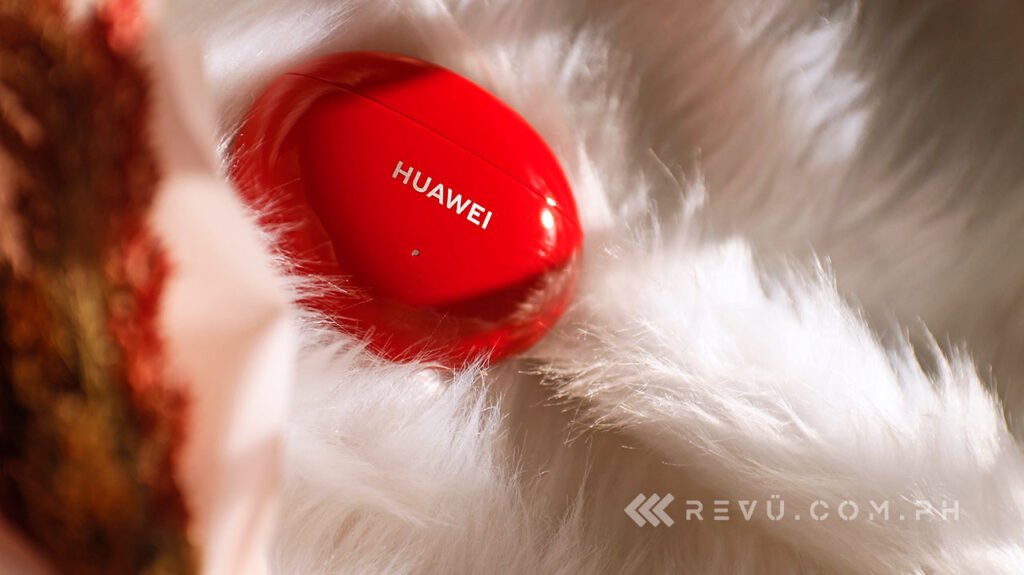 We got around six hours on average switching between Noise Cancelling and Awareness modes at 70% volume, and went through two days of on-and-off use before we needed to recharge the earphones and the charging case. Most users will probably get a week of battery life from these buds, and it's possible to eke out more mileage simply by lowering the volume and turning off ANC.
The buds themselves support Bluetooth 5.2 and can be paired with any Bluetooth-capable device, including your iPhone and laptop, as you would a set of generic wireless headphones. Our wireless connection was rock-solid, and the FreeBuds 4i paired easily with a bunch of devices we own. However, as with other Huawei earbuds, you need to download and install the Huawei AI Life app on your phone to take advantage of all the features the FreeBuds 4i offer.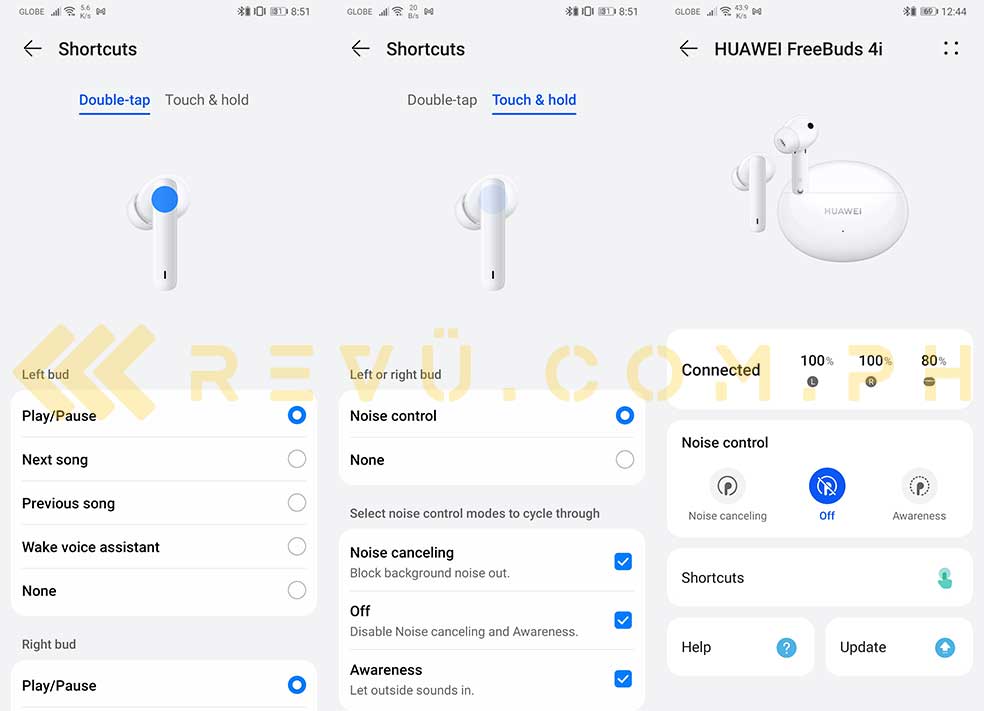 AI Life is free to download on the Google Play Store and Huawei's own AppGallery app storefront. However, the app on the Play Store is outdated and hasn't been updated in almost a year, so you may have issues pairing your phone with the FreeBuds 4i; ours didn't show up on the app at all.
The easy fix is to download AI Life from AppGallery if you own a Huawei device. Alternatively, you can scan the QR code on the retail box for a link to the latest version of the app. Once installed, you should be able to connect your FreeBuds 4i to the app to check the battery levels of each earphone and the charging case. You can likewise customize the buds' touch controls, in case you want to assign a different set of shortcuts for each bud.
Top value for money
For what you pay, the Huawei FreeBuds 4i offer excellent ANC and audio performance at this price level. The compelling package includes long battery life and convenient charging over USB-C, whereas Huawei's powerful AI Life app and the ability to pair with Android and iOS devices are icing on the cake. A pair only costs P3,599 ($75), so it won't burn a hole through your wallet.
If you have plenty of company around the house like us, and finding the peace and quiet you need to be productive and get work done is sometimes next to impossible, picking up a set of cost-effective earphones with ANC should help. Among those we'd recommend without any hesitation are the Huawei FreeBuds 4i. Assuming you own an Android device, these buds are simply too good not to be heard.
Huawei FreeBuds 4i key specs
10mm dynamic drivers
ANC and Awareness modes
USB-C charging port
55mAh battery (per earbud) and 215mAh battery (case) with 10-hour battery life from both buds with ANC disabled
Bluetooth 5.2 (with wear detection and pop-up pair support)
Color options: Red, Ceramic White, Carbon Black
---