Motorola just announced two new smartphones in the Philippines — the Motorola Edge 20 Pro and the Motorola Edge 20 Fusion.
But not all have deeply lined pockets and can afford a new top-end phone, especially during a pandemic. After all, the past several months have seen an unprecedented number of quality phones on the cheap. While not a bargain-basement offering, the Motorola Edge 20 Fusion is a 5G phone that focuses on the cameras and the display without compromising on the core essentials — or at least that's the plan.
In the Philippines, the Motorola Edge 20 Fusion has a suggested retail price of P16,995 (around $334 converted). Customers who purchase the handset from October 15 to October 21 will receive a free Lenovo S2 smartwatch and a Lenovo HT28 headset, valued at P2,995 ($59) and P1,995 ($39), respectively, on top of a P1,000 ($20) discount off the SRP. Moto's newest midranger is available in Electric Graphite.
The Motorola Edge 20 Fusion uses a polycarbonate shell with a glossy frame that houses a volume rocker and an elongated fingerprint power button on the right-hand side. That's right. Despite the presence of an OLED display — which looks bright and vibrant, by the way (more on that later) — you won't find a fingerprint reader fused with the panel.
As for the fingerprint power button, it works fine without the bundled silicone case installed, but it's hard to press once you put the case on. The placement of the physical control keys is a bit awkward as well; the buttons are positioned slightly higher than ideal or higher up the frame than we're used to.
On a more positive note, the Edge 20 Fusion lets you double-tap on the power key for quick shortcuts when Power Touch is enabled. This allows you to launch your favorite apps from a floating sidebar on the right. You can also configure it for a few contacts and to take you back to the home screen if needed.
This Moto is mostly flat but has rounded corners, and the sides taper from the front to the back to give a more comfortable feel when using the phone one-handed. You get a dedicated shortcut key on the left to quickly summon Google Assistant, along with a dual-SIM and microSD card tray.
Motorola kept a headphone jack nestled along the bottom edge of the device, alongside a USB-C port and a mono speaker. The latter sounds good in its own right, but an extra channel for stereo sound would have made a better option. Volume-wise, the speaker can get pretty loud for most uses.
If we turn to the back, the Electric Graphite color variant we have has a frosted finish that makes it look more expensive than it is and leaves fingerprints easier to spot and wipe off.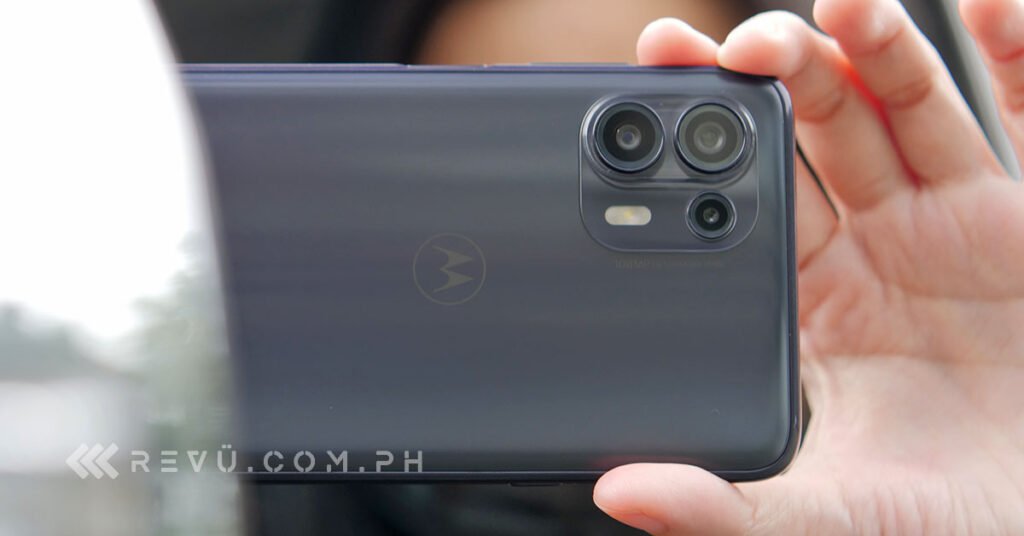 You'll find a camera module with rounded corners. It houses three cameras, including a primary shooter with a 108-megapixel, 1/1.52-inch image sensor that sits behind f/1.9 optics. Motorola says the sensor boasts a 0.7μm pixel size and up to 2.1μm using the company's Ultra Pixel technology, which combines nine pixels into one ultra-large pixel.
Moving to the front, the Motorola Edge 20 Fusion features a 6.7-inch OLED screen with FHD+ resolution on a 20:9 aspect ratio and a respectable 90Hz refresh rate. It has a punch hole at the top center for the selfie camera and reasonably slim bezels on all sides except on the chin.
Motorola calls it a Max Vision HDR10+ screen, because it delivers an immersive experience and supports the DCI-P3 color space, 8-bit color depth, and high dynamic range for a more vivid color representation when viewing compatible content.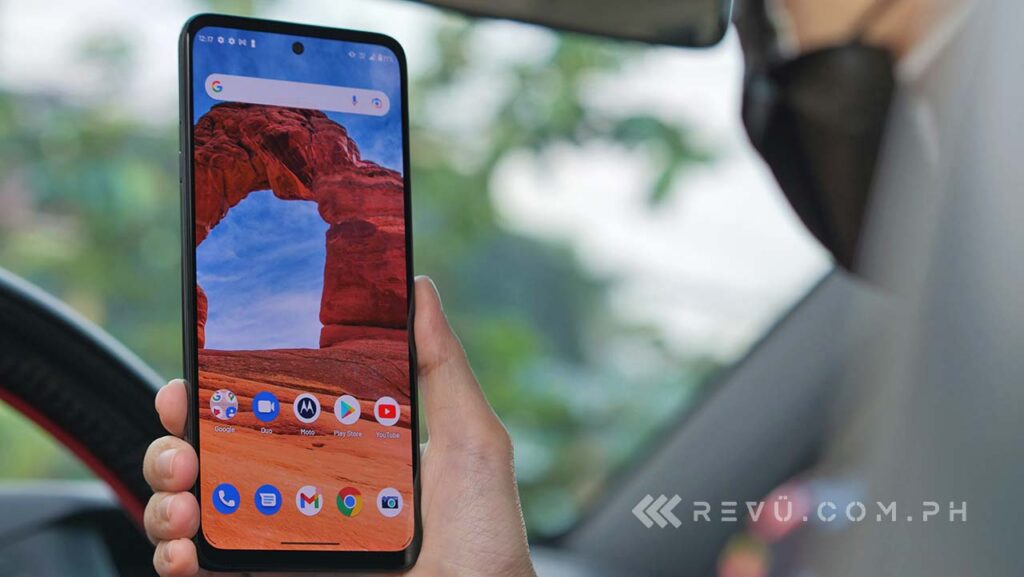 The Edge 20 Fusion is capable of outputting 256 shades of each of the primary colors, resulting in 16.8 million possible colors. In other words, images tend to look natural and display realistic, true-to-life colors on this handset. As expected, the black levels are dark — instead of grayish or dull — for a device in this price range.
If you enjoy watching Netflix or YouTube videos on your smartphone, the Motorola Edge 20 Fusion's combination of screen size and picture quality will give you an enjoyable experience. The phone ships with Widevine L1 certification, so it can play HD videos on Netflix and HDR content on YouTube.
The display also comes with 2.5D glass with an anti-fingerprint coating on top to make it smooth to the touch and easy to swipe on. Perhaps more importantly, it helps hide fingerprints and smudges fairly well.
There's no AOD or always-on option in the Settings, but you can enable Peek Display, which works similarly and lets you glance at the time, date, and notifications when you pick up the phone. It gives you three different clock styles to choose from, plus the option to wake the screen with just a tap. Unfortunately, Peek Display doesn't support scheduling and you can't keep it on all day.
Sample shots. Click on a thumbnail to launch the gallery
Motorola has equipped the Edge 20 Fusion with a triple-camera setup consisting of a 108-megapixel primary sensor; an 8-megapixel ultra-wide-angle shooter, which doubles as a macro camera for interesting closeup shots; and a 2-megapixel depth sensor for portraits.
Up front is a 32-megapixel front camera for selfies. The 108-megapixel sensor supports 9-in-1 pixel binning, while the selfie camera combines four pixels into one to increase light sensitivity dramatically and deliver better results in dim environments.
Needless to say, the Edge 20 Fusion is an effective low-light performer, especially with Night Vision (read: Night mode) enabled. Both primary cameras on the front and back support Motorola's Night Vision setting, which captures multiple images at different exposure levels to create a brighter and more detailed image. The only caveat is that you need to hold the phone steady for a few seconds to take a shot.
Benchmarks. Click on a thumbnail to launch the gallery
When it comes to day-to-day tasks, including web browsing, social media, and productivity work, the Motorola Edge 20 Fusion has more than enough power to handle just about anything you throw at it, although running near-stock Android certainly helps. The local variant is equipped with a MediaTek Dimensity 800U, a midrange 5G chipset that doesn't chug battery life even when gaming at higher graphics settings.
The Dimensity 800U is built on the same 7nm process as the vanilla Dimensity 800 and Dimensity 820 and features two Cortex-A76 performance cores running up to 2.4GHz and six 2GHz Cortex-A55 efficiency cores alongside Mali-G57 graphics.
The Dimensity 800U supports dual-SIM 5G, too, meaning both SIM slots offer 5G connectivity. No need to physically swap out SIM cards when switching carriers. Our experience on Smart's 5G network in our area was on a par with premium Android devices we recently reviewed.
Besides dual 5G, other notable connectivity features here include dual-band Wi-Fi ac, Bluetooth 5.0, and NFC. Motorola's own FM Radio app doesn't require an external antenna to open, but you'll need to connect a wired headset for the app to work as intended.
Gaming performance is solid for the price. We were able to play Genshin Impact and Marvel Future Revolution at the Medium or High preset with the frame rate set to 60 fps. Of course, the phone's 8GB of physical RAM helps, and you can enable RAM Boost in the Settings to extend the RAM up to 2GB with virtual RAM, which uses storage space from the handset's 128GB capacity, to improve your multitasking experience and shorten loading times.
Additionally, you may want to use Motorola's Quick Launch feature to open up to three of your favorite apps faster. Quick Launch will automatically allocate extra RAM to apps of your choosing. Gametime, on the other hand, is Motorola's own companion app that lets you take quick screenshots, record in-game footage, and block notifications — Moto Actions — as well as other features that might affect your gaming experience.
The Motorola Edge 20 Fusion has a beefy 5,000mAh battery that the included 30-watt TurboPower charger is perfectly capable of charging from zero to full in under an hour and a half — and safely at that. In our experience, it takes around 30 minutes to get the battery to 45% and another 55 minutes to charge it to full, bringing our usual charging time from 0% to 100% to 85 minutes.
While not blazing-fast, it's fairly decent and still convenient given the price, since you can basically charge the phone for a full workday in the time it takes for you to eat your breakfast. According to Motorola, you should get about 12 hours of mixed use, which includes both usage and standby time, after just 10 minutes of charging.
Either way, the bottomline is that the Edge 20 Fusion charges rather quickly and lasts a good amount of time. The battery life is superb, easily offering more than 36 hours between charges with normal use.
In the PCMark battery-rundown test, our unit managed 15 hours and 50 minutes at half brightness and with the refresh rate set to 90Hz. That just goes to show how efficient the 7nm MediaTek Dimensity 800U chipset under the hood is. Playing Genshin Impact at Medium settings for 50 minutes straight drained our phone's battery level by 10%.
We fired up Martin Scorsese's The Irishman, one of the longest movies we could find on Netflix, with its three-and-a-half-hours-long runtime, at max brightness on our unit. By the time the credits rolled — and Robert De Niro's mob enforcer Frank Sheeran had been digitally aged beyond recognition — the phone's battery level dropped to 81% from a full charge. Again, that's quite an impressive showing.
Final thoughts
True to its namesake, the Motorola Edge 20 Fusion is an enticing mix of high-end technology at a palatable price. While not perfect, it checks plenty of luxury boxes, including a fast and punchy OLED screen, a capable 5G chipset, and two-day battery life coupled with quick and safe charging.
Finally, and certainly not the least, the front and rear cameras of the Edge 20 Fusion perform well in both good and low light. Even when taken in poorly lit areas, the images tend to be bright and detailed, thanks to the phone's large sensors and pixel size.
Clearly, there's a lot to like here, as the Motorola Edge 20 Fusion is aimed at convincing consumers that they don't have to spend big money to get the specs and features they want. You simply cannot ignore this midranger if you're in the market for a new and future-proof smartphone.
Follow Motorola Philippines on Facebook for more details. To purchase official products, shop from authorized mobile resellers nationwide and Motorola flagship stores on Lazada and Shopee.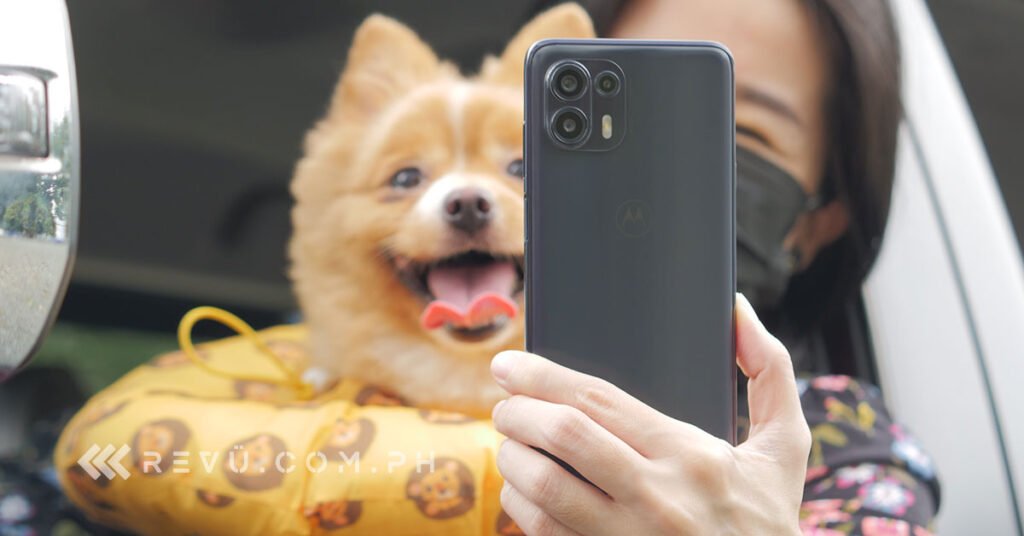 Motorola Edge 20 Fusion specs
6.7-inch OLED screen, FHD+, 90Hz refresh rate, 20:9 aspect ratio, HDR10+
7nm octa-core MediaTek Dimensity 800U processor with 5G
Mali-G57 MC3 GPU
8GB RAM
128GB storage
Triple 108-megapixel main, 8-megapixel ultra-wide, and 2-megapixel depth rear cameras
32-megapixel, f/2.25 front camera
Side fingerprint sensor
5,000mAh battery with 30-watt USB-C fast charging
Android 11
Color: Electric Graphite
---