The search for the perfect mate and a must-have smartwatch is over, as Huawei Philippines opens preorders for the Huawei Mate Xs 2 and the first sale for the Huawei Watch D from today, July 1, to July 14.
With the Huawei Mate Xs 2, the company returns to its roots to deliver an outward-folding handset, which is the thinnest, lightest, and most durable flagship foldable device on the market. It boasts a new design and engineering, as it introduces a new generation wing design and a proprietary hinge technology that brings a reimagined and revolutionary flagship experience.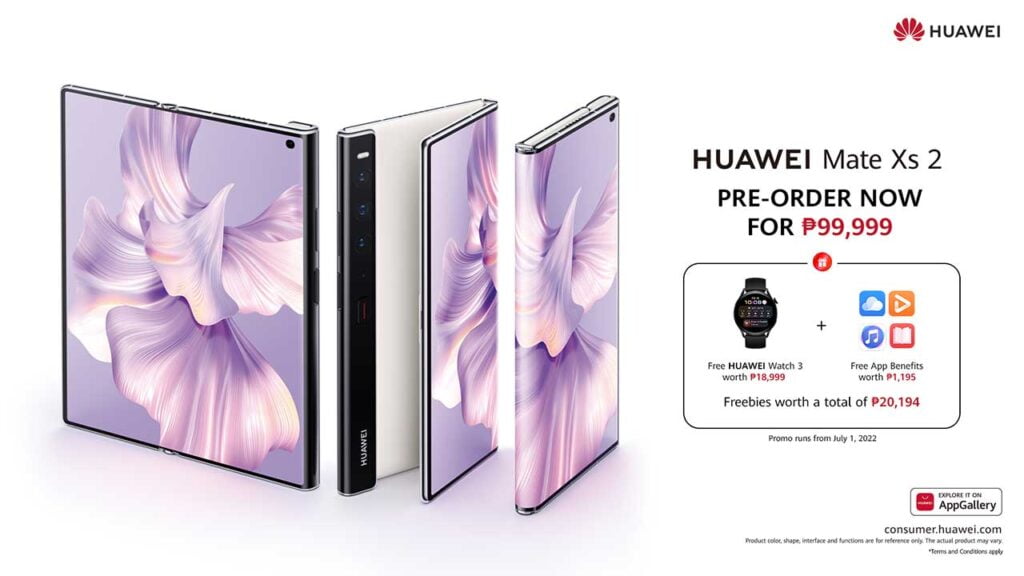 Additionally, the world's thinnest, lightest, and most reliable flagship foldable phone is composed of a new Fiberglass design for a beautiful look and refined texture that is soft to the touch. It also comes in a metal middle frame and leather pattern to bring out a younger look and style, and its warm color tones give a sense of weightlessness, simplicity, delicacy, and fashion.
SEE ALSO: Huawei Mate Xs 2 vs Samsung Galaxy Z Fold3: Foldable showdown [Video]
Unfolding immersive experiences would also be a delight, as the Huawei Mate Xs 2 is sought to deliver a high-resolution screen, with the brand's own True Chroma Display also coming into play. There won't be any compromises on camera or battery quality, either, thanks to the Huawei Image True-Chroma camera system and powerful 4,600mAh anode battery it holds.
The Huawei Mate Xs 2 will also provide cutting-edge technology with its EMUI 12 and Super Device capability, which offers a straightforward, smooth, safe, reliable, and collaborative user experience — whether for working, studying, remote communication, gaming, entertainment, or video editing.
The Huawei Watch D, on the other hand, is the first medical-grade smartwatch that brings the convenience of health monitoring to consumers' wrists, enabling wrist-type ECG and blood-pressure monitoring anywhere in real time. The presence of a high-resolution pressure sensor, feedback-pressure control circuit, and low-flow airway allows users to keep track of their health and prevent any health and medical problems that may arise.
The Huawei Watch D is also equipped with an ECG high-performance sensor module that supports recording ECG data and immediately generating ECG reports, and even alerts every time an abnormal heart rate is detected. This intensive health assistant supports features like Scientific sleep monitoring, all-day SpO2 monitoring, skin-temperature detection, and stress monitoring and can be a fitness ally with more than 70 workout modes to try. The worry of missing a beat is not in line, as the smartwatch has up to seven days of battery life for that undisturbed health-monitoring capabilities.
(Press release from Huawei Philippines)
---