The International Data Corporation's latest PC-vendor rankings are in. And based on the research firm's Q3 2022 report, Acer is the Philippines' No. 1 PC brand, albeit by a slight margin.
Unfortunately for industry players, local PC shipments continued to fall in the third quarter of this year. Market saturation and inflation contributed to the weakened demand for PCs, according to IDC.
Overall shipments sharply declined 19.8% year over year and 11% quarter over quarter to 565,000 units. Notebook sales, in particular, fell 29.5% — or almost a third of last year's figure for the same period. On a positive note, desktop shipments grew 7.6% YoY as a result of companies requiring their workers to return to the physical office.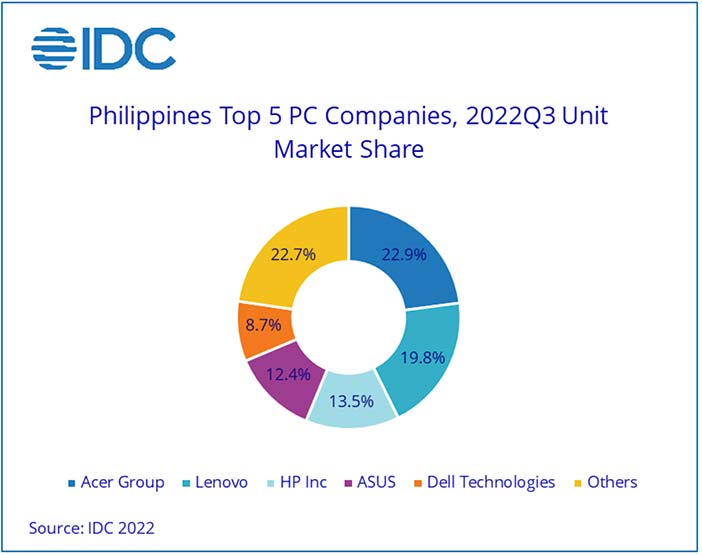 It came down to a few percentage points for Acer, which edged out Lenovo, with a market share of 22.9%. Lenovo came in second with 19.8% of the Philippines' PC market, followed by HP, ASUS, and Dell with 13.5%, 12.4%, and 8.7%, respectively.
Among consumers, the mid-tier price band between $600 (around P33,225 converted) and $1,000 (P55,375) seem to be the most popular due to it having a wide selection of available models that offer a good price-to-performance ratio, in addition to sporting more attractive designs and faster configurations.
And although the holiday shopping season is seen as a bright spot for many industries, the last few months of 2022 might prove to be the most difficult so far this year as consumers shift their priorities to other goods and services, including travel and recreational activities.
---