The vivo Y36, which launched in the Philippines last July, has quickly become one of vivo's most popular smartphone models on the local market, and that's not surprising given its reasonable price tag and respectable performance.

In the Philippines, the device carries a suggested retail price of P12,999, or roughly $231 converted, for 8GB of RAM and 256GB of internal storage.
We said in our review, "A large screen, solid 6nm chipset, and long battery life are its strongest features, and you could do a lot worse at this end of the market." In fact, we recently took a closer look at the vivo Y36 4G's gaming and day-to-day performance and found that it can actually go above 60 fps in some games, including Mobile Legends and Dead Cells.
However, if you're still curious about the phone's camera performance and potential for content creation, you may want to keep on reading and scrolling for our more in-depth look at its rear and front cameras, which includes a few sample photos shot on the handset.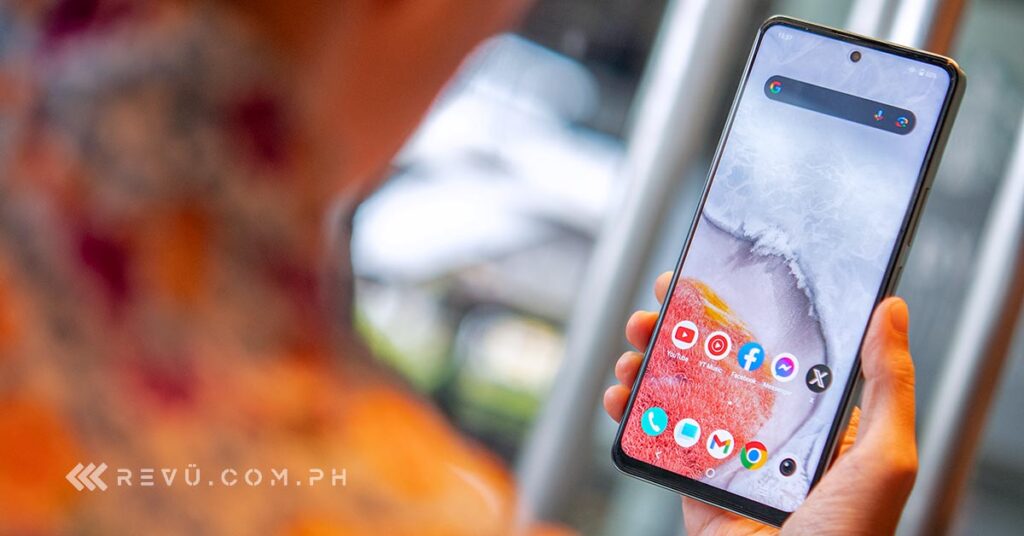 But first, some thoughts about its design: The vivo Y36 is hands down one of the most striking smartphones in its price range, sporting a well-crafted body with a 2.5D Curved Design featuring a rounded plastic backing that contributes to its comfortable in-hand feel.
The signature color this time around is called Glitter Aqua. According to vivo's official website, it boasts a Golden Ripple Process that reflects onto a crystal-glass design. It goes on to say that the Glitter Aqua color variant is inspired by "the golden ripples of a shimmering lake," and it's pretty obvious where that description would come from.
If you're not a fan of flashy aesthetics, especially on smartphones, you can also pick up the vivo Y36 4G in Meteor Black, which flaunts an anti-glare, metal-brushed flourite AG glass back for a more premium appearance. Regardless of which colorway you choose, you get a 6.64-inch flat LCD display on the front with a punch-hole cutout for a 16-megapixel selfie camera.
Another highlight here is the phone's above-average dust and water resistance. We don't see a lot of models in this price segment with an IP certification, so it's a welcome surprise that the vivo Y36 4G carries an IP5X rating for dust resistance and an IPX4 rating for water resistance.
Basically, that means you don't have to worry about your unit surviving certain outdoor conditions like rain, which is a major plus if you live in a tropical country where storms are frequent, like the Philippines. Having an IPX4 rating means the device is protected from accidental splashes; however, it cannot be submerged in water.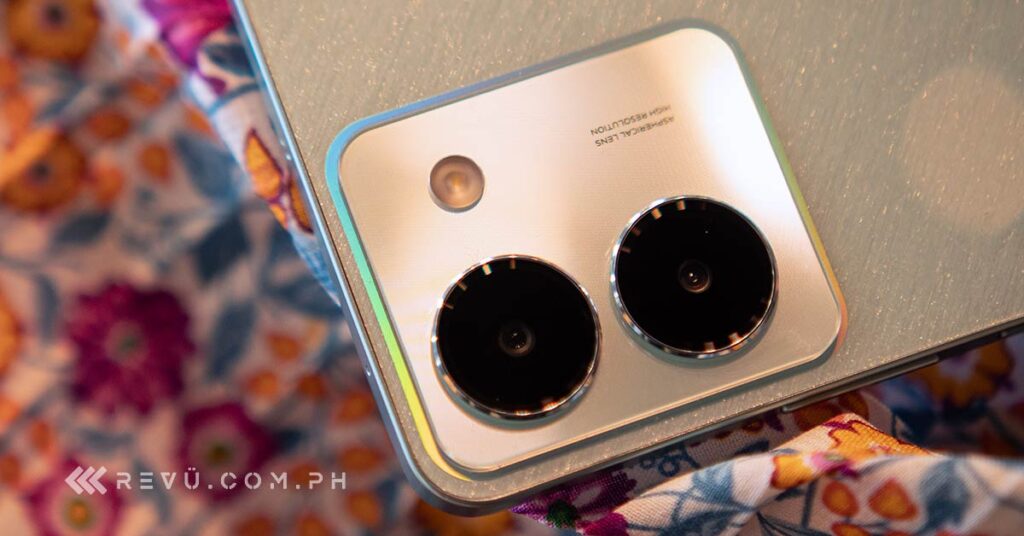 At the back, the local variant of the vivo Y36 packs two cameras in a rectangular camera module with the brand's reflective Fantasy Frame design surrounding it. The main camera is 50 megapixels, while the secondary camera has a 2-megapixel depth sensor to help with portrait photography. That means you only get one usable camera on this model, and thankfully, it's a pretty good one. The 16-megapixel front camera, meanwhile, is complemented by vivo's Aura Screen Light feature to make your selfies brighter and sharper in low light, allowing you to snap Instagram-worthy images in dark conditions, like in a bar or restaurant.
Indeed, low-light scenarios can be challenging for any content creator using a smartphone as a camera. Thankfully, the vivo Y36 4G has a Night mode to help it produce brighter and sharper results when the lights are low. There's even a number of Night mode filters to make your shots look more dramatic or just different from a color-tone perspective.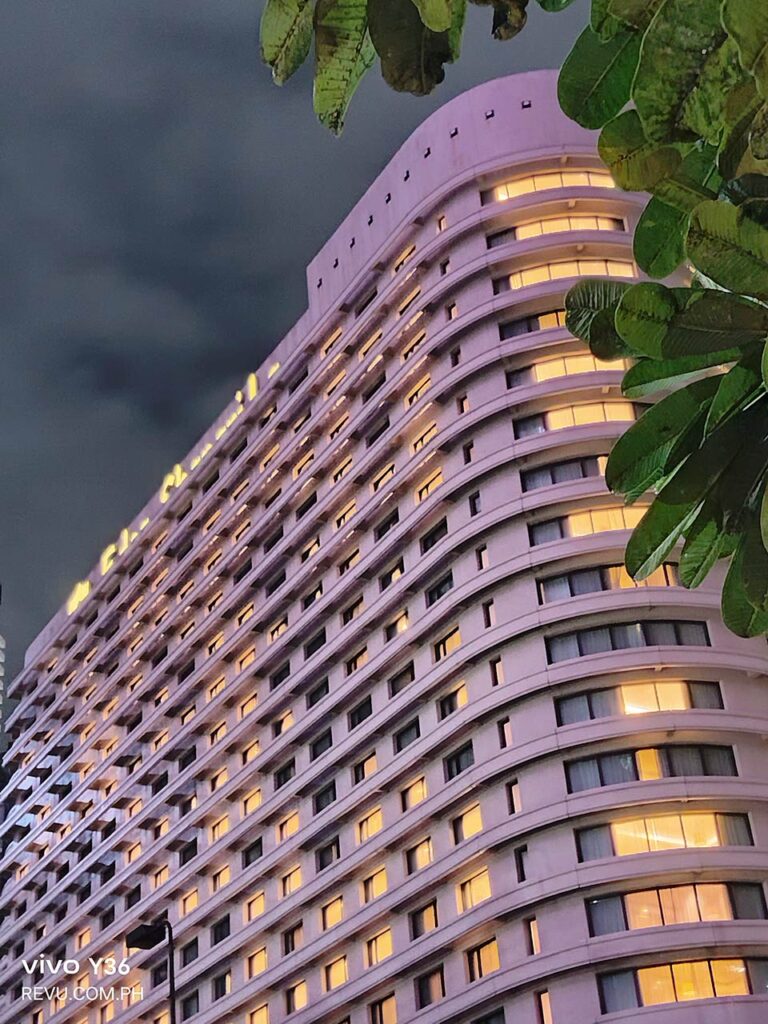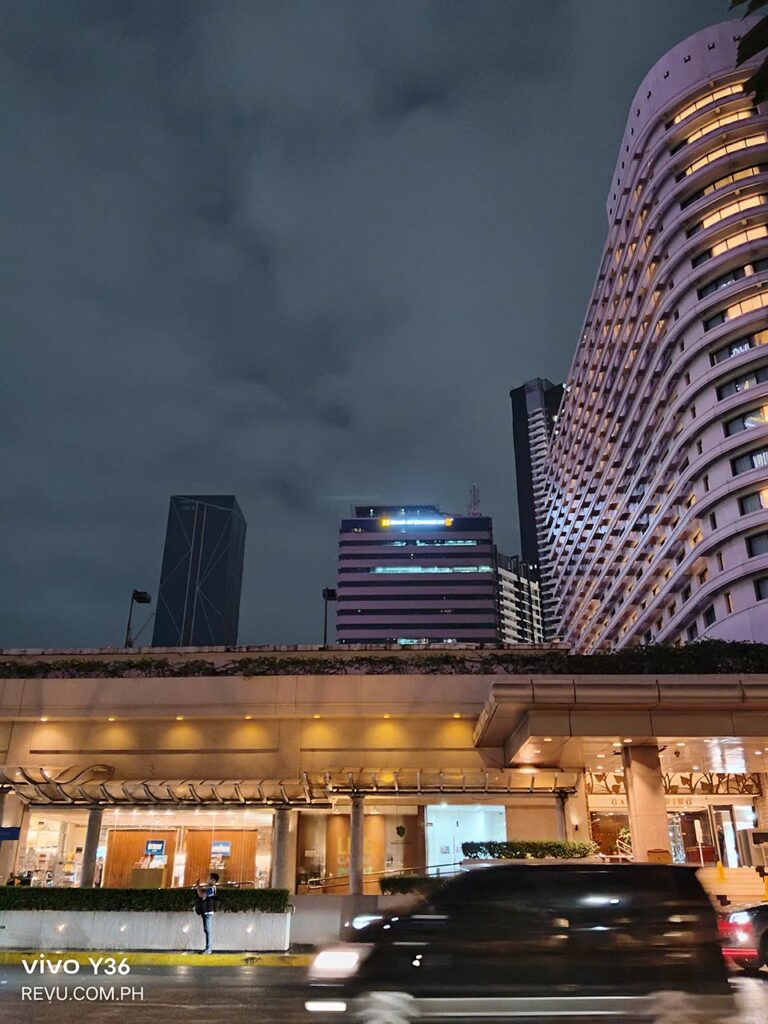 Like the camera-centric vivo V27 series, this particular model excels at shooting portraits and comes with several styles, filters, and light effects to make your pictures stand out and look stylish in Portrait mode. As a content creator, that means you can use this phone's built-in camera features to take nice photos and directly share them on Facebook or Instagram without spending extra time applying edits.
Among the portrait styles we like is called Flash Portrait, which uses the smartphone's built-in flash to brighten your shots and give them the "paparazzi" look. French Impressions, on the other hand, deliver a distinctive soft and ethereal feel without sacrificing clarity.
Sample portraits
And we love that you can incorporate a filter, border, or light effect into your shot after pressing the shutter button. The vivo Y36 even allows you to adjust the focus and depth of field in a portrait shot. To do this, simply open the Albums app and tap a photo with the aperture icon on the bottom left. This indicates that you can adjust the bokeh in the frame or refocus to a different subject just by tapping the screen to specify where the phone should snap into focus. You can also capture nice portraits with a shallow depth of field using the front-facing camera, but you won't be able to edit the bokeh after the fact.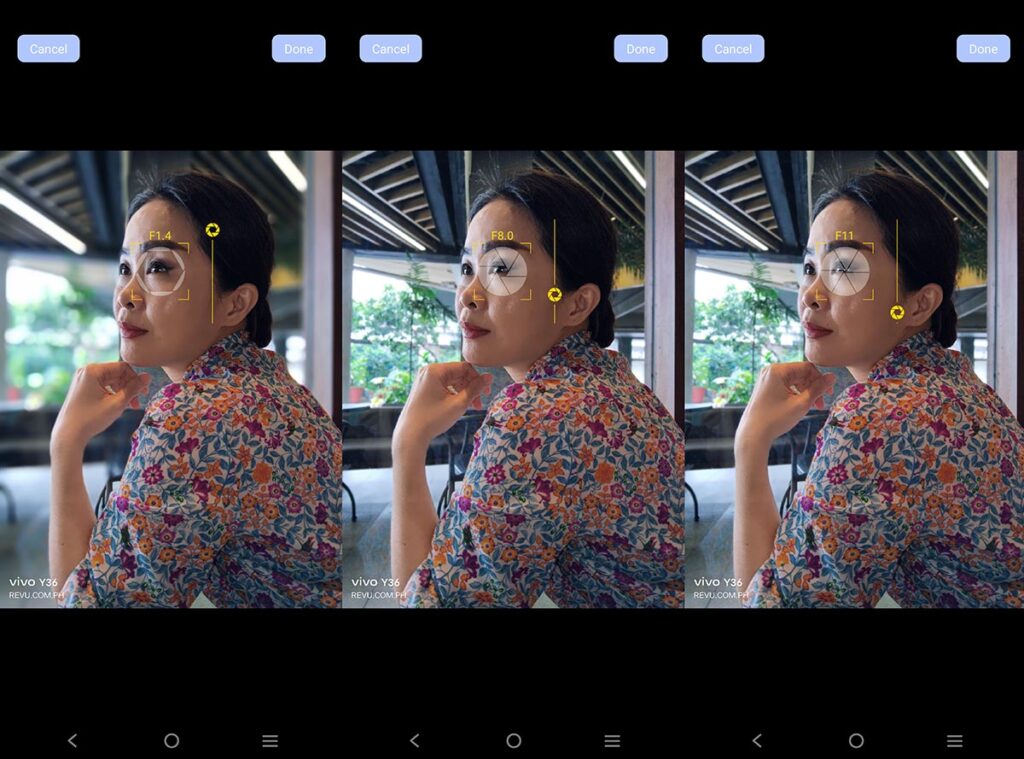 Besides portrait photography, the vivo Y36 4G is also a good performer when it comes to closeup shot with a 2x zoom, as evident in these shots of a hot beverage and this black-and-white photo of raindrops on a window. With the 2x setting and a great focal length for photographing flowers and other small objects — something you won't find on many budget handsets, might we add — the Y36 gets some much-needed versatility from its rear camera. You may want to try Silent filter as well; it mutes colors instead of removing them altogether to infuse visual drama into everyday scenes.
Our other shots, besides the ones we included in the review we published weeks ago
When it comes to shooting video, the vivo Y36 4G restricts video recording to 1080p resolution at 30 frames per second on all cameras. Sixty fps is limited to the lower 720p resolution on the rear camera. It's fine for social media, TikToks, and the occasional YouTube content at full HD — just not much more. Plus, there's no vlog mode here to help newbie creators pump out short videos with just a few taps on the screen.
---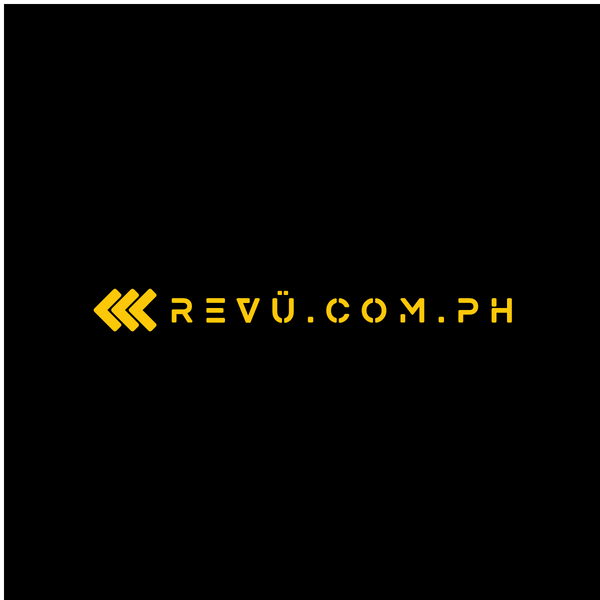 'the vivo Y36 is a competent camera phone for the price. It arrives with many camera features, too, making it a decent option for content creation'
---
After weeks of use, we found the vivo Y36 4G to be a competent camera phone for the price and an above-average performer as far as portraits and closeups are concerned. Its front camera is also adept at taking selfies even in poor lighting, thanks to the built-in screen flash. It arrives with numerous camera features, too, making it a decent option for content creation. And we're huge fans of the phone's eye-catching Glitter Aqua variant.
vivo has done it again. The Y36 continues the Y series tradition of offering some appealing specs and features at a reasonable price point.
Going on vacation? Take a vivo Y36 with you! The phone's Glitter Aqua back mirrors the natural beauty of the ocean. Buy yours today!
Website: https://t.co/CmSn6VQX4L
Shopee: ​https://t.co/57rN138si5
Lazada: ​https://t.co/0F7twEwYgc#vivoY36 #LoveTheGame pic.twitter.com/YyWriPFpmp

— vivo_phil (@Vivo_Phil) August 3, 2023
Here's where the vivo Y36 is available for purchase
---