If you need a big Android tablet that can handle light work and is well-equipped for video streaming and entertainment, there are plenty of options outside Apple's iPad lineup. Tablets from DOOGEE, which made its comeback in the Philippines earlier this year, can provide you what you need without spending a small fortune.

Its flagship tablet, the DOOGEE T30 Pro LTE boasts an impressive 11-inch LCD display with a tack-sharp resolution of 2,560 x 1,600 pixels, making it an ideal choice for multimedia consumption, casual gaming, general office use, and more.
In the Philippines, the 8GB/256GB variant of the T30 Pro has a suggested retail price of P18,999 (around $343 converted), but you can usually get it for much less during sale events. Right now, you can get it for only P13,899 ($251) on DOOGEE's Shopee store. That's huge savings on a high-res Android tablet with plenty of RAM and storage to offer, backed by a full year of warranty coverage.
One of the pleasant surprises of the DOOGEE T30 Pro is the package it ships with. It's refreshing to see a tablet on the local market that comes bundled with a folio case and a Bluetooth keyboard and mouse set, on top of a preinstalled screen protector. This will save you the trouble of looking for and buying accessories for the device, especially if you plan on using it as a laptop alternative for casual office work or multimedia, as most people who purchase a full-size tablet do.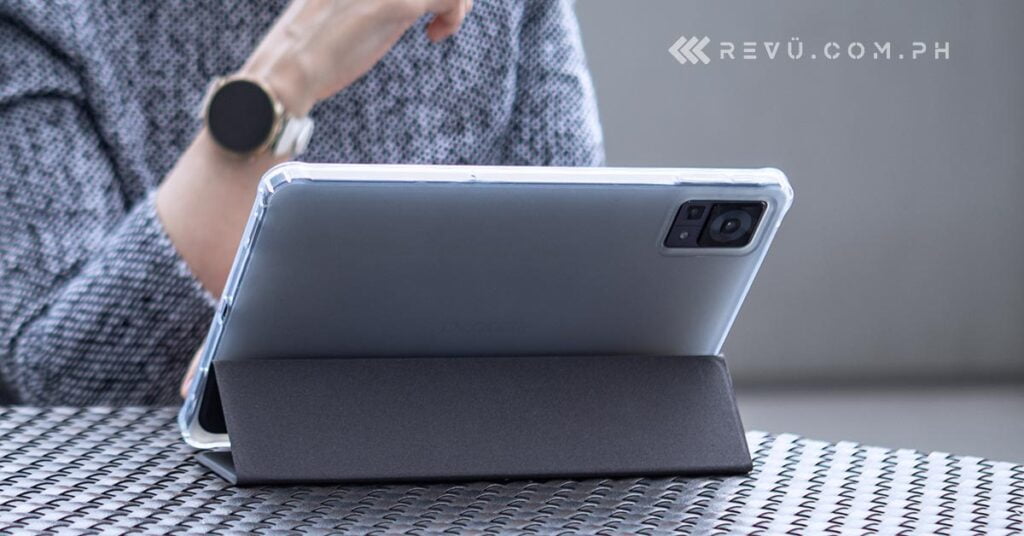 It's also great that the included folio case is magnetic, has a thick silicone case that protects the corners, and features a tri-fold design for the front cover that allows it to fold behind the T30 Pro. We had a nice time binging Blue Eye Samurai on Netflix and writing a portion of this review on the tablet while using the folio cover as a stand.
In some countries, the DOOGEE T30 Pro ships with a keyboard cover that connects to the bottom of the T30 Pro via a physical connector and transforms the tablet into a fully functional, Android-based laptop for optimal productivity.
It's worth noting, too, that DOOGEE includes a compact USB-C power brick to charge this pretty sizable tablet and its 8,580mAh battery. Using the charger, it usually takes around one hour and 50 minutes to fully charge the device from an empty state, or roughly 40 minutes from zero to 55% battery capacity. The charger is rated at 33 watts.
Visually, the DOOGEE T30 Pro is not anything special, but we do think that its rear panel deserves some attention for its layered, two-tone design and textured finish, which keeps fingerprints and smudges away. This no-frills tablet with a plastic chassis also feels sturdy for the price. The texture of the back extends to the sides, too, resulting in a product that's both surprisingly ergonomic to handle and feels secure in the hand.
The rectangular camera layout on the rear with a large primary lens adds a touch of premium to the tablet. The main camera is equipped with a 20-megapixel image sensor from Sony, and there's also a 2-megapixel macro sensor at the back for extreme closeups, if you feel like taking them with a tablet-sized device.
For selfies and video calls, DOOGEE has equipped the T30 Pro with an 8-megapixel camera in a cutout along the top bezel. It is located at the center of the bezel, making it ideal for Zoom calls and remote meetings, and comes with face-detection autofocus. There's no fingerprint sensor on the tablet, as expected. That means you have to rely on the front camera for face unlock as the only secure biometric login option.
The picture quality from the 20-megapixel primary sensor does not wow, but it's good enough for video calls and occasional selfies and snaps of documents. You shouldn't buy a tablet for its camera performance, and the DOOGEE T30 Pro won't change anyone's mind. The built-in webcam can shoot up to 1080p video, while the rear-facing option is capable of recording 2K footage at 30 fps.
No doubt, the biggest highlight here is the display. The DOOGEE T30 Pro boasts a generous 11-inch IPS LCD, and it's a particularly sharp panel, coming in at 2,560 x 1,600 pixels in resolution. This corresponds to an impressive 374 dots per inch — more than adequate for rendering crisp text and clear visuals when using the device at arm's length.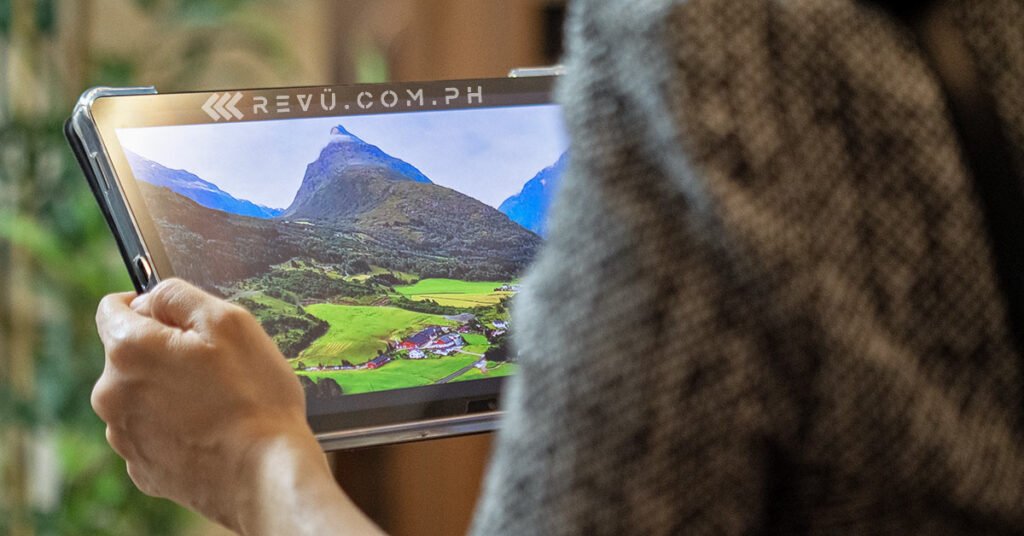 Compared to most other tablets that launched in the Philippines recently, the T30 Pro follows a wider 16:10 aspect ratio, which makes it work better in a landscape orientation than in portrait mode. The bezels are just thin enough to be ignored and thick enough to ensure a comfortable grip in any orientation, without our palms encroaching on the display and causing mistouches.
Additionally, the DOOGEE T30 Pro comes with TÜV SÜD blue light certification, so it should be easier on the eyes and less disruptive to sleep cycles. The addition of Widevine L1 compatibility, meanwhile, ensures HD playback on Netflix and other streaming apps, as long as your internet speeds are decent and your subscription plan supports sharper resolutions.
The screen is incredibly sharp — easily one of the sharpest out there in the category. However, it's also a double-edged sword, in our opinion, as the DOOGEE T30 Pro's impeccable sharpness coupled with the absence of lower-resolution settings in the display menu negatively impacts its battery life, which we'll get to in a bit.
The built-in quad speakers are loud, and it's possible to listen to better-quality audio files with a high sampling rate since the tablet supports Hi-Res audio playback. There's a pair of speakers on the left side and another two on the right. They're easy to cover while handheld, but their placement is perfect when the tablet is propped on a stand using the folio cover case that came with our unit. For those who swear by wired headphones, the product also comes with a standard 3.5mm jack.
Like other tablets in its price range, the DOOGEE T30 Pro offers on-the-go connectivity courtesy of a SIM slot for 4G LTE data. There's likewise a TF card slot, which means you can buy a microSD card to increase the storage space, although the 256GB of native storage should be plenty enough for casual users.
The MediaTek Helio G99 processor, while not particularly impressive in a tablet in this price segment, gets the job done and delivers a reasonably smooth experience when doing things like scrolling web pages and social feeds and streaming video. It's great that the DOOGEE T30 Pro comes with 8GB of physical RAM plus dynamic RAM expansion for up to an additional 7GB of virtual memory for a total of 15GB system memory.
The combination makes the unit a good option for casual, everyday use. It even runs graphics-intensive games like Genshin Impact at Medium or lower settings. However, despite its generous screen real estate, this tablet is not big when it comes to multitasking, as DOOGEE's Android 13-based user interface doesn't offer split-screen functionality and floating windows for viewing two or three different apps simultaneously. It doesn't help that the UI isn't really intuitive and lacks refinement and visual quality.
The DOOGEE T30 Pro packs an 8,580mAh battery that managed just a little over 7 hours in PCMark's endurance test — and that's without a SIM card inserted, too. That's not great considering what the competition is capable of. If we had to guess, the main culprit is probably the tablet's screen size and resolution, exacerbated by poor software optimization.
In our YouTube test, our unit's battery went from 73% to 33% after streaming a 1080p video for three hours and 15 minutes over a Wi-Fi connection, with the brightness set to 50%. Going by that result, it would likely take over 8 hours to drain the whole battery.
Final thoughts
The DOOGEE T30 Pro LTE is a straightforward device with one big and pretty obvious selling point: the 11-inch 2.5K display. The rest of the hardware is decent, and you won't be disappointed with the Helio G99's performance. Those who are after a dedicated device for light work, streaming, and entertainment will find it satisfactory.
The DOOGEE T30 Pro is available for purchase online on Shopee, Lazada, and TikTok Shop.
DOOGEE T30 Pro LTE specs
11-inch IPS LCD display, 2.5K resolution, 60Hz refresh rate, 85% screen-to-body ratio
6nm MediaTek Helio G99 4G processor
Mali-G57 GPU
8GB LPDDR4X RAM
256GB UFS 2.2 expandable storage
Dual 20-megapixel, 2-megapixel AI rear cameras
8-megapixel front camera
Quad speakers
8,580mAh battery with 33-watt USB-C fast charging
Android 13
Color options: Space Gray, Mint Green, Ice Blue
---