(UPDATE, September 4, 2015: OPPO Philippines will unveil the OPPO R7 Series on September 15th. Stay tuned for a follow-up post after the launch event.)

The wait is over: OPPO Philippines' recent posts on social media put to rest any doubts that the OPPO R7 Series is indeed coming to stores soon. And if the last couple of days are any indication, the R7 Plus may very well be the best tablet-like phone I've had the pleasure of using this year.
It is, in many ways, one of OPPO's best efforts to date — (literally) a glistening reminder that the world outside of Apple's universe is more compelling now than ever before given the rise of outstanding options in the midrange segment.
In keeping with the spirit of its name, here are 7 reasons that support my claim.
OPPO R7 Plus specs:
* Dual SIM with LTE support
* 1.5GHz 64-bit, octa-core Qualcomm Snapdragon 615 CPU
* Adreno 405 GPU
* 3GB RAM
* 32GB internal storage
* microSD card slot (up to 128GB)
* 6-inch AMOLED display with curved-edge Corning Gorilla Glass (1,080 x 1,920 resolution)
* 13-megapixel rear camera with laser autofocus, dual-LED flash
* 8-megapixel front camera
* 4,100mAh battery with VOOC fast charging
* Android 5.1.1 Lollipop
1. Inspired design
If they aren't obvious enough yet, the greatest pillars of the R7 Plus' appeal are its design and build quality. Made from a single block of aircraft-grade magnesium aluminum alloy, the full metal body serves as a masterclass in how to produce a gorgeous phone without aping what Apple has already built and is a substantial upgrade from the plastic shell of most handsets, both in terms of build materials and feel.
The full metal body serves as a masterclass in how to produce a gorgeous phone without aping what Apple has already built; this is an unmistakably premium offering.
This is an unmistakably premium device, and even the gold or silver paint job on the back and on the sides is more evocative of a fine piece of jewelry than anything cheap and flimsy.
But what struck me even more is that OPPO has managed to fit a 6-inch panel into a phone that's about as tall as the 5.7-inch Samsung Galaxy S6 edge+ by reducing the display bezels to a minimum. Consequently, the R7 Plus is easier to operate one-handed than its screen size would indicate. There's an endless glut of unwieldy phone-slash-tablets out there, but the R7 Plus isn't among them.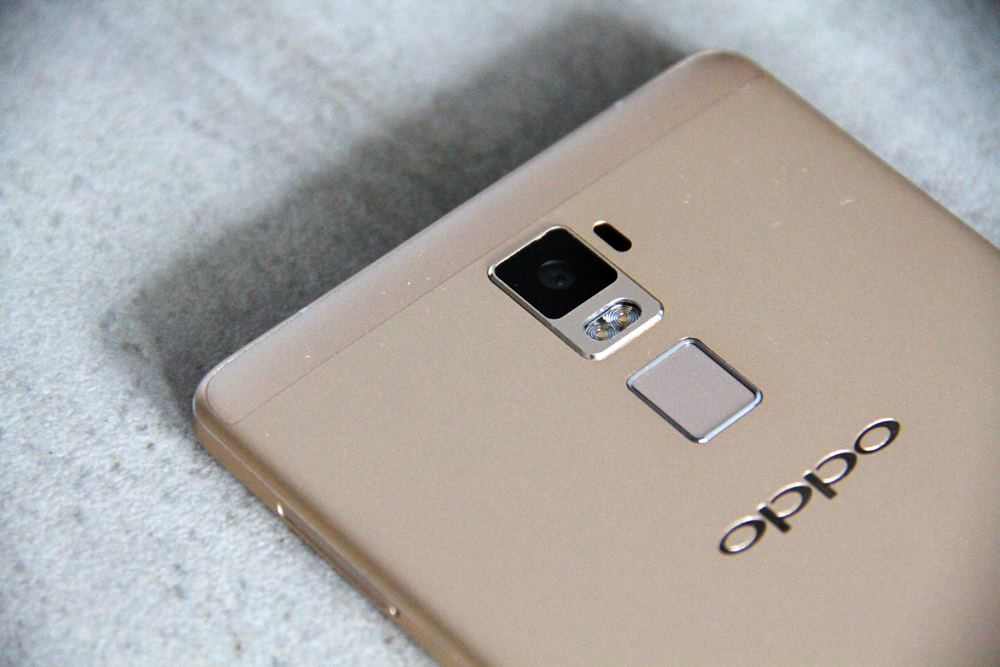 2. Ironclad security
Securing your phone with a passcode might keep it safe from the common thief, but your phone's built-in theft deterrent may not be as secure as you think. Take pattern passwords, for example: Some of them are pretty easy to guess. A far better option would be to use a fingerprint password, which the OPPO R7 Plus allows you to do, thanks to a fingerprint sensor located on the rear, where your index finger naturally rests when holding the device in portrait mode.
The OPPO R7 Plus' fingerprint sensor is exceptionally fast and accurate while requiring almost no effort to use.
It's easy to set up and exceptionally fast and accurate while requiring almost no effort to use. More impressively, you don't have to press the R7 Plus' fingerprint reader for it to work, unlike Apple's Touch ID on iPhones and iPads. All you need to do is place your finger gently on the sensor when the screen is off, and the phone will unlock in a fraction of a second. I did mention that it's a super-convenient alternative to using standard passwords, right?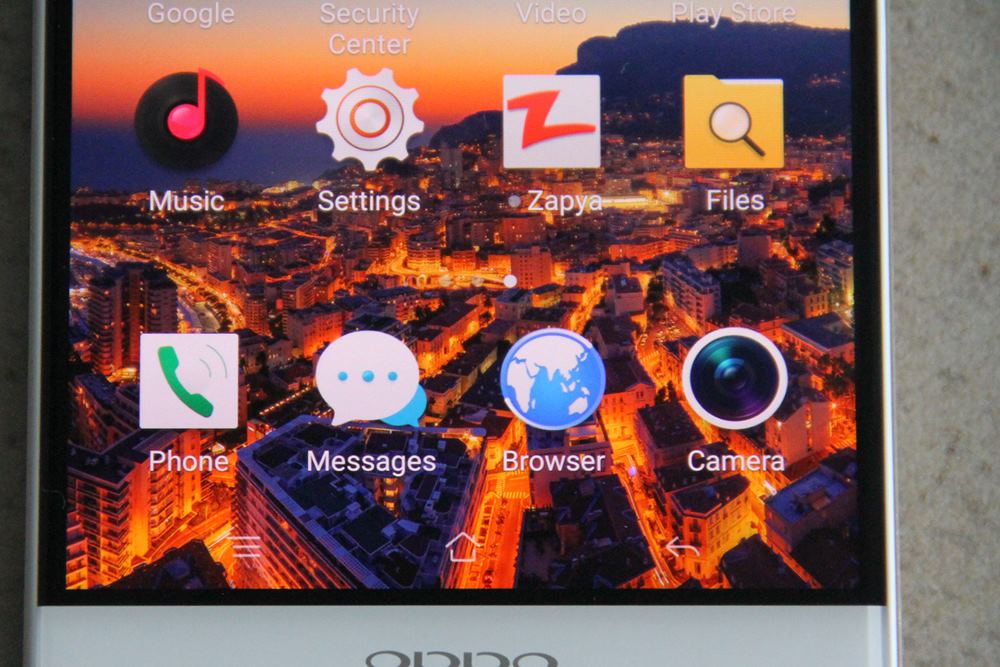 3. Stunning display
Most of the OPPO R7 Plus' frontage is taken up by an enormous AMOLED display that measures 6 inches diagonally, straddling the line between phone and tablet. Bright and reasonably crisp, with punchy colors, stark whites, and deep, inky blacks, the screen is downright mesmerizing. Which makes it ideal for firing off emails, browsing the Web, watching movies, and playing 3D games.
It's a joy to touch as well, as the screen is set behind a full sheet of curved-edge Gorilla Glass, similar to that of the current-gen iPhones. If you haven't seen an iPhone 6 or 6 Plus up close, another way to describe the rounded cover glass would be to compare it to a sheet of tempered-glass screen protector. Granted, you or anyone in your social circle is the particularly careful type, but the glass on the R7 Plus offers less friction in the hand.
4. Impressive imaging chops
OPPO takes pride in the R7 Plus' camera hardware, and rightfully so: It's a mouthful to put into words. The rear-facer boasts a four-color (RGBW) imaging sensor capable of capturing up to 13-megapixel photos, an aperture of F/2.2, Schneider-Kreuznach optics, laser autofocus, and dual-LED flash. On the front, you've got an 8-megapixel sensor that has more than enough megapixels to ensure clear selfies and video chats.
50-megapixel photo taken with the OPPO R7 Plus (Ultra-HD mode)
That's reassuring to hear, but how well does the rear camera perform? In one word: splendid. It snaps off pictures rather quickly. It also earns high marks in color fidelity, detail, dynamic range, and image noise for photos taken in good lighting, while the added white sub-pixel allows all colors of light to pass through and plays a huge — and positive — role when taking those night shots.
The extra white sub-pixel allows all colors of light to pass through and plays a huge role when taking night shots.
OPPO claims the main sensor inside the R7 Plus improves light sensitivity by up to 32 percent and reduces noise by up to 78 percent.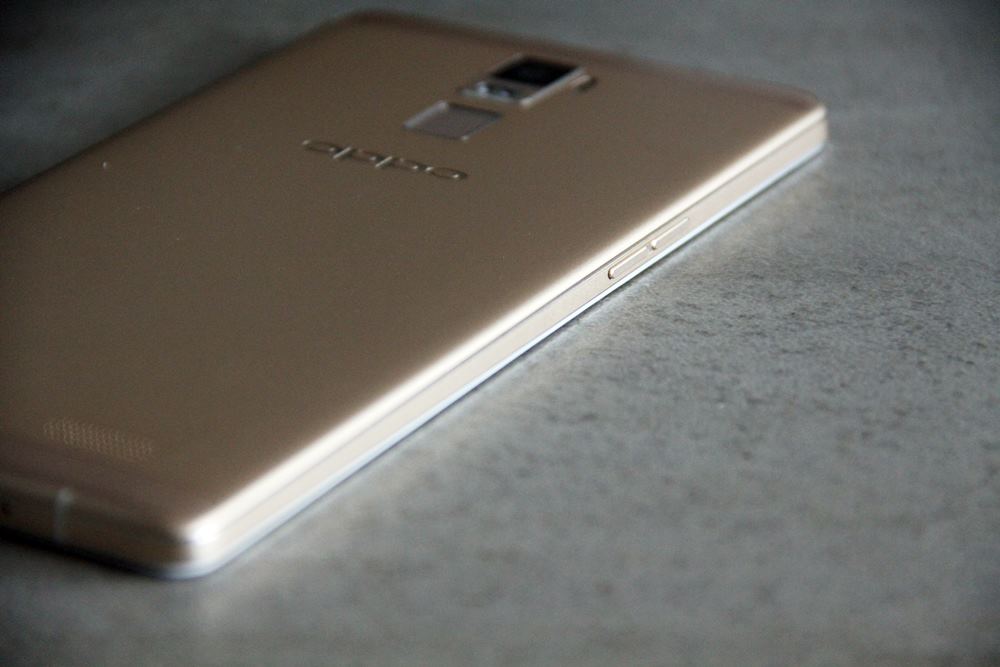 5. 4,100mAh battery with fast-charging support
Powering the massive R7 Plus is an equally sizable 4,100mAh battery that refuses to die. In my testing, I found that the phone can handle two days of use on a single charge, and when watching a video on YouTube, just 10 percent of the battery is drained after an hour and a half of streaming.
It should be noted that my typical smartphone usage puts a lot of strain on the battery, as I like to keep a connection over a WiFi or mobile data network and do a lot of video streaming. As I write this, I notice that my test unit still has 77 percent of battery life remaining despite almost 3 hours of screen-on time under its belt.
And even if the non-removable cell dies on you preemptively, OPPO's VOOC fast-charging technology allows you to top up the handset in minutes, not hours; I'm talking juicing up the battery to about 75 percent on a 30-minute charge. That's an incredibly short amount of time for an oversized phone like the R7 Plus.
OPPO's VOOC fast-charging technology allows you to top up the handset in minutes, not hours.
6. Fast and cool performance
I am, unsurprisingly, a big fan of phones that deliver a great user experience, and the R7 Plus, with its octa-core Snapdragon 615 processor and generous serving of RAM (3GB), doesn't disappoint when it comes to smoothness and fast operation. Animations and transitions are very fluid, and there's virtually no sluggishness when switching between apps or scrolling through websites.
Much of the credit should go to OPPO's Android Lollipop-based ColorOS interface and Qualcomm's midrange chipset, which has proven itself to be a capable player in the midrange segment with phones like the ASUS ZenFone Selfie. But what makes the R7 Plus even more impressive is that this thing doesn't overheat even after several hours of 3D gaming and video playback. It gets warm to the touch, sure, but it's nothing to be concerned about.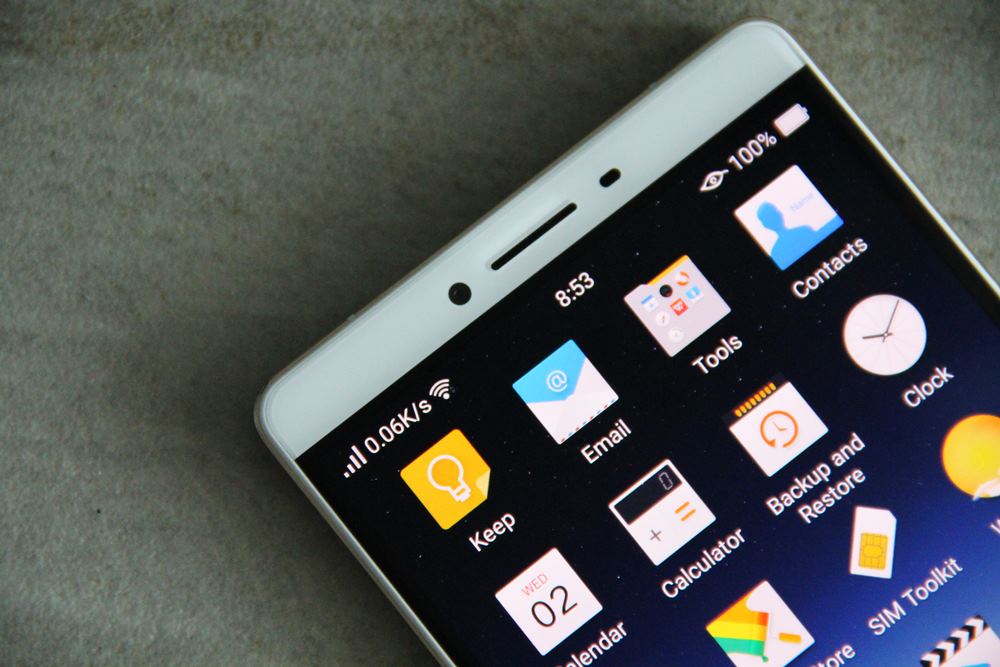 7. Android Lollipop-based ColorOS 2.1
Similar to the OPPO Mirror 5 before it, the R7 Plus ships with ColorOS 2.1 on top of the latest Android 5.1.1 Lollipop operating system. OPPO's custom interface brings several redesigned icons, new color schemes, and other aesthetic changes that make it more pleasing to look at.
But the improvements don't stop there. More than a fresh lick of paint, ColorOS 2.1 introduces four tangible improvements over version 2.0: shorter boot times, faster app-loading speeds, improved app performance, and stability tweaks for the system.
It still supports gesture controls, of course, such as double-tapping the screen to wake the handset and drawing an "O" to launch the camera. You can even program your own gestures, which can be helpful if you take the time to set them up.
More than a fresh lick of paint, ColorOS 2.1 introduces tangible improvements, such as shorter boot times and better app performance and system stability.
The OPPO R7 Plus is already available in China for 2,999 Yuan, or roughly P22,000, which leads me to believe it will go for around that price in the Philippines.
Related articles across the web
---