We loved the Moto RAZR series. One of the last we had was the special gold edition Dolce & Gabbana V3i, which was launched in the Philippines in 2006 with a price tag of P18,000 (around $345). So imagine how we felt when the Wall Street Journal reported that the phone is making a comeback in 2019 — with a foldable screen this time.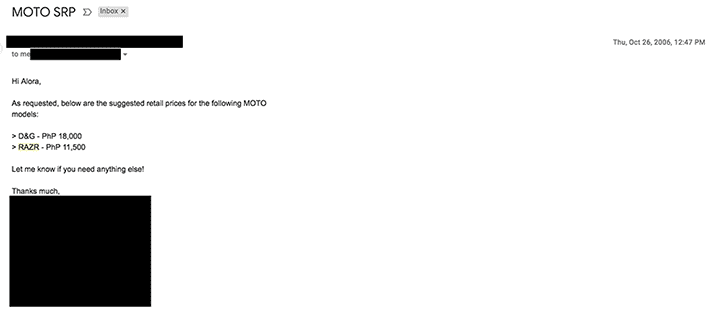 The Moto RAZR 2019 will supposedly be sold exclusively by carrier Verizon in the United States for $1,500 (P78,233). Target is this month, but could still be moved to a later date considering that the device is still in the testing stage.
SEE ALSO: Xiaomi foldable phone officially teased in video
Remember that just last month, it was discovered that the World Intellectual Property Organisation or WIPO had granted Motorola a patent for a smartphone with a foldable display. The application for the patent was filed on December 17, 2018.
READ ALSO: Huawei futuristic foldable 5G phone to debut Feb. 24
Based on the illustrations from that filing, graphic designer Waqar Khan made a concept video of what everyone now believed to be the Moto RAZR 2019. Watch this to get an idea of what the premium handset could look like.
Moto RAZR 2019 concept video
Likewise, here are his mock-ups, conceptualized along with American YouTuber Marques Brownlee, more popularly known as MKBHD.
Waqar Khan's hands-on Moto RAZR 2019 mock-ups with MKBHD
What do you think of it? Do you think it is something promising? Sound off in the comments below.
---