Sometimes, a phone can surprise you. The Samsung Galaxy A50 bucks the trend of Samsung devices with enticing specs and features but undesirable price points.

In the Philippines, the Galaxy A50 retails for P17,990, which translates to roughly $346 converted. While it isn't as affordable as the P9,990 ($192) Galaxy A20 we reviewed recently, this phone justifies its place in the Galaxy A lineup with better specs across the board and also an improved design that takes on a rainbow-like appearance when light falls on it at specific angles.
All that's on the surface level, though. How does it perform in the real world, and is it worth a recommendation? Or should only Samsung users apply? Read our review of the Galaxy A50 here.
Design and build
The Samsung Galaxy A50 has a curved rear shell that tapers toward the front and blends seamlessly with the frame, which holds the panels together. However, the back doesn't use a glass panel; instead, it uses a plastic outer layer with a high-gloss finish and a low-key prism effect that displays a variety of colors as light bounces off certain areas on the surface. The effect is subtle yet complementary to the overall design.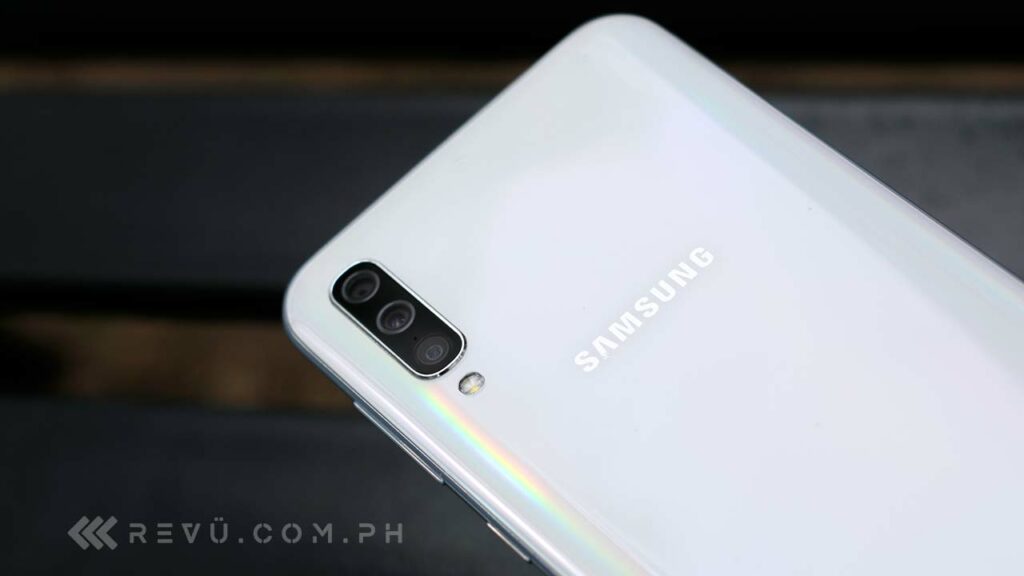 The back of the phone also gets a triple-sensor camera module, but curiously skips a traditional fingerprint scanner in favor of one built into the Super AMOLED screen, which we'll discuss in a moment. It comes in three (somewhat) solid colors — black, blue, and white, none of which have a gradient finish. And that's fine if you prefer a handset that doesn't attract too much attention, particularly when viewed from the rear.
We must say, though: That even without resorting to a gradient color scheme under a sheet of glass — which is a pretty common trend these days — the Samsung Galaxy A50 looks attractive enough to lure buyers whose priorities include a highly aesthetic appearance.
SEE ALSO: Samsung Galaxy A50 vs Redmi Note 7 Pro: Specs comparison
As you might know, one-handed usage is important to us, and it is in this department where the A50 will probably split opinions. Some might be okay with its size; others would say that it's too big to hold and operate with ease. The width of the phone really makes it difficult to handle with one hand, even without a case. Speaking of which, Samsung includes a clear silicone jacket inside the box, along with a pair of earphones and a 15-watt USB-C wall adapter for faster charging.
The base of the smartphone, meanwhile, integrates a headphone jack, a charging port, and a mono speaker that delivers decent sound quality and volume. However, like most smartphone speakers, it can easily be covered with your hand when using the device in landscape orientation.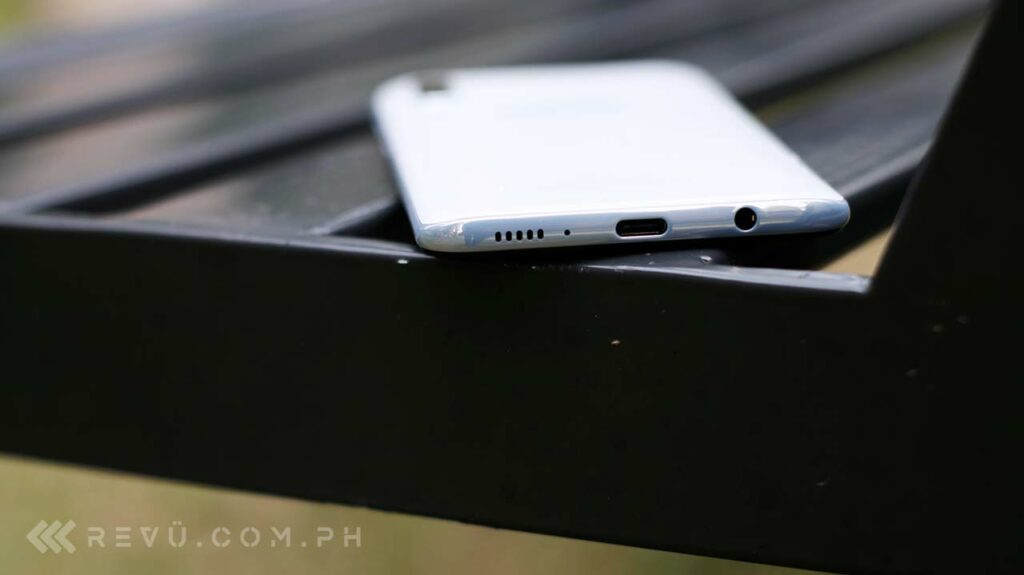 Moving to the under-display fingerprint reader in front, it only covers a small area at the bottom of the screen. This area lights up so that you know where to land your finger, but unlocking the phone isn't necessarily as easy as you might think. The sensor on the Galaxy A50 simply isn't as fast or accurate as that of the Galaxy S10 lineup, which, to be honest, isn't perfect either, and those of other phones with a conventional fingerprint scanner.
Facial unlock is available, but it has its downsides, too, like the fact that you can store only one face scan in the system and you can't rely on face detection in poor lighting conditions. The experience of using both unlocking methods is acceptable, though.
Display
On the display side of things, the Samsung Galaxy A50 spans 6.4 inches across, with a 2,340 x 1,080 resolution at a tall aspect ratio of 19.5:9 and Corning Gorilla Glass 3 protection. There's a dewdrop-style notch that can be hidden via software along the top, while the bezels around the sides and bottom are fashionably thin and don't get in the way much when the display is on.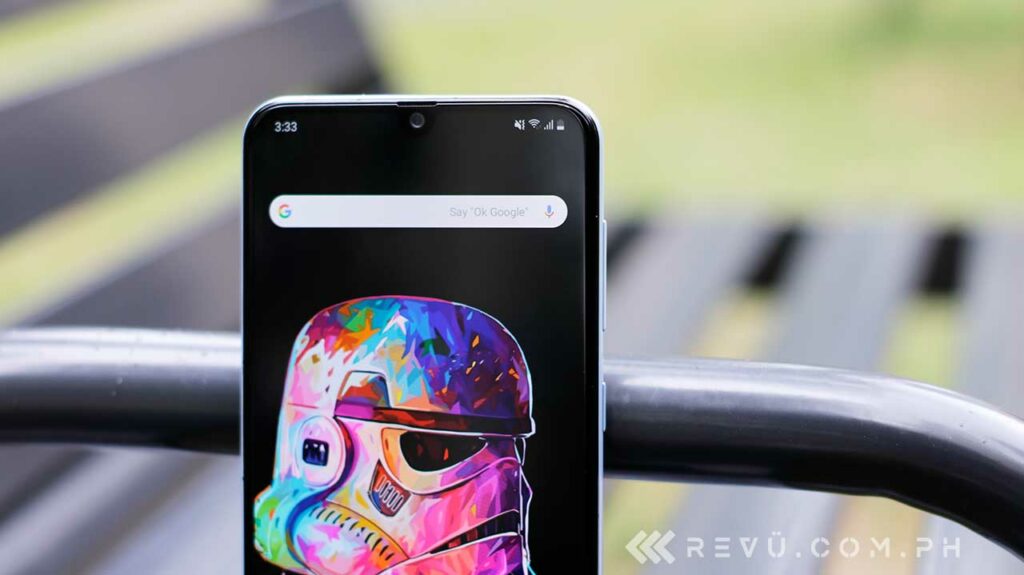 The screen is Super AMOLED and has Always On Display functionality, similar to Samsung's best and most expensive devices. That means this handset will give you basic information, such as the time, date, battery level, and icons for notifications, when the display is turned off.
It's convenient and can extend your battery life, as you no longer need to unlock your phone often to check for any new notifications. You can also customize the feature to use a photo or animated wallpaper as the background of the Always On Display interface.
READ ALSO: 48 hours with the Samsung Galaxy A20: A hands-on review
The quality of the panel itself is actually one of the best in its class. Colors look vivid without being exceptionally saturated; blacks are deep, but whites are slightly less pure compared to AMOLED norms; and the brightness can go up enough that you can use this screen in the sunny outdoors. The pixel density, while certainly not the highest out there, is perfectly fine.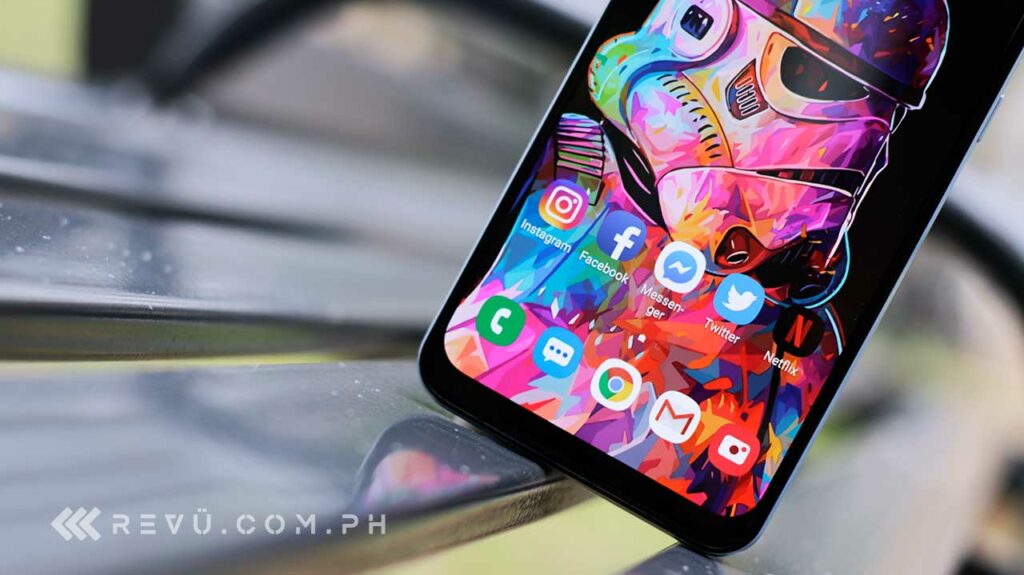 Notably, the Samsung Galaxy A50 also comes with Widevine L1 certification, which affects its ability to stream video. It's the highest level of DRM protection on Android devices and allows the streaming of high-definition content through services such as Netflix, Amazon Prime Video, Google Play Movies, and the like. You can't view HDR content, because the display doesn't support it, but then again, most smartphone displays don't offer HDR streaming either.
Bottom line is, the screen is one of the reasons we think highly of the Galaxy A50. Samsung has always been the world leader in display technology, and we're happy to finally see it flex its muscles outside of the premium smartphone market. This could be the perfect screen package for people who don't have the budget for a Galaxy S or Note flagship.
The screen is one of the reasons we think highly of the Galaxy A50. Samsung has always been the world leader in display technology, and we're happy to finally see it flex its muscles outside of the premium smartphone market
Cameras
The triple-camera set at the back is comprised of a 25-megapixel, f/1.7 sensor, an 8-megapixel ultra-wide option behind f/2.2 optics, and a depth sensor with 5 megapixels for better bokeh in Live Focus (read: portrait) mode.
Daytime shots taken with the primary camera came out with sharp, discernible details, while colors were mostly spot on. We found the wide-angle secondary camera to be extremely useful when shooting landscapes, outdoor scenes, and sprawling interiors despite Samsung opting for a fixed-focus lens. The depth sensor, however, works only to assist in creating the effect of a sharp focus on the subject against a softly blurred background.
In general, the Galaxy A50 is capable of producing serviceable shots in low light, albeit with limited dynamic range. It doesn't have a dedicated night-shooting mode like its competitors in the midrange, which would have made up for the lackluster performance.
Pictures shot on the Samsung Galaxy A50: From daytime to nighttime
The front-facing camera carries 25 megapixels, while the f/2.0 aperture lens makes for respectable selfies at night or in dark environments, like the interior of a restaurant. Selfies looked okay, if a little soft on detail and textures. Interestingly, your pictures might look better from a quality standpoint once you disable the beauty-mode filters in the camera settings.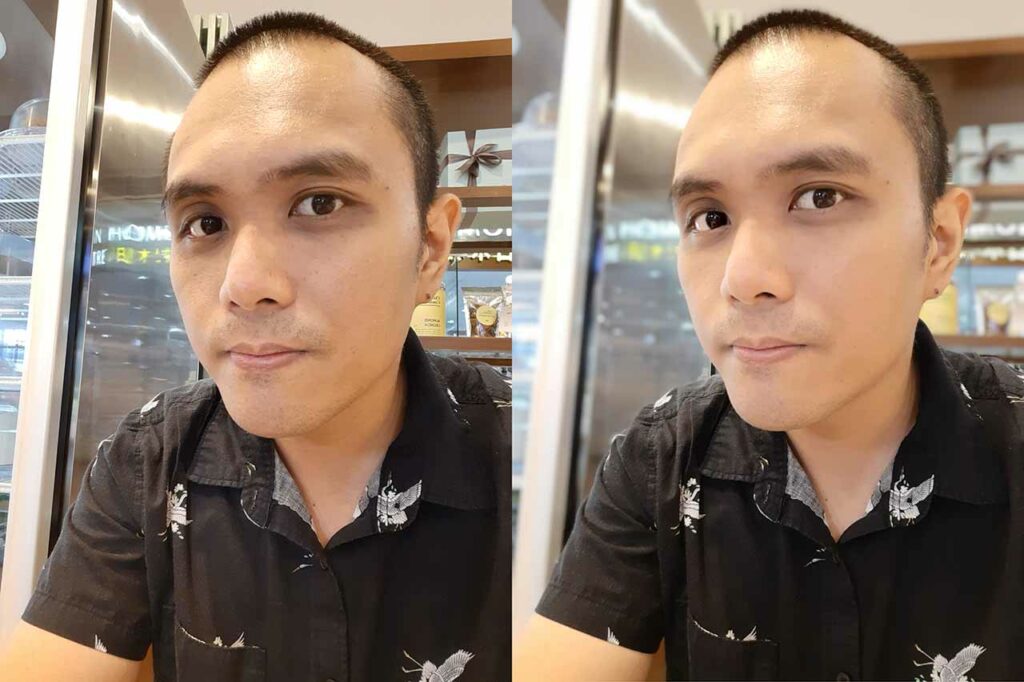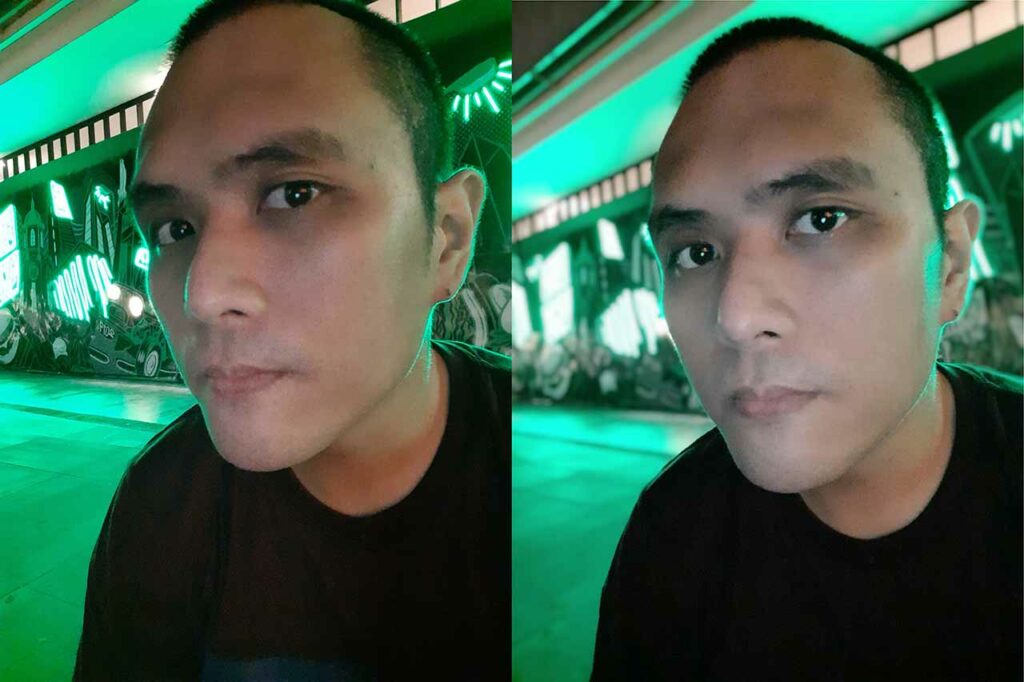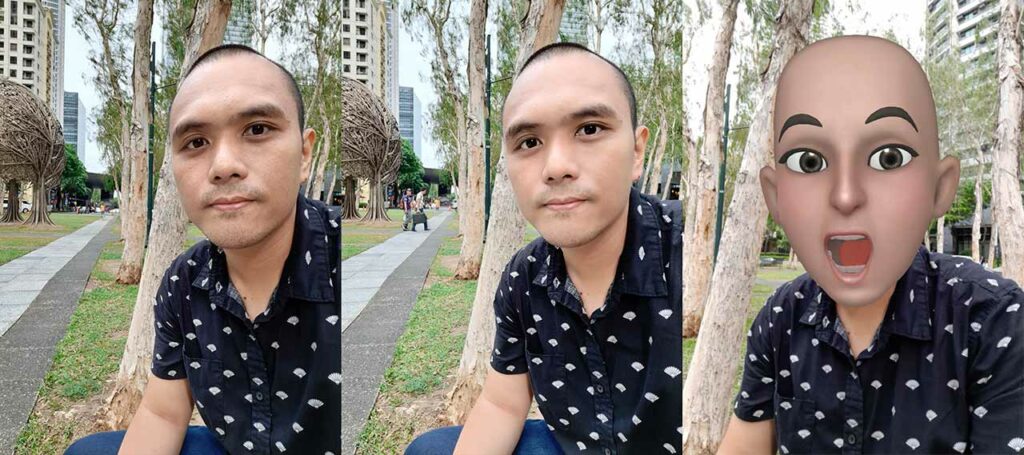 Like other phones in Samsung's stable, the camera also brings an Animoji-inspired feature called AR Emoji, which lets you create and share animated avatars using your own voice, physical characteristics, and facial expressions. It's a likable gimmick, but we can't say that it works great in terms of how realistic the digital avatars it creates look.
Performance
The new Exynos 9610 inside the Samsung Galaxy A50 is also an impressive spec. The processor is built on a 10-nanometer process and features four 2.3GHz Cortex-A73 cores for demanding tasks and four power-saving Cortex-A53 cores clocked at 1.7GHz.
It is also coupled with Mali-G72 MP3 graphics, which is more than capable enough to sustain high frame rates in games like NBA 2K19 and PUBG Mobile. It supports High Frame Rate mode in Mobile Legends: Bang Bang as well, which is a welcome relief for us and many of our colleagues.
SEE ALSO: Launched: Galaxy A80 with pop-up rotating camera, Galaxy A70
Real-world performance is fast and responsive, and moving around the Android 9.0 Pie-based interface is a generally hassle-free experience. You hardly ever feel that you need to wait for the phone to catch up to your actions.
If you're interested in benchmarks for the Galaxy A50, our unit scored 1,684 for single-core performance and 5,458 for multi-core performance in Geekbench 4, whereas its overall score in Antutu Benchmark sits near the top of its class at 143,953.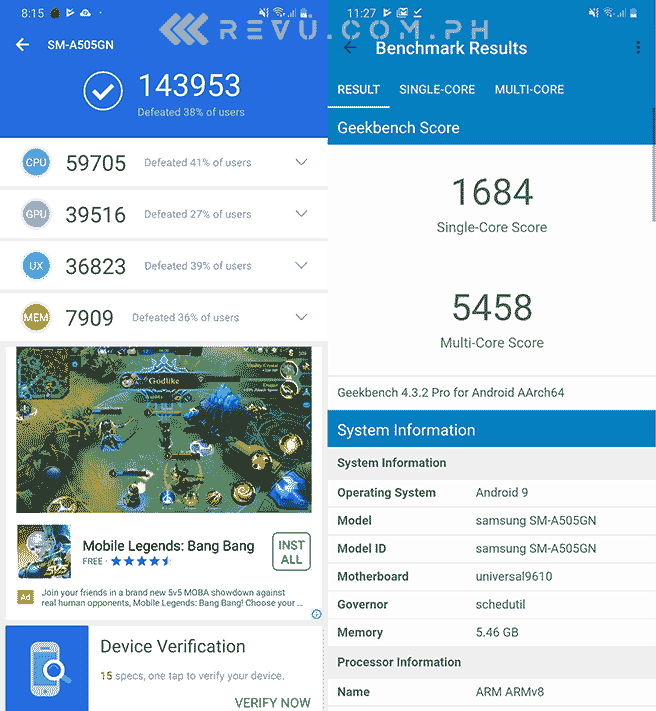 Battery life and charging
The battery inside the Samsung Galaxy A50 is 4,000mAh and can easily last a full day of normal use with juice to spare even with Always On Display enabled. It can stretch to two days with lighter usage and some power-saving measures implemented, such as dimming the screen and activating the system-wide Dark Mode.
In PCMark's battery-rundown test, which puts the system through a loop of data crunching, video playback, and word processing, our unit lasted 9 hours and 33 minutes. That's actually a good result given how capable this phone is.
Charging the Samsung Galaxy A50 requires a USB-C cable and normally takes close to two hours if you're coming from zero and going to full capacity. It isn't as fast as other devices that support quick charging, but it's more than acceptable — especially when you consider that fast top-ups over USB-C is more of a luxury than the norm in this category.
Final thoughts
The Samsung Galaxy A50 falls in line with the best the Korean manufacturer has to offer this year. Retailing at P17,990 ($346) in the Philippines, it is a sensible recommendation for anyone after a well-specced smartphone that doesn't cost a small fortune.
The biggest knock we have is that the cameras can be much better in low light, although it's a common recurring observation that phones in the low- to mid-tier price range still have a long way to go in the camera department compared with more expensive options on the market. The rest of the package is mostly so good.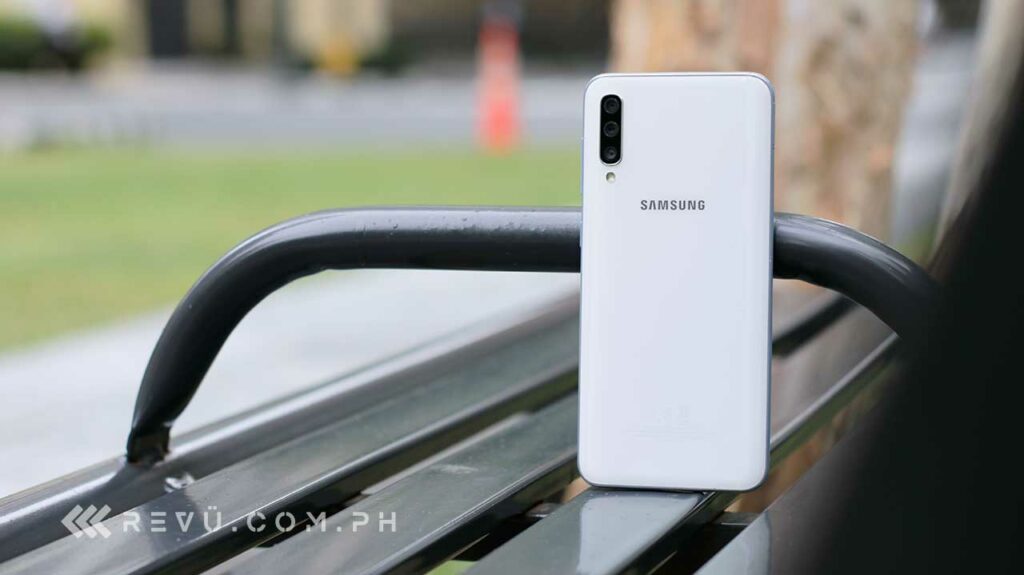 Samsung Galaxy A50 specs
6.4-inch Super AMOLED Infinity-U display, 2,340 x 1,080 resolution
Octa-core Exynos 9610
6GB RAM
128GB storage
Three rear cameras (25-megapixel main, 8-megapixel ultra-wide, 5-megapixel depth sensor)
25-megapixel front camera
Fingerprint reader (in-display)
4,000mAh battery with fast charging
Colors: black, white, blue
---