Before you board a Grab vehicle, maybe you'd like to check if there's a notice saying it will record your audio while you're inside the car.

(Update, 8:31 p.m., January 12: Got a follow-up reply: "The pilot study starts on 13 January and will run for 2-6 weeks with over 180 GrabCar vehicles, of which half will be equipped with in-car cameras and the rest with audio-recording capabilities. ????")
(Update, 7:57 p.m., January 12: We finally got a reply from Grab, albeit incomplete; most of our questions were not answered. Please read this: "Hey, Alora! Please note that we will be conducting a small pilot study to assess the effectiveness of in-car audio and video recording in incident prevention and dispute resolution. Passengers who have been allocated a car participating in the pilot study will be notified in advance via GrabChat [though the source of this news claimed she wasn't notified about it — Alora], and will have the option to cancel the booking without any penalty. Hope this cleared things up and we appreciate your cooperation.")
A Grab passenger based in Metro Manila just shared pictures indicating that the ridesharing company is now collecting audio as part of a trial program. You can see our screenshots of the photos below.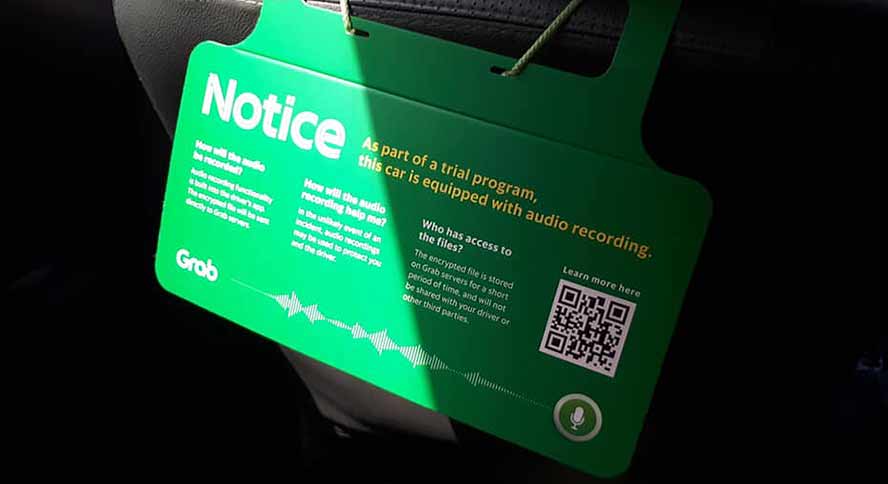 In one of the two images, a notice clearly says that the car the passenger had booked is equipped with audio recording. The other details the trial program. We're publishing the information here for those who can't quite read the one in the image.
How will the audio be recorded? Audio recording functionality is built into the driver's app. The encrypted file will be sent directly to Grab servers.
How will the audio recording help me? In the unlikely event of an incident, audio recordings may be used to protect you and the driver.
Who has access to the files? The encrypted file is stored on Grab servers for a short period of time, and will not be shared with your driver or other third parties.
When we tried to scan the QR code to learn more about the trial program, though, it gave us a 404 page. So we reached out to Grab, the Land Transportation Franchising and Regulatory Board, and the National Privacy Commission. Here's one of our messages, the one that's directed at Grab:
Someone just posted on Facebook that Grab Philippines is now equipping some cars with audio recording. Is this true? If yes, when did you implement this? Which government agency approved the trial? How many vehicles are part of the program? When are you rolling it out nationwide? What are the parameters? Would appreciate a statement.
We will update you if and when we get a reply.
---