Xtreme is a full-fledged appliances brand offering quality products at a reasonable price.
Now, the homegrown company is gearing up for a busy summer window with its Xtreme Summer Xtravaganza Promo, where customers can purchase select air conditioner, refrigerator, and gas range models and get a free appliance.
This can save you up to P3,995 (around $78) depending on the item you get.
SEE ALSO: Xtreme tips: How to clean and maintain your home appliances
The split-type air conditioner, for example, is bundled with a 19-inch LCD TV, which might make for a decent secondary screen in your kitchen. An Xtreme refrigerator nets you a free rice cooker.
The promotion begins March 1 and will end on May 31, 2020. It will be offered at all Xtreme stores and partner retailers nationwide. The full list of participating Xtreme appliances, as well as the corresponding free item, can be found below.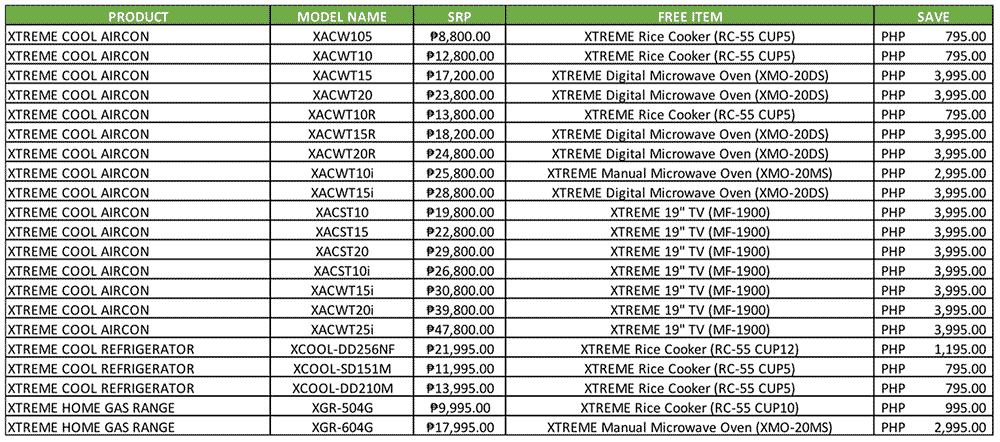 As always, if you want to know more about any of the offers listed above, we suggest you drop by a participating store, so someone from the brand can assist you. You can also get in touch with Xtreme's official Facebook page to get your questions answered.
The company behind Xtreme, Suntouch Technology Corporation, was established in 2013, and is under a conglomerate umbrella that has been engaged in the financing, construction, hotel, retail, important, and distribution industries for over 30 years.
Main image courtesy of Xtreme
---