Fitbit today announced the prices and release of its new Fitbit Charge 4 and Charge 4 Special Edition wearables in the Philippines.
The Charge 4 is the company's first fitness band after being acquired by Google last year for $2.1 billion. It will come in two variants — standard and Special Edition with two bands.
The Fitbit Charge 4 retains the look and feel of the Charge 3, but adds several important features, such as built-in GPS, remote-control functionality for Spotify, smartphone notifications, and an Sp02 sensor that can track blood-oxygen levels and identify sleep apnea risks in advance. Fitbit claims a battery life of up to seven days with normal use, or up to five hours with the GPS active all the time.
Fitbit Charge 4, Charge 4 Special Edition prices and availability in the Philippines
The Fitbit Charge 4 and Charge 4 Special Edition fitness trackers will be available at Digital Walker stores by end-April for P9,590 (around $189 converted) and P10,890 ($215), respectively. The Special Edition ships with an exclusive granite reflective/black woven band in addition to a classic black band, allowing you to switch between straps for workouts and everything else.
Other Charge 4 bands will be sold in stores and online, starting at P1,690 ($33). Otherwise, you can use straps from the Charge 3 on the latest model, as both share the same dimensions.
Fitbit Premium, which launched last year, is now available locally for P519 ($10.23) per month or P4,190 ($83) annually. The paid subscription delivers personalized fitness programs, classes, and challenges at your fingertips, helping you to reach your fitness goals and improve your health.
Fitbit Charge 4 official product video
Active Zone Minutes
Active Zone Minutes is a new metric for Fitbit trackers, which automatically detects when your heart rate is at a higher-than-usual level and tracks the minutes you spend at this level. Fitbit hopes this can help people stay constantly active throughout the day and toward a weekly goal of 150 minutes.
Active Zone Minutes is based on recommendations from leading wellness organizations, including the World Health Organization and the American Heart Association, which recommend getting at least 150 minutes of moderate or 75 minutes of intense activity each week. Doing this has been linked to improved overall well-being, less anxiety, and better sleep, among other health benefits.
It launches first on the Fitbit Charge 4 series, then will roll out to all Fitbit smartwatches at some point in the near future.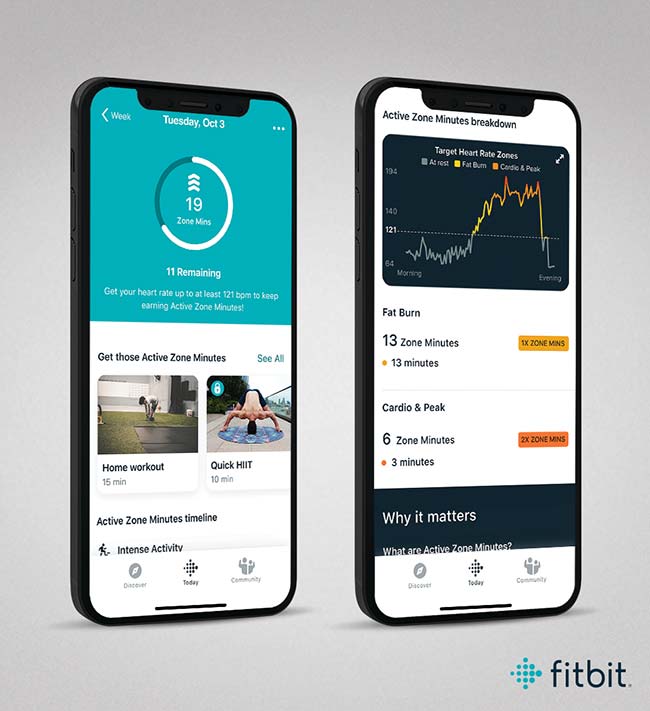 ---