We got an email from a market-research firm earlier, revealing how smartphone brands performed in the first quarter of 2020.

According to Canalys, the global handset market took a big hit because of the COVID-19 pandemic, with shipments falling 13% to 272 million units.
Samsung may have toppled Apple to reclaim its spot at the top, but its shipments dropped 17% to 59.6 million. Huawei landed second place; however, shipments dipped 17%, too. Now-third-placer Apple, on the other hand, went from 40.2 million iPhones shipped to just 37.1, a decrease of 8%.
"Few smartphone vendors were able to withstand the impact," Canalys analyst Shengtao Jin said. "Samsung was in a positive position in February, due to its manufacturing focus in Korea and Vietnam. But this advantage quickly dissipated as COVID-19 spread around the world."
He added that Apple was one of the least affected vendors, thanks to the iPhone 11 series' strong sales in the early part of the quarter.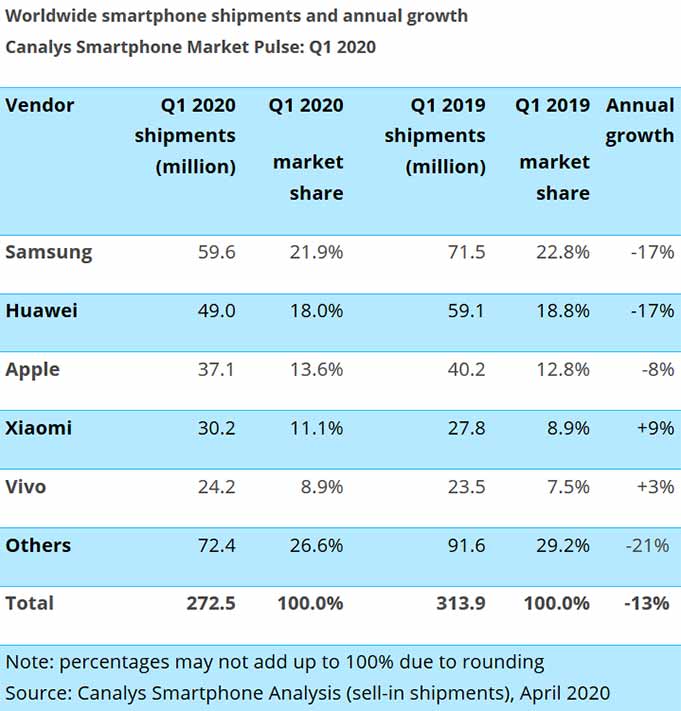 Huawei, on the other hand, was forced to face the impact of both the coronavirus and its ongoing US Entity List problems.
"[Huawei's] overseas shipments plummeted 35% as it launched its first P series handset family without Google Mobile Services, the P40," Jin explained. "But channels are wary of exposing themselves to the risk of these untested products, so they are ranged in fewer channels than their predecessors, and initial channel orders are lower than Huawei would expect."
Positive growth for Xiaomi, Vivo
Xiaomi may have experienced a huge 26% dive in its home country, but globally, it did pretty well from January to March. It was up 9% and was the best performer in the top 5 smartphone brands. Vivo, which beat Samsung in the same period to become the second-biggest phone manufacturer in India, did okay, too. It came in fifth with 24 million units, up 3%.
The ranking is consistent with that of another market-research firm, International Data Corporation, which we saw before hitting the Publish button. However, in IDC's report, it was Vivo that experienced higher growth at 7%.

We would have liked to see the top 10 lists of Canalys and IDC; we're curious about Realme's performance in the first quarter this year. It has consistently been the fastest-growing brand for the past few quarters. Unfortunately, they haven't revealed how the smartphone companies beyond the first five performed in the said period.
Beyond Q1 2020
The outlook isn't looking good from April to June. Most manufacturers expect to face the peak of the impact of COVID-19 in the second quarter of 2020.
According to Canalys senior analyst Ben Stanton, "It will test the mettle of the industry, and some companies, especially offline retailers, will fail without government support. As lockdowns around the world start to lift, the full economic damage will become visible. Smartphone companies must adapt their strategies to mitigate the impact, as cashflow will be critical in the coming months."
There's a danger in cutting back too much on product and marketing spend and new strategic initiatives, though. "They risk losing agility, and will lose ground to rivals once demand bounces back. It is vital to strike a balance," Stanton warned.
---