The Redmi Note series has a reputation for offering affordable handsets with hard-to-beat specs and performance in its segment. It's a reputation Xiaomi works hard to live up to.
The Redmi Note 9 Pro, along with the Redmi Note 9, comes after a line of phones that went on to sell 10 million units in just three months. As expected, this successor has a lot of expectations riding on it. Now, we're here to find out if the Redmi Note 9 Pro will be able to keep its solid reputation untarnished.
Price and availability
The Redmi Note 9 Pro gets a bit of a price bump compared to the Redmi Note 8 Pro. With improvements introduced to the handset, the P1,000 (around $20) increase makes sense.
The 6GB RAM with 64GB storage variant is priced at P12,490 ($251) in the Philippines, while the unit with 128GB storage costs P13,990 ($282).
SEE ALSO: Redmi 9 review: Does it meet, exceed, or betray expectations?
Both are available in Interstellar Grey, Tropical Green, and Glacier White colors. And both are available online and in local stores.
Hardware
The Redmi Note 9 Pro goes for a simple yet premium look. Xiaomi protects the front and back of the phone with Corning Gorilla Glass 5 and combines that with a plastic frame. The Glacier White color our test unit comes in looks sleek, clean, and feels smooth and grippy in hand. It is a bit of a fingerprint magnet, though, so you might want to use the included silicone case.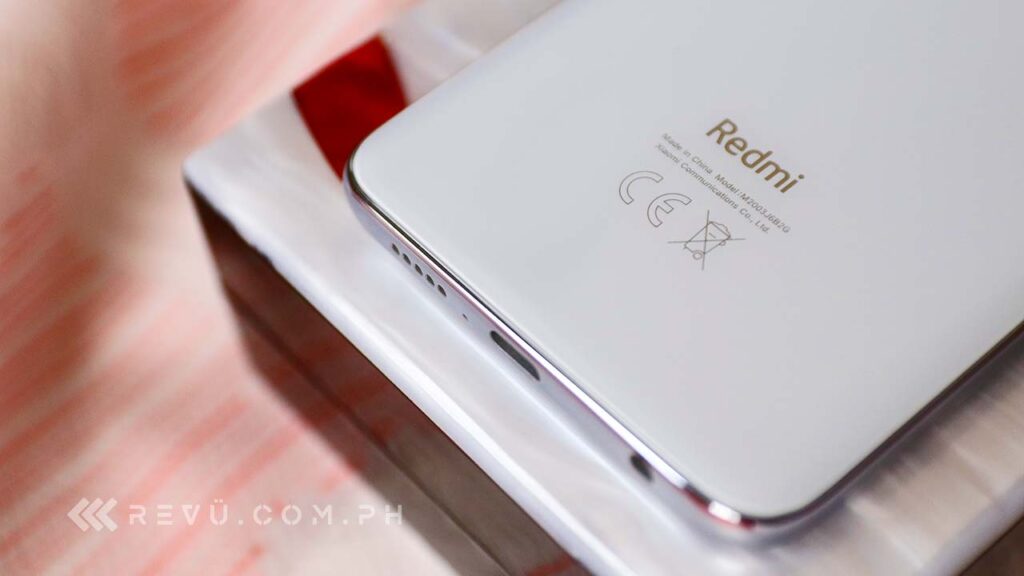 One distinctive design feature of the Redmi Note 9 series is the protruding squircle module for the four camera sensors. If the portion with the flash is included, the camera layout looks more like a rectangular module at the top center of the unit. Even if the camera bump is a significant one, with its placement, it won't cause any wobbling on one side or another when the handset is on a flat surface.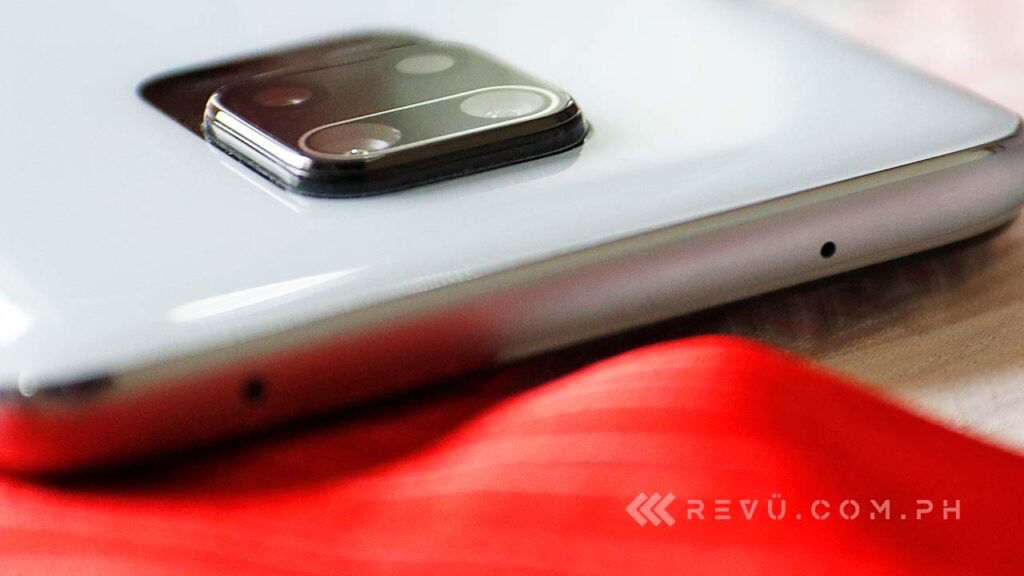 Like with the Redmi 9, it's not the most refined implementation of the camera's design. But it does make the smartphone easily identifiable.
The Redmi Note 9 Pro has a bit of heft to it, courtesy of the bigger battery that it comes with. It's more of a two-handed kind of device. But even with extended use, it's not uncomfortable to hold. The curved sides of the back panel make it easier to cradle the phone in your hand.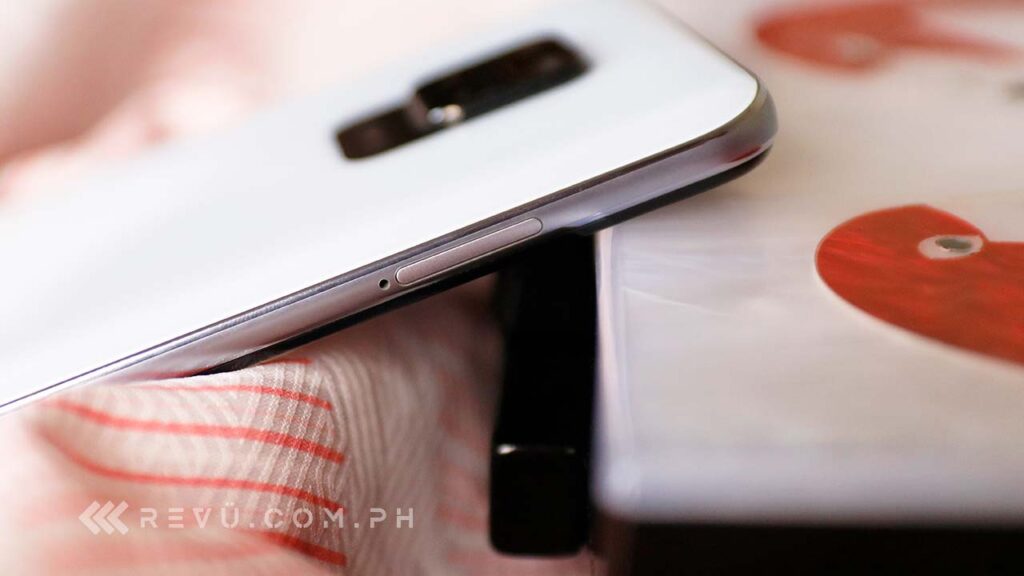 The left side houses the triple-card slot for two nano-SIM cards and a microSD card. On the right side, there is the volume rocker and power button/fingerprint sensor. You won't mistake one for the other, as the power button is significantly recessed. You won't accidentally lock the handset or power it down if you just mean to raise or lower the volume.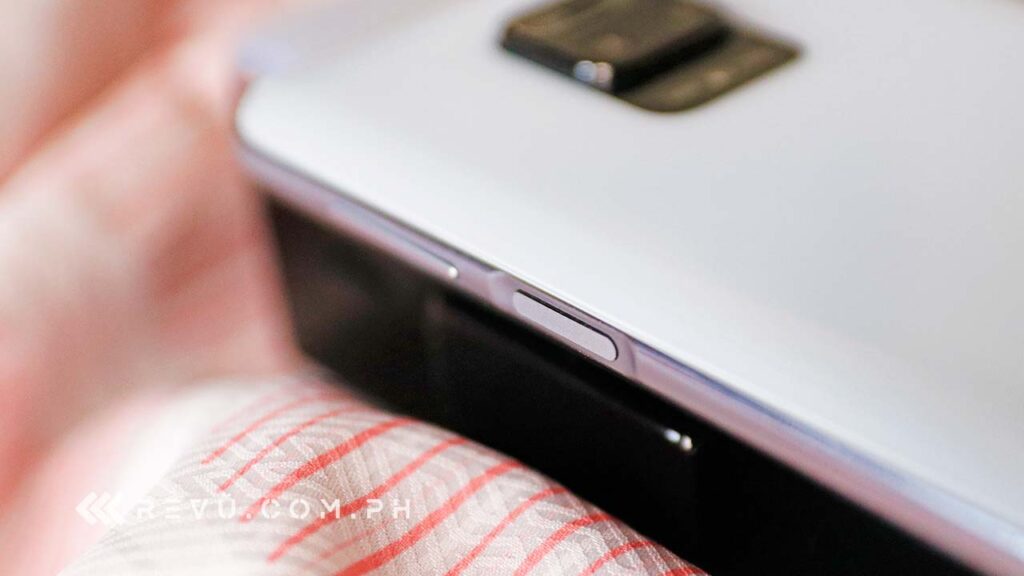 It's not really something you're going to accidentally trigger. The power button needs a harder press if you want to lock it. When it comes to unlocking with the fingerprint sensor, all it needs is a light touch of your finger. The side placement of the scanner is also an optimal position, making it easier to reach and unlock the phone.
The bottom of the Note 9 Pro has a 3.5mm audio jack, USB-C port, microphone port, and speaker. And while it's still good to see an audio port, just like with other Redmi units, you aren't getting earphones with the smartphone.
The top of the device comes with a secondary mic port and an IR blaster, which we appreciate since it lets us control our smart products at home. We wish more manufacturers would bring the IR sensor back.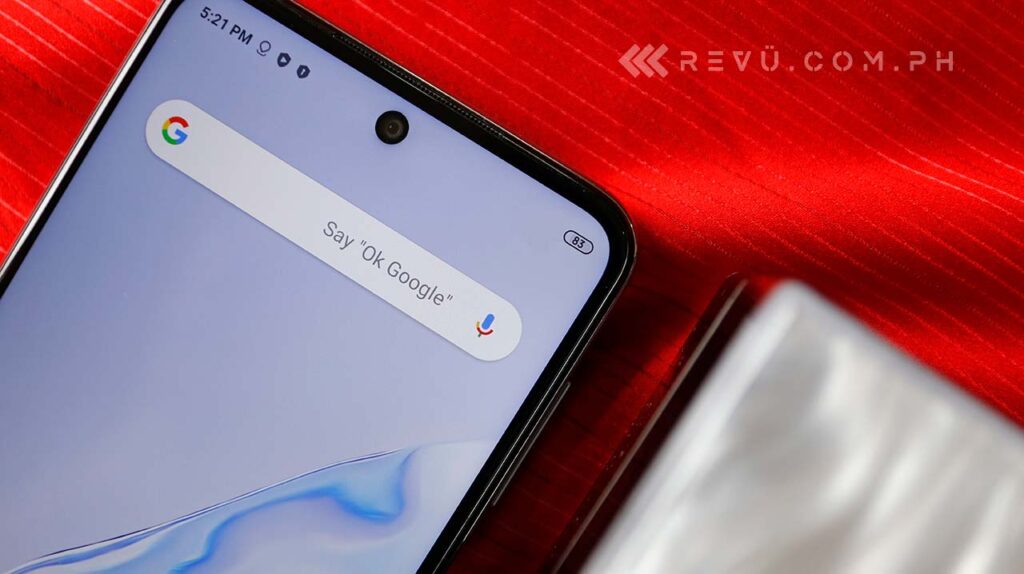 The display is interrupted a bit by the punch-hole cutout for the front-facing camera. But otherwise, it has relatively thin bezels on the top and sides and a slightly thicker chin. There's a thin strip at the top of the camera for the earpiece, and beside it is a tiny notification light.
The Face Unlock feature activated by the selfie camera works as expected. It unlocks the phone for you only if you're looking straight at the camera. But again, even in setup, Xiaomi will remind you that it's not as secure to have face unlock activated just on its own. It's also slower to open the device than just placing your finger on the fingerprint scanner.
The sound coming from the bottom-firing speaker isn't as loud as we'd like it to be. It does have decent sound separation, and the audio doesn't sound distorted when you max out the volume. It's just really not loud. We find ourselves using earphones or Bluetooth speakers for hearing better.
What's in the box
Redmi Note 9 Pro unit
Power brick
USB-C cable
User guide
Warranty card
SIM-eject tool
Silicone case
Screen
While the Redmi Note 9 Pro has the same Gorilla Glass 5 protection as the Redmi Note 8 Pro, it gets improvements elsewhere. It comes with a larger, 6.67-inch LCD with a 2,400 x 1,080 resolution and 20:9 aspect ratio.
Despite being visible, the punch hole at the center doesn't interrupt the icons and notifications at the top of the screen. Like with other cutouts, we do tend to forget they're there after a while. But if it bothers you, there are ways to work around it. You can choose to mask it with a black bar or move the status bar underneath the camera.
The display quality is decent. It's not an AMOLED panel, so the blacks will not be as deep as we'd want them to be. But you do get excellent viewing angles and color reproduction. Outdoor use isn't a problem, either.
The Redmi Note 9 Pro comes with the TÜV Rheinland low blue-light certification for long-lasting eye comfort. While we'd advocate for stepping away from your screens when you can, at least there's added protection here.
This handset offers a Reading Mode that makes the screen warmer and Dark Mode, too. You can also adjust the color temperature on your own. Its default color temperature is a lot cooler and brighter when put side by side with the Redmi 9.
Camera
The Redmi Note 9 Pro offers you a lot of flexibility with the pictures and videos you can take. It has a quad-camera setup at the back, including a 64-megapixel f/1.89 main lens, an 8-megapixel f/2.2 ultra-wide camera, a 5-megapixel f/2.4 macro lens, and a 2-megapixel f/2.4 depth sensor. The front has a single 16-megapixel f/2.48 camera.
This handset can produce sharp, detailed photos with decent color reproduction when you shoot in well-lit areas. With the help of HDR, it can enhance and balance out the images you take, even without using Pro mode. It can zoom into shots up to 10x, but expect photo quality to drop as you keep zooming in.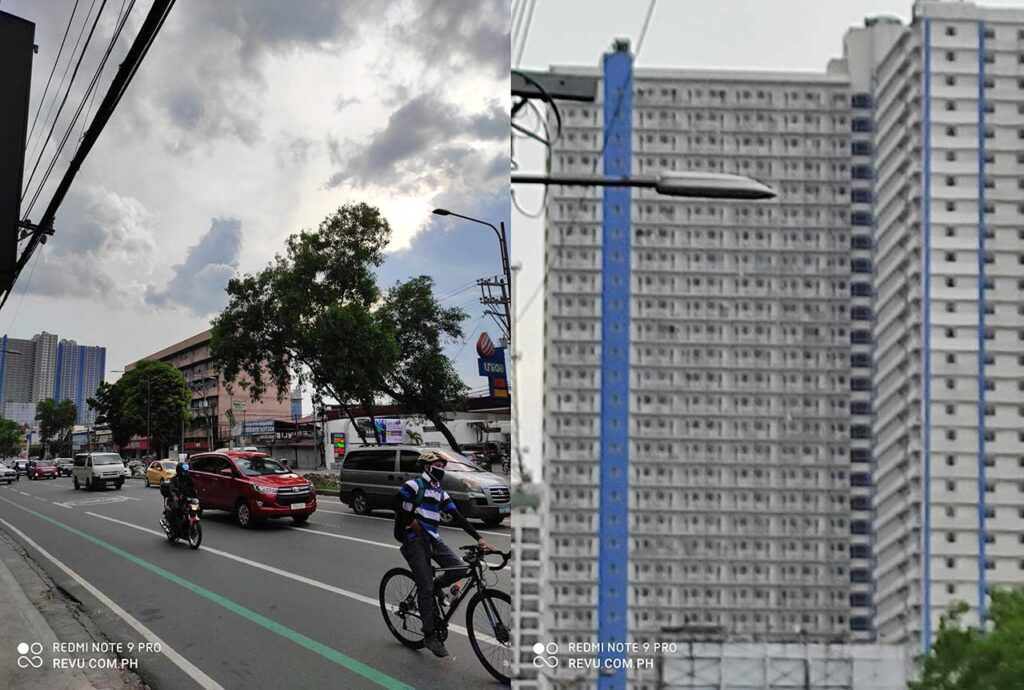 By default, the Redmi Note 9 Pro produces 16.1-megapixel shots, but then you can shoot in the full 64-megapixel resolution if you want to get more detail. This smartphone lets you take RAW images, which helps those who want to do more intensive post-editing.
Besides letting you take shareable pictures on the fly, you have leeway to experiment with the different camera modes the Redmi Note 9 Pro offers. With the various sensors it comes with, you can take ultra-wide photos, closeup shots, portraits, and more.
'Toying' with the Redmi Note 9 Pro
[sciba leftsrc="https://www.revu.com.ph/wp-content/uploads/2020/07/Xiaomi-Redmi-Note-9-Pro-sample-picture_Revu-Philippines_auto-z.jpg" leftlabel="Auto" rightsrc="https://www.revu.com.ph/wp-content/uploads/2020/07/Xiaomi-Redmi-Note-9-Pro-sample-picture_Revu-Philippines_hdr-z.jpg" rightlabel="HDR" mode="horizontal" width=""]

Auto vs HDR
It has a dedicated Night Mode, which you should take advantage of if you like shooting in low light. The difference in quality from shooting in the default Photo Mode is apparent. The pictures are less noisy, and you get better lit, more balanced images. However, Night Mode will not let you take ultra-wide shots.
[sciba leftsrc="https://www.revu.com.ph/wp-content/uploads/2020/07/Xiaomi-Redmi-Note-9-Pro-sample-night-picture_Revu-Philippines_auto.jpg" leftlabel="Auto" rightsrc="https://www.revu.com.ph/wp-content/uploads/2020/07/Xiaomi-Redmi-Note-9-Pro-sample-night-picture_Revu-Philippines_night-mode.jpg" rightlabel="Night" mode="horizontal" width=""]

Super-dim environment: Auto mode vs Night mode
Ultra-wide is meant to be used in better lighting. Those pictures come out with a fair amount of detail without too much distortion, possibly thanks to the option that automatically fixes the distortion.
[sciba leftsrc="https://www.revu.com.ph/wp-content/uploads/2020/07/Xiaomi-Redmi-Note-9-Pro-sample-picture_Revu-Philippines_ultra-wide.jpg" leftlabel="Macro" rightsrc="https://www.revu.com.ph/wp-content/uploads/2020/07/Xiaomi-Redmi-Note-9-Pro-sample-picture_Revu-Philippines_ultra-wide-hdr.jpg" rightlabel="Macro/HDR" mode="horizontal" width=""]

Ultra-wide vs Ultra-wide/HDR
We aren't particularly impressed with the Macro Mode on the Redmi Note 9 Pro. Pictures can be blurry at times and aren't as sharp or detailed. The upside is being able to record closeup videos, which produces some creative clips.
[sciba leftsrc="https://www.revu.com.ph/wp-content/uploads/2020/07/Xiaomi-Redmi-Note-9-Pro-sample-picture_Revu-Philippines_macro.jpg" leftlabel="Macro" rightsrc="https://www.revu.com.ph/wp-content/uploads/2020/07/Xiaomi-Redmi-Note-9-Pro-sample-picture_Revu-Philippines_macro-hdr.jpg" rightlabel="Macro/HDR" mode="horizontal" width=""]

Macro vs Macro/HDR
The Redmi Note 9 Pro's Portrait Mode can be a bit aggressive when it makes your subject stand out from the background, but this is something you can tweak while you shoot and even after you've taken your photo. Xiaomi also offers editing effects lighting trails and studio lighting to improve a shot. Lighting trails can be saved as either a photo or video. Portrait Mode for the selfie camera works well to separate you from the background.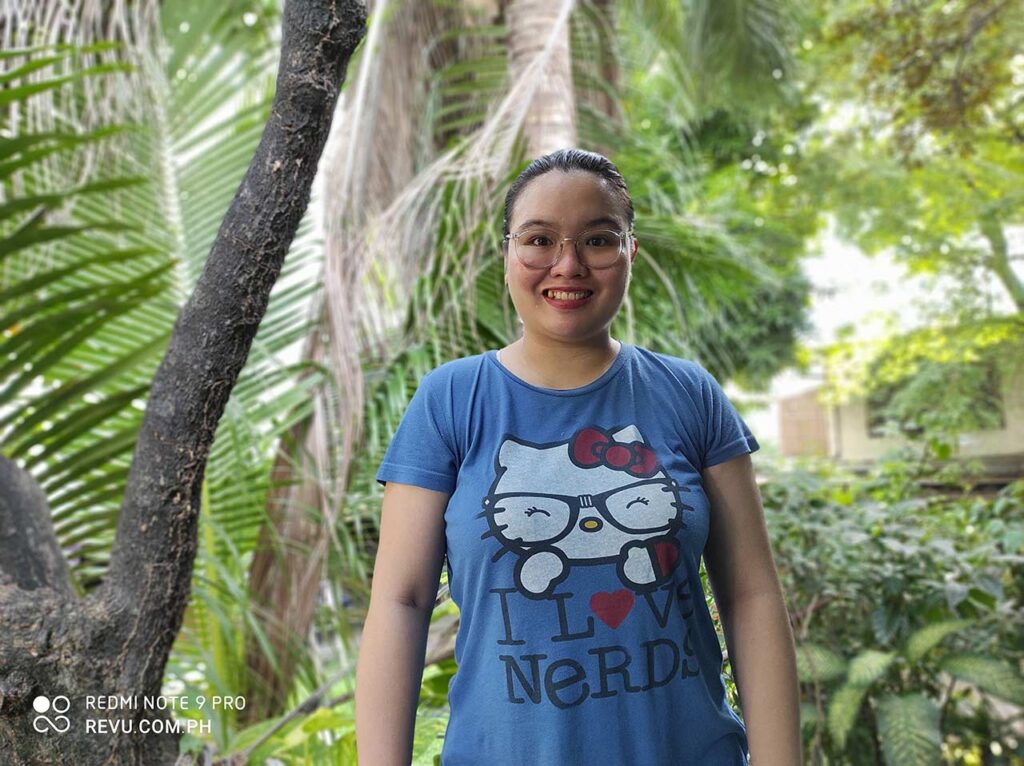 Speaking of selfies, these can look good and natural with a bit of a boost from the available beauty features. But sometimes photos come out softer than we'd like. A fun addition to the front-facing camera is it supports slow-motion videos, allowing you to take some unusual, social media-ready clips.
Selfies: Auto, Portrait, Portrait/Beauty, Auto, HDR
The Slow Motion mode is fun to play around with both for the front and rear cameras. Like with the Redmi 9 we recently tested, you need to edit the slowed-down videos on the smartphone first before you transfer them to a PC or another device.
The Redmi Note 9 Pro offers more flexibility with support for recording at 120 frames per second (fps), 240fps, and 960fps. You can add captions, music, filters and the like to your videos via the default Gallery/Camera app. At 240fps and 120fps, the app lets us edit which part of the video is slowed down. It's best to leave the original video on your phone if you want to keep tweaking the recording.
Kaleidoscope is also available here through the Short Video Mode. It's still another fun, shareable feature you can take advantage of.
Compilation of raw videos shot on the Redmi Note 9 Pro
Besides these fun, video-centric modes, the Redmi Note 9 Pro offers more than your usual midranger when it comes to its video capabilities. It has cinematic options, including letting you record content with a 2.39:1 aspect ratio — the same format commonly used in films. It can take portraits in this aspect ratio, too.
It offers settings like Smooth Video Zoom, AE/AF Lock, White Balance, ISO, Exposure Verification, Focus Peaking, Log, Histogram, and Exposure Adjustment to assist you in getting the best video recording. It can shoot up to 4K at 30fps and comes with stabilization. The stabilization isn't that great, though, so having a gimbal or monopod ready can help you out.
Video quality is as good as photo quality. The added options are sure to be compelling for those who shoot more videos than just taking pictures.
Performance
We've already shown you the Redmi Note 9 Pro's gaming capabilities, and now we're here to talk about its general performance.
There isn't much that limits users with the Note 9 Pro. It runs on a Qualcomm Snapdragon 720G chipset with an Adreno 618 GPU, 6GB of RAM, and 64GB/128GB of expandable storage. It's a decent midrange setup that works as well as we expected it to. It can easily handle app switches, social media use, online work, web surfing, and video and music streaming. Netflix fans will be pleased to hear that this handset supports full-HD playback.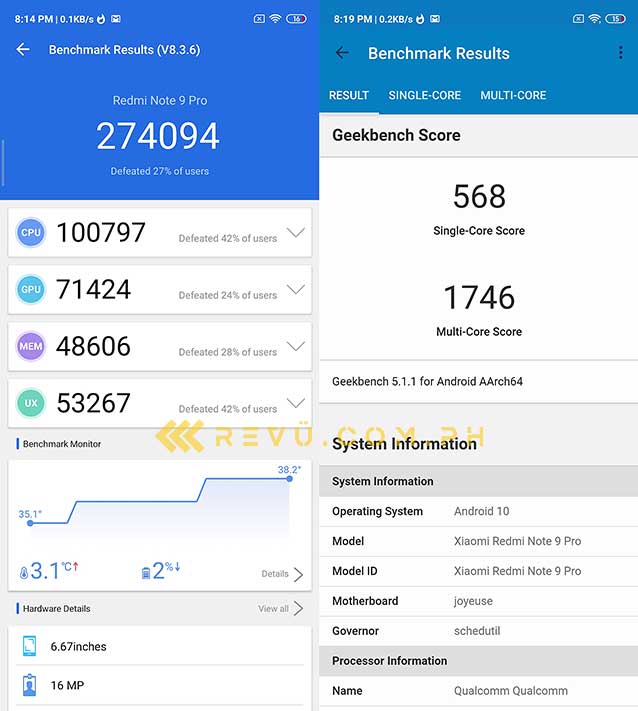 Lags and crashes weren't an issue we faced while testing. It will occasionally heat up when you're playing graphics-heavy games or using the camera for long periods. But it won't be uncomfortable to use.
Software-wise, the Redmi Note 9 Pro runs on the Android 10-based MIUI 11. Xiaomi is adamant for you to remember that it has Google services onboard (it even says it on the box), which is essential to some users. There aren't a lot of unnecessary apps preinstalled on the phone, and there aren't really any redundancies between Google apps and Xiaomi's apps, which we appreciate.
Some things are missing on our test unit that might be available in the retail version, including the lack of an app drawer, the option to resize icons, and Lite Mode, which simplifies the UI. These features are present on the cheaper Redmi 9, which also runs on MIUI 11, so we're hoping the options are also available on the Redmi Note 9 Pro. But again, these can be added simply through a software update.
Battery
The Redmi Note 9 Pro's battery gets an upgrade from the previous generation. It sports a massive 5,020mAh, which, depending on your usage, can go pretty far. We pushed it by having the display mostly on and switching between apps, games, and tons of video and music streaming, and we got around 11 hours of almost-non-stop use. It's a pretty decent result, meaning you could get even more if you aren't perpetually glued to your phone.

When it comes to synthetic benchmarks, our PCMark test netted a total of 19 hours and 26 minutes. Actual use is pretty far from this, but again, if you use your device more judiciously, a day or more is possible without having to charge.
If you need to charge, it doesn't take too long to juice up the Redmi Note 9 Pro. It comes with a 33-watt power brick in the box, while the phone recharges up to 30 watts. It takes us around an hour and a half to an hour and 45 minutes to fully charge from 0%.
Final thoughts
The Redmi Note 9 Pro upholds the tradition and reputation of the Redmi Note series. No device is without its flaws, but this device works as well as it can.
What it promises to deliver, it mostly lives up to. You get excellent performance from its cameras and the handset itself. It's a worthy investment built not to let you down.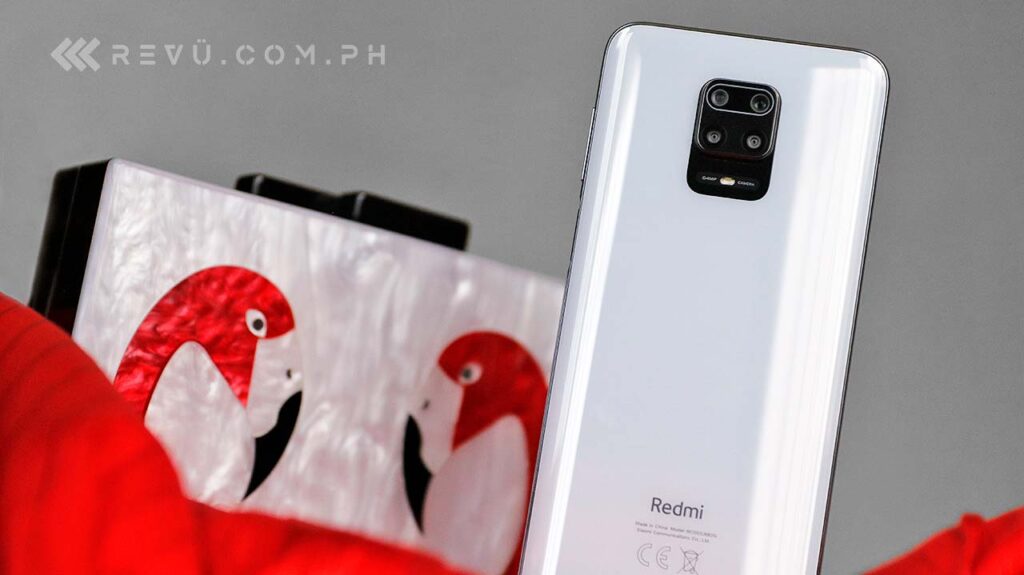 Xiaomi Redmi Note 9 Pro specs
6.67-inch LCD display, punch hole (top center), 2,400 x 1,080 resolution (20:9), Corning Gorilla Glass 5
Octa-core Qualcomm Snapdragon 720G
6GB RAM
64GB/128GB storage
Quad 64-megapixel, f/1.89 (main), 8-megapixel, f/2.2 (ultra wide), 5-megapixel, f/2.4 (macro), 2-megapixel, f/2.4 (depth) rear cameras
16-megapixel, f/2.48 front camera
Fingerprint reader (side-mounted)
5,020mAh battery with 30-watt fast charging
MIUI 11 based on Android 10
Colors: Interstellar Grey, Tropical Green, and Glacier White
---