We've come to expect a lot from the Xiaomi Redmi 9. This successor to last year's entry-level Redmi 8 is one of the latest Redmi devices in the country. It's the cheapest one, too, beating out any new Redmi Note 9 series models.

Besides a low price tag, it offers value that some more expensive handsets don't have. The Redmi 9 is the most affordable smartphone we've seen so far to come with four cameras and a decent MediaTek Helio G80 processor under the hood. It's a pretty eye-catching device, too.
We'd like to think we've placed our expectations in the right place. But, of course, one way to confirm that is to use the phone. We're here to see and let you know if the Redmi 9 lives up to the potential we think it has.
Price and availability
The Redmi 9 is available in the Philippines for as low as P6,990 (around $140 converted) price at launch. Is it worth buying? Read our review!
Hardware
It's easy to be impressed by the striking color of the Redmi 9. Our Sunset Purple unit shows a blue-violet color up top that shifts to a vibrant violet at the bottom of the device's back. The colors extend to the sides as well. There is a circular pattern that draws your eye to the quad-camera + fingerprint sensor setup at the top center of the phone.
Its textured design helps keep fingerprints from sticking, which is something we appreciate. The feel of it is excellent in hand. It's grippy, even without the supplied silicone case. We like the feel of it so much we prefer using it without the case. Even with its plastic back, the Redmi 9 feels sturdy and well-built. It partially curves at the sides, so it's more comfortable to hold.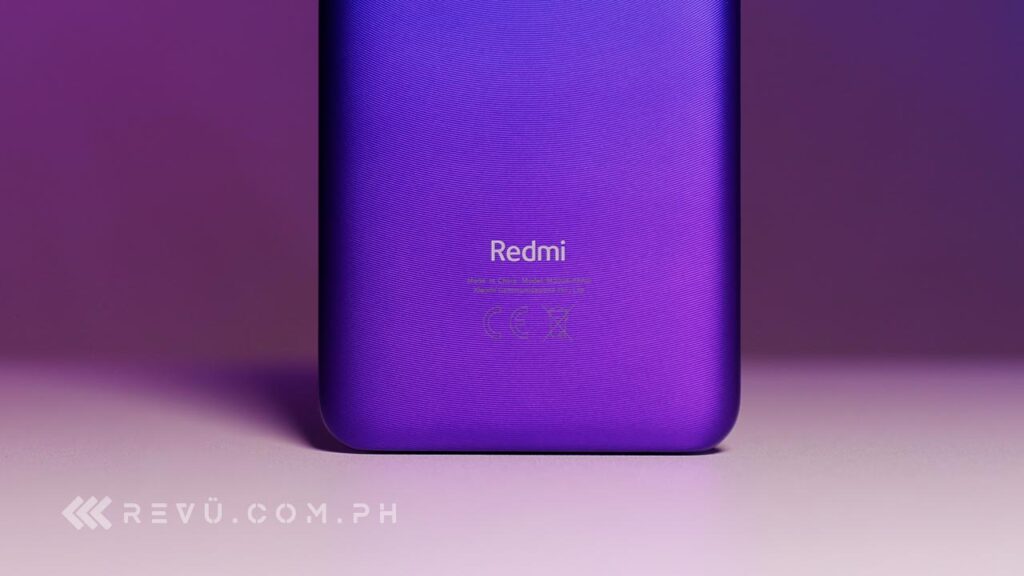 The Redmi 9 comes with a big screen, which means this smartphone is a two-handed device for many users.
The camera with a fingerprint sensor module sticks out a fair bit. But because it's at the center, the phone isn't wobbly on a flat surface. We aren't fans of the fingerprint sensor being that close to the camera lenses.
SEE ALSO: Redmi 9C, Redmi 9A with new Helio chips priced from $84
Admittedly, we thought it was a sensor first, but the cameras' placement is high enough that we don't accidentally swipe at them. However, someone with bigger or longer digits might have a problem with this. The design of the module can also be divisive. It's not the most refined implementation, and some might not like that.
The fingerprint sensor works as advertised. It recognizes your fingerprint even with a slight touch. Besides offering this biometric security option, the Redmi 9 also has face unlock. It works well, too, but we've noticed it will open your device even without directly looking at the camera. It's convenient but not as secure as fingerprint unlock.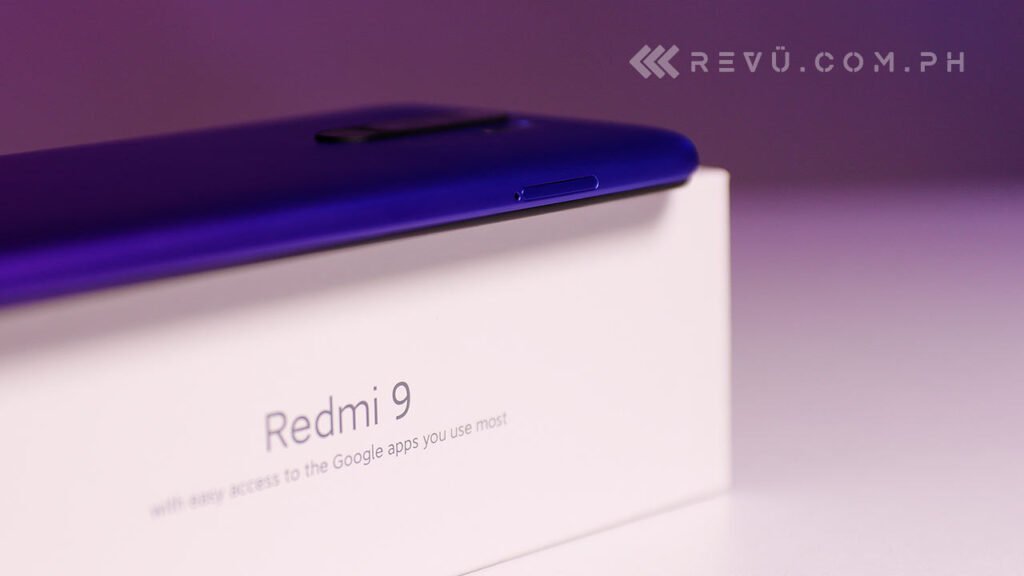 The right side of the handset has the volume rocker on top of the power button. The left side houses the hybrid card slot, supporting two SIMs with 4G connectivity and a microSD card. The top has an IR blaster and noise-canceling mic, while the bottom has the 3.5mm audio jack, mic port, USB-C port, and speaker grille.
The IR blaster is a rare addition to modern smartphones, but it's useful since it lets you control your appliances like your TVs, set-top boxes, air-conditioning units, and many more. There is also still a 3.5mm audio jack, but as usual, the Redmi 9 doesn't come with earphones.
What's in the box
Redmi 9 unit
Power brick
USB-C cable
User guide
Warranty card
SIM-eject tool
Silicone case
Redmi 9 unboxing
Screen
The Redmi 9 has a sizable 6.53-inch Full HD+ display with a 19.5:9 aspect ratio, Corning Gorilla Glass 3 protection, and a decent 89.83% screen-to-body ratio. A 2,340 x 1,080 resolution isn't standard for this price range. It's impressive to think about when we start thinking about this handset's suggested retail price.
A bonus is that it supports Widevine L1 DRM, which means the Netflix app on the Redmi 9 can play full-HD shows and movies.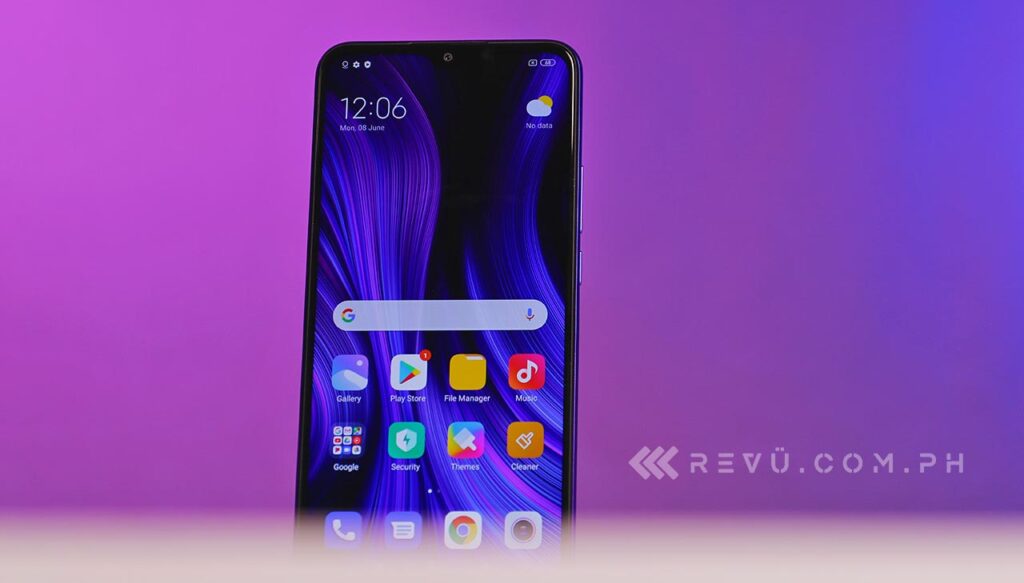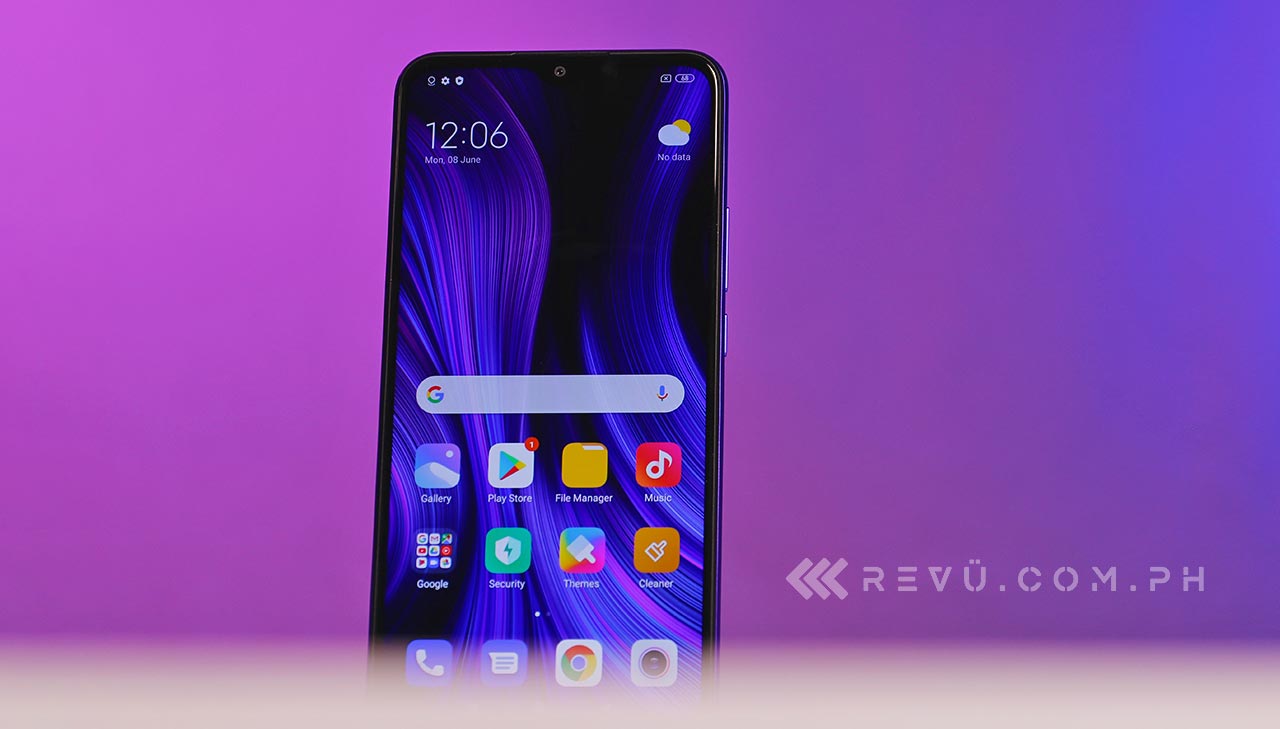 It's not the brightest panel we've used, though. It struggles a bit when used outside on a sunny day. However, it's not entirely unusable. Viewing angles are okay, so is the color reproduction. It's not the most vibrant screen, but we assume this is where the device's price comes into play.
The waterdrop notch for the selfie camera might not be your cup of tea, but it just takes up a bit of space on this large display. And you have the option to hide the notch and move the status bar below it if you'd prefer that.
With blue-light certification, you can comfortably use the Redmi 9 without causing eye strain. There is a Reading mode, system-wide Dark mode, and adjustable color temperature.
Camera
A quad-camera setup isn't typical for the budget segment. That alone provides an advantage for the Redmi 9 over its competition. It packs a 13-megapixel wide-angle camera with f/2.2 aperture; an 8-megapixel ultra-wide angle sensor with a 118-degree field of view and f/2.2 aperture; a 5-megapixel macro lens with f/2.4 aperture; and a 2-megapixel depth sensor with f/2.4 aperture.
These cameras offer you several options to play around with, but it still isn't as many as you'd find in more expensive phones, as expected. You get the standard Photo, Portrait, Video, Macro, and Pro, as well as Slow Motion and Short Video (more on this later). The 8-megapixel selfie camera has an f/2.0 aperture and offers modes like Portrait, Photo, Video, and Short Video.
Shooting in Photo mode shines the best in good lighting, as with other smartphone cameras. The Redmi 9 can produce sharp, color-accurate photos.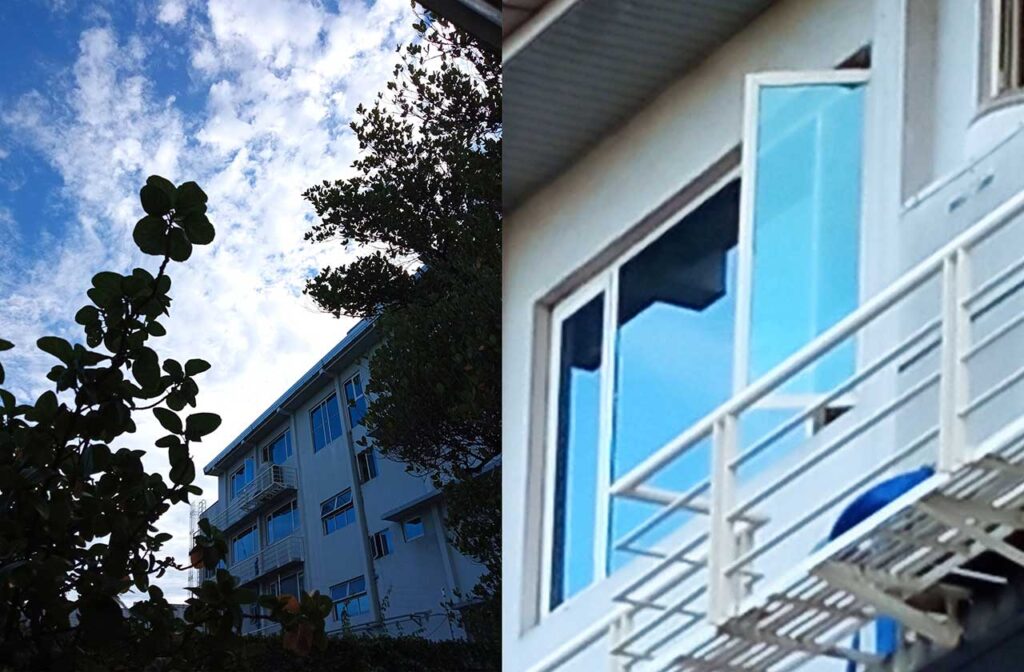 One thing we've noticed is it takes an extra second or so to process images, longer if you use it in dim lighting or with Portrait mode. Moving your hand away too quickly will produce blurry shots. Zooming also increases the chances of blurring. The Redmi 9 lets you zoom in up to 10x, but don't expect quality photos if you push it to that limit.
We find it best to experiment with and without enabling HDR. The effect is mostly subtle, but, of course, you get more natural pictures without HDR.
[sciba leftsrc="https://www.revu.com.ph/wp-content/uploads/2020/07/Xiaomi-Redmi-9-sample-picture-Revu-Philippines_auto.jpg" leftlabel="Auto mode" rightsrc="https://www.revu.com.ph/wp-content/uploads/2020/07/Xiaomi-Redmi-9-sample-picture-Revu-Philippines_hdr.jpg" rightlabel="HDR enabled" mode="horizontal" width=""]

HDR off vs HDR on
You can record videos up to 1080p at 30 frames per second, which we've expected. Without stabilization, these videos can be shaky. Make sure to have a tripod, selfie stick, or gimbal in hand when you want to record while moving around.
Sharpness drops significantly when you shoot indoors or at night without ample lighting. Noise is pretty prominent, too. Without a dedicated Night mode, it doesn't have an extra, automated feature to improve photos shot in low light. Pro mode should give you more flexibility in this regard.
READ ALSO: Redmi Note 9 Pro gaming tests, benchmarks: Can this Pro game at a high level?
One thing missing is the ability to save photos in RAW. Then again, we are talking about a budget smartphone here, so we expect it to lose a bunch of features you come to see in pricier handsets.
But the Redmi 9 still lends itself to experimentation with the other modes it offers. Admittedly, we weren't impressed with the Macro camera, which is accessible through the hamburger menu on the top right of the Camera app. Focusing is a bit difficult, so you will need to have a steady hand or tripod or gimbal ready. You can shoot videos in Macro, though, which is an excellent addition. We're happier with the feature when used in videos.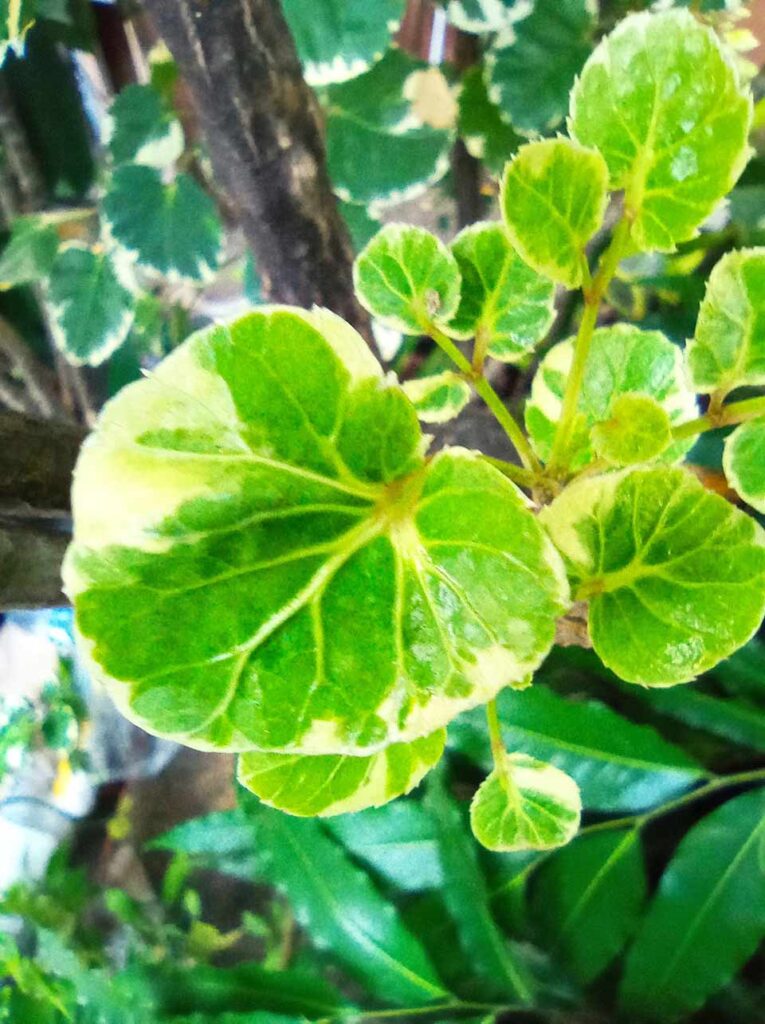 The Redmi 9's ultra-wide mode is pretty decent. It's accessible through the primary Photo mode, and it's usable in videos, too. It offers the option to correct the distortion in these pictures, which it does relatively well. Again, it's best used in great lighting.
Auto vs Ultra-wide
We've tried Portrait mode with cats, though it works best with people. It can handle the separation of your human subject from the background pretty well.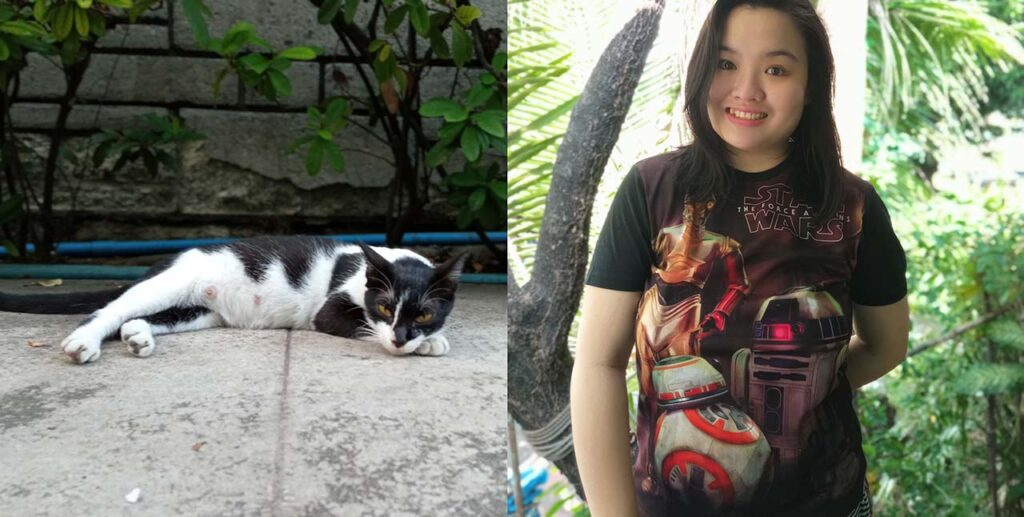 The Redmi 9's selfie capabilities are pretty remarkable, too. Without applying beauty filters, you still somehow end up with flattering photos that show things like pores or scars. And in its default setting, Beauty mode will keep some of your pores, marks visible. You can opt to smoothen it out completely.
There are less editable features in this phone's Beauty mode, offering the likes of skin smoothening, thinning out your face, and widening or enlarging your eyes a bit. But we don't use these, so it wasn't much of an issue for us. Those who love editing selfies might need to rely on third-party options.
Selfies shot on the Redmi 9. Auto, Beauty, Portrait, Portrait with Beauty mode
The Redmi 9 has two modes that are fun to play with: Slow Motion and Kaleidoscope.
Slow Motion, as you've seen in other smartphone handsets, can take slowed-down clips. For the Redmi 9 version, if you transfer the clip out of the smartphone, you'll need to edit the video first before copying it to another device (like your computer). The good thing about editing clips on the phone is that you can change which parts of the video are slowed down and which ones aren't.
Kaleidoscope is something we haven't seen in default camera apps of smartphones. As the feature suggests, it turns out fascinating patterns for your videos with that repeated-reflection effect kaleidoscopes produce. It's accessible through the Short Video mode, which, as its name suggests, allows you to shoot 15-second clips. The feature lends itself to social-media-worthy content.
Captured in Kaleidoscope and Slow Motion (0:30 mark) modes
It even lets you take photos as you record Kaleidoscope videos. After shooting, you can edit the clips to add preset music, filters, watermark, or use the recommended third-party app KineMaster to tweak your masterpiece further. We honestly loved playing with it.
Aside from those features, the default Camera app has a few notable additions, too. There is a setting that lets you open the app in the last mode you were using. There's also Tilt Shift and access to Google Lens through the hamburger menu up top.
Performance
The MediaTek Helio G80 promises a better gaming experience for budget devices like the Redmi 9. Redmi offers two variants of this device: one with 3GB RAM and 32GB storage and another with 4GB and 64GB, like our unit. For everyday work and leisure, this handset works just fine. There were moments when it would crash apps while we were quickly typing. But this didn't happen too often that it would spoil the experience for us.
The phone feels hot in instances like when we've watched videos continuously, when we were playing games for extended amounts of time, or when we were using the camera for a while. However, the heat wasn't enough to make the Redmi 9 uncomfortable to use.
For most of the games we tried, the recommended visual settings were usually in the Medium range
Packing a gaming-centric chipset should offer you better performance while playing games. We've tested it out with a handful of titles like Need for Speed No Limits, Cooking Battle, Marvel Super War, PUBG Mobile, and Fortnite. For most of the games, the recommended visual settings were usually in the Medium range. It's still possible to play them in High settings, but the possibility of the games lagging and the phone hitting up are there.
We could play Cooking Battle, Marvel Super War, and PUBG in High without much of a problem. Fortnite, however, we were only able to install, but the game itself isn't compatible with the Redmi 9 and didn't let us play. We were looking for Asphalt 9 to try it out, but Google Play wouldn't even let us install it, claiming the device couldn't support the title.
The Redmi 9 isn't going to blow away budget gamers who expect a lot in terms of performance. But if you temper your expectations, you can get a decent experience out of it.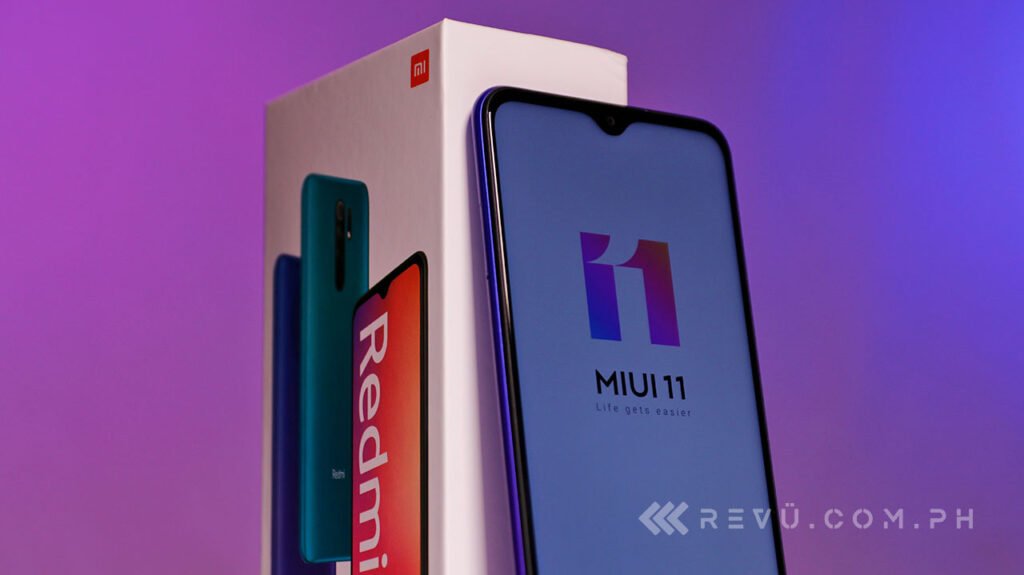 This handset runs on Android 10-based MIUI 11. It's not the latest version of MIUI; we still appreciate its user interface's somewhat-pared-back look. There are still a few apps we wish weren't included out of the box, but with relatively big storage, we can choose to ignore them.
Even with its benchmark scores, you shouldn't expect it to be at the top of the leaderboards. Everyday use wasn't much of an issue anyway, which should hold more weight. Besides the minor crashes, our experience with the Redmi 9 is mostly positive. It is understandable to expect more from this handset because it does offer a lot. But then we're reminded that it's still a budget device that needs to cut a few corners to keep the price down.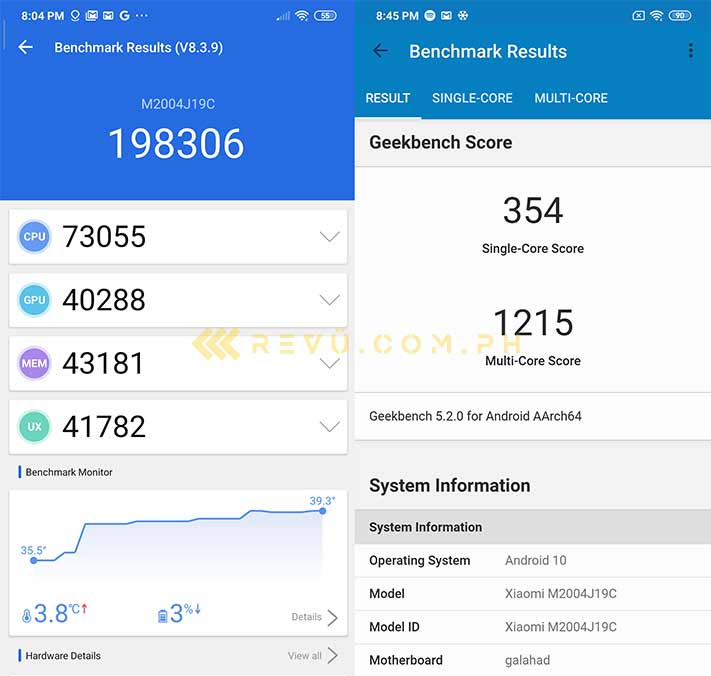 Battery
The Redmi 9 packs a massive 5,020mAh battery that supports 18-watt fast charging. With USB-C charging, expect to get decent speeds. The downside, though, is that Xiaomi only includes in a 10-watt charger. It takes over two hours and a half to charge this handset from the battery being fully drained.
But to reach that point, you will get a lot of use out of the Redmi 9 first. We used it with the screen mostly on to go about our day, and it usually lasted around 12 to 14 hours before we completely drained it. A full day and a half or more are achievable if you don't pick up your phone often or if you take advantage of the phone's battery-saving tool.
When we ran the PCMark Benchmark test, it got a respectable 12 hours and 16 minutes.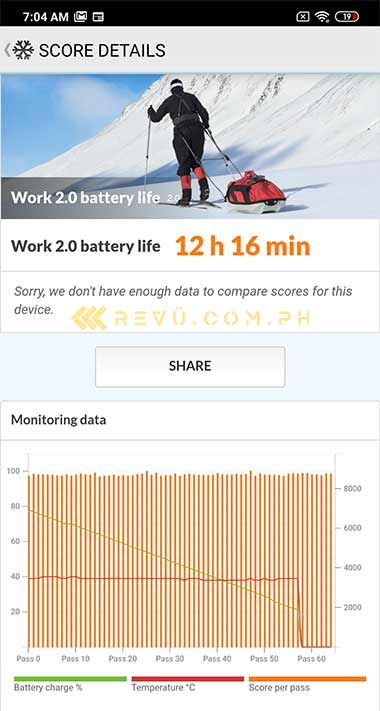 Final thoughts
Was it right for us to expect the Redmi 9 to perform well? Mostly, yes. The pros can outweigh the cons in a lot of instances. It's a reasonably attractive handset, divisive camera-module design aside. It is powered by a respectable processor, offers a flexible quad-camera setup, reliable and lengthy battery performance, and then comes at an attractive price.
The average person on a strict budget would get a lot out of this phone. Those who love consuming videos, music, and other content will be pleased with the Redmi 9. It's not hard to recommend this to them.
The average person on a strict budget would get a lot out of this phone
Heavy gamers or power users who mostly use power-hungry apps would need to look elsewhere. It's more of a casual gamers' handset or a device for those willing to work and play with some restrictions.
After spending some time with the Redmi 9, we're still more impressed with what it can do within its limits than being annoyed by its shortcomings.
Xiaomi Redmi 9 specs
6.53-inch LCD display, 2,340 x 1,080 resolution, Corning Gorilla Glass 3
Octa-core MediaTek Helio G80 processor
3GB/4GB RAM
32GB/64GB storage
Quad 13-megapixel, f/2.2 (main); 8-megapixel, f/2.2 (ultra wide); 2-megapixel, f/2.4 (depth), 5-megapixel; f/2.4 (macro) rear cameras
8-megapixel front camera
Fingerprint reader (rear-mounted)
5,020mAh battery with 18-watt fast charging, 10-watt in-box charger
MIUI 11 based on Android 10
Colors: Carbon Grey, Ocean Green, and Sunset Purple
---