Huawei has announced a One Price Repair program for the Philippine market, allowing you to purchase spare parts for select devices at discounted prices.
The campaign runs until September 30, and Huawei and Honor phones and tablets like the P20 and P30 series handsets as well as the MatePad T1 10.0 and MatePad M3 Lite 8-inch are included. However, take note that units that went through unauthorized repairs (they'll know because your phone has seals over the important components), have water damage, and physical damage are not entitled to the promotion.
SEE ALSO: Huawei overtakes Samsung as biggest smartphone brand in Q2 2020
The prices also don't cover the cost of labor, which varies depending on the type of product, and fee for out-of-warranty devices. Huawei is likewise reminding everyone to schedule an appointment for repairs via the Support app or through one of its local hotline numbers. This is to ensure that the spare part or parts will be available for your unit prior to your arrival at the service location.
Additionally, Huawei Philippines offers a 90-day warranty on repair screens, motherboards, and back covers. The base prices for the parts are as follows:
Screen: from P899 (around $18)
Back cover: from 599 ($12)
Mainboard: from P1,499 ($31)
Battery – from P799 ($16)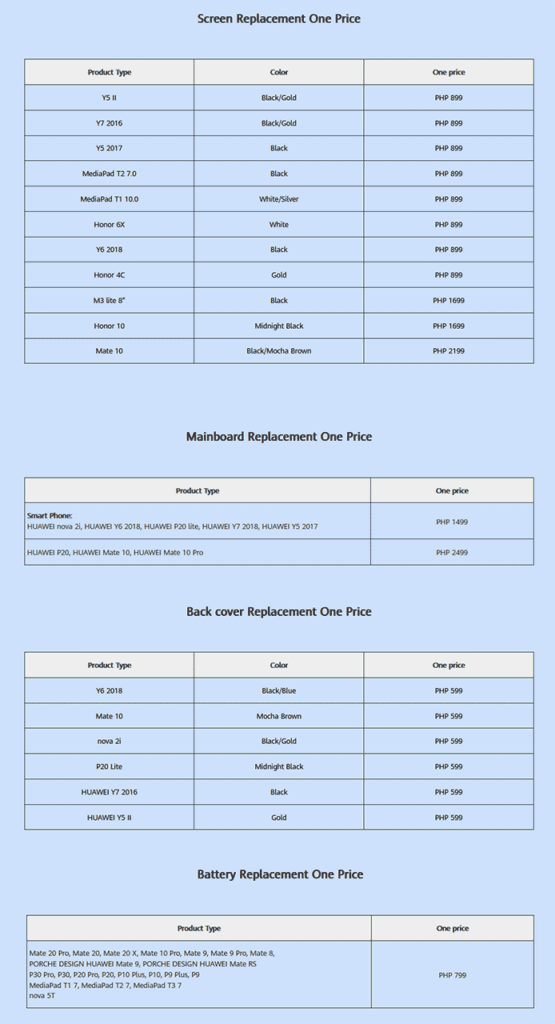 Naturally, premium devices such as the Huawei P20, Mate 10, and Mate 10 Pro have more expensive parts than the lower-end ones. A mainboard for the said phones cost P2,499 ($51) each. Thankfully, if you only need to have your device's battery replaced, the flat charge is P799 ($16).
This is a particularly good deal for any Huawei two years or older as built-in batteries hold less of a charge and, ultimately, fail over time. Even if your phone is doing fine right now, that might not be the case a year or two later, so it's probably better to have its battery replaced now while the prices are favorable.
---