For the first time in nine years, a brand that's not Samsung or Apple has been crowned the top smartphone vendor worldwide.
According to a report by market-research firm Canalys, Huawei shipped 55.8 million devices from April to June in 2020. The number is down 5% year on year, but enough to overtake Samsung as the No. 1 smartphone manufacturer globally. The Korean technology giant shipped 53.7 million units, a 30% fall against the second quarter of 2019.
This development is a feat considering American companies have been prevented from working with Huawei without a permit since last year, hence the lack of Google Mobile Services on new Huawei mobiles, for one. The latter, in turn, led the vendor to strengthen the now-third-largest-app-distribution-platform AppGallery.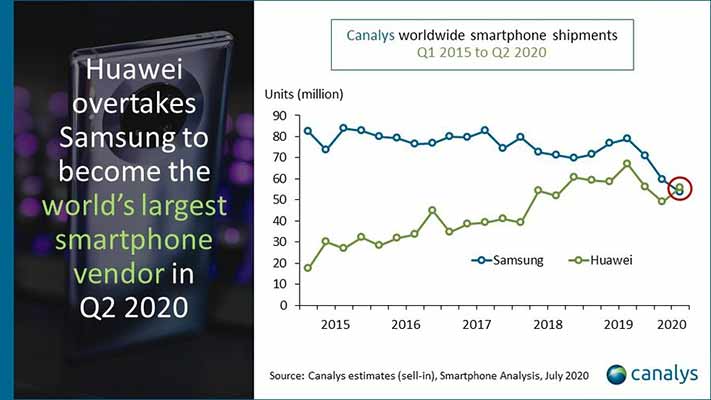 Huawei's dominance in China — which emerged strongest from the COVID-19 pandemic — contributed to the manufacturer's rise to the top in the second quarter.
"Huawei has taken full advantage of the Chinese economic recovery to reignite its smartphone business," Canalys senior analyst Ben Stanton said.
The company boosted its Chinese shipments by 8% in the second period, and it now sells over 70% of its devices in mainland China.
SEE ALSO: This is 5G on the Huawei P40 series and Samsung Galaxy Note 20 series: Philippine preorder details
Samsung, on the other hand, has a small presence in world's biggest smartphone market, with less than 1% market share, Stanton explained. "Its core markets, such as Brazil, India, the United States, and Europe, are ravaged by outbreaks and subsequent lockdowns."
However, he cautioned that this development could be hard for Huawei to sustain in the long run once the global economy starts to recover.
Canalys has not yet released the complete ranking of smartphone vendors last quarter, but we reckon the wait shouldn't be long.
---