Budget true wireless headphones are on the rise. And that means there are more affordable options out there outside of the Apple AirPods, which we can say popularized the audio accessory.
The OPPO Enco W31 succeed the slightly more expensive OPPO Enco Free in a bid to make waves in this growing market. As a more bank account-friendly option, does this mean OPPO is scrimping on quality, too? We're here to share our thoughts on these TWS headphones from the brand.
Price and availability
The OPPO Enco W31 retail for P2,990 (around $61) and can be bought from open OPPO concept and online stores and authorized retailers. You can choose between Black or White color options.
Hardware
OPPO tries to tread its own path with the Enco W31. From afar, the earbuds may still pass off as AirPods lookalikes, but a closer inspection says otherwise. Yes, there is still a stem, but the shape of the in-ears connected to them are oval. The stem also has a brushed metallic finish, but the earbuds are unmistakably plastic. Despite that, the Enco W31 feel durable.
Plastic also means these earbuds are light. And they are designed to be comfortable for long-term use. We had them on for most of the day during testing, and it didn't cause us any discomfort. The company even supplies three different soft silicone tips to ensure a proper fit.
The stems help make taking out and putting in these buds reasonably easy. Plus, they bring the mics closer to your mouth, allowing for better voice reception. The OPPO Enco W31 come with two microphones in each earbud for dual-microphone noise cancellation during calls (which we'll talk about later).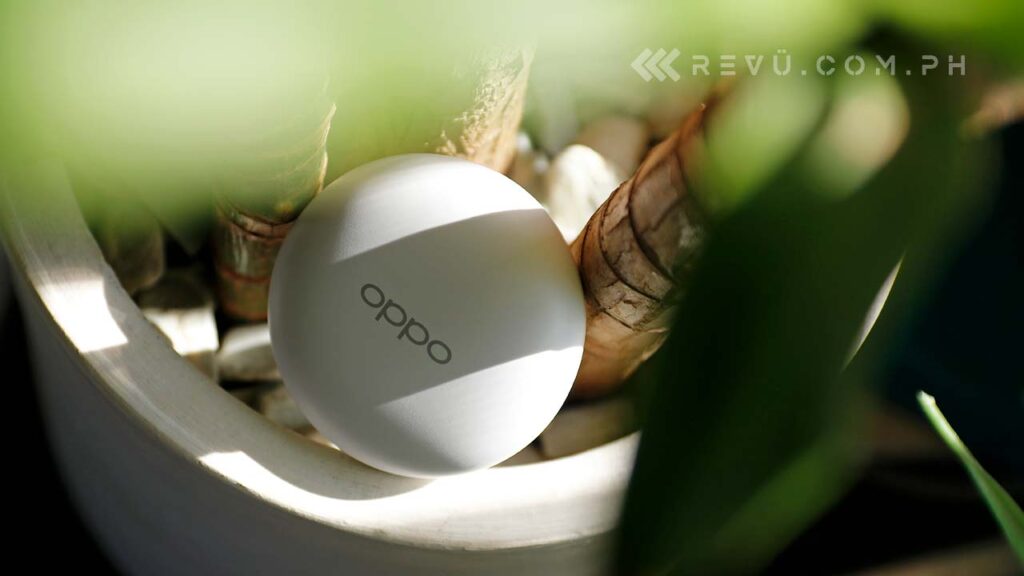 The Enco W31 are charged through the accompanying charging case. The small, pocketable case reminds us of a compact powder case or hockey puck with a soft touch, matte finish. Our test unit came in white, and while that's prone to getting dirt on it, it's easy to clean.
The case is relatively non-descript. There's an OPPO logo on top, a recessed portion in front helps you open the case, and the USB-C port is tucked away at the back. Inside, there are the magnetic charging slots where the earbuds rest, a pairing button, and an LED indicator that shows battery and connection status.
What's in the box
OPPO Enco W31 earbuds
Ear tips (S, M, L)
Charging case
USB-C cable
Quick start guide
Warranty card
You get what's expected for wireless earbuds with the Enco W31, but if we have one complaint, it's the short USB-C cable it comes with. It's the kind of cable you plug into a laptop to keep the case beside you, a power bank, or a USB charging station. If you need a longer cable, you might have to use USB-C cables you own.
The good thing is charging the case won't be too frequent of an occurrence — of course, depending on your use. OPPO promises a total of 15 hours of music playback or 12 hours of call time (at 50% of the volume) where you completely drain the 25mAh battery on each earbud and the 350mAh battery on the charging case.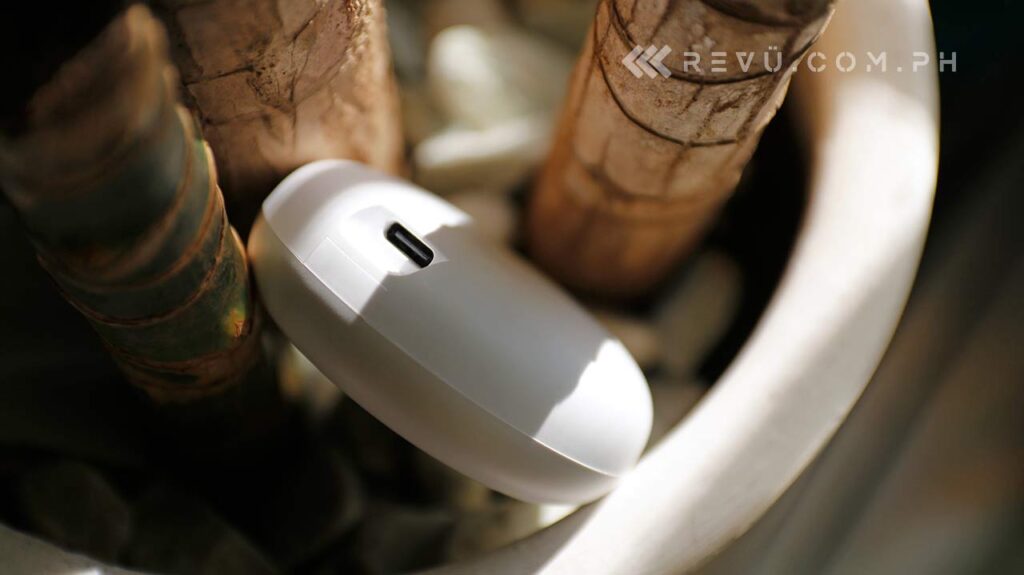 During our test, we hovered around that volume and usually got more than advertised. We averaged around four and a half to five hours on a single charge. And we got around four full charges and an extra charge that tops up the earbuds up to 30%, meaning we quickly got 20+ hours before we needed to charge the earbuds with the case.
It usually took us around an hour and a half to fully charge the case. And while we wish that were shorter, it's still impressive how long the Enco W31 last even with heavy use.
OPPO doesn't offer an app to control the Enco W31. And we wish it did. The only way to check battery life is through the LED lights or by heading into the Bluetooth settings on your phone. OPPO devices are the only ones that can display how much battery is left on each earbud.
Setup and operation
The OPPO Enco W31 are unlike a lot of true wireless earbuds. They transmit audio to both ears at the same via a binaural low-latency Bluetooth transmission. Others use tech with primary and secondary headphones, where the secondary earbud is reliant on the connection of the first. The transmission method the company uses allows for a faster, smoother experience that eliminates incompatibility, delays, and lag.
These earbuds come equipped with Bluetooth 5.0 with a wireless range of 10m. The connection is consistent and stable. We could count on one hand the times the Enco W31 disconnected while we were in range. They continue to play as we move around rooms that share thin walls.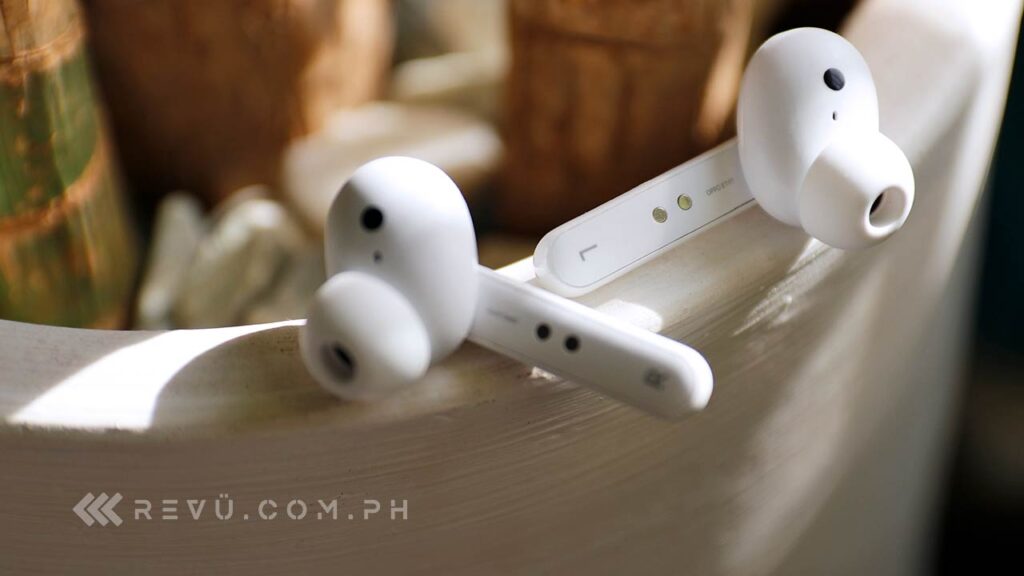 Pairing is also simple, whether you're using an OPPO device or another manufacturer's handset. They pair as any Bluetooth headphones do. You just need to press the button inside the case until the LED changes to white, signaling that they're ready to pair.
Of course, compatible OPPO devices have an advantage. The company offers a quick pairing option for OPPO smartphones running ColorOS 7.0 or higher — excluding the A series, F series, Reno 2Z, Reno 2F, R15, Reno 3 (4G), and Reno 3 Pro (4G).
Pairing is simple. Of course, compatible OPPO devices have an advantage. Just pop up the charging case with the earbuds near an unlocked OPPO device then follow the onscreen instructions. Once paired, the Enco W31 offer an automatic connection when the charging case is opened with the earbuds in
All you need to do is pop up the charging case with the earbuds near an unlocked OPPO device and then follow the onscreen instructions. Once paired, the Enco W31 offer an automatic connection when the charging case is opened with the earbuds in. Auto connection works just as well with handsets from other brands.
We could easily pair the OPPO Enco W31 with a Samsung Smart TV and a Lenovo Yoga Book. The connection to both devices was stable. While they boast low-latency transmission, we found they leave room for improvement, particularly when it comes to gaming. For every other activity, they should be sufficient.
The Enco W31 support AAC/SBC, allowing you to enable the better-quality AAC codec in the Bluetooth settings of the earbuds. In the same settings, OPPO devices have access to firmware updates, which isn't available on other devices.
The company offers wear detection and intuitive touch controls with the Enco W31. Wear detection works with the help of infrared optical sensors on the earbuds. It detects if you're wearing the headphones and pauses or plays the audio depending on whether you take out an earbud or not.
Touch controls let you skip to the next track, switch between audio effects, answer and end calls, and call on your voice assistant of choice. Unlike the Enco Free, there's no volume control available here. And without an app, there's no way to customize the gestures.
The touch controls work well enough, sometimes they work too well. We would accidentally graze them, and they would switch tracks or audio effects or accidentally call on Google Assistant.
Sound
The OPPO Enco W31 come equipped with a 7mm dynamic driver with a frequency range of 20Hz to 20kHz, 95dB driver sensitivity, and Dual TPU composite graphene diaphragm, which promises to extend the reach of high frequencies and depth of low frequencies.
Audio quality is what you'd expect to get in its price bracket. It's not spectacular, and it sounds a bit muddled. But there is some sound separation with an attempt to balance out the sound.
For the bassheads, the Enco W31 come with a Bass mode to accompany a Balance mode. You can toggle between two distinct audio profiles on these earbuds by double-tapping on the left earbud. Even without activating the Bass mode, the bass is heavily prominent on these earphones. It was a treat to listen to songs from artists like Billie Eilish and Flume on the Enco W31.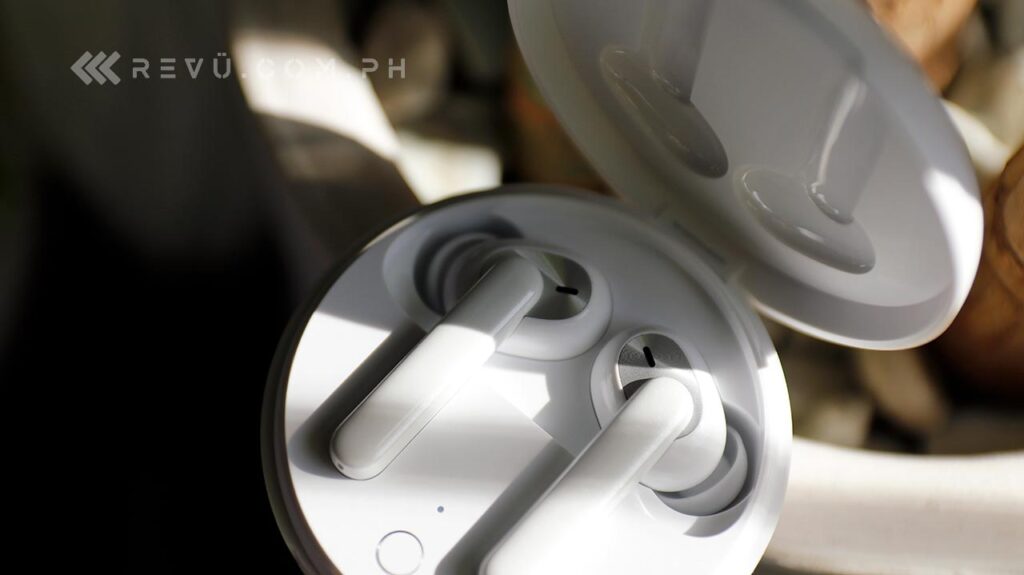 Volume levels can be pretty loud that we've usually kept it in the 50% range. It helps that the design offers some form of semi-passive noise isolation, allowing the OPPO Enco W31 to keep background noise out, so you can focus on what you are listening to.
Sound quality during calls is improved with the help of dual-microphone noise cancellation. People we've talked to while using the earphones say they can hear us pretty clearly. With the help of dual-microphone beamforming, an environmental noise-cancellation algorithm, and an anti-wind noise chamber, they keep noisy surroundings at bay. The person on the other end of the call can hear you clearly.
Final thoughts
The most enticing thing about the OPPO Enco W31 is they are a budget buster. And now more than ever, that is a welcome offer. Audio quality is as you'd expect in its price range. But the earbuds offer a decent seal, comfort, and long-lasting battery life. And for those reasons, you're getting your money's worth from them.
---