Apple recently hit a milestone in its PC business, introducing the first Macs with the American technology firm's Apple M1 chip inside. The M1 processor, which debuted earlier in the Mac Mini, MacBook Air, and 13-inch MacBook Pro, brings the ARM architecture to Apple computers and promises improved performance and power efficiency.

(Update, December 11: It's Apple Day in the Philippines! Heh. Read You may now buy the iPhone 12 and Mac with M1 chip in PH.)
Apple's claims, in fact, are notable, with the company stating that the new MacBook Air delivers up to 3.5x the CPU power and 5x the GPU performance of the previous Air. On the other hand, the Apple MacBook Pro is said to be 2.8x more powerful for computing and 5x faster for graphics than its predecessor. Even if those numbers are off, the latest MacBooks should be considerably faster than the last generation unless proven otherwise.
SEE ALSO: Apple iPhone 12 Pro: Unboxing, first impressions and Apple iPhone 12 series' Philippine prices revealed
Which seems to be the case. In a promising development, the initial Geekbench 5 benchmark results for Apple's newly launched MacBook Air reveal that it can achieve a single-thread score of 1,687 and a multi-thread score of 7,433. The scores compare very well with existing Intel and AMD chips on the market. When compared with existing iOS devices, the Air outperforms all of them, which is expected due to its higher core count.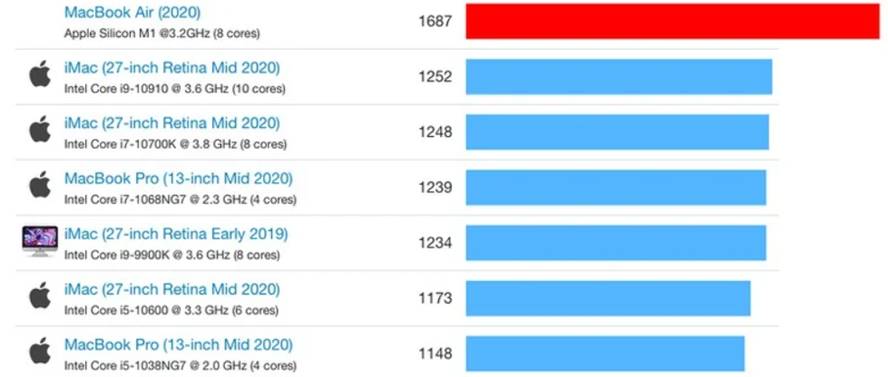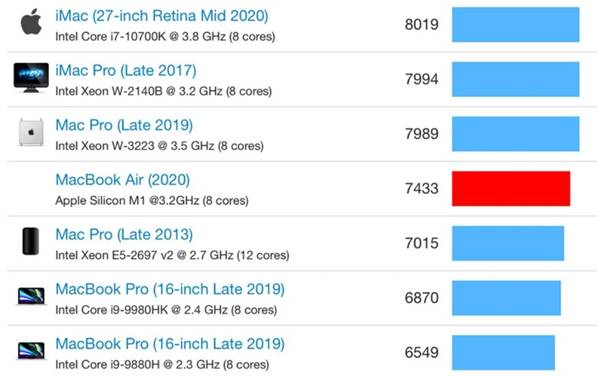 More notably, though, the numbers achieved by the entry-level MacBook are higher than the single- and multi-core results posted by the high-end 16-inch MacBook Pro with an octa-core Intel Core i9-9980HK CPU (1,096/6,870 in Geekbench 5). There's also a benchmark for the updated 13-inch MacBook Pro that has a single-core score of 1,714 and a multi-core score of 6,802.

Though the Apple M1 chip is outperforming the 16-inch MacBook Pro model when it comes to raw CPU figures, it's worth mentioning that the Intel-based MacBook likely offers better GPU performance, as it sports discrete graphics.
Scroll down to see the local prices of the latest Apple M1-based Macs. They're currently listed as "unavailable" on Apple's official online store for the Philippine market.
Apple Mac Mini (Apple M1)

256GB: P37,990 (around $787)
512GB: P49,990 ($1,036)

Apple MacBook Air (Apple M1)

256GB: P54,990 ($1,139)
512GB: P68,990 ($1,429)

Apple MacBook Pro (Apple M1)

256GB: P71,990 ($1,491)
512GB: P83,990 ($1,740)
The first Macs with Apple silicon will ship from November 17 in the U.S. We're seriously considering getting one to replace our old MacBook Pro.
Via MacRumors
---