Xiaomi Philippines has shared its latest, November-December 2020 brochure, which includes some new items you'll find at authorized Xiaomi stores around the country, if they haven't arrived yet.
Out of all the new products coming our way, one very interesting item caught our eye: the Xiaomi Mi Transparent TV, otherwise known as the Xiaomi Mi TV LUX Transparent Edition.
Recall that the world's first mass-produced transparent TV was launched in August at Xiaomi's 10th anniversary event, alongside the Mi 10 Ultra and Redmi K30 Ultra. You can buy it for a cool P450,000, or roughly $9,352 converted.
SEE ALSO: In Q3 2020, Xiaomi enters top 3 for 1st time in phone rankings
Whew, that's a lot of money for any home appliance. But then again, the hardware itself is a superfluous luxury and living-room centerpiece that looks straight out of a sci-fi film. Oh, and it's a 1080p system. Double whew.
Given the price, we assume the TV will be offered here on an order basis. We suggest that you contact Xiaomi via its official Mi Community Viber group in the Philippines or any of Xiaomi's local partner stores online.
Xiaomi Mi TV LUX Transparent Edition (known here as the Xiaomi Mi Transparent TV) official product video
This TV has a transparent display.
Priced at $7,200, Xiaomi plans to sell its Mi TV LUX Transparent Edition transparent OLED TV on August 16.#gigadgets #oled #xiaomi #technews #smarthome pic.twitter.com/YI23nv11rU

— GiGadgets (@gigadgets_) October 20, 2020
And here it is in action
For the hefty price, the Xiaomi Mi Transparent TV boasts a 55-inch transparent OLED panel that allows viewers to see through to the other side. It's impressive stuff, as shown in some YouTube videos featuring the TV where you can see pretty clearly what's behind the panel. If you look at it close enough from the back, you can actually see the connective wiring between the self-emitting light diodes.
The 10-bit HDR display produces a 50,000:1 static contrast ratio and an "infinite" dynamic contrast ratio that promises rich blacks and high sustained peak brightness. It is also capable of reproducing over a billion colors, offering a super-wide 93% DCI-P3 color space to bring images to life. The system also supports Always-On functionality, which allows users to customize screen images and texts when the TV is not being used.
On top of that, the Xiaomi Mi Transparent TV has a 120Hz refresh rate, an ultra-fast 1ms response time, and a custom MediaTek MT9650 chip that offers dedicated optimization for five common usage scenarios and runs a MIUI-based user interface built specifically for the set.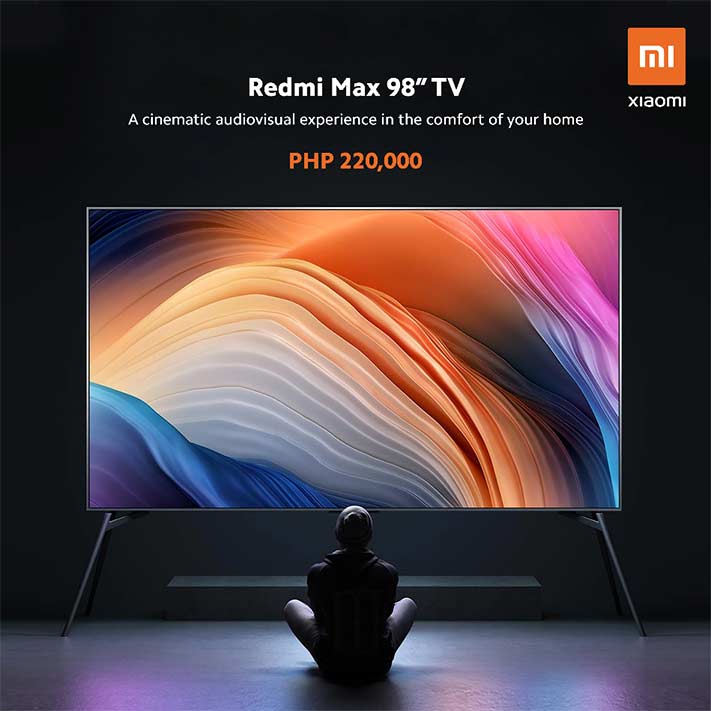 For those who don't need a futuristic TV but want the full-on, home-theater experience, Xiaomi Philippines has also revealed the price of the 98-inch Redmi Max TV in the Philippines. It is currently listed on the Cutting Edge website for P220,000 ($4,572).
Since its debut on the market seven years ago, Xiaomi's Mi TV business has grown exponentially in a short time — from a newcomer to the first Chinese TV brand with annual shipments exceeding 10 million units.
---