Estimated reading time: 9 minutes
If you're in the market for a feature-rich smartphone and don't mind shopping online, you might want to check out what Infinix has to offer. The Hong Kong-based mobile brand has been around for a while and offers competitive specs at aggressive price points.
The new Helio G35-based Infinix Hot 10 Play is no different. It will be available for P4,990 ($104) for 4GB RAM and 64GB storage at the brand's official online stores on Lazada Philippines. The first day of sale is May 28. Your color options are Aegean Blue, Morandi Green, Obsidian Black, and Purple.
This latest budget blower is powered by a gaming-focused MediaTek Helio G35 chipset, while a 6,000mAh battery should keep the lights on for days, not hours. It's no surprise then that the Hot 10 Play has been billed as a marathon phone with price-conscious gamers in mind.
But how true is that claim? That's what we're here to find out in our performance review of the Infinix Hot 10 Play.
What's the day-to-day performance like?
As mentioned earlier, the Hot 10 Play packs a MediaTek Helio G35, which is the same chip you find inside the likes of the Realme C11 and C15 and Redmi 9C. The Helio G35, like its slightly downgraded sibling, the Helio G25, features a 12nm design with eight Cortex-A53 cores that clock up to 2.3GHz and IMG PowerVR GE8320 graphics.
MediaTek says the G35's intelligent, dynamic CPU, GPU, and memory management algorithms ensure sustained peak performance and longer gameplay by keeping the battery drain in check. While we didn't do any hardcore thermal testing to confirm this, we did notice that our unit stayed reasonably warm under heavy use, even during extended gameplay periods.
Don't expect the performance to be close to what modern midrange smartphones offer, though; at the very least, you should be able to play a lot of popular games at medium to high settings without noticeable stuttering and slowdowns.
Outside of gaming, the Hot 10 Play provided a satisfying and responsive experience on the Android 10-based XOS user interface. We didn't lose progress in apps often after switching to another, or going back to the home screen, thanks to the generous amount of RAM (for the price) in the 4GB RAM variant. Despite its entry-level price tag, our review unit felt consistently responsive to our fingertips throughout our testing.
Outside of gaming, the phone provided a responsive experience on the Android 10-based XOS user interface. We didn't lose progress in apps often after switching to another, or going back to the home screen, thanks to the generous amount of RAM (for the price) in the 4GB RAM variant
It's obviously not the speediest smartphone in the segment — and its benchmark scores would reflect that. However, first smartphone users and feature-phone upgraders in particular will get more than enough power for day-to-day use with the Helio G35.
The battery life from the beefy 6,000mAh cell is outstanding, as expected, allowing us to use the Infinix Hot 10 Play for a couple of days straight without needing a recharge. Needless to say, whether you go on a gaming marathon or a Netflix binge, or both, in alternating periods, it would require serious effort to deplete this handset's battery backup quickly.
The low-end Helio G35 sips little power and sits quiet while it works away. As a bonus, there's the option to enable the phone's native battery-saving features under the Power Marathon page in Settings app that extend battery life further by limiting device performance and background data. You can also adjust the background activities of apps according to your usage habits to help save battery.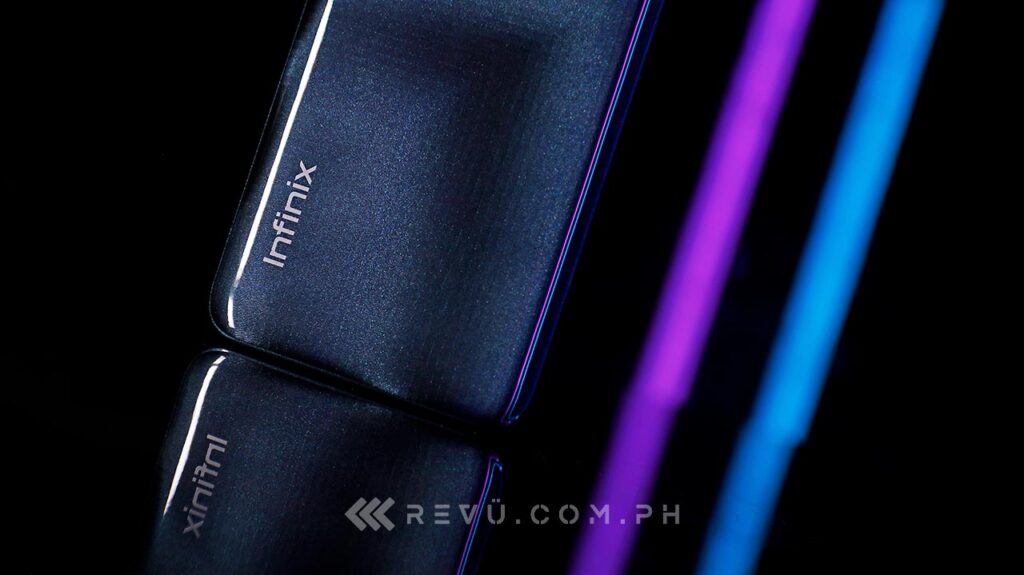 Unfortunately, the Infinix Hot 10 Play doesn't come with a modern USB-C charging port, much less rapid charging of any sort, so it will take a while to fully recharge its battery from empty. You need to keep the phone plugged in for about 3 hours and 30 minutes to get to 100% battery capacity based on experience.
There's no need to worry about overcharging your device, though, as the system uses a safe-charging feature that will auto-disconnect charging once the battery is full. Meanwhile, Smart Charge under the Phone Master app can slow down charging and set alerts when the battery reaches full capacity.
As for the screen, the 6.82-inch, 1,640 x 720 IPS LCD here is good enough for media consumption and casual gaming. Obviously, it's also a massive display, and all that screen real estate should help provide an immersive experience. The downside, though, is that most of your interactions with the Infinix Hot 10 Play will require both hands.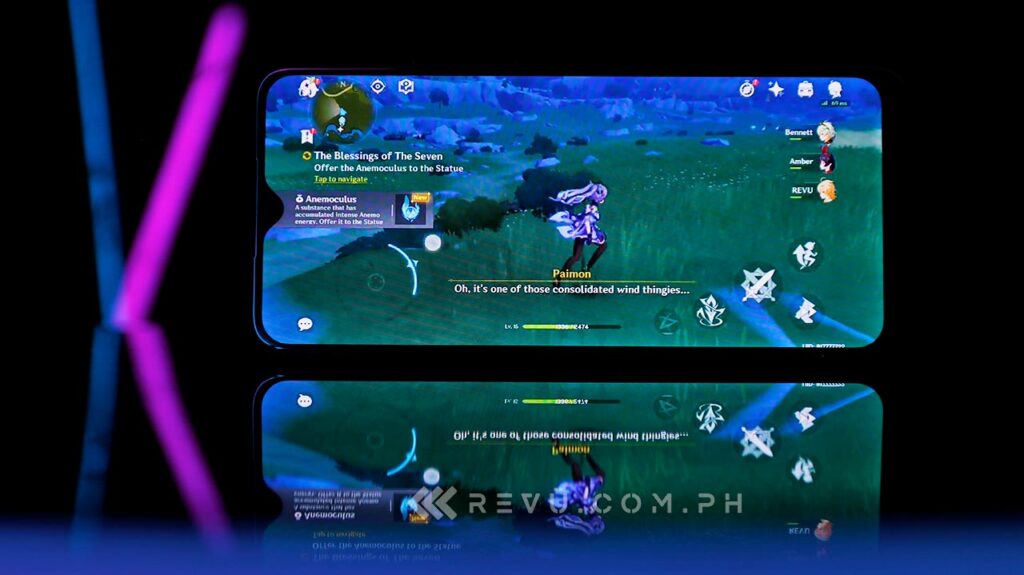 Synthetic benchmarks
Powered by the MediaTek Helio G35 with up to 4GB of RAM, the Infinix Hot 10 Play's synthetic performance is rather notable for a budget handset. We downloaded some benchmark apps online and tested our unit in room conditions at around 25 degrees Celsius.
Single-core test: 173
Multi-core test: 1,014
Sling Shot Extreme: 437
Sling Shot: 817
5-minute mark: 86% of max performance
15-minute mark: 81%
45-minute mark: 76%
60-minute mark: 81%
The 4GB/64GB storage variant achieved respectable numbers across the board, especially in Antutu. You won't see a lot of sub-P5,000 ($104) smartphones on the local market easily breach the 100,000 mark in the benchmark app.
The CPU Throttling Test is a free app you can download from the Google Play Store that gives you an idea of how your device handles performance throttling over time. We use this app to determine a device's suitability for gaming and other processor-intensive workloads.
Even after a full hour of torture, our unit only throttled to 81% of its peak performance, indicating minimal throttling and a comfortable temperature ceiling. In other words, this phone performs admirably under prolonged usage scenarios, so overheating and unexpected battery drain shouldn't be a concern.
Can it game?
Yes — and it's actually a lot better than you might give it credit for. Despite its bargain-basement price, the Infinix Hot 10 Play will run modern games, including graphics-intensive apps like Genshin Impact.
We used Infinix's built-in screen recorder to record all our gameplay footage on our unit. Unfortunately, XOS doesn't offer a native FPS counter in-game, though keep in mind that gameplay is generally much smoother when it is not being recorded on the same device.
Gameplay video: Genshin Impact, Mobile Legends: Bang Bang (3:01 mark), and NBA 2K20 (4:55 mark)
Genshin Impact
Genshin Impact is easily the most graphically demanding title available on Android today. The game combines console-quality visuals with a solid action-RPG foundation and addictive character and loot progression.
Our unit is able to run the Genshin Impact at the lowest visual quality, albeit with some stuttering. We don't recommend switching to the Low preset, as it will make the game unplayable in certain scenarios. Nevertheless, we weren't expecting much considering the price point, so it's already a win that the Infinix Hot 10 Play is able to boot the game at all.
NBA 2K20
While it's no longer the heavy game it once was at launch when smartphones had slower graphics, NBA 2K20 can still put a lot of pressure on many budget handsets.
The Hot 10 Play clearly isn't among them. This smartphone is capable of running the game reasonably well even with the graphics settings set to High. If you're after the best balance between better graphics and higher frame rates, you may want to step down a grade to the Medium preset.
Mobile Legends: Bang Bang
Mobile Legends is one of the most downloaded mobile games on Android. The Philippines enjoys a strong Mobile Legends following nationwide. So it's only natural that we test the game on the Infinix Hot 10 Play to see how it performs.
Unsurprisingly, our unit doesn't support Ultra detail, but delivers consistently high frame rates with the Medium graphics preset. What's more, it's worth pointing out that High Frame Rate or HFR mode is supported on the device for smoother visuals.
Final thoughts
Just from a purely hardware perspective, the Infinix Hot 10 Play is a terrific starter phone that punches above its weight class and can do basic gaming well. It's quite incredible that a phone that costs so little can run one of the heaviest mobile games around.
Infinix has made a name for itself as a value-first smartphone company, and the Hot 10 Play surely doesn't fall far from the tree. If performance is high on your list, this device is highly recommended.
Infinix Hot 10 Play specs
6.82-inch LCD display, 1,640 x 720 resolution, 60Hz refresh rate
Octa-core MediaTek Helio G35 processor
PowerVR GE8320 GPU
2GB/4GB RAM
32/64GB expandable storage
Dual 13-megapixel (main) and AI cameras
8-megapixel front camera
Fingerprint reader (rear-mounted)
6,000mAh battery with 10-watt microUSB charging
XOS based on Android 10
Color options: Aegean Blue, Morandi Green, Obsidian Black, Purple
---