One is a physician-slash-voice-actor-slash-businessman-slash-dad, and the other is a third-year college student taking up marketing management. But they couldn't be more similar — bound by an interest in an industry that's now worth more than $300 billion globally.

Wyndsor Martillana, who goes by the handle Excelsor PH, and Estelle Cerutti, popularly known as Yuuske, are the last two shoutcasters standing in the Legion Academy Caster Program, a Lenovo-AMD project whose objective is to "provide the necessary tools, skills, and expertise to the general public for continued interest in the gaming and esports space."
The pilot focused on commentators for popular first-person-shooter game Valorant and enlisted the help of professional esports caster Edwin "Arctikuno" Theo Rodriguez to mentor the participants.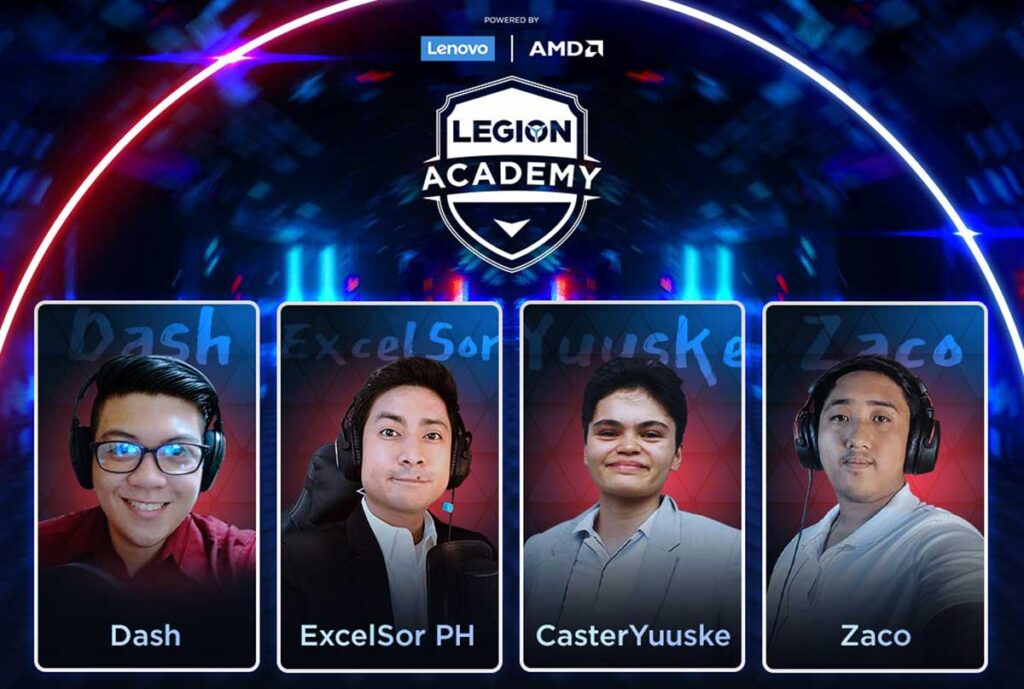 In the end, Excelsor PH and Yuuske each walked away with an AMD-powered Lenovo Legion 5 laptop and a non-exclusive shoutcasting contract worth $1,000 after facing Christian James "Zaco" Magdaluyo and Eugene "Dash" Esteban in the finals.
We watched the two cast the grand finale of the Legion Academy Valorant Tournament 2021 between SR Kadiliman and Run N Gun and reflected on how much shoutcasting has grown alongside esports in the Philippines, with local casters getting more attention than players at times.
We're not surprised, really. As with traditional sports commentators, shoutcasters bring a whole new level of experience to the audience. They can make an average match riveting and an already-riveting one seem like the game of the century.
There are generally two kinds: the play-by-play type who tells us what's happening on screen and the color caster who focuses more on giving his or her opinion or analysis. But both require these five Ps, as Arctikuno refers to them: passion, practice, preparation, patience, and progress.
Going pro
But how does one get his or her foot in the door and eventually get into professional shoutcasting?
Arctikuno shares: "Just do it. I started out not having any connections in the industry, all while simply practicing my casting over a random tournament VOD that I found on a video-streaming platform. I kept on practicing on my own, and once I felt comfortable, I started by trying out for open calls and volunteering for small tournaments that didn't have a stream of their games."
He adds that pursuing a career in casting isn't a walk in the park, as you have to put in the hours to hone your craft and be always on the lookout for opportunities.
Which is why we think mentorship programs like the one the Legion Academy offers are commendable.
'Mentorship programs like the one the Legion Academy offers give talents a roadmap and structure, as opposed to just winging it and figuring things out for themselves'
Arctikuno agrees, explaining that they give talents a roadmap and structure, as opposed to just winging it and figuring things out for themselves, like many from the earlier generation of shoutcasters did.
Excelsor PH, Yuuske, Zaco, and Dash couldn't thank the Legion Academy Caster Program enough, citing the things they learned through the Lenovo-AMD project.
"It is rare to have opportunities where you can ask an experienced and well-versed caster the tricks of the trade," Excelsor PH says while sharing some of the top things he picked up from Arctikuno:
Be proactive, because there's always an upside to being proactive in the esports industry;
Always have an updated portfolio;
Studying is important to increase game knowledge and to be more familiar with the nuances of the game;
Study, study, study (in case you didn't get how important this is); and
Get feedback from your colleagues. Sometimes the way you can improve is to get your peers' perspective.
Yuuske, on the other hand, highlights the importance of showing one's personality and recognizing the value of a client-caster relationship. "Clearly, there are various other casters with their own style, but you must not forget the importance of highlighting yours. And as you take on more roles in casting, you must always work with your clients to ensure the best performance possible for your broadcast."
For Zaco, it's all about putting oneself out there with no fear. "Just stick your head out the car window, because you will never know unless you look."
And for Dash, he learned a lot about creating his own portfolio because that's how you get casting gigs.
Just a stepping stone
Yes, esports is big, but make no mistake; it still hasn't reached its peak, especially in the region. And with its rise comes the need for more talented professional shoutcasters. The industry could do with more efforts like the Legion Academy Caster Program. Fortunately, the PC manufacturer says they are just starting and are not about to slow down.
"Lenovo Legion has always focused on the grassroots — on amateur tournaments, community activities, and workshops, all dedicated to sustaining a healthy regional esports community in Asia Pacific. As the interest of competitive gaming continues to grow, so did the need for better tournaments, activities, and talents supporting them," Product Manager Lead at Lenovo Philippines Tristan Ver Gonzales says. "Expanding on an already-established tournament platform, the Legion Academy's focus on shoutcasters is a stepping stone for us to fully explore how we can best provide for the region while also using our established platforms to generate opportunities for gamers in our area."
Gonzales adds that Lenovo hopes to expand its support and engagement with the local mobile-gaming community with the launch of the Legion Phone Duel 2 in the Philippines.
In case you're not familiar, Lenovo's second gaming phone on the market promises to deliver the ultimate gaming experience, featuring a 5G-enabled Qualcomm Snapdragon 888 chipset and a super-fast 165Hz screen. To keep its internals cool and running at optimal capacity, the Legion Phone Duel 2 also boasts a one-of-a-kind Twin Turbo-Fan cooling system that is said to dramatically reduce operating temperatures when gaming. It also has Octa-Trigger virtual keys for easier game controls.
Like the Legion Phone Duel 2 and other Legion products, the Legion Academy Caster Program aims to provide gaming enthusiasts the necessary tools to succeed in the industry. And it couldn't have come at a better time, with esports expected to explode in popularity not only in the Philippines, but across the globe.
---