Many of the handsets launched by major manufacturers these days are 5G-ready — with the cost of owning one getting lower and lower.

Of the smartphone vendors in the Asia-Pacific region, BBK Electronics' Vivo did well in the charts in the second quarter of 2021, capturing one in five 5G shipments. Its market share increased from 13.3% during the same period in 2020 to 20% this year. This is according to the latest research of Strategy Analytics.
The market-research firm said that Vivo "capitalized on the decline of Huawei, which in the year-ago quarter sold more than half of all 5G smartphones in the Asia-Pacific region, but has virtually disappeared from the market." The latter's fall was because of the United States government's sanctions, of course, which made it hard for Huawei to purchase 5G chips.
SEE ALSO: Top 5 smartphone brands in the world in Q2 2021
Strategy Analytics added that the "combination of leading technology and affordable prices have made Vivo's smartphones, such as its iQOO U3 5G and iQOO 7 5G, the most popular 5G devices in the region." This even if iQOO still doesn't have presence in markets like the Philippines. Here in the country, the latest Vivo 5G device on offer is the Vivo Y72 5G, which is also the first Y series model locally that has access to the fifth-generation mobile network.
Two other Chinese brands rounded out the top three in the second quarter of 2021. Former No. 4 Xiaomi catapulted to second place with a 19.3% market share, up from 10.5%. Another BBK Electronics brand, OPPO, landed third place, thanks to 5G shipments that grew from 12.3% in Q2 2020 to 18.7% during the same period this year.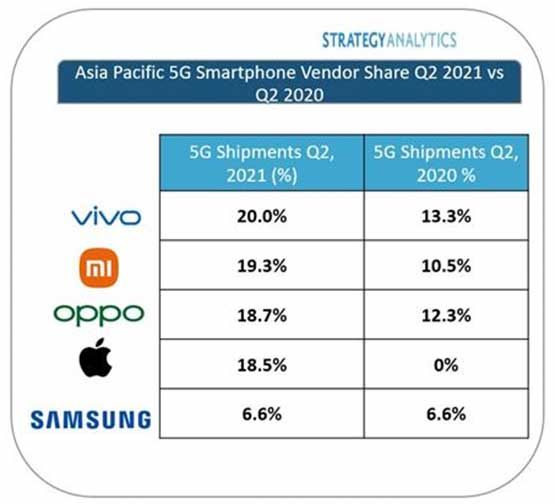 ---