MediaTek remains the top mobile chipmaker for the fourth and final quarter of 2021, according to market-research firm Counterpoint Research.
Its market share dropped from 37% to 33%, though, while second-place chipset vendor Qualcomm gained some ground, improving to 30% from 23% in Q4 2020. Apple stays firmly in third place, well ahead of Unisoc, formerly Spreadtrum Communications, Samsung, and HiSilicon despite losing a bit of market share.
Unisoc, meanwhile, has leapfrogged into the fourth spot after more than doubling its market share within a year, thanks to the wider adoption of its budget chipsets. Realme, Tecno, Infinix, and even Samsung have all introduced low-cost devices powered by China's biggest designer of mobile chips.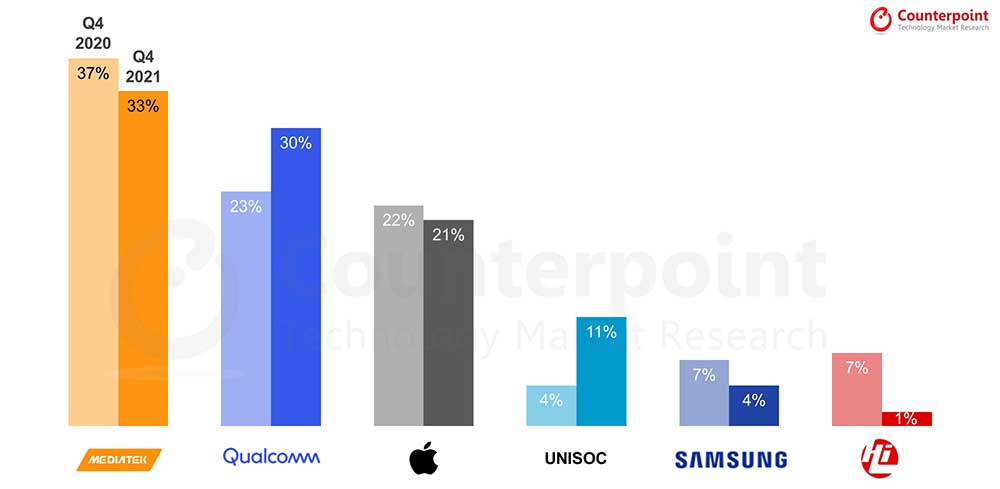 Things might only get worse for Samsung following the South Korean firm's decision to adopt the Snapdragon variants of its Galaxy S22 series in most countries, including the Philippines. HiSilicon could be in trouble, too, as Counterpoint notes that its chip inventory has almost run out, forcing Huawei, by far its largest customer, to use Qualcomm chips in its latest phones.
Moving on to the 5G numbers, Qualcomm still leads global 5G modem sales last quarter, now making up 76% of the market. MediaTek improved to 18% from 17%, good enough for the second spot. Samsung sits in third place with 4% of the market. Counterpoint says the high demand for the iPhone 12 and iPhone 13 phones, which use Qualcomm's 5G modems, drove the shipments last quarter.
---