Xiaomi recently unveiled its latest Redmi Note 11 series in the Philippines, with the standard Redmi Note 11 being the entry point in the lineup and the first phone to hit the local market.

The phone has a suggested retail price of P8,999 (around $175 converted) for 4GB RAM and 64GB of storage and goes up to P9,999 ($195) for the 6GB RAM/128GB storage configuration. You can buy it in-store or from online platforms like Lazada.
The new Note launches almost one year after the Note 10 series arrived on local shores, and that's pretty surprising considering the Xiaomi sub-brand's relatively short release pattern. The timing aside, it seems like the Note 11 is a worthwhile upgrade over its predecessor, the Redmi Note 10, which debuted as the first Qualcomm Snapdragon 678-based smartphone in the country.
Not to be outdone, of course, the Redmi Note 11 ships as the Philippines' first phone built around the new — and highly efficient — Qualcomm Snapdragon 680 chipset made using a 6nm manufacturing process, compared with the Snapdragon 678's 11nm node.
It also brings a faster 90Hz AMOLED screen, while the primary rear camera gets a sharper 50-megapixel image sensor. The 5,000mAh battery with 33-watt fast-charging tech makes a return on the Note 11, too. And all for a budget-friendly price. It appears Xiaomi has done it again. But is it the phone for you? Read our review to find out.
The Redmi Note 11 features an all-plastic housing, which isn't surprising given its price tag, but it does look more expensive than it actually is. The plastic rear arrives in a variety of colors and features flat sides that take after today's iPhones in design. It doesn't have a textured finish and is a pain to clean and keep free of fingerprints and smudges, but it looks clean and modern in its own right. Our review unit is the Graphite Gray variant, but the Note 11 comes in Twilight Blue and Star Blue colors, too. The latter has a gradient finish that changes hue as you get to the bottom of the handset.
This Redmi features a power button with an embedded fingerprint reader on the side for fast and convenient unlocking. Predictably, you can also unlock the phone using the face-scanner method. For pictures, the back panel sports a rectangular camera module with a 50-megapixel primary camera at the top and three secondary cameras for ultra-wide, macro, and portrait shots. There's a single 13-megapixel camera in the punch hole-display as well for selfies.
Impressively, there are speakers at the top and bottom of the device, and they're quite loud and provide a pretty immersive stereo experience. Glancing at the top edge, you can find a standard headphone jack as well as an IR blaster that works with the onboard Mi Remote app if you need a universal remote to control your home appliances, including TVs and set-top boxes. As expected, the USB-C charging port is located on the opposite edge, at the bottom of the handset.
Elsewhere, the Redmi Note 11 brings an AMOLED screen, just like the other models in the series. It's a 6.43-inch affair, with respectable bezels framing the top and sides of the display. You get a 1080p+ resolution and a 90Hz refresh rate, which is slightly higher than the traditional 60Hz most smartphones deliver at this price. A higher refresh rate translates to a smoother motion and improved clarity for fast-moving objects. The benefits extend to gaming as well, since it can also reduce input lag, giving you the ability to react quicker in certain games.
The downside is that locking the refresh rate at 90Hz can get rather power-demanding and will have a noticeable negative effect on your smartphone's battery life. To try to save battery, you can dial down the screen from 90Hz to 60Hz. As there's no auto setting on the Redmi Note 11, we suppose the 90Hz option is dynamic, meaning it will shift up and the down depending on the content you're viewing.
The AMOLED display also brings Gorilla Glass 3 for added protection and always-on features to Redmi's entry-level model, so now you can check the time and notifications without unlocking the device. Unlike on other phones, the Note 11's always-on lock screen can be set to only appear after tapping the display once to reduce power consumption. There's also the option to disable it whenever Battery Saver mode is activated.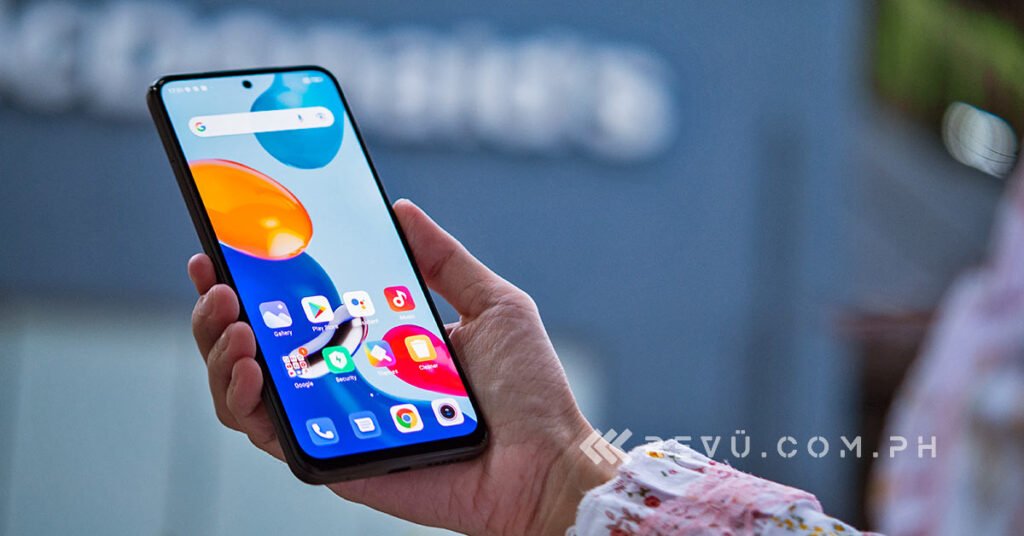 Display quality is mostly great. The perks of an OLED panel, such as deep blacks and high contrast and vibrancy, are immediately noticeable. It also offers usable brightness levels outdoors and can get bright enough to negate most reflections and be legible under direct sunlight. The overall touch response is good, too. Our unit responded to touch inputs just fine, and we didn't experience delays or accidental inputs during our testing.
One of the highlights here is the main camera system, which offers plenty of versatility with its shooting modes and choice of lenses for the price. We think Redmi's latest all-arounder is a fantastic choice for budding photography enthusiasts and hobbyists. This can certainly help glow up one's Instagram feed without the need for an expensive flagship smartphone or mirrorless camera.
At the back, you have a rectangular camera module with the 50-megapixel main camera at the top and three separate lenses for taking ultra-wide, macro, and portrait shots. The ultra-wide-angle option is equipped with an 8-megapixel sensor and offers a 118-degree viewing angle, making it ideal for landscape and group photos, whereas the macro and depth-sensing units each have a 2-megapixel sensor.
For selfies and vlogging, the punch-hole camera of the Note 11 packs a 13-megapixel sensor for clean and crisp results. While on paper, these camera specs are pretty exciting especially considering the price point, it's really the software that stands out as the common thread that ties everything together so well. Like the rest of the new Note lineup and Xiaomi's flagship models, the Redmi Note 11 boasts plenty of options in the default camera application, including those that are available even before you hit the shutter button.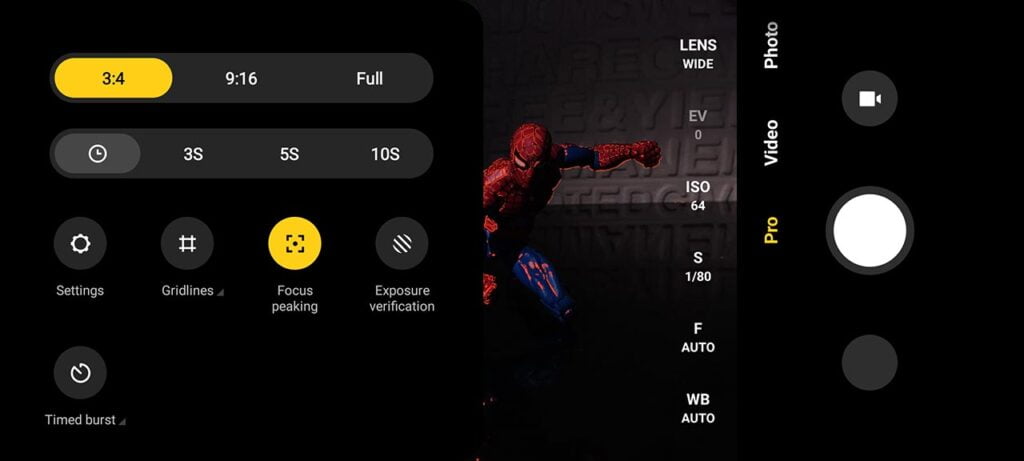 There's the live-view focus peaking feature in Pro mode, which shows red lines on your subject to help you see visually where the focus is sharpest. This allows you to take cleaner pictures in situations where focus plays a vital role in your composition. Besides that, the camera app is mostly full-featured, with all sorts of features, such as Night mode, Portrait mode, AI image-enhancement mode for photos, Beauty mode for portraits, and Pro mode.
The Pro mode features manual controls for ISO, exposure, shutter speed, and white balance. Unfortunately, there is no RAW capture setting, so you can only save compressed JPEG files in the app.
As for image quality, the 50-megapixel primary sensor can capture high-quality stills, with good color accuracy and details. There are no telephoto lenses on the phone, so all zooming is done digitally. The 2x zoom option produces satisfactory results, but can easily be blurred if you're not steady enough. Naturally, zooming in further reduces image quality significantly.
The 8-megapixel ultra-wide camera obviously provides a much wider field of view, which you'll appreciate if you're shooting in open environments. However, the image quality is not nearly as good as what the 50-megapixel camera is capable of. The 2-megapixel macro shooter, on the other hand, might be useful outdoors, but you're probably better off using the main camera's 2x digital zoom to focus in on a subject while losing minimal clarity.
Some shots taken on the phone. For more sample pictures, check out Our Redmi Note 11 camera test shows you don't need an expensive phone to glow up your IG feed
The Redmi Note 11 aims to be the performance king in its category, boasting a new Qualcomm Snapdragon 680 4G processor, which is said to be as efficient as they come because of its 6nm process, to go along with up to 6GB of LPDDR4X RAM and a choice between 64GB and 128GB of UFS 2.2 storage. It boots Android 11-based MIUI 13 out of the box.
As usual, MIUI is a somewhat-overbearing Android user interface, though it has improved slightly in the past few years. In case you're wondering about Android 12, Xiaomi has committed to bringing the latest version of Android to the Note 11 family at some point during the latter part of 2022. You can expand the storage further using a microSD card, if you like.
Benchmarks. Click on a thumbnail to launch the gallery
The Snapdragon 680 chip delivers good performance in just about every usage scenario while maintaining battery efficiency. Opening and switching between apps is mostly a fast and smooth experience. Multitasking also feels responsive. In heavy GPU-focused tasks such as gaming, the Snapdragon 680 performs similarly to other chips in the segment and can run demanding games like Genshin Impact at reasonable frame rates. Mobile Legends plays well at Ultra graphics with the refresh rate set to High.
The Redmi Note 11 has a 5,000mAh single-cell battery that should last two days for many given the modest resolution and Qualcomm's highly efficient chipset. Sure enough, when we were gaming, we found the battery drain to be much slower than what we're used to. Playing Mobile Legends at Ultra only drained the battery by around 5% after two hours of gameplay. In the PCMark battery test, our unit lasted 15 hours and 10 minutes. The Note 11 supports 33-watt fast charging over USB-C, and a full charge usually takes 55 minutes.
Final thoughts
The Redmi Note 11 faces formidable competition in the Philippines from Vivo as well as challenger brands Tecno and Infinix. The latter recently unveiled the MediaTek Helio G95-based Infinix Note 10 Pro 2022 on the local market for P11,990 ($234), while Tecno has a couple of solid budget offerings in the Camon 18 and POVA 2. Both retail under P10,000 ($195).
Meanwhile, Vivo recently launched the Y21T on the local market. Like Redmi's standard Note 11, the Y21T also comes with a Qualcomm Snapdragon 680 processor, a 50-megapixel main rear camera, and a 5,000mAh battery. Locally, it is priced at P10,999 ($214).
Overall, the Redmi Note 11 is a well-balanced, well-performing starter model and even includes a few bells and whistles that have become increasingly rare in the industry. It packs a relatively fast AMOLED screen with always-on functionality; a capable and efficient 4G chipset; and enduring battery life with fast charging.
On the downside, the phone ships with Android 11, which feels a bit outdated in 2022, and doesn't offer 5G connectivity. Those shortcomings aside, the Redmi Note 11 stands as another top contender in the entry-level category from a brand that has produced many of the best-value smartphones over the years.
'The Redmi Note 11 stands as another top contender in the entry-level category from a brand that has produced many of the best-value smartphones over the years'
Xiaomi Redmi Note 11 specs
6.43-inch Super AMOLED display, FHD+ resolution, 90Hz refresh rate
6nm octa-core Qualcomm Snapdragon 680 processor
4GB/6GB LPDDR4X RAM
64GB/128GB UFS 2.2 storage
Quad 50-megapixel (main), 8-megapixel (ultra wide), 2-megapixel (macro), 2-megapixel (depth) rear cameras
13-megapixel front camera
Fingerprint reader (side-mounted)
5,000mAh battery with 33-watt USB-C charging
MIUI 13 based on Android 11
Colors: Graphite Gray, Twilight Blue, and Star Blue
---