Exactly two weeks after we at Revü spotted them on Samsung Philippines' website, we finally have the respective prices of the company's new 5G-ready M series phones.

According to the South Korean brand's online store, the Samsung Galaxy M33 5G 8GB/128GB model in blue, green, and brown colors costs P16,990 (around $324). An official listing on e-commerce platform Shopee, on the other hand, shows that the Samsung Galaxy M23 5G in blue, green, and orange hues with 6GB of RAM and 128GB of storage is priced at P15,490 ($296).
The two Android 12 smartphones sport the same 6.6-inch Infinity-U screen and 8-megapixel selfie camera, but the back panels are designed differently, as you can see from the images here. The Samsung Galaxy M33 5G's rear camera system puts together a 50-megapixel main sensor with 5-megapixel ultrawide, 2-megapixel depth-sensing, and 2-megapixel macro ones. The setup on the Samsung Galaxy M23 5G drops the 2-megapixel macro unit, but increases the ultrawide lens to 8 megapixels.
SEE ALSO: Samsung Galaxy A73 5G, A53 5G, A33 5G priced from P18,990 ($362) in PH
The M33 packs a bigger cell capacity at 6,000mAh and has an accelerometer, while the M23's battery is rated at 5,000mAh and lacks an accelerometer.
Samsung's site hasn't revealed the chips the two 5G phones use. However, at least we now know that the cheaper model is powered by a Qualcomm Snapdragon 750G, as confirmed on the Shopee listing. Word has it that the more expensive device relies on an Exynos 1200 SoC.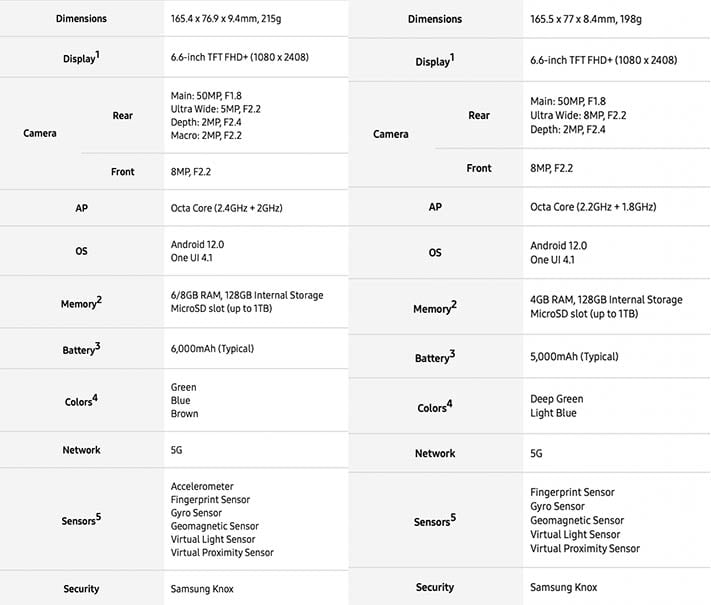 ---