It may not be 2021's biggest smartphone vendor, but it captured 44% of the global smartphone revenue. Turns out that seven of the top 10 bestselling handsets last year came from its lineup as well.

According to market-research firm Counterpoint Research's Global Monthly Handset Model Sales Tracker report, the top 10 were dominated by Apple's iPhones, led by the iPhone 12, iPhone 12 Pro Max, and iPhone 13, in that order. The three models contributed 41% to the American technology giant's total sales, thanks to a "pending demand for 5G upgrades by a strong and loyal iOS user base and push from carriers."
Other Apple units that got into the bestsellers list were the iPhone 12 Pro, iPhone 11, 2020 iPhone SE, and iPhone 13 Pro Max with 2.1%, 2%, 1.6% and 1.3% shares, respectively.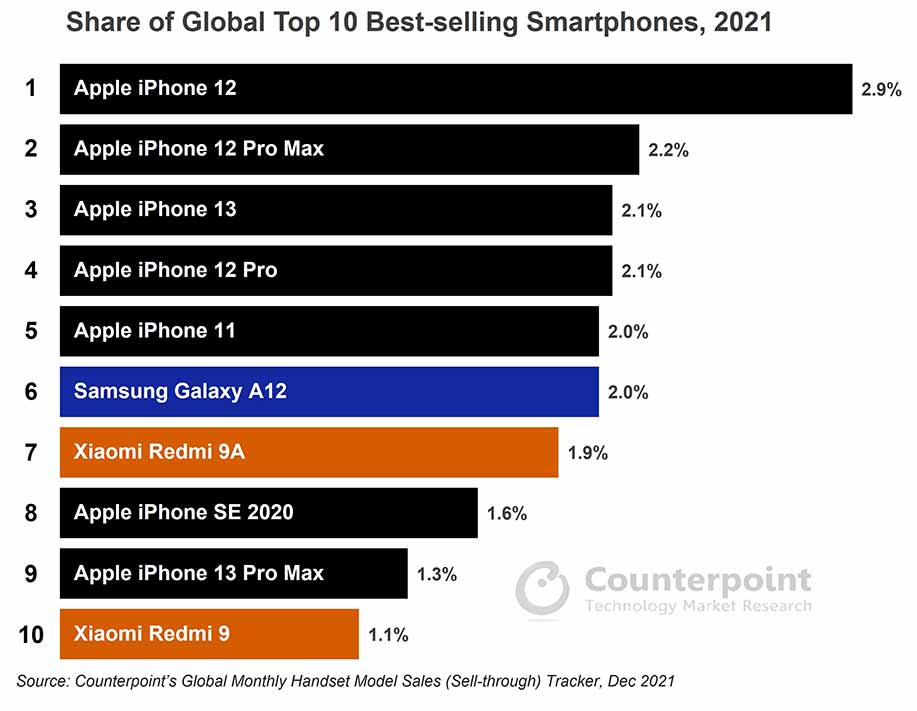 The only other devices that sold well enough to be included in the top 10 came from two brands. Samsung's Galaxy A12 budget phone took the sixth spot, with almost all regions and countries — especially in North America, Latin America, and Western Europe — showing strong demand for the unit throughout the year. Xiaomi's Redmi 9A and Redmi 9, on the other hand, landed seventh and 10th, respectively, and contributed 22% to the China brand's total sales. Both are for price-conscious customers, too.
Take note that there were more than 4,200 active smartphone models globally in 2021, so being one of the most sought-after units is another feat in itself.
---