The Lenovo ThinkStation P620 earns the distinction of being the first workstation on the market kitted out with an AMD Threadripper Pro chip with up to 64 cores, 128 threads, up to 128 PCIe Gen 4.0 lanes, and eight high-speed memory lanes.

That's a pretty important and unique advantage, especially considering that you can pair the fastest enterprise-grade chip on the planet with some equally beefy components from Nvidia's professional GPU lineup and up to 1TB of DDR4-3200 ECC RAM. If you could put together a PC using the most powerful parts you could possibly stuff in a mid-tower case, it might look a lot like what Lenovo has come up with. Unless, of course, you're into fancy RGB LED lighting, which this machine (rightfully) doesn't have.
We've switched to using the ThinkStation P620 entirely as our primary work computer for a few weeks now, to see how it performs and stacks up against our daily driver — a two-year-old Mac mini with the original M1 chip — in general computing and gaming scenarios. Unsurprisingly, the Apple silicon got thoroughly smoked by AMD's 16-core, 32-thread $2,000 processor.
SEE ALSO: Lenovo's 11th Gen-based Legion 5i is a beast of a machine for games, editing, work, and more
The Lenovo ThinkStation P620 is far and away the most powerful PC we've ever tested, and that's probably true for most people as well, assuming they have the cash to burn for the right configuration.
The Lenovo ThinkStation P620 is relatively small given all the power it packs inside. The official measurements put it at around 17 inches long and 18 inches tall, making it more compact than a standard mid-tower PC case and a heck of a lot less imposing than full-size tower PCs. Considering the size of the box it shipped in, we were pleasantly surprised with the P620's dimensions.
Don't get us wrong; you're still looking at a sizable matte-black machine, but it's smaller than you might think. Its small-ish design can be somewhat attributed to Lenovo's own ATX motherboard design, which is based on the AMD Ryzen Threadripper Pro-exclusive WRX80 chipset. This motherboard connects to a custom 1000W 80 Plus Platinum (92% efficiency) power supply, which doesn't have any output cables.
It also uses the latest PCIe Gen 4.0 interface, which doubles the data transfer speed of PCIe 3.0 from 1GB/s per lane to 2GB/s per lane, delivering a total of 32GB/s in a 16-lane configuration. Like the previous generation, it's forward- and backward-compatible, too, meaning it'll work with older components like GPUs, network cards, and storage devices. The latter should enjoy optimal performance and faster data-transmission speeds because of the higher bandwidth offered by the interface standard. The P620 has six PCIe 4.0 slots of varying lanes, allowing for greater flexibility for fast storage and dual-GPU setups.
Its weight is another story, though; that will ultimately depend on which configuration you go for. Our review unit carrying all the hardware you'd want from a professional-grade workstation makes it much heavier than our old desktop PC sporting a steel chassis.
If you're looking for a workstation you can take with you around the house, this ain't it. And that's fine, because there are a few desktops that can match the Lenovo ThinkStation P620's firepower at the highest configuration. Not all PCs have to be cute and convenient like the Mac mini. What really matters to us is performance, and that's where this premium tower shines.
Lenovo uses a tool-free solution to conveniently open up the side panel. You simply push the area of the panel marked with a red line to open the handle on the side, and then use it to lift the panel away. Our unit comes with the manual key mechanism for security, which is nice, as it prevents unauthorized access to the internals, particularly your storage drives. The company offers a three-year Premier, on-site Supportwarranty for the P620 to further ease your mind.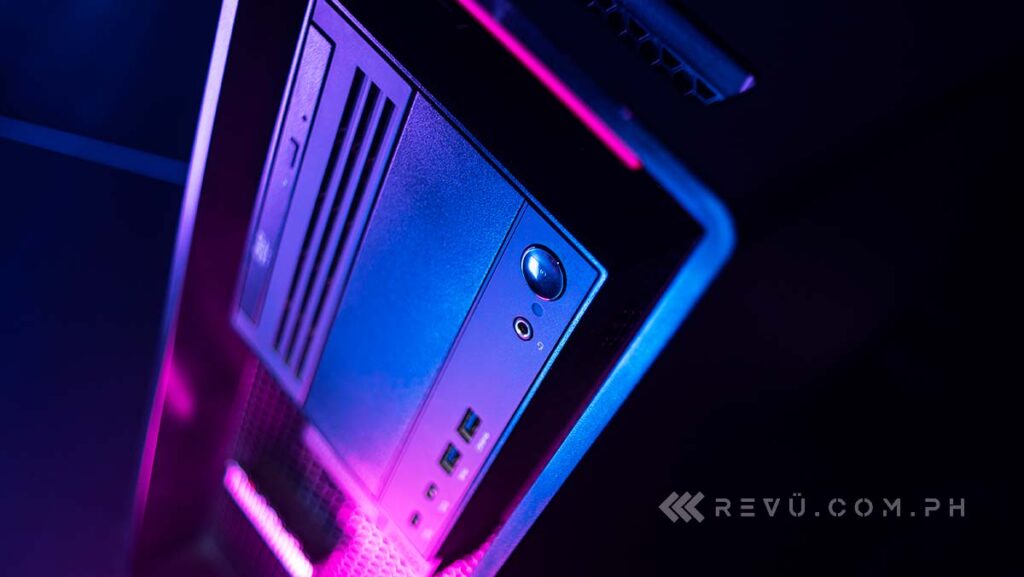 On the front panel, you get a honeycomb grate for air intake. The front also provides excellent connectivity, featuring four USB 3.2 Gen 2 ports (with two Type-A and two Type-C connections), as well as an audio combo jack. Additionally, ours ships with LED diagnostic lights for easy troubleshooting, alongside a tray-loading DVD burner.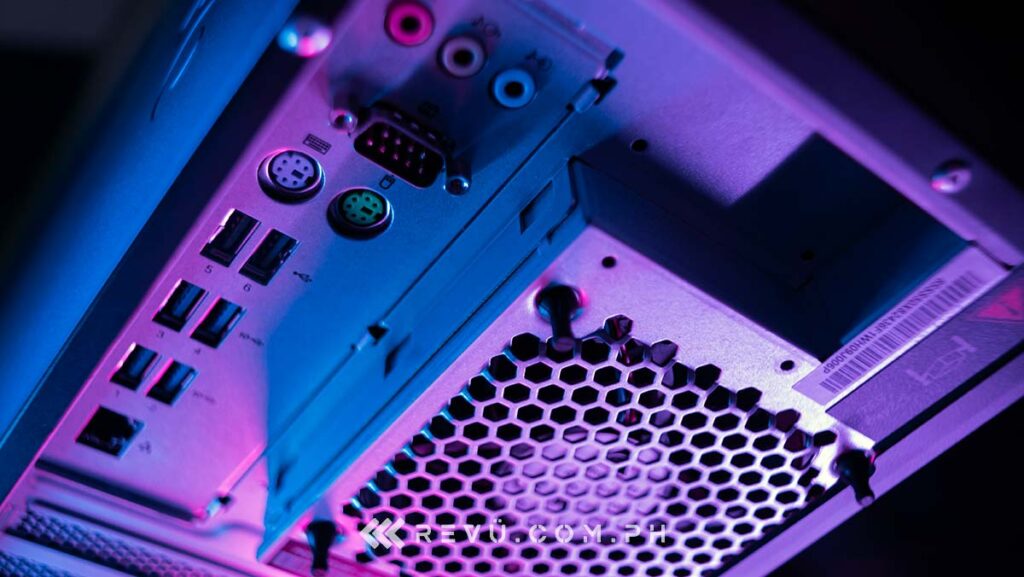 Elsewhere, the rear-facing port selection includes headphone, line-in, and line-out jacks, a pair of legacy PS/2 ports, two USB 2.0 ports, and four USB 3.2 Gen 2 Type-A ports. The P620 comes standard with one 10Gb Ethernet port, but you can upgrade it with extra network options, such as onboard Wi-Fi, which our review sample unfortunately doesn't have.
Moving down, the Nvidia RTX A5000 graphics card in our unit comes with four DisplayPort 1.4a connectors, allowing up to four 4K 120Hz displays or four 5K monitors running at 60Hz to be hooked up to the ThinkStation. We personally rarely use more than two monitors for work, and the extra displays only enter the picture if we need to have multiple NBA streams open, but having more (and sharper) screens is always good, no matter what your workflow may look like.
Removing the side panel reveals the workstation's clean cable management, achieved thanks in large part to the power supply not having a bunch of cords snaking all over the place. The 3.5-inch drive cages use a tool-free design for easy installation of additional storage drives. In fact, all major components of the P620, including the graphics, memory, storage drives, and power supply, can be swapped out easily without tools. That's something custom-built PCs with off-the-shelf parts can't claim.
Our unit packs a whopping 128GB of DDR4-3200 RAM, split evenly between two memory sticks, to go along with 2TB of SSD storage. It boots Windows 10 Pro out of the box (and upgradable to Windows 11), without a bunch of extra software installed. For our tests, we opted not to update our machine to Microsoft's latest operating system.
The highlight here is the insanely powerful AMD Ryzen Threadripper Pro CPU. It uses a Ryzen Threadripper Pro 3955WX with 16 AMD Zen 2 cores at 3.9GHz to 4.3GHz and 32 threads and has a default thermal design power rating of 280 watts
The highlight, of course, is the insanely powerful AMD Ryzen Threadripper Pro CPU humming inside our tricked-out system. It's using a Ryzen Threadripper Pro 3955WX with 16 AMD Zen 2 cores at 3.9GHz to 4.3GHz and 32 threads. It also has a default thermal design power rating of 280 watts, which translates to lots of performance and heat under load.
That's a lot, by the way, almost triple the TDP of enthusiast-level CPUs. The high-end AMD Ryzen 9 5900X, for example, has a peak TDP of 105 watts.
Unsurprisingly, our top-spec system put up some of the highest figures we've seen in benchmark apps. Tearing through PCMark 10, our unit achieved an overall score of 7,076, while the standard Fire Strike benchmark gave it 24,817 points. It also managed to score 14,373 points in Geekbench 5's multi-core test, putting it in the running with other 16-core systems on the market, according to the Geekbench browser. In Cinebench R23's multi-core test, our unit likewise earned an outstanding score of 22,632. But regardless of the numbers, there's no denying the potential power inside the Lenovo ThinkStation P620, assuming you can afford the top line with all the meaty specs.
To keep things cool, Lenovo uses a fairly large twin-tower air cooler inside the ThinkStation P620. It's a pretty effective cooling solution, as the processor doesn't seem to get too hot during use or gaming, though it can be noisy depending on the load and upon start-up. This wouldn't be the ultimate desktop computer if it didn't sound like a mini jet engine every time you launch a CPU-intensive app or play a demanding game.
As Threadripper Pro CPUs don't ship bundled with onboard graphics, you'll need to configure the P620 with a graphics card upon purchase.
Our test system has an enterprise-level RTX A5000 card, which is built on the Nvidia Ampere architecture and uses the same graphics processor as the $2,000 GeForce RTX 3090 TI, the fastest consumer GPU on the market. It features 8,192 CUDA cores with a maximum boost clock of 1,695MHz. And though the RTX A5000 is pitched firmly at researchers, developers, and creators at a professional level, it can still vastly outperform most other consumer graphics cards when it comes to gaming.
We put our system through its paces by playing Final Fantasy 7 Remake and Marvel's Guardians of the Galaxy. The highly acclaimed PC remaster ran butter smooth with over 100 fps with all the settings maxed out at 4K resolution. Guardians of the Galaxy consistently hit 60 fps on the Very High preset at 1080p on max ray-tracing settings. Impressive numbers, but nothing surprising for the hardware that's been crammed into this machine. Of course, plenty of prebuilt gaming PCs out there can put up similar numbers for less money.
When we first saw the specs for our test unit, it felt like someone handed over the keys of a Ferrari to us and said, 'Here you go. Enjoy driving around your subdivision at 20 km/h'
What's most impressive about the Lenovo ThinkStation P620 is that it can easily handle the duties of both a super-fast gaming PC and a beastly workstation for the most intense tasks. Admittedly, we don't fit the target demographic the rig sent out to us for review has been configured for. When we first saw the specs for our test unit, it felt like someone handed over the keys of a Ferrari to us and said, "Here you go. Enjoy driving around your subdivision at 20 km/h."
As expected, our normal video-editing workflow, which includes 4K/60fps clips and slo-mo footage shot at 1080p, didn't put a dent in our review unit. But boy, was it fun to see a Windows PC feverishly tear through projects our M1-based Mac mini typically struggles with! Scrubbing through high-bit-rate 4K video files at full resolution in Adobe Premiere Pro while having multiple apps and Chrome tabs open was refreshing.
We tried encoding a 12-minute project with LUTs and effects applied, and it only took the P620 6 minutes and 47 seconds to export in 4K using two-pass VBR with a target bit rate of 15Mbps. Take note that we had to switch to Software Encoding, as Hardware Encoding (which uses your PC's GPU to speed up the encode process) does not work with VBR 2.
For reference, a similar project would have taken our Mac mini 50 minutes to encode in Premiere Pro with the same quality settings. While that disparity may not seem dramatic, people working in the visual-effects industry could find themselves shaving hours, instead of minutes, off a project with a specced-out P620 flexing its muscles to show what it can really do.
Final thoughts
The Lenovo ThinkStation P620 is an all-powerful PC for all tasks — with the price to match. It offers some of the most expensive and sought-after components enthusiasts would love to get their hands on, and its tool-free chassis and capable power supply open a viable upgrade path for years to come. When it comes to performance, we admit that the test unit sent to us is overkill for our needs, but there's also no denying how much potential it has to offer to professionals and studios that can put its power to good use.
Lenovo's U.S. website says the standard price of the P620 configuration we have is $11,969, but you'll likely never see it at that price. We reckon most sales of prebuilt Windows PCs with this many expensive components happen over business-to-business, anyway. If you're interested or you want to get the best prices possible on bulk orders, you should talk to a sales rep for local pricing and availability or contact its business partners.
In any case, the Lenovo ThinkStation P620 is well worth picking up if you can find a good deal on one.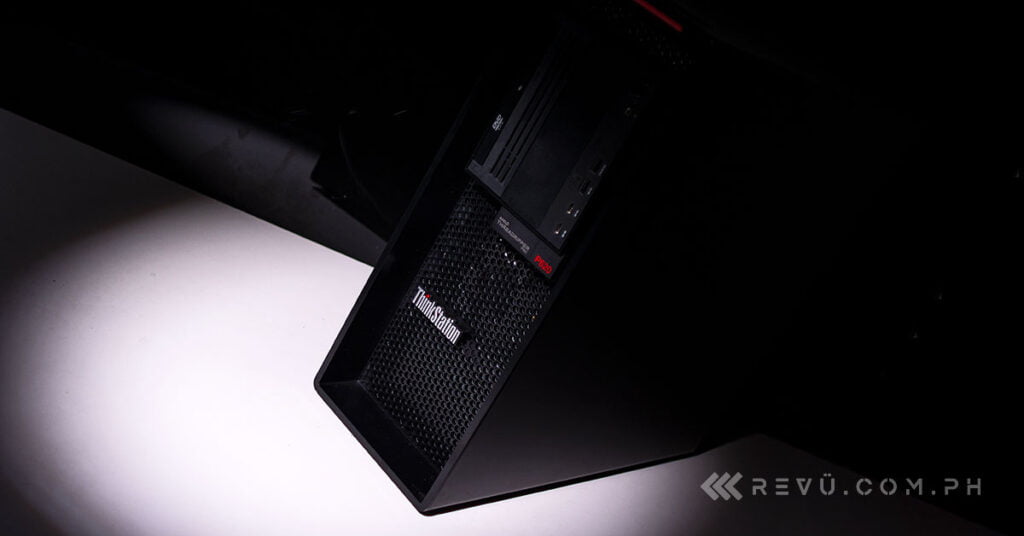 Our review unit's specs
AMD Ryzen Threadripper Pro 3955WX CPU (16 cores, 24 threads) 3.90GHz to 4.30GHz
128GB DDR4-3200 RAM
2x 1TB M.2 SSD
Nvidia RTX A5000 GPU
92% 1000W PSU
Lock kit
Windows 10 Pro (upgradeable to Windows 11 Pro)
---