OPPO Philippines recently rolled out the red carpet for three new smartphones under the brand's popular A-Series lineup. The OPPO A77s, OPPO A17, and OPPO A17k debuted last October, and all three phones are now available in all OPPO stores and partner retailers nationwide, as well as on Shopee, Lazada, and TikTok Shop. If you're still shopping for gifts, all three are good options, depending on what you're looking for.

We'll publish a separate video featuring the OPPO A77s and its sleek "retro" design with a fiberglass-leather finish and highly efficient 6nm Qualcomm Snapdragon 680 chipset in a week or two. For now, our focus is on the more affordable A17 models.
In the Philippines, the OPPO A17 carries a suggested retail price of P7,999, or roughly $139, for the 4GB/64GB kit, while the OPPO A17k with 3GB RAM and 64GB of storage is priced lower, going for P5,999 ($105) at local retail. We did say they're wallet-friendly, didn't we?
Considering that both the OPPO A17 and OPPO A17k fall in the same price range, you might be wondering: Which of these two new A series phones should you get? The answer is not as easy as choosing the more budget-oriented option, especially if you're after a good camera experience for capturing special moments during the holidays, and sharing them with loved ones or on social media. Whichever you choose, you'll still end up with a solid all-around smartphone for your daily grind, for sure.
That said, let's talk about the A17 first, OPPO's newest 50-megapixel camera phone with a great price tag and an even better design.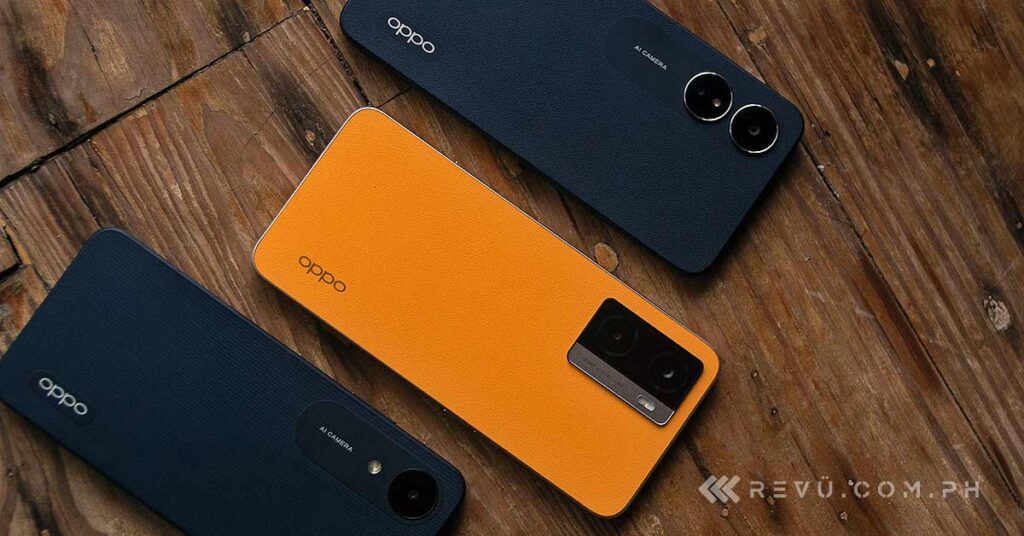 OPPO A17
Unique to the OPPO A17 is the faux-leather rear design that gives the phone an unexpected premium feel and makes it more comfortable to hold and operate and more resistant to dirt. It's rare to see a smartphone look this good at this price point, and OPPO even offers two attractive color options to choose from — Lake Blue and Midnight Black.
The OPPO A17 measures 8.29mm at its thickest point and tips the scales at just 189 grams, making it more ergonomic to use as a daily driver. Additionally, it arrives with IPX4 water resistance, so you can still use it when the weather sours without worrying. Just don't dunk it into the pool or bathtub for any duration!
For taking high-quality pictures, especially during this holiday season, the OPPO A17 sports a dual-camera setup on the back with a 50-megapixel image sensor and an AI-driven Portrait mode, just like the more premium OPPO A77s. The high megapixel count ensures sharp image quality and excellent low-light performance with pixel-binning technology that combines data from adjacent pixels into one. Another plus of a sensor with an increased megapixel count is the ability to zoom in digitally without losing a lot of clarity.
The front-facing camera, meanwhile, has HDR to help you take clear and detailed selfies against the light. Most of your holiday photos will be taken at night or in low light or in areas with plenty of Christmas lights, so it's good to know that the OPPO A17 is well-equipped to handle complicated lighting scenarios, including ones that would look better with HDR turned on.
Another key spec here is the battery, with the OPPO A17 packing a 5,000mAh battery that can easily last a full day without recharging. So even if your day is packed with activities to do before or during the Christmas break, this phone has got you covered when you don't have your charger handy.
And when it comes to handling everyday tasks, such as browsing the web, video streaming, and scrolling through social media feeds, the OPPO A17 doesn't disappoint. This is in large part thanks to its octa-core processor coupled with up to 4GB extended RAM via OPPO's RAM Expansion tech, which lets you convert unused storage to virtual RAM for a smoother multitasking experience.
OPPO A17k
If your budget is limited, you may want to consider the OPPO A17's younger sibling instead — the OPPO A17k. For P2,000 ($35) less, the OPPO A17k shares a lot of the same specs as the OPPO A17. Both have a 6.56-inch HD+ LCD screen that covers the full DCI-P3 color space, resulting in accurate and lifelike colors, which is what you want if you enjoy streaming movies and shows on the go.
The global tech giant has equipped both smartphones with a side fingerprint reader as well, for easier and faster unlocking. And like the OPPO A17, the OPPO A17k features a classy rectangular design that punches well above its weight and looks more like metal than plastic. The Gold color variant looks especially luxurious, although we'll happily take the Navy Blue version, too. Plus, the OPPO A17k is water-resistant, meaning it is also splashproof like the A17, but shouldn't be immersed.
This A-Series model has a 5,000mAh battery as well, so it should comfortably last a day or two on a single charge. And because OPPO's latest budget blower is powered by the same processor inside the A17, expect decent day-to-day performance. Impressively, the OPPO A17k also supports the company's proprietary RAM Expansion feature, which converts available ROM to RAM to run highly demanding apps and reduce lag.
Which #ItsAllYouNeed A-Series phone perfectly fits your daily grind?
All things considered, we think the OPPO A17 and OPPO A17k are solid daily drivers, especially if you're looking to save on a new smartphone. They're both priced affordably, and they look a lot more high-end than what their price tag would suggest.
But if you ask us, the OPPO A17 is a better choice all around if you don't mind paying extra and you're looking to take better photos with the device that's always with you. And with the holidays right around the corner, you may want to opt for the better camera phone of the two.
Basically, the OPPO A17k packs mostly the same specs as the standard variant — and has a lower price tag to boot! It delivers the fundamental basics most people need for a decent smartphone experience. If you don't plan on taking a lot of photos with your handset, it may be the more practical option.
Whichever you go with, you're getting a great price on a great phone — one that could fit your day-to-day grind.
OPPO A17 specs
---
6.56-inch LCD display, HD+ resolution
12nm octa-core MediaTek Helio G35 processor
PowerVR GE8320
4GB RAM
64GB storage
Dual 50-megapixel main, 2-megapixel mono
5-megapixel front camera
Side fingerprint reader
5,000mAh battery
ColorOS 12.1 based on Android 12
Color options: Lake Blue, Midnight Black
OPPO A17k specs
---
6.56-inch LCD display, HD+ resolution
12nm octa-core MediaTek Helio G35 processor
PowerVR GE8320
3GB RAM
64GB storage
13-megapixel rear camera
5-megapixel front camera
Side fingerprint reader
5,000mAh battery
ColorOS 12.1 based on Android 12
Color options: Gold, Navy Blue
To know more about OPPO A17 and A17k, visit OPPO Philippines' official website at https://www.oppo.com/ph/. You can also check OPPO Philippines' official social media pages on Facebook, YouTube, and TikTok. To get the best care for your OPPO devices, visit your nearest OPPO Care Center or contact their website, via Facebook.
---