There will be plenty of ultra-powerful laptops to choose from in 2023. Content creators and visual artists looking for an upgrade, in particular, will be treated to a wide range of choices with OLED displays.
This year, a lot of laptops in the "above P150,000 (around $2,749)" range can offer up big screens and big power for the price, thanks to their dedicated graphics cards and advanced rendering techniques.
Enter the ASUS Vivobook Pro 16X OLED (N7601). Coming stuffed with up to a 12th Gen Intel Core i9 processor, up to a GeForce RTX 3060 graphics, 16GB of RAM, and a 512 SSD, it's definitely one mighty beast. The laptop arrives with a sizable 16-inch OLED display with 4K resolution and a 16:10 aspect ratio as well, to distinguish it from other work-focused models and goes some way to justify its price. So, just what does that mean for your daily grind? Below, we outline all the advantages of the latest Vivobook and its OLED panel.
Video streaming
Obviously, the OLED display is the big talking point here — both physically and figuratively. And what better way to put it through its paces and judge if the colors actually sing than to fire up some shows and movies on Netflix and Disney+ via their respective apps. We quickly realized that the Disney+ app on the Windows Store doesn't let you stream content from our local account, so we opted to play videos using the Chrome browser instead. It worked, but the caveat is that Chrome doesn't support 4K streaming on Disney+. Oh, well.
We also looked up a few eye-melting 8K and HDR videos on YouTube to see how good the screen really looks. One word: Wow! The ASUS Vivobook Pro 16X OLED is easily one of the best displays we've ever used in a laptop. It's huge at 16 inches across; it's bright — up to 550 nits of peak brightness, ensuring a legible display even in sunlight; and it offers 4K resolution plus a wide 16:10 aspect ratio that is excellent for viewing videos and gaming.
The 4K OLED panel also offers 100% coverage of the DCI-P3 color gamut and VESA DisplayHDR True Black 500 certification that's needed for real HDR capability. You likewise get Dolby Vision, which is technically the best HDR format around, in games as well as certain shows like Altered Carbon and Vikings: Valhalla on Netflix, providing you with plenty of rich-looking colors, bright highlights, and deep blacks to look at. Vikings, in particular, may have a dourer color palette than most Netflix series — but, man, do those shadows look good in dynamic HDR!
Photo- and video-editing powerhouse
The ASUS Vivobook Pro 16X OLED is aimed at professional content creators and visual artists who need a powerful laptop for media consumption, editing pictures and video files, and creating animations and composites. Of course, the display only amplifies the laptop's ability to watch and create content, as it comes with Pantone certification and has been calibrated with an average Delta E of below 2, according to ASUS. For normal folks, that means colors on this OLED screen will look extremely close to what was intended, both for gamers as well as those who use the Vivobook Pro 16X OLED for graphics work.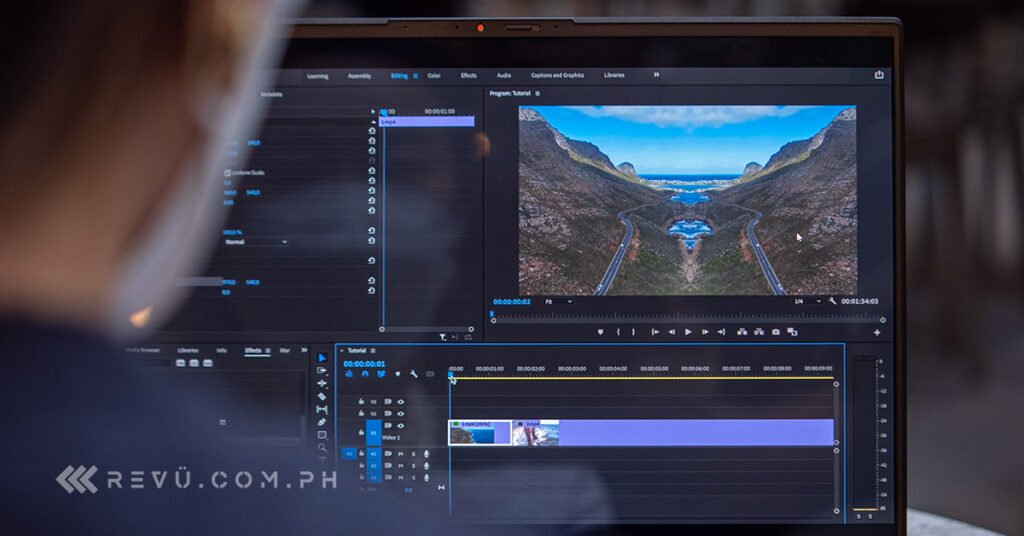 We found the panel to be especially well-suited for Adobe Photoshop and Premiere Pro, offering excellent color accuracy and crisp detail, thanks to its 4K resolution. Its size also makes it a good desktop alternative for lengthy video-editing sessions. It has even allowed us to work comfortably on projects in cafes — something we weren't keen on doing with our 13-inch Apple MacBook Pro because of its small-ish screen.
It helps that the Vivobook Pro 16X OLED comes preinstalled with NVIDIA Studio Drivers, which are optimized for creative applications. It's also great that the laptop ensures reduced risk of eye strain during long viewing sessions, as proven by its TÜV Rheinland eye-care certification for low blue light and flicker-free operation and SGS Eye Care Display support.
Gaming on the side
If you treat the ASUS Vivobook Pro 16X OLED as a gaming machine, you probably won't be disappointed. Certainly not us. The top-of-the-line review unit we got combines a 12th Gen Intel Core i9-12900H processor with a GeForce RTX 3060 GPU with real-time ray tracing and DLSS and 16GB of DDR5 RAM. We played Insomniac's Spider-Man Remastered for PC at the highest graphics preset with ray tracing enabled and found the gameplay to be smooth enough to deliver a fantastic experience. And when you consider that the feature-rich panel here is about as good as anything on the market, the ASUS Vivobook Pro 16X OLED looks like a ticket to gaming bliss.
SEE ALSO: ASUS Vivobook S 14 OLED: This laptop is for you if…
Screen size and picture quality aren't the only positive aspects of this display, which has small bezels on either side of the panel with a slightly large one on the top that houses the 1080p webcam with a security shutter and support for Windows Hello facial recognition. The display assembly adopts ASUS' four-sided NanoEdge design, resulting in a stylish 90% screen-to-body ratio that makes the screen look more immersive and gives the Vivobook Pro 16X OLED a more contemporary and premium appearance.
The built-in Dolby Atmos speakers sound great, too. Cranked up to just a medium level, it felt like the concrete jungle of New York was alive and buzzing with life when playing Marvel's Spider-Man Remastered. This also meant that we didn't need to wear headphones during gameplay, since the audio experience was already immersive. Even the loud fan noise didn't ruin all the fun of web-slinging through the cityscapes of a painstakingly accurate recreation of the Big Apple.
Screen size and resolution
We use our PC for things besides binging shows, gaming, and editing, so we prefer a laptop with a big and sharp screen. As you can tell, this machine is also excellent for productivity apps and multitasking. Editing documents and worksheets is a breeze, especially with the full-sized keyboard and number pad.
ASUS' virtual DialPad feature is also present here, embedded in the touchpad. No need to purchase any additional hardware. The DialPad is designed to streamline your workflow and supports apps like Adobe Photoshop, Premiere Pro, and After Effects, but you can also use it to adjust the screen brightness or volume. In the real world, we use it to increase or decrease the size of the brush and change the color, exposure, saturation, and more in Adobe's editing software, and we found that it makes our editing workflow easier and much more intuitive.
Price and availability
In the Philippines, the ASUS Vivobook Pro 16X OLED with the same configuration as our review unit is priced at P159,995 ($2,932). It comes with an Intel Core i9-12900H CPU alongside an NVIDIA GeForce RTX 3060 integrated graphics card, 16GB of DDR5 RAM, and 512GB of PCIe 4.0 SSD storage. Picking up one of these gets you a free three-month subscription to Adobe Creative Cloud plus a lifetime license to Microsoft Office.
The ASUS Vivobook Pro 16X OLED (N7601) is available in all ASUS stores and authorized retailers nationwide and can be availed via Home Credit's 0% interest offer with up to 12 months of flexible payment terms. It comes with two years of ASUS Global Warranty and a year of ASUS Platinum Warranty — both of which will run simultaneously, perfect for frequent international travelers.
Should you buy the laptop? Yes, if budget is not a concern, you need powerful hardware, and you want to get good visuals out of it in a solid resolution. With a 16-inch 4K OLED screen and an RTX 3060 graphics card, the ASUS Vivobook Pro 16X OLED is there for big-picture content production.
Here's where you can buy ASUS laptops and desktops, and here's where you can find the complete specs of this particular model.
---