You might have heard about Globe Telecom's new GFiber Prepaid offering, which basically allows anyone to enjoy unlimited fiber-internet speeds and reliability without the hassle of filling out forms and worrying about due dates for a monthly subscription. Converge launched a similar prepaid service earlier this year called Surf2Sawa, and it's currently being offered to over 400 cities and municipalities nationwide.

Because we have no prior experience with Converge's fiber service, but had a great one with Globe's (to the point of suggesting it to friends and readers), we decided to go with the latter's instead. GFiber Prepaid seemed like the ideal fit for us who were looking for a reliable backup connection at home. We thought it would be nice to review Globe's new offering, too; we were confident we'd be satisfied with it.
However, it quickly became apparent to us that GFiber Prepaid — which is capped at 30Mbps, in case you didn't know — is an after-sales nightmare that has zero systems in place to help customers who are having problems with the service. In our case, it has been almost two weeks since our Globe GFiber Prepaid modem flashed the LOS [loss of signal] red light.
Here's a brief summary of our experience:
June 9: We applied for GFiber Prepaid through the GlobeOne app. Applying for the service is quick and convenient; you don't need to show any IDs or proof of income. All you have to do is pay a one-time fee of P1,499 (around $27) up front, and this already includes the modem and installation payment.
June 14: The fiber connection was installed and got activated after about an hour. It's about as fast as advertised. We were getting speeds of up to 30Mbps for downloads.
June 15: The magnitude 6.3 earthquake happened in the morning, and it was around this time that we lost our internet connection. Our modem flashed the LOS red light. We thought that the problem would be temporary. Our thinking was that the earthquake must have cut one of the fiber lines in our building, hence the LOS light.
June 16: We initially reached out to @talk2GLOBE on Twitter for help at 3:23 p.m. They couldn't find our account name and number, which was interesting and worrying at the same time. We gave them the same information we typed in the GlobeOne app during the application process. Keep in mind that you don't need to show any IDs or fill out long forms in the app. They gave up helping us at around 8 p.m.
June 18: We decided to contact Globe At Home on Facebook, but it turned out to be a dead end, too. We also gave them our personal number and showed them countless screenshots and video recordings of the GlobeOne app as well as the modem, to no avail. They kept telling us that somebody would call us. Not a single soul bothered to do so. We tried numerous times to book a technician through the GlobeOne app; alas, it always ends up throwing a 404 error page.
June 22: The seven days of free internet expired, so we had to pay P299 ($5) for another week of service just to access the "GFiber Prepaid concerns" page under the app's "Help" tab. Apparently, Globe cuts access to the page unless you have an active subscription — regardless of whether or not you have a connection problem. If your modem is still flashing the red light after going through the troubleshooting process, then that's money down the drain again.
June 24, 1:37 p.m.: We tried following up our case with Globe At Home on Facebook. It's been a couple of hours, and we're still waiting for a reply. The customer service representatives on Twitter answered, but only said, "As we have checked, your concern has already been escalated to our higher level of support." It has been nine days since the modem flashed the LOS light.
So yes, we've practically exhausted all options to get the service back up and running at this point, including messaging Globe's Facebook and Twitter pages for hours and using the GlobeOne app to look for a resolution. Until today, all these options have done nothing but waste our time. The GlobeOne app is particularly laughable, since it always leads you to a 404 error on what we believe is supposed to be an unfinished website that will cater exclusively to GFiber Prepaid users.
We've spoken to several after-sales reps already. We lost count after the fifth or sixth agent. We're tired. We're damned pissed. We don't like that feeling of nalalamangan. It flies in the face of logic and reason how a service like this got off the ground.
The solution is clear and simple. It's practically common sense: Send a technician to fix our connection. However, everyone we've spoken with so far insists that we should try to resolve the problem through the GlobeOne app. But guess what? The damn app is useless in solving this particular problem. We've had zero success trying to book a technician through it.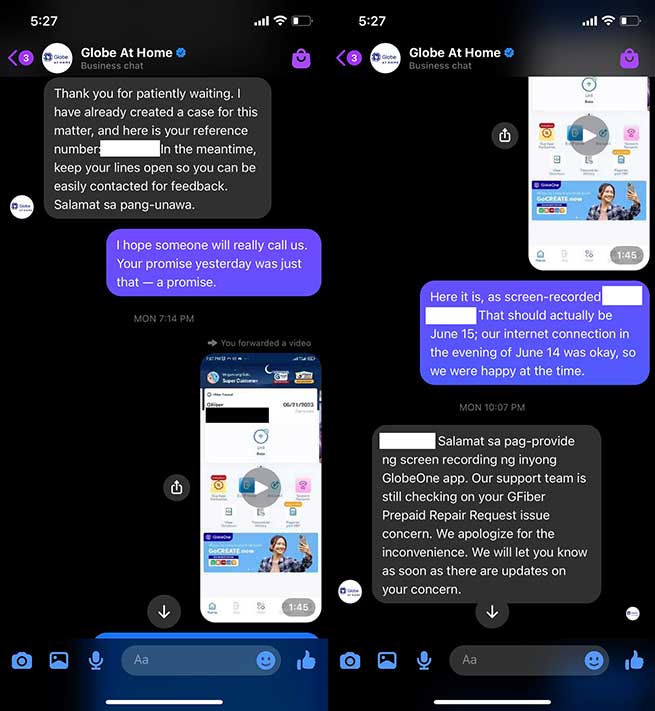 We've done everything on our end to try and fix the problem, from rebooting the modem to reinstalling the GlobeOne app on numerous different devices and platforms. The ball is on Globe's court now.
Oh, we almost forgot: GFiber Prepaid comes with seven days of free service upon successful installation — a trial, if you may. Good luck to us getting a refund for the six days (and counting) that we had no internet.
Here's free advice, Globe: Next time you launch a product, make sure that you back it up with a functioning after-sales service that won't waste anyone's resources. And here are parting words of wisdom to anyone wanting to try the Globe At Home GFiber Prepaid Fiber WiFi: Just don't. But if you really want to, pray — and pray hard! — that you won't run into any connection problems like us. Because from what we can tell so far, our modem is as good as paperweight.
(Update, June 26: We got a call from Globe a day after we posted this article. Because we were out of town, we scheduled the technician visit today. We now have internet connection.)
---