OPPO's latest "portrait experts" are now available in the Philippines. And just like its predecessors, the OPPO Reno10 Series 5G — which includes the OPPO Reno10 5G, OPPO Reno10 Pro 5G, and OPPO Reno10 Pro+ 5G — introduces many pro-level upgrades and improvements over the previous generation, particularly in the camera department.

So, what are the pro-grade features that can help take your smartphone experience to the next level? Let's count them down.
Professional-grade portraits in just a few taps
New to the series is the Telephoto Portrait Camera, which OPPO debuts on all models in the lineup. Both the OPPO Reno10 5G and OPPO Reno10 Pro 5G sport a dedicated zoom camera for portraits with a 32-megapixel Sony IMX709 image sensor and a 47mm equivalent focal length for its f/2.0 aperture lens.
The sensor uses an RGBW matrix for brighter shots, especially in dim environments, and the relatively wide aperture also helps low-light performance. This translates to more detailed and depth-filled portrait shots — even at a distance.
Obviously, the top-end OPPO Reno10 Pro+ 5G gets the best camera system in the group. It boasts a 64-megapixel periscope telephoto shooter offering up to 3x optical zoom, or up to 6x hybrid zoom courtesy of the company's In-sensor Zoom technology that promises optical-quality zoom on the device. In case you're wondering, this is the same camera technology that the flagship OPPO Find X6 Pro has.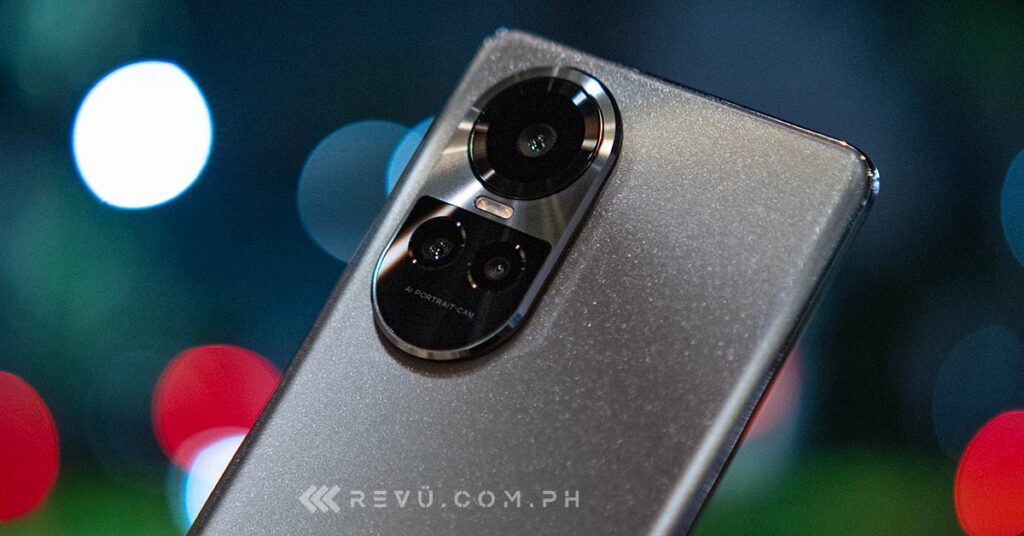 With the OPPO Reno10 Series 5G, capturing professional-level portrait images is now possible without the use of a professional camera even when the lighting is less than ideal and at varying focal lengths to boot.
To really help you take your portrait photography to the next level, the OPPO Reno10 Series 5G comes with several creative filters to choose from, including the brand's own Bokeh Flare Portrait and AI Color Portrait styles. There's also the Portrait Distortion Correction option in the camera settings that minimizes edge distortion in your portraits — useful when shooting with 2x or even 3x optical zoom (on the OPPO Reno10 Pro+ 5G).
Portraits of OPPO brand ambassador Bea Alonzo. Stunning!
You can be your own star with the OPPO Reno10 Series 5G, too
What's more, the OPPO Reno10 Series 5G lets you shoot portraits like a pro by letting you adjust the level of background blur after taking a picture. This will help you create a more DSLR-quality bokeh effect in your portraits. And thanks to the brand's AI Depth Algorithm, achieving a smooth and realistic bokeh in Video mode is just a tap away!
After taking portraits, you can go to the Gallery app and adjust the aperture to any value between f/1.4 and f/16, useful if you want to reduce or enhance the blur in the background to give your shots a more DSLR-quality bokeh.
Next-level sharpness on the front and rear cameras
Outside of shooting portraits, the OPPO Reno10 Series 5G is equipped with sharp cameras on the front and back. The regular OPPO Reno10 5G packs a 64-megapixel main camera, while the OPPO Reno10 Pro 5G and OPPO Reno10 Pro+ 5G both have a 50-megapixel Sony IMX890 sensor with optical image stabilization. The Sony IMX890 is the same sensor found in flagship smartphones like the OPPO Find X6 Pro, so expect next-level camera performance out of the series.
Yes, the OPPO Reno10 Series 5G is more than just a 'portrait expert'
For selfies, all three phones feature a sharp 32-megapixel front camera with f/2.4 aperture lens. The OPPO Reno10 Pro 5G and OPPO Reno10 Pro+ 5G further ups the ante by packing a Sony IMX709 RGBW sensor that's designed to capture more light compared to smartphones with a conventional RGB sensor. Besides delivering sharper results in low light, the OPPO Reno10 Series 5G's RGBW sensor will allow you to record vlogs at night and in dark restaurants and bars.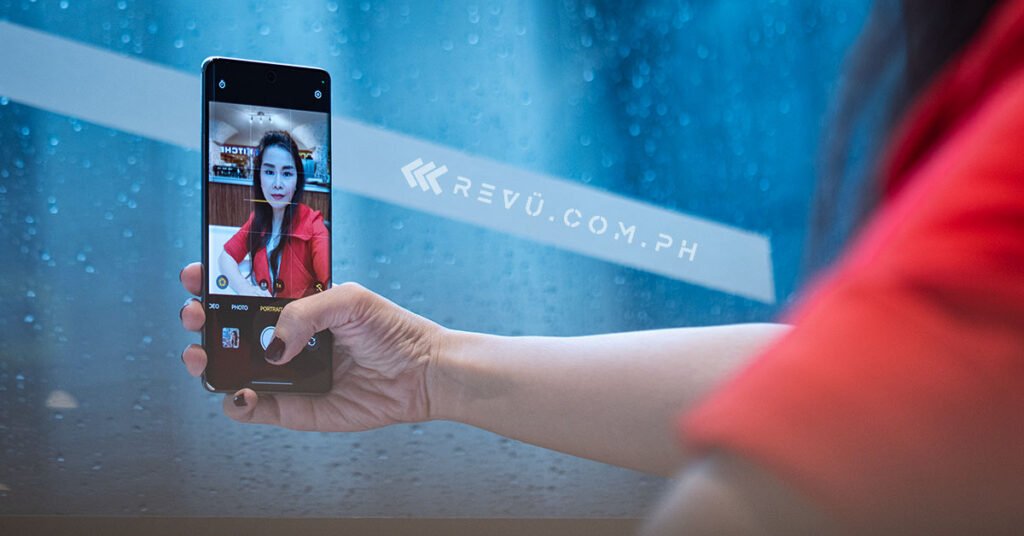 Super-fast charging coupled with industry-leading discharge efficiency
One of the highlights of the OPPO Reno10 Series 5G is the company's SUPERVOOCTM Flash Charging standard that delivers a full charge to all three phones in minutes instead of hours. Even the base model, the OPPO Reno10 5G, supports 67-watt fast charging, so topping up its beefy 5,000mAh battery should take as little as 47 minutes coming from a dead battery, while a quick 30-minute charge is enough to take the battery to 70%.
The OPPO Reno10 Pro 5G, on the other hand, offers 80-watt SUPERVOOCTM Flash Charging that can get the 4,600mAh dual-cell battery from zero to full in as fast as 28 minutes, or up to 50% battery capacity in 10 minutes based on our testing. More impressively, the OPPO Reno10 Pro+ 5G has been advertised to go from zero to full in just 27 minutes, thanks to SUPERVOOCTM, which provides 100 watts of charging power on the handset using the bundled charger and cable.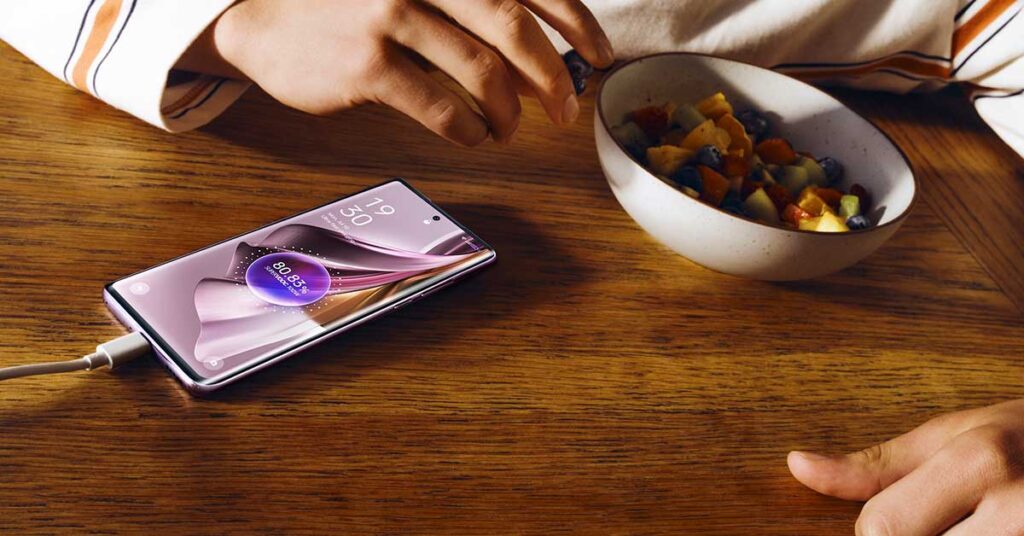 Those are some incredible numbers, especially when you consider that some flagship devices require at least 30 minutes to top up their battery to 50%.
Both the OPPO Reno10 Pro 5G and OPPO Reno10 Pro+ 5G also debut the new SUPERVOOCTM S Power Management chip. It replaces the fast-charge chip typically found in most rapid-charging solutions and integrates charging, discharging, decoding, reset, battery protection, and power outage functions into one chip. By doing so, it significantly increases discharge efficiency to an industry-leading 99.5%, allowing your device to get more out of a single battery charge and keep it away from a power outlet longer.
Speedy performance minus the heavy battery drain
For flagship-level smoothness and gaming performance, the OPPO Reno10 Pro+ 5G sports a high-end Qualcomm SnapdragonTM 8+ Gen 1 chipset that's built on an efficient 4nm process that can reduce power consumption in the CPU and GPU by up to 30%, extending battery life on a single charge. Qualcomm's top-of-the-line chip from last year is also powerful enough to handle multiple apps in the background with ease and run demanding games like Genshin Impact and Diablo Immortal smoothly at the highest settings.
The OPPO Reno10 Pro 5G and OPPO Reno10 5G are powered by the Qualcomm SnapdragonTM 778G and MediaTek Dimensity 7050 platforms, respectively. Both incorporate Cortex-A78 cores and are manufactured using a 6nm process technology for improved battery efficiency. Needless to say, these chips are plenty capable enough to handle most tasks easily and even manage gaming at medium to high graphics.
Standard across the lineup, the OPPO Reno10 Series 5G is built around chips that are designed to reduce power consumption as much as possible while delivering a lot of firepower for a smooth and responsive smartphone experience. If you're into mobile gaming, though, we suggest upgrading to the OPPO Reno10 Pro+ 5G, because of its much faster processor and GPU paired with 12GB of LPDDR5 RAM.
Style and (display) substance in equal measure
OPPO has been responsible for some of the best-looking smartphones in any segment, so it's no surprise that the brand's OPPO Reno10 Series 5G looks as good as it performs. Even better, the new 3D Dual-Curved aesthetic has been standardized across the three models, so they all look stunning and feel great in the hand. They come in eye-catching color options, too, and feature the brand's signature Glow process to give the phones a luxurious rear design with a glittery soft-matte finish.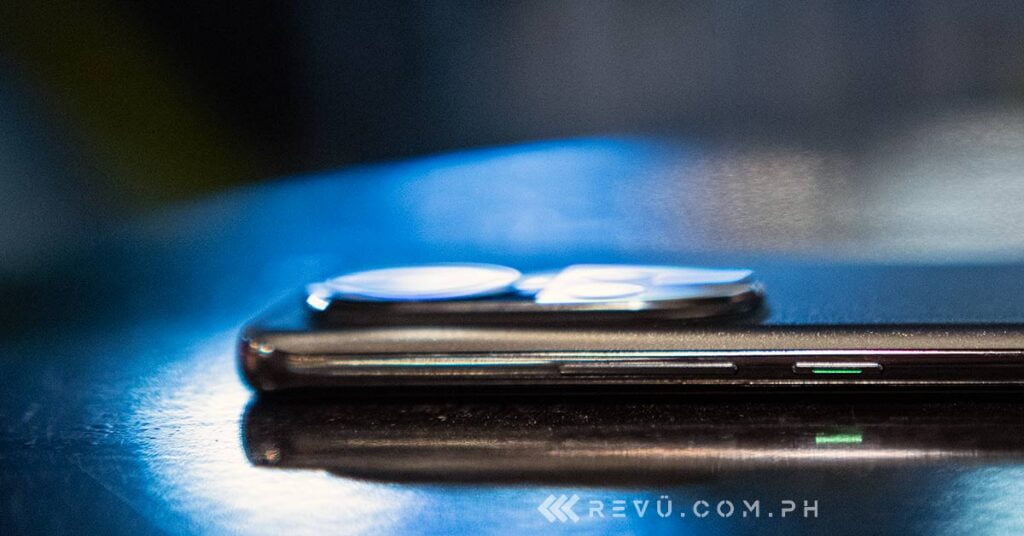 Up front, the OPPO Reno10 Series 5G's generous AMOLED 3D Curved Screen takes center stage, offering natural and accurate colors as well as a fast refresh rate of 120Hz and support for HDR10+ and HDR video playback on Amazon Prime Video. It also comes with 2,160Hz PWM dimming to avoid flickering in low brightness and help minimize eye strain.
As expected, the OPPO Reno10 Pro+ 5G takes things further, featuring an LTPS AMOLED display that can switch between 45Hz, 60Hz, 90Hz, and 120Hz refresh rates to reduce power consumption without compromising the screen's silky-smooth visuals.
OPPO's ProXDR Smart Display Control feature is another fresh innovation, this time improving dynamic range and ensuring good detail in both light and shadow areas of high-contrast scenes. This will allow you to shoot better and more dramatic portraits, especially if you're the type of photographer who incorporates natural lighting and shadows in your shots.
#OPPOReno10Series5G now available!
Experience #ProPowerInPortrait.

Enjoy endless possibilities with #ThePortraitExpert and capture pro-level photos using the Telephoto Portrait Camera & upgrade your mobile experience w/ its latest flagship features.https://t.co/LY8BPk34jm pic.twitter.com/2QQkYmqZNb

— OPPO Philippines (@OPPOPhilippines) August 11, 2023
The OPPO Reno10 Series 5G is now available!
In the Philippines, the OPPO Reno10 5G has a suggested retail price of P23,999 (around $428 converted), while the OPPO Reno10 Pro 5G and OPPO Reno10 Pro+ Plus 5G are priced at P29,999 ($535) and P39,999 ($713), respectively.
All three models are now available in OPPO brand stores and dealers nationwide, including Shopee, Lazada, and TikTok Shop. Reno10 Series 5G users may redeem several MyOPPO app benefits, including 65 gift sets from Sacred Being, 200 movie passes worth Php 500 from Ayala Malls Cinemas, and 500 voucher codes worth 100 points each that can be used on the PickUp Coffee app.
The OPPO Reno10 Series 5G is also available via Globe postpaid plan starting at Plan 1799 without cash-out and Smart postpaid plan starting at Plan 999 with cash-out. All postpaid plan availments come with a free OPPO Enco Buds2.
Home Credit is offering 0% installment options for the OPPO Reno10 Series 5G for 6/9/12/15/18 months in all OPPO stores partnered with Home Credit nationwide.
The OPPO Reno10 Series 5G is available in 6 and 12-month installment plans at 0% interest for all credit cards.
To know more about OPPO Reno10 Series 5G, visit the OPPO Philippines' official website or its official Facebook page at OPPO Philippines.
---