If the result of the recent POCO-commissioned study conducted by global public opinion and data company YouGov is anything to go by, it's that POCO is well-positioned to go after the market that has been changing the game in consumer smartphone usage habits and preferences in Southeast Asia.

We're talking about Generation Z or, as Collins Dictionary defines the group, "members of the generation of people born between the mid-1990s and mid-2010s who are seen as confident users of new technology."
YouGov's online survey targeted 2,500 consumers aged 18 to 40 in the Philippines, Thailand, Malaysia, Indonesia, and Vietnam, with a focus on Gen Z and millennials who play games on their handsets at least once a month.
The research found that the key purchase drivers among those surveyed — speed, performance, and storage capacity — are essentially tied to a device's gaming capability, what with mobile gaming becoming more popular then ever in the region and 53% spending more time on gaming since 2020. In fact, the result placed an emphasis on long battery life for extended gaming sessions, high-performance processor, and large storage capacity for game installations. And at a price that's not restrictive.
Even the top switch mechanics are price, features, and performance. Forty-two percent cited the affordability of midrange phones, 38% referred to the appeal of enhanced features and capabilities, and 36% specified the better price-to-performance ratio offered.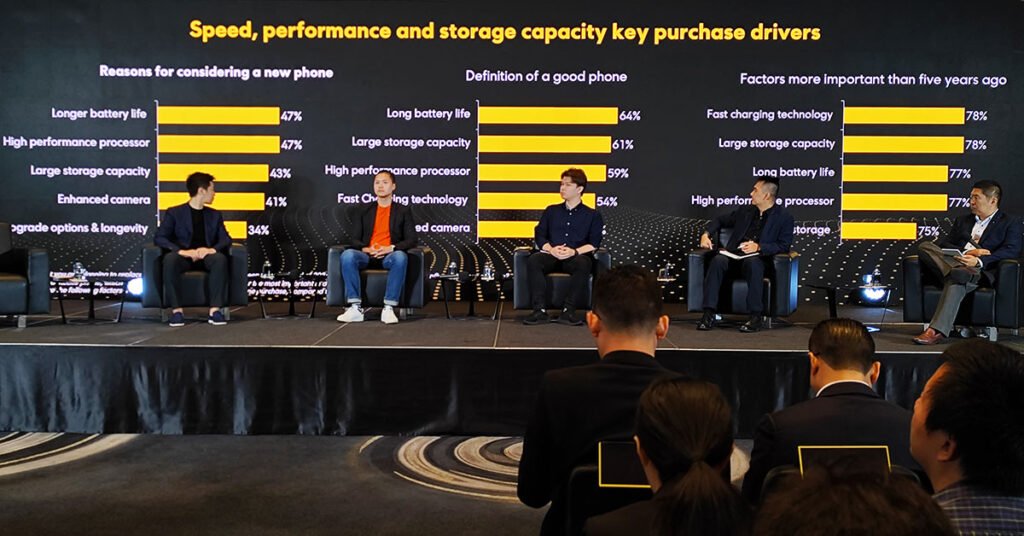 Which bodes well for POCO. It has always zeroed in on performance since its establishment as a value-focused brand that was born out of Xiaomi Corporation five years ago. It aims to release bang-for-the-buck smartphones in the midrange price segment, maintaining that great specs don't just exist in flagships.
To keep the cost down and still offer great specs amid a worldwide economic slowdown, POCO Global head of product marketing Angus Ng said that one of the strategies they use this year is what they call N-1.
"It means 'newest minus one,' or right before the newest," Ng stated during our interview with him after the recently held POCO Partners Southeast Asia Forum 2023 in Bangkok, Thailand, where the brand invited top executives from Lazada, MediaTek, PUBG, Shopee, and TikTok Shop to talk about the evolving technology trends and data-driven insights in e-commerce, gaming, chipset, and smartphone markets in Southeast Asian countries.
He explained: "We didn't use the latest chipsets. We didn't use Qualcomm Snapdragon 8 Gen 2 or MediaTek Dimensity 9200. We used Snapdragon 8 Plus Gen 1 [for the POCO F5 Pro]. As long as consumers and you guys consider that a really good chipset, we deem that good enough."
Chip manufacturers have a way of outdoing each other by surpassing each other's scores in benchmark tests. And we get that; we understand that marketing strategy. But we've also observed that the difference between flagship and midrange (upper-mid-level, especially) phones these days isn't that great anymore.
Ng has the same observation. "Two to three years ago, the performance between midrange and flagship is like so separated that when you're playing the same game, it's like two different worlds," he said. "But right now, it's all the same. Everything is consistently improving, which is good for the midrangers, to be honest."
---
'Two to three years ago, the performance between midrange and flagship is like so separated that when you're playing the same game, it's like two different worlds. But right now, it's all the same. Everything is consistently improving'

— Angus Ng
---
But we never know. They might just change strategy and get premium chips for some of their products. The F series models perhaps? "The next generation of super-flagship chipsets might actually fit our price point. If we can control our price point, then we'll use [the newest chipset]," Ng surmised.
One thing's for sure: POCO will not enter a higher price category. Ng has been consistent in saying that. "Are we going to build like a super flagship? No. A device might be higher in terms of configuration of the RAM and ROM, but we are not going to jump from $500 to $799 or $899. We won't touch that. I don't think we have that ability from a brand perspective."
And come to think of it, POCO is an e-commerce brand. In fact, its short-term goal is to be the No. 1 online smartphone brand globally, with entering the top 5 smartphone ranking as an independent entity as it long-term target. Research shows that people don't buy expensive smartphones on e-commerce.
"People are still used to global websites, like Samsung.com or Apple.com, where you can actually place an order. We see that as a growing opportunity, though. I'm sure more and more Gen Z users will buy more expensive phones to get what they like on e-commerce platforms. But for now, no," Ng said.
SEE ALSO: 5 standout features that make the POCO X5 Pro 5G still worth getting
Then again, the online purchase channel is growing. And according to the YouGov study, younger Southeast Asians' mobile activities have dramatically increased over the last three years, with surges in mobile gaming (53%), online shopping (51%), and video-streaming (48%) activities. About four in 10 respondents have likewise said they will spend even more time gaming, streaming video, and — again — shopping online. You can already see how those are favorable to POCO and its partners, such as Lazada and Shopee.
With Gen Z changing the consumer gameplay in widening the brand playing field in the region, it's safe to say that POCO keenly watching this demographic now more than ever is the perfect move.
"Generation-Z consumers are powerful and picky. They're mobile-first, so if anything, they should know more about smartphones than we do. From a consumer's point of view, from the research that we did, they do look at online reviews to understand devices a bit more. They look at specs sheets, which I think will work very well with us," Ng said, beaming.
To know more about the key results of the YouGov survey, refer to the press release below.
POCO's press release
🌟 Dive into the highlights of the #pocopartnersSEAforum ! 🌐📢 A big shoutout to our incredible fans and partners for making it a resounding success. Your participation and support have made this event truly remarkable. 🙌 pic.twitter.com/5GOtzb00xT

— POCO (@POCOGlobal) August 28, 2023
A snippet of what happened at the POCO Partners Southeast Asia Forum 2023 in Thailand. Find us! :p
---