Angus Ng takes the seat in front of us in a small room reserved for our interview with him. He seems to be in a good mood, so we're not surprised to learn that the POCO F5 series did exceptionally well on the first night of its global release.
"A lot of channels are out of stock, so our team at headquarters are rushing to give units to these countries because of the high demand," the head of marketing and global spokesperson at POCO happily reveals. "The POCO F5 Pro is doing especially well with the higher storage variant. It was a last-minute decision to offer a 12GB/512GB model, so manufacturing is now pushing for more units."
SEE ALSO: POCO F5 Pro, POCO F5 arrive globally. See PH prices here
In the Philippines, the Pro version with the highest memory configuration fetches a P27,999 (roughly $499) early-bird price tag. But if you think it's a sign POCO will introduce more expensive products in the future, don't count on it. Probably not in the near future, anyway.
"When consumers use a premium device, they don't actually use 100% or even 80% of what that phone can do. So we want to build something that's enough for our users' wants," Ng explains. "I think we are not ready or will ever be ready to enter a space where we want to push out super-premium phones."
He adds, "We're trying to establish POCO to be more down to earth, to be closer to our users. We're always listening, because I think what would differentiate other brands and us is we're a bunch of curators of technology and they're a bunch of innovators. We'll always stand by that, and we're okay with it; we're okay not to be the first. We want to be the one who chooses right, because the first is not always right. So that's our kind of logic when choosing our devices."
---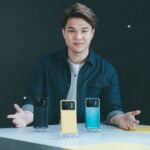 'We're a bunch of curators of technology, and [other brands] are a bunch of innovators … We're okay not to be the first. We want to be the one who chooses right, because the first is not always right'

— Angus Ng
---
That's true. If you follow local and international tech updates, you'd know that some POCO handsets are rebranded Redmi smartphones. The regular POCO F5 model, for example, is a tweaked version of the Redmi Note 12 Turbo, which debuted in China as the first Qualcomm Snapdragon 7 Plus Gen 2 device.
"We don't shy away from that, because at the end of the day, we still bring a unique device to the global market. You won't be able to find that same device on the same market. And we try our best to make our differences in software and some of our hardware," Ng says.
Understand that devices such as the bestselling Redmi Note 12 Turbo are not available outside China. So for us, anything that brings noteworthy models to the Philippine market — whether they arrive by another name — is welcome. Besides, as Ng admits, POCO is still a small team; it relies on Xiaomi for research and development, which is more often capital-intensive.
"It takes a lot of money to create a new device, and we're still trying to build that credibility and that experience. We're lucky to have Xiaomi to constantly support us on that," explains Ng. "We tend not to do double devices on the global market, which has happened in the past. We've learned that mistake, that's why we select and curate the right specs for each series that we have and make sure it is unique and still competitive."
Xiaomi Technology head of marketing for the Philippines Tomi Adrias, who has joined us about three minutes into the interview, interjects, "At the end of the day, it's also like responding to the local market. Like this certain device would complete the portfolio of a certain series."
A necessary route
If you hadn't noticed, 2022 was the year of product flooding for POCO. The brand released nine smartphones — way more than its usual. It didn't quite make sense at the time, but now we understand why POCO did what it did.
Angus Ng explains, "That was a necessary route, because we wanted to explore what works for us. There was no other way to find out but to probably make some mistakes and try something we had never done before. We even chose devices that did not fit our portfolio. It was a hectic year, but we learned a lot. This year, we want to be sharper in our product positioning and give you guys better products with better pricing at the same time."
Does that mean the return of flagship killers?
Yes, Ng says that's what POCO is trying to do — recreate and popularize affordable flagship devices. At least for the F series. You know, bring back the good old days of now-OPPO sub-brand OnePlus or back when POCO launched the Pocophone F1.
---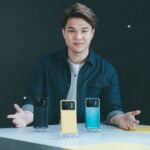 'Where are the flagship killers? We want to recreate and popularize affordable flagship devices'

— Angus Ng
---
The brand wants to focus on the $350 to $550 price range and dominate the category in the next one to two years. "We want to make the category's market share more than just 13%," he says. "Super flagships priced at $1,000 are okay, but I think there's an opportunity here to please our users with an affordable price range and an incredible experience."
And that's by releasing an amazing device powered by a great processor. Case in point: the recently launched POCO F5 Pro. The performance-focused smartphone uses a 4nm Qualcomm Snapdragon 8 Plus Gen 1 5G processor and already boasts a WQHD+ 120Hz AMOLED DotDisplay, the largest vapor chamber in a POCO handset yet, a 5,160mAh battery, and support for wireless charging, a feature that may not be popular, but is something that POCO users say make a pro phone pro.
There are no triggers, no RGB lighting, no GT this time around. "We realized that gaming smartphones just don't have enough pull for mobile gamers, because usually, the device you're using can do gaming as well," explains Ng.
We're not surprised. Xiaomi previously hinted it may pivot away from gaming smartphones, focusing instead on regular flagship phones with high-end chipsets and better-than-average cooling. Echoing this sentiment, Redmi general manager Lu Weibing already claimed last year that in 2023, you will no longer need gaming smartphones.
Had to finish some projects, but our POCO F5 Pro review should be up tomorrow Our POCO F5 Pro review is up!
But you might think there's an anomaly, somehow. POCO has the budget C and M series models, which are not like the super-performance phones in the X and F lineups.
Locally, the POCO C40 starts at P6,499 ($116), whereas the base model of the POCO M5 is listed at P9,499 ($169). Despite its bargain-basement price tag, the C40 is powered by an octa-core processor paired with Mali-G57 graphics. The M5, on the other hand, packs a power-efficient 6nm MediaTek Helio G99 4G chipset. Both promise excellent battery life without compromising on POCO's mantra of providing users with a good user experience.
"I know what you mean," Ng agrees. "We're talking about speed, speed, speed, and then go, 'Oh, this is entertainment.' You're looking at purely good daily phones that are affordable. I think what's unique to the local market is we're now also focusing on entertainment, because the youth just want to use a device to watch videos on TikTok and YouTube and text their friends. So we want to make sure that we have a smartphone that's suitable not just for pure gamers and hardcore techies."
For him, that's one way to make POCO grow. The M series, for one, is a big volume driver, after all. The goal is still the same: to offer a great experience for users of POCO products.
Looking ahead
POCO was established in August 2018 as a sub-brand of Xiaomi, but became independent in 2020. While it gets support from Xiaomi in R&D, it has separate marketing and operations teams. "That allows us to be in different channels than Xiaomi and Redmi. As you know, they are more offline-based. We don't do any retail. We're purely online, and we need independent teams to operate that," Ng says.
He adds, "On a side note, we will also probably have a different brand mission. And the direction is still different. Yeah, we're not independent in a sense that we're not a part of Xiaomi, but independent in the sense that our whole communication-slash-messaging will be steered away from the 'Innovation for Everyone' slogan. We focus on the tech community, whereas Xiaomi and Redmi are more of the mass, general audience."
That's not all. He reveals that in the future, POCO will work towards that direction for products as well. Expect the brand to slowly start veering away from rebranding devices then.
"We had the POCO X5 Pro. It's a unique device. Making one is extremely expensive that we have to be careful we won't do any missteps," shares Ng. "But we're starting to get traction and confidence in some of the devices. We know what works and what doesn't. In the future, we will probably start seeing smartphones that are not curated."
POCO's short-term goal is to be No. 1 online for the 91 global markets it's in. The long-term target is to enter the top 5 smartphone ranking as an independent entity. While that may be a tall order for a relatively young brand, we like what we're seeing and we can only wish POCO well.
At MWC 2023 in Barcelona, Spain, in February
Finally in the Philippines for the local POCO F5 Pro and POCO F5 launch
---