A month after NBA 2K24 hit consoles and PC, the next iteration of 2K's popular basketball sim is back exclusively on Apple Arcade. Sorry, Android users!

NBA 2K24 will be available to download for Apple Arcade subscribers on Apple's iOS, Mac, and Apple TV beginning October 24. This year, Philadelphia 76ers legend Allen Iverson has been chosen as the game's featured athlete. Iverson was inducted into the Basketball Hall of Fame after a stellar career, which included NBA Rookie of the Year and NBA MVP honors in 1997 and 2001, respectively. He's also largely attributed to bringing the hip-hop culture to the NBA.
Similar to last year's NBA 2K23 Arcade Edition, this year's iteration will look and play like a watered-down NBA 2K24 for consoles and PC. For better or worse, it won't be like the App Store versions of Resident Evil Village and Resident Evil 4 Remake, which are on a par with their current-gen counterparts. But hey, at least it won't cost $60 (around P3,410) to play (although being tied to a monthly or annual subscription isn't great either). NBA 2K24 Arcade Edition will be compatible on the following Apple devices:
iPhone: iOS 13.0 or later
iPad: iOS 13.0 or later
iPod Touch: iOS 13.0 or later
Mac: macOS 11.0 or later
Apple TV: tvOS 13.0 or later
The game also needs at least 3.48GB of storage on iPhones, but this could likely vary depending on your system. New to the mobile version is the ability to sit courtside with Spectator mode and play games matching the NBA season with NBA Today. Additionally, you can now customize your indoor MyCOURT before inviting your friends via Game Center for a bit of shootaround.
The upcoming launch of NBA 2K24 on Apple Arcade probably means there won't be a port for the Android user base — again, for the fourth year in a row.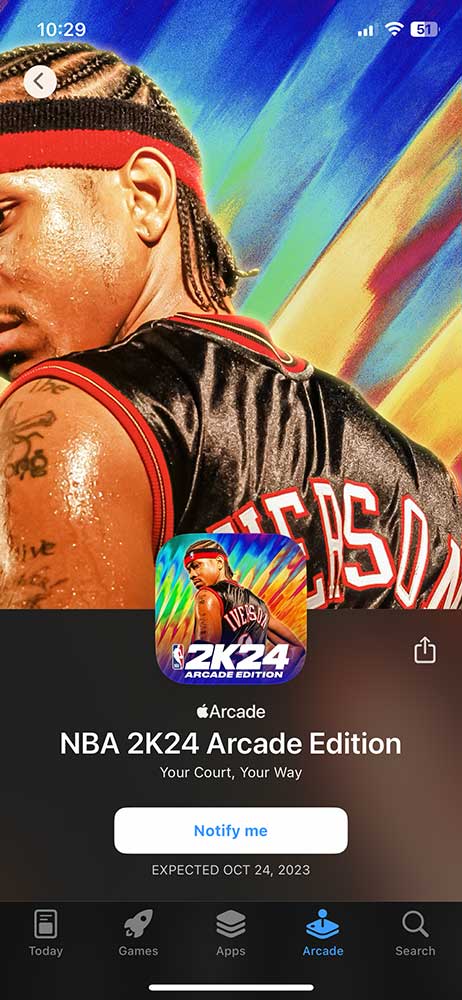 ---