Counterpoint Research's most recent report on the Southeast Asian smartphone market shows how the brands ranked in the third quarter of 2023. And one of the insights likewise reveals the vendor that topped the Philippine market.

This one's more interesting for us, because Infinix Mobile, Tecno Mobile, and Itel Mobile are not placed under their mother company Transsion Holdings, unlike, say the Q2 2023 International Data Corporation local findings.
Here, we see Korean technology giant Samsung taking the No. 1 spot in the region even though its shipments declined 7% year on year. Counterpoint shares that the Samsung Galaxy A05 series' release in Southeast Asia added to an impressive overall A lineup presence. Premium devices such as the Galaxy Z Flip5 and Galaxy Z Fold5 foldables and the Galaxy S series also played a role in Samsung's strong performance. The manufacturer dominated in Indonesia, Thailand, and Vietnam in Q3 2023.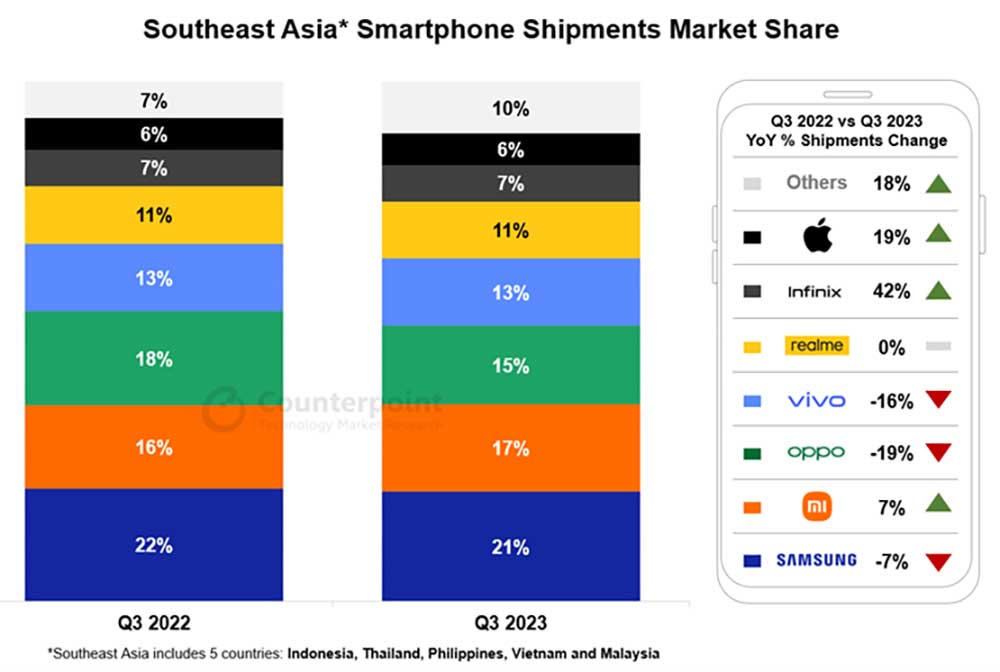 Landing second was Xiaomi, which grew 7% annually. The phones in its Redmi 12 line did well across all key SEA countries, plus the company outperformed most other brands in terms of promotions and new model launches. Xiaomi did especially well in Malaysia, where it topped the smartphone market last quarter.
OPPO and vivo came in third and fourth, respectively, despite a 19% and 16% drop in smartphone shipments YoY. Q3 2023 saw no growth for another BBK Electronics brand, realme. However, it was the leading vendor in the Philippines — something that could show in past reports from other market-research firms if all of Transsion's phone brands were not grouped together.
At No. 6 was Infinix, which experienced a 42% increase annually. On a related note, its sister brands Tecno and Itel grew 148% and 17%, respectively, resulting in Transsion witnessing its highest growth during the quarter.
Apple captured the seventh place in the Southeast Asian market, with shipments rising by 19% YoY during the quarter. Counterpoint says the American company's iPhone 13 and iPhone 14 models were still in high demand, which added to the popularity of the newly launched iPhone 15 series.
You can find the full report here.
---