vivo has launched its newest smartphone flagship lineup alongside the vivo Watch 3 at an event in China, offering some nice upgrades across the board, especially in the camera department.

The new vivo X100 and vivo X100 Pro share the same design and are the first devices to be powered by MediaTek's latest flagship mobile chipset — the Dimensity 9300, which uses a 4nm process and debuts an All Big Core design headlined by a high-performance Cortex-X4 core clocked at 3.25GHz. The smartphone duo gets an IP68 rating for dust and water resistance, too.
In China, the vivo X100 series will ship later this month and is priced as follows:
vivo X100

12GB/256GB: ¥3,999 (around P30,754 or $548)
16GB/256GB: ¥4,299 (P33,061 or $590)
16GB/512GB: ¥4,599 (P35,369 or $631)
16GB/1TB: ¥4,999 (P38,444 or $686)
16GB/1TB (LPDDR5T Limited Edition): ¥5,099 (P39,214 or $699)

vivo X100 Pro

12GB/256GB: ¥4,999 (P38,447 or $686)
16GB/256GB: ¥5,299 (P40,754 or $727)
16GB/512GB: ¥5,499 (P42,292 or $754)
16GB/1TB: ¥5,999 (P46,138 or $823)
Both phones feature a protruding camera with a circular design on the rear, as expected, along with a 6.78-inch curved OLED display. The flagships will be available in orange, white, black, and blue colors, with the latter featuring a frosted-glass back with a subtle nod to its design and naming inspiration: star trails. The orange version, on the other hand, gets a vegan-leather back cover, which seems to be all the rage among Chinese phone makers these days.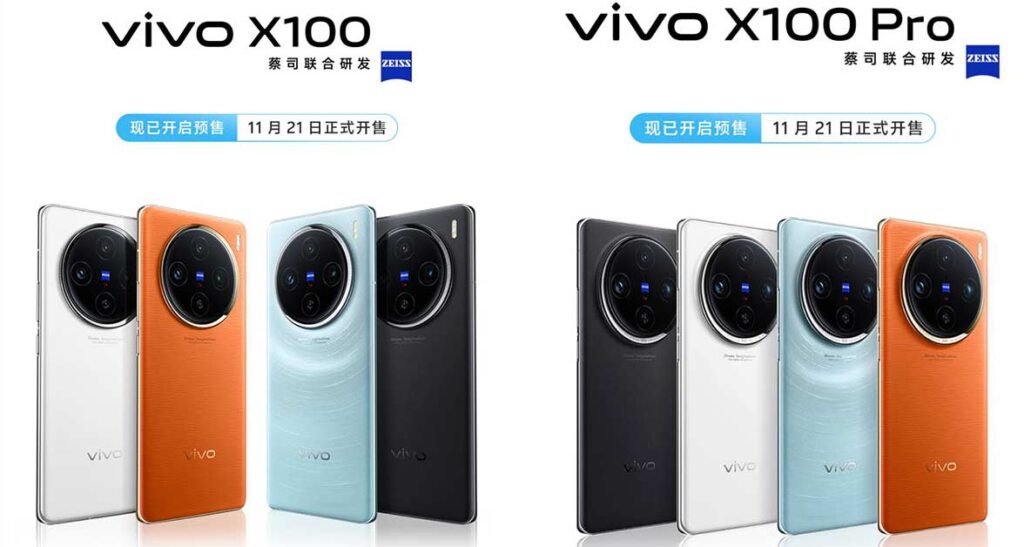 In terms of the rear-facing camera setup, the two devices have a 50-megapixel main image sensor and a 50-megapixel ultrawide option, although the higher-end variant upgrades to a one-inch sensor, while the vanilla model packs an f/1.57 aperture lens as compared with the vivo X100 Pro's f/1.75 primary lens.
Another notable difference is the telephoto camera; the vivo X100 packs a 64-megapixel telephoto shooter, whereas the Pro model boasts a periscope-style camera for zoom with a 50-megapixel sensor and the industry's first Zeiss APO-certified camera lens on a smartphone.
If you're not familiar, an APO lens is a type of lens designed specifically to correct chromatic aberration, which occurs when different colors of light don't converge on the same focal plane. This typically leads to color fringing, or worse, blurred images. The vivo X100 and vivo X100 Pro are also equipped with a 32-megapixel camera for selfies and video calls.
Will vivo launch its flagship X100 lineup in the Philippines? We hope so, but it's highly unlikely given our price-sensitive market. You might recall that last year's vivo X90 didn't get an official local debut.
vivo X100 specs
6.78-inch curved OLED display, 1.5K resolution, 120Hz refresh rate
4nm MediaTek Dimensity 9300 5G processor
Mali-G720 Immortalis MP12 GPU
12GB/16GB RAM
256GB/512GB/1TB storage
Triple 50-megapixel main, 64-megapixel telephoto, 50-megapixel ultrawide rear cameras with Zeiss lens and tuning
32-megapixel front camera
Under-display fingerprint reader
5,000mAh battery with 120-watt fast wired charging
OriginOS 4 based on Android 14
IP68 certification
Color options: Black, blue, orange, white
vivo X100 Pro specs
6.78-inch curved OLED display, 1.5K resolution, 120Hz refresh rate
4nm MediaTek Dimensity 9300 5G processor
Mali-G720 Immortalis MP12 GPU
12GB/16GB RAM
256GB/512GB/1TB storage
Triple 50-megapixel main, 50-megapixel telephoto, 50-megapixel ultrawide rear cameras with Zeiss APO-certified lens and tuning
32-megapixel front camera
Under-display fingerprint reader
5,400mAh battery with 100-watt fast wired charging
OriginOS 4 based on Android 14
IP68 certification
Color options: Black, blue, orange, white
---