T
HE Samsung Galaxy Note 8 is now official, having been unveiled at a press conference in New York. This time around, the new note-taking flagship promises to do even "bigger things," and you can tell by just looking at the phone and its specs sheet.

SEE ALSO: Complete specs and price and release in the Philippines of the Samsung Galaxy Note 8
Which is great, because there is a lot riding on anything that succeeds the Samsung Galaxy Note 7, or what appeared to be Sammy's best phablet effort to date, until it went up in flames — literally for some owners. Its successor, the Note 8, represents a new day, even for some old ideas, and yet another opportunity to impress and restore confidence in the brand.
The Samsung Galaxy Note 8 featured in our #RevuLive Facebook Live session. Um, pardon the lighting; we forgot to bring our equipment. *Facepalm*
READ ALSO: Payment options for the P49,990 Samsung Galaxy Note 8
It begins — as it always does — from the outside going in, with a new direction for the Note brand. This year's Galaxy S8 handsets introduced Samsung's "bezels, begone" design language and was met with positive chatter and approval among critics. In terms of aesthetic execution, Samsung is clearly ahead of many of its peers by a year or two; thankfully, the Note 8 doesn't let up at all.
SEE ALSO: Samsung Galaxy S8+ review: The phone to beat in 2017
It uses the same blueprint as its flagship stablemates, but adopts a more angular look. That's understandable because it is the calling card of the Note series. The curves around the edges have been toned down, however, making the phone distinguishable from the S8 and S8+ in the process.
There's still curved glass on the front and on the back of the Note 8, and both panels gently crawl toward the aluminum frame that binds them together in symmetrical fashion. Similar to how Samsung's other high-end phones were put together, this one feels reassuring to hold and operate, with no flex on it at all.
It is also likely to forgive a bit of rough and tumble, as well as accidental spills or dips in the pool. Yes, it is IP68-certified, meaning it would survive brief interactions with water, in up to five feet of water for 30 minutes — at least on paper. The S Pen stylus is equally resistant to water damage. We weren't brave enough to conduct our own water-resistance test.
While we haven't used the handset long enough, it goes without saying that having a glass-on-metal build means you'll ideally want to wipe down the rear surface a few times before placing the device face down.
Using the Samsung Galaxy Note 8 one-handed shouldn't prove too difficult because of how the screen is built and the way the bezels are pushed to obscurity. That we can happily wrap our fingers around our unit speaks to the brilliance of a 6.3-inch phone in a footprint the size of a 5.7-incher. Little to no finger gymnastics are required to reach the corners of the display, something that would be hard to fathom just a couple of years ago.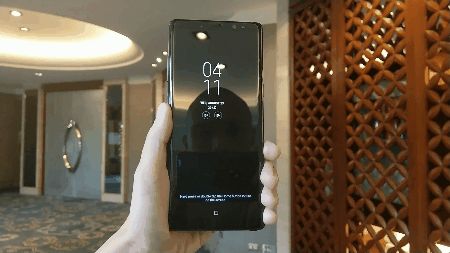 Click on the image to see how easy it is to wrap our fingers around the 6.3-inch Samsung Galaxy Note 8.
Meanwhile, the USB Type-C port is found at the bottom of the device, alongside the headphone jack, which we know many of you will be pleased to see. There's also a single speaker along the bottom edge; it produces fairly good and loud audio for a smartphone.
A massive, tack-sharp AMOLED display greets those who pick the Note 8 up. It's 6.3 inches diagonally, and extends from one edge to another. Those top and bottom bezels are about as narrow as they can get, without gutting the rest of the hardware.
There's no arguing the picture quality is amazing, with a pixel resolution of 2960 x 1440. Colors appear incredibly bright and vivid, and black levels are deep. And all that screen real estate allows for better typing and multitasking, and is ideal for watching videos or gaming.
The Note 8 maintains its presence through its heft; it is indeed quite heavy, particularly when the S Pen is stored in its body. There's a mechanical button on the end of the stylus, opposite the writing tip, that ejects the stylus from the silo, similar to how things were last year. Samsung is advising users not to push the S Pen too hard in the silo to avoid problems later.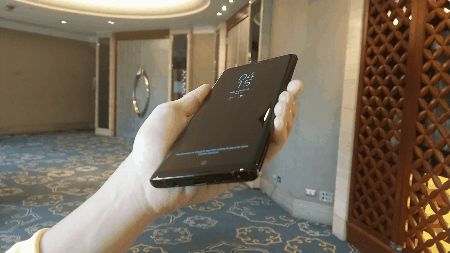 Click on the image to find out how to properly remove the stylus that comes with the Samsung Galaxy Note 8.
About the pen — because the Note just isn't complete without it: It has been improved to make it work better and do all sorts of cool and useful stuff that no other phone can offer (yet). You can still, for example, jot down notes while the screen is off — up to 100 pages long, this time around. The S Pen can also translate words into another language when you hover the tip over the word or phrase you'd like interpreted.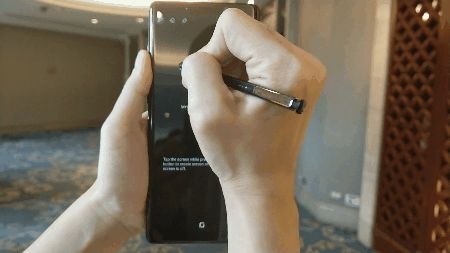 You can still jot down notes while the screen is off — up to 100 pages long this time around. Click on the image to see the GIF.
Samsung lists a bunch of other commands, but the biggest addition this year is what the company is calling "Live Message," which is similar to how message effects with iMessage work on Apple iPhones and iPads. It adds another dimension to existing messaging apps and is compatible with virtually every messaging app out there, we're told.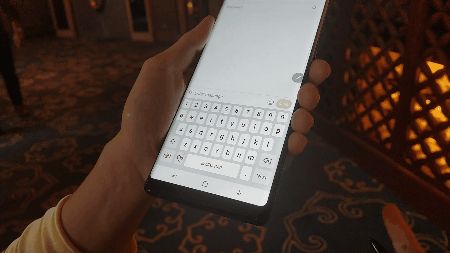 Click on the image to see how the Live Message works.
It's reasonable to think that the stylus — and the software features that support it — is the centerpiece of the Note 8. And while it is certainly an integral component, it is by no means the main draw this year; the main camera system is, in large part because Samsung has actually doubled its efforts with its latest Galaxy.
There are two cameras round the back, both of the 12-megapixel variety. There's one normal lens, with a f/1.7 aperture, while the other has a telephoto, f/2.4 lens for up to 2x optical zoom. The front-facing camera is 8 megapixels.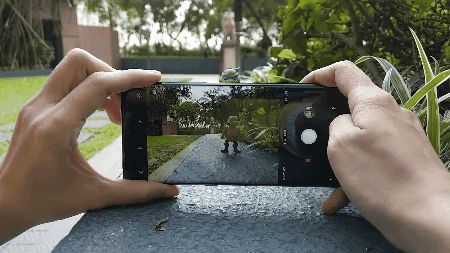 Click on the image to see how you can take shots with bokeh.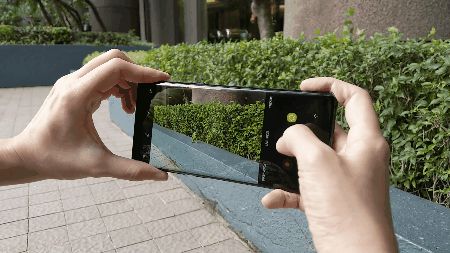 Click on the image to check out the Samsung Galaxy Note 8's '2x optical zoom' capability.
Resized sample photos taken with the Galaxy Note 8
Of course, the Note 8 is loaded with upgraded specs worthy of the badge. We won't go into much detail here except to say that the same Exynos processor found in the S8 and S8+ powers the assembly, and RAM has been upgraded to 6GB.
It feels every bit as fast as any phone we've used and handled everything we threw at it with aplomb. The Samsung Galaxy S8 pair is fast as hell, but this feels more responsive. We wouldn't expect anything less at this price.
What about Bixby?
There's still a physical button on the side of the device meant to launch Samsung's digital assistant. And it's more useful now, with the addition of Bixby Voice. It allows you to issue voice commands to the handset, including complex ones, such as taking a selfie with a timer or searching for images on social media.
While we're not convinced it's the Google Assistant replacement that Samsung makes it out to be, the company does seem eager to improve it. Not to mention, it ought to work better with first-party Samsung apps.
READ ALSO: Initial review: Samsung Galaxy Book, an iPad Pro rival and laptop replacement
Pricing and availability
Black or gold, the Samsung Galaxy Note 8 will run you P49,990 (around $978) when it becomes available starting September 29 in carrier, offline, and online stores. It comes with a free screen-replacement warranty within six months of purchase. Preorders begin September 8 until September 17.
Initial thoughts
Fully capable, in every sense of the word, the Samsung Galaxy Note 8 is easily one of the best smartphones you can buy right now. But it's also one of the most expensive, bearing a wallet-wilting asking price. Would be nice to own one, though, wouldn't it?
---