Now that the Huawei Mate 20 Pro is out in the Philippines, it's worth comparing it to the Samsung Galaxy Note 9, the Korean company's best and biggest phone yet and the new Mate's closest Android rival.
The Mate 20 Pro and Galaxy Note 9 are easily the two best options from the top two smartphone brands in the world, and these incredible handsets rightfully embody everything that is exciting about the all-frills flagship category.
If you're considering buying one of them, then this article will help you take sides and pick out the phone that offers better value. Which one should you get? Let us make your decision easier. Read on.
Tale of two OLEDs
Both the Huawei Mate 20 Pro and Samsung Galaxy Note 9 are equipped with curved OLED screens that spill over the edges to meet their metal frames. In terms of picture quality, the two displays produce bright colors and deep, inky blacks. They also support HDR for improved contrast and color output if the content is HDR-ready.
READ ALSO: This shows why the Huawei Mate 20 Pro's cameras are a cut above the rest
Always-on functionality for showing the date, time, and battery percentage is onboard, though the Samsung phone offers more variety in what is actually shown and where.
The two phones' screens reflect where they are in the current smartphone marketplace. You won't be disappointed with either one, especially if you're the type who mostly plays graphics-heavy games and binge-watches TV shows on streaming services like Netflix.
Size-wise, the Samsung flagship has a slight advantage, stretching 6.4 inches from corner to corner, compared to 6.39 inches for Huawei's latest Mate. It's unlikely that you'll notice the difference, though.
If anything, the Mate 20 Pro's display looks smaller than its listed size and smaller in person than you might have imagined it to be. This should be welcome news for those with small hands and who prefer a more manageable screen size for day-to-day use.
The screen-to-body ratio of the Huawei Mate 20 Pro is also nearly 88 percent, meaning its gorgeous OLED panel fills almost the entire front of the phone. Having a notch on top obviously helps, and the bezels on the sides and lower chin are even slimmer than the last time.
SEE ALSO: Hands-on review: 72 hours with the Huawei Mate 20 Pro in London
By comparison, the Galaxy Note 9 has an 83 percent ratio and features symmetrical top and bottom bezels that are just thick enough to prevent it from sporting a notch.
Obviously, the choice between notch or no notch is personal. In this case, however, we'd recommend Huawei's execution because not only is its notch useful (it houses the phone's 3D camera for facial recognition), it also contributes to having more screen on the front.
READ ALSO: Smart, Globe offers for the Huawei Mate 20, Mate 20 Pro
For the first time in a mainstream flagship, Huawei has bumped up the resolution on the Mate 20 Pro to 3,120 x 1,440 pixels — up from 2,160 x 1,080 on the Mate 10 Pro.
It packs more pixels than Samsung's 2,960 x 1,440 Infinity Display on the latest Note handset, and the aspect ratio is stretched to 19.5:9, taller than that of the Galaxy Note 9. Because its screen is taller, the Mate 20 Pro is also a bit narrower and easier to operate with one hand. Though the Note 9 is lean for a big-screen flagship, it's not easy to pocket and handle.
More cameras, more versatility
In the camera department, the Huawei Mate 20 Pro, like the P20 Pro before it, really flexes its muscles. It's got three cameras on the rear — one more than the Samsung Galaxy Note 9, which arrives with a pair of 12-megapixel sensors for regular, portrait, and zoomed shots. The Mate 20 Pro benefits from Leica optics and image-processing software as well.
The primary camera on the Huawei device gets a 40-megapixel sensor with f/1.8 aperture behind a reasonably wide lens and offers impressive ISO values up to 51,200. The secondary option works as an ultra-wide camera for landscape and super-macro shots, ideal when you're in a scenic spot or with a group, or when you're shooting a small object like a toy.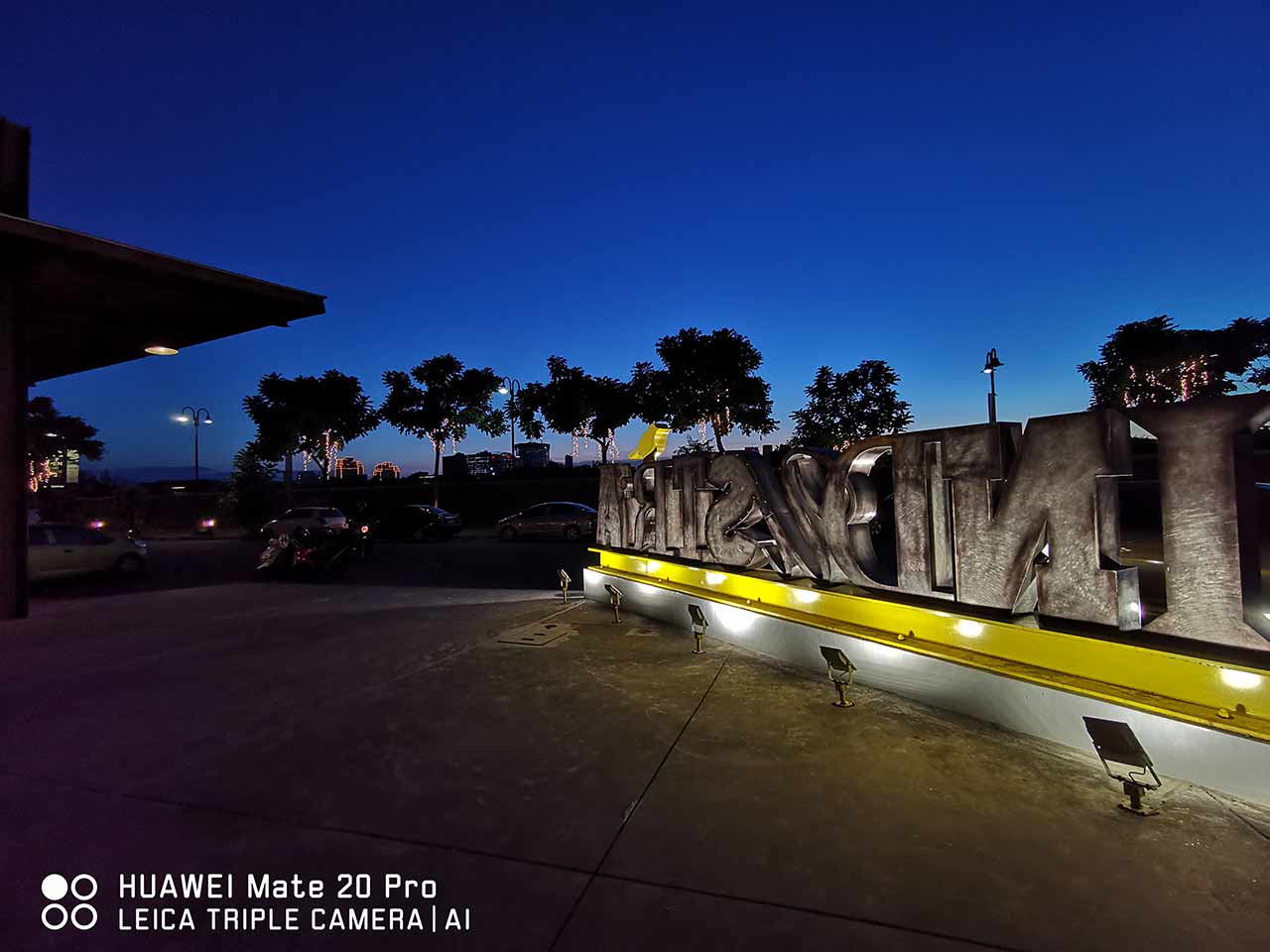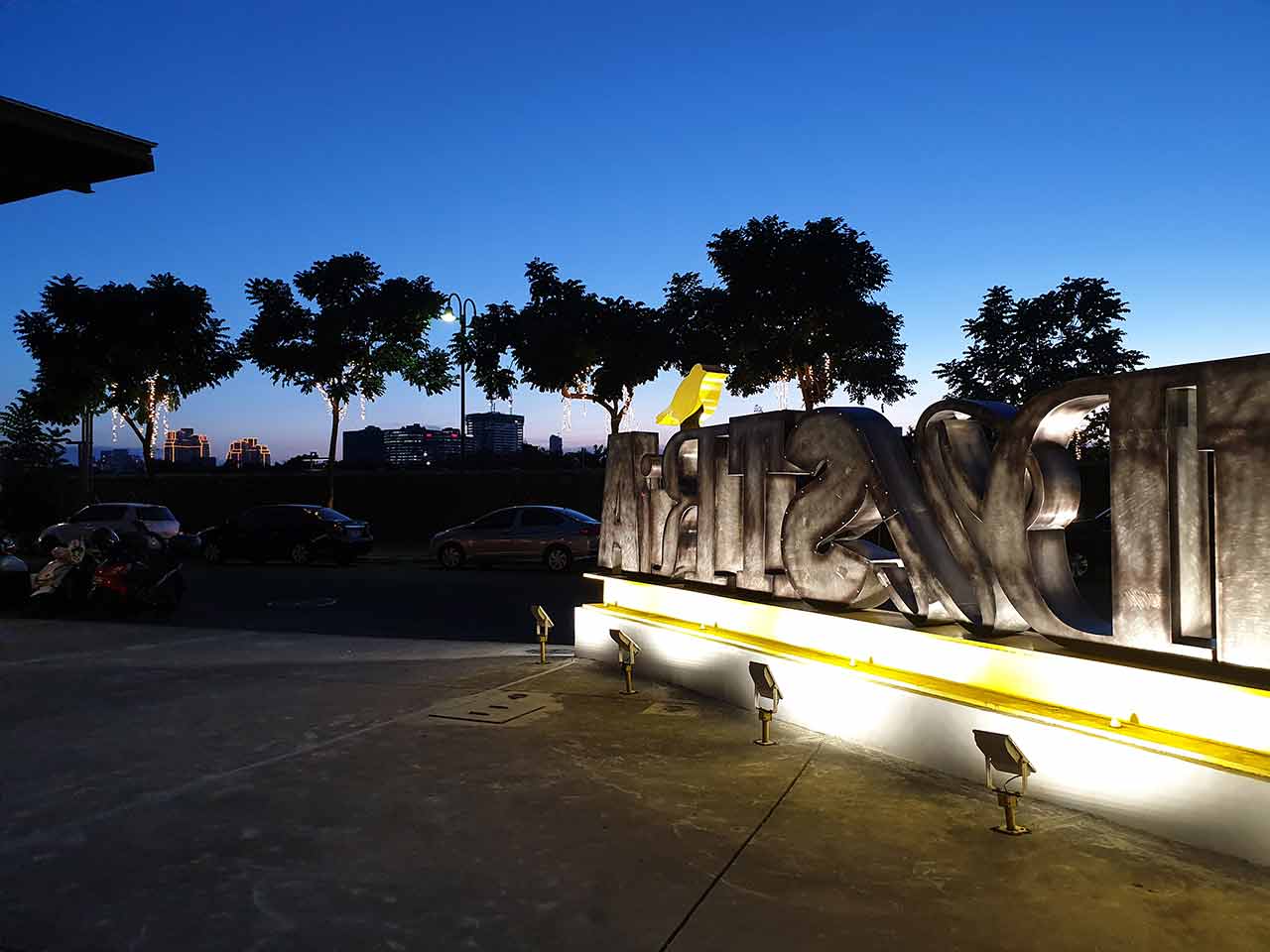 Ultra-wide night shot (Huawei Mate 20 Pro) vs Normal night shot (Samsung Galaxy Note 9)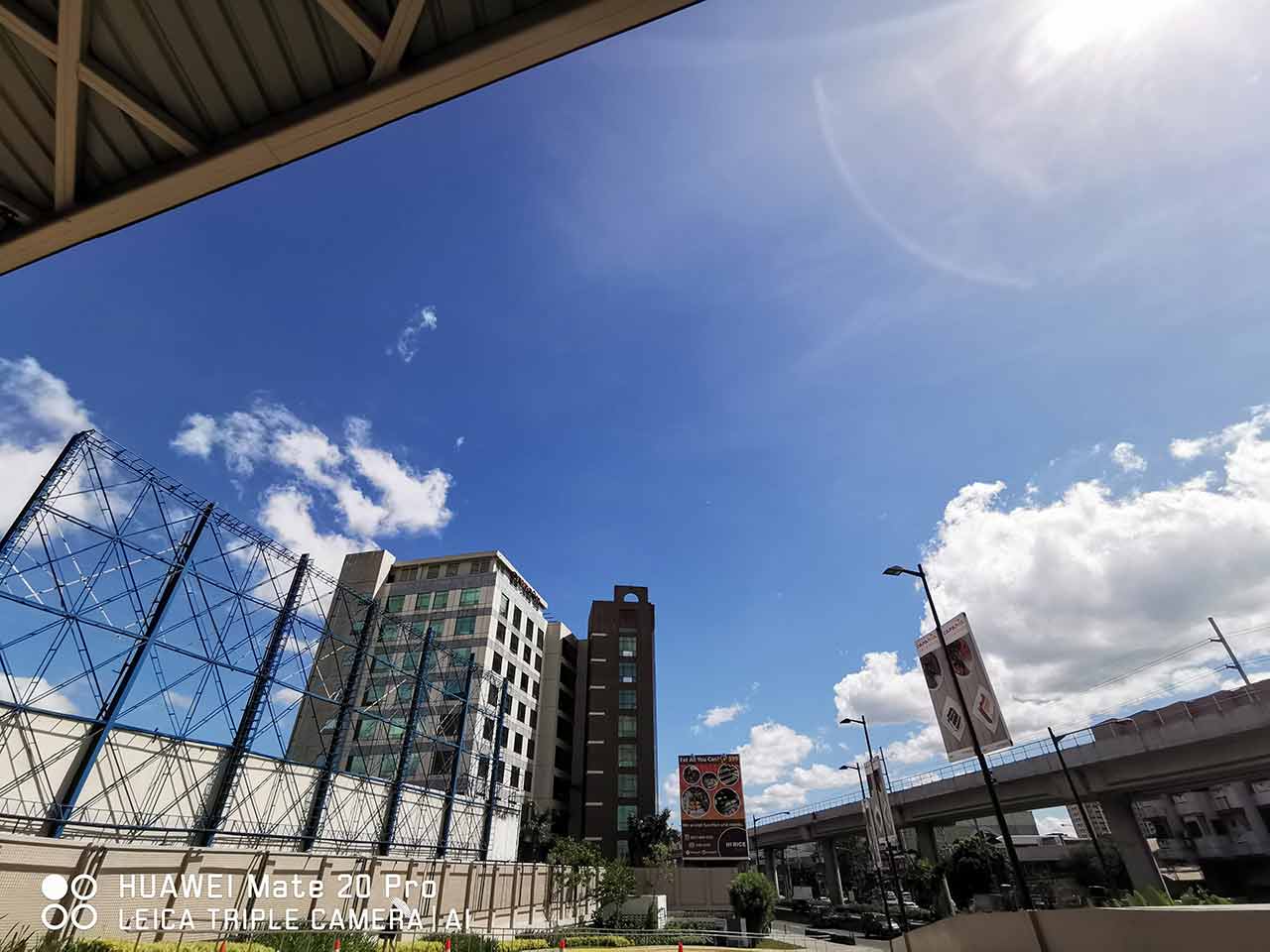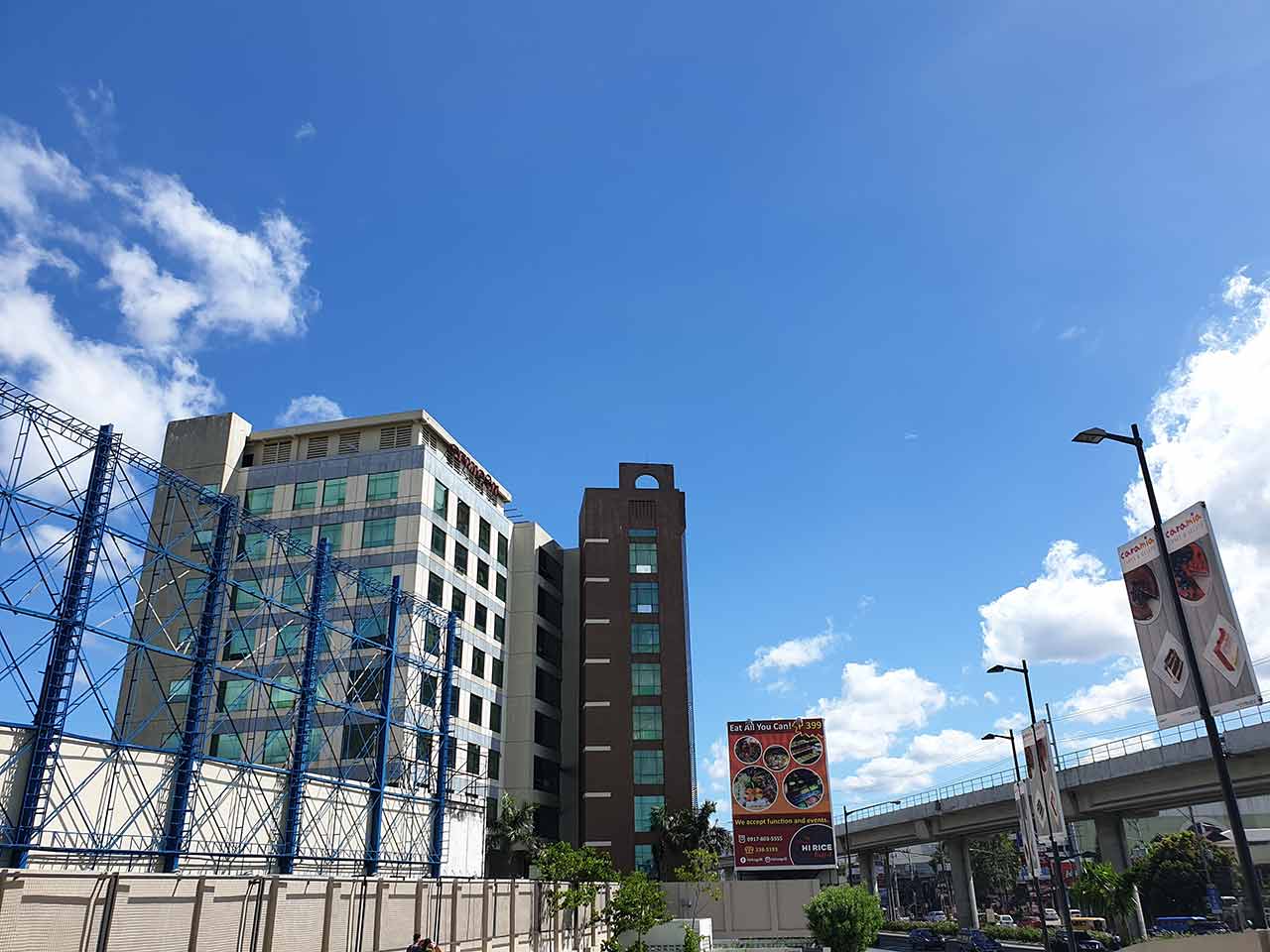 Ultra-wide daytime shot (Huawei Mate 20 Pro) vs Normal daytime shot (Samsung Galaxy Note 9)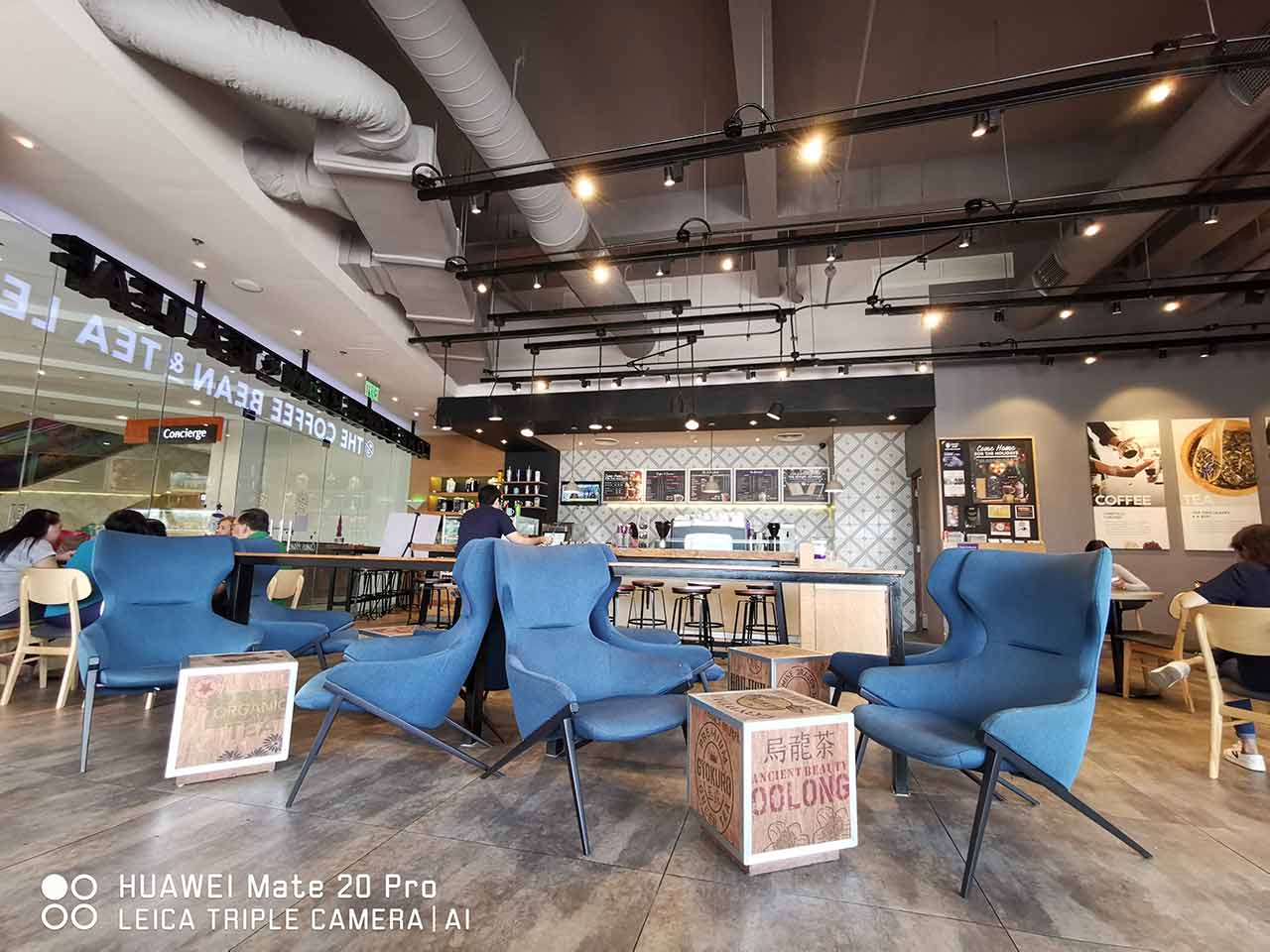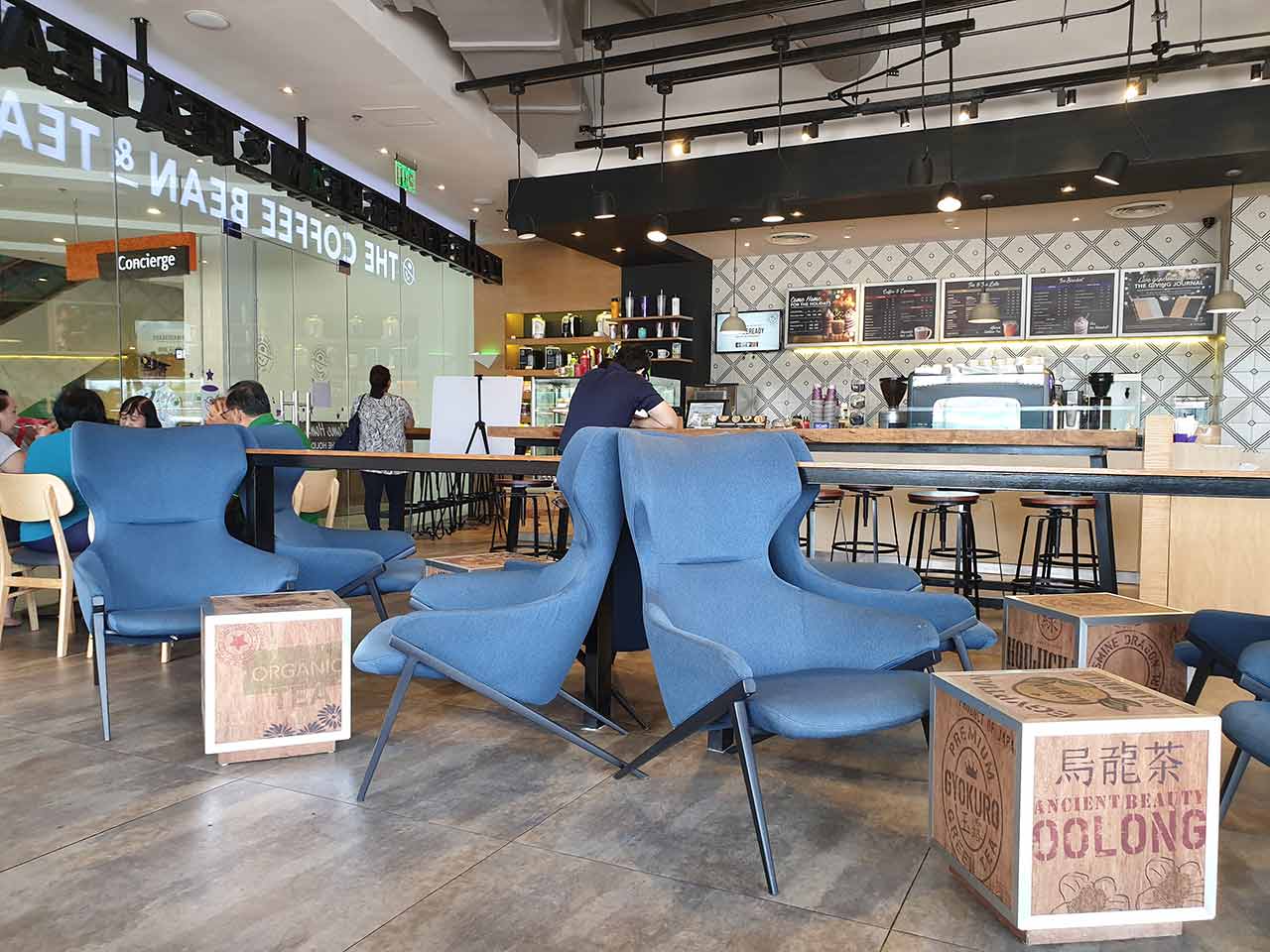 Ultra-wide indoor shot (Huawei Mate 20 Pro) vs Normal indoor shot (Samsung Galaxy Note 9)
The third camera onboard the Mate 20 Pro has an improved telephoto lens that now supports up to 5x zoom when enhanced digitally. It's perfect when you want to capture a random moment from far away without disrupting whatever action is taking place. A telephoto lens also comes in handy if you're taking a picture of an animal, say, a dog or a cat.
Additionally, you can apply real-time effects to your videos with the Mate 20 Pro's artificial-intelligence- or AI-enabled AI Cinema feature to make them stand out. This feature leverages the Kirin 980's processing power to play around with the colors in your shot or keep the subject in focus while blurring the background.
You can pick from a variety of presets. Vintage makes your footage look like it was shot using an old video recorder. AI Color will identify and present your human subject in color, whereas everything else in the frame will be in black and white. Background Blur in video mode simply does what it says it should without the need for post-processing.
On the other hand, the Samsung Galaxy Note 9's main highlight is its variable aperture system, the first of its kind built into a smartphone. It is able to switch between f/1.5 and f/2.4, and you can select how wide the shutter opens in Pro mode before taking a picture. That said, the Note's camera is specifically designed for low-light shooting with its brighter aperture.
However, that's not to say the Galaxy Note 9 performs better than the Mate 20 Pro in tricky lighting conditions. In practice, we're more impressed by night shots taken with Huawei's flagship.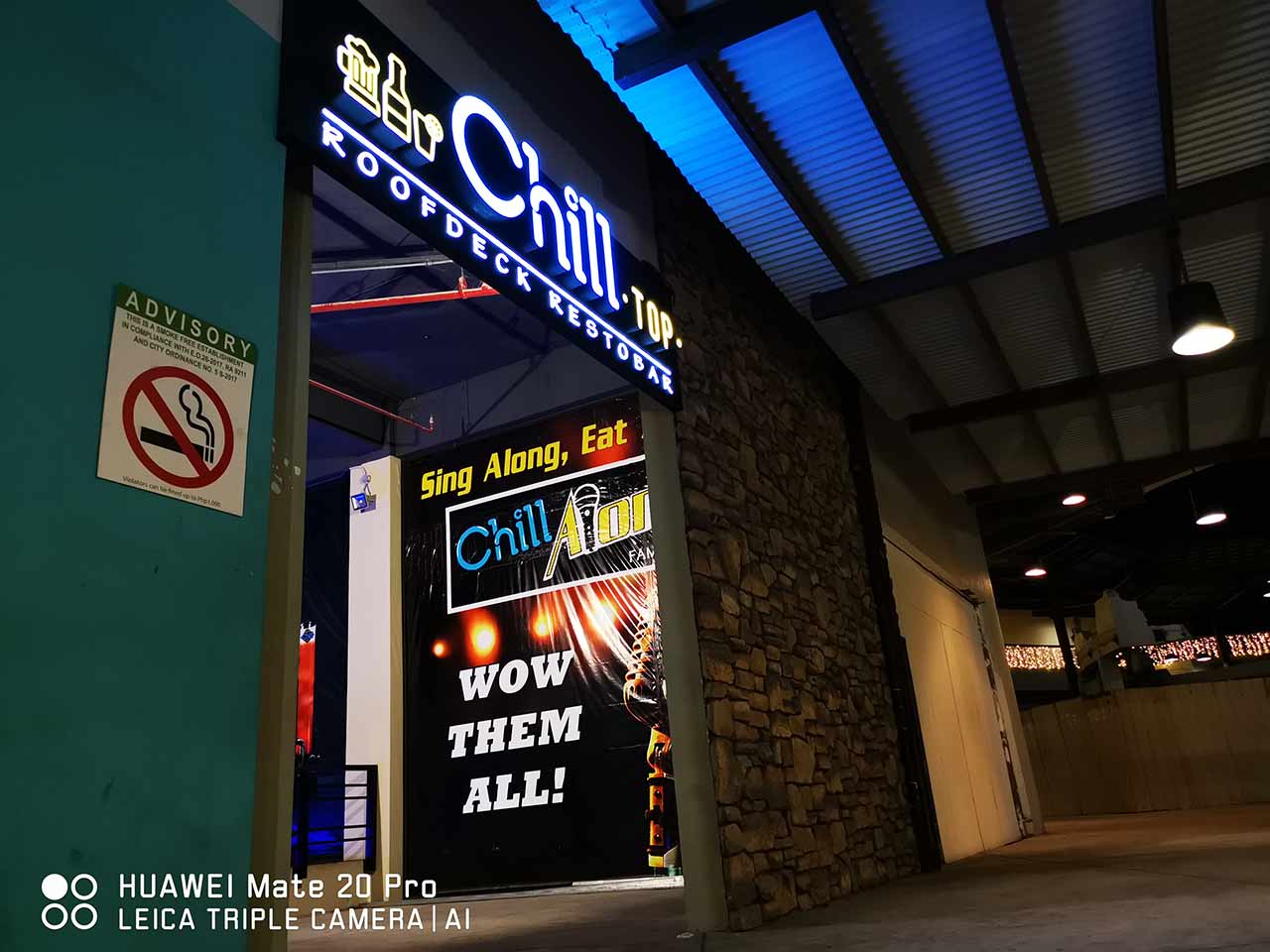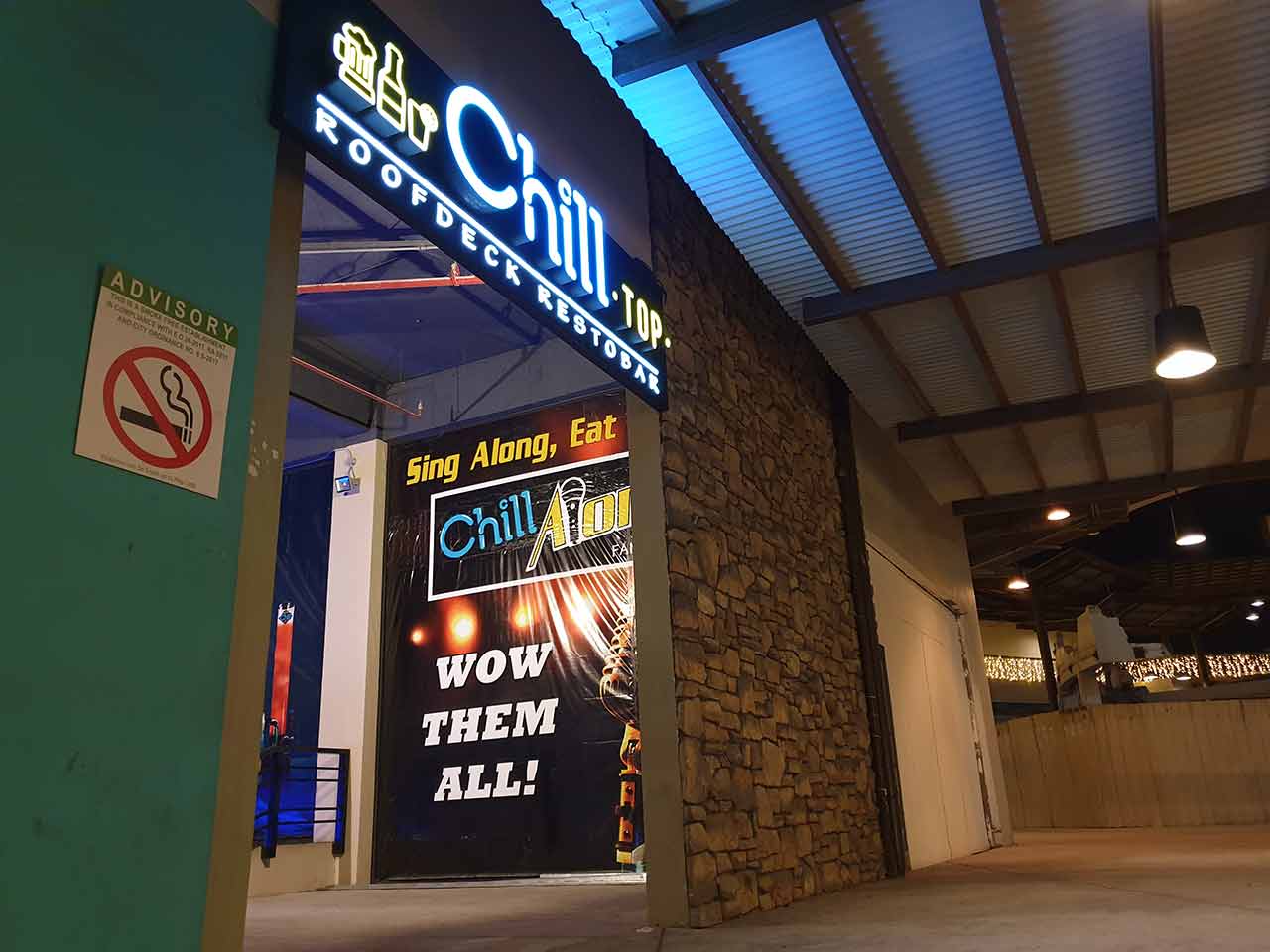 Huawei Mate 20 Pro vs Samsung Galaxy Note 9
The Mate 20 Pro's telephoto and new super-wide lens also afford more freedom when framing photos. The Galaxy Note 9 doesn't offer as much flexibility.
Both stock camera apps have the ability to read QR codes and provide contextual, real-time information about an object or landmark with the tap of a button on the app. If you're particularly mindful of how many calories you are ingesting, the Huawei Mate 20 Pro's HiVision feature makes it easier to calculate a food's estimated calorie count by simply pointing the rear camera at it.
Long battery life, short charging
The Mate 20 Pro comes with an integrated 4,200mAh battery, which is one of the biggest Huawei has put in any of its smartphones thus far. It's slightly larger than the 4,000mAh battery inside the Samsung Galaxy Note 9. In practice, both can get you through a full work day with a bit of juice left for your morning routine the next day.
We typically end each day with around 20 percent battery left, even with no attempt to limit our usage. Both devices also offer the option to reduce the resolution to 1080p or 720p to preserve battery life when needed.
Fast wired charging is available on the Mate 20 Pro and Galaxy Note 9. Where the Huawei flagship shines and where its rival falters is the speed at which both devices can top up their batteries. The latest Mate will charge its power cell much quicker using the supplied USB-C charger, thanks to Huawei's new 40-watt SuperCharge standard.
SuperCharge is one of the fastest standards we've ever had the pleasure of testing, allowing the phone to go from zero battery to full capacity in a little over an hour. Think 1 hour and 7 minutes. More crucially, it can bring the battery to around 70 percent after only 30 minutes plugged in.
Where the Huawei Mate 20 Pro shines and where its rival falters is the speed at which both devices can top up their batteries. The Mate can go from zero battery to full capacity in about an hour. More crucially, it can get to 70 percent after only 30 minutes of charging.
By comparison, the Note 9's full charging time is considerably longer than the Mate 20 Pro's — roughly 1 hour and 50 minutes — when attached to its 15-watt power brick. The difference is even starker in a shorter time frame. After 30 minutes of charging, the Note 9's battery usually sits somewhere a little over 30 percent.
On top of fast wired top-ups, the Mate boasts 15-watt wireless charging with compatible pads and stands, though you'll need to purchase them separately.
Perhaps more impressively, the Mate 20 Pro is the first phone in the world to get wireless reverse charging, a feature that effectively enables it to act as an external battery pack for other devices that can also charge wirelessly. Yes, including the Galaxy Note 9. Once enabled in the settings, all you need to do is touch the two phones back to back and let the Mate 20 Pro work its magic.
High-tech and wireless
Connectivity options are plenty on the Huawei Mate 20 Pro, though the Samsung Galaxy Note 9 doesn't fall too far behind. Both feature WiFi, NFC, and the latest Bluetooth 5.0 standard.
But we reckon most users will appreciate that the Mate comes with dual-band GPS and not single-frequency GPS, which many phones including the Note 9 carry. This new and cutting-edge technology uses two frequencies to compute your current position and results in superb accuracy even in cities with many high-rise buildings.
Dual-band GPS is said to be accurate to the order of 30 centimeters versus 5 meters on a regular GPS. If you're using a navigation app like Google Maps, that could mean knowing which lane you're occupying, as opposed to just knowing which road you're on. This feature is especially useful for Mate 20 Pro owners who drive their own cars every day.
Faster, more reliable unlocking
The Huawei Mate 20 Pro and Samsung Galaxy Note 9 use both fingerprint and face unlock as convenient security options for unlocking the device itself, as well as password-protected apps and files in the memory. Again, the Mate seems to have the clear advantage in this aspect, as it offers more advanced technologies that Galaxy devices slated for next year will likely adopt.
First, there's the under-display fingerprint sensor built into the Mate 20 Pro's front panel. The flagship uses a second-generation sensor, but you'd be forgiven for missing the first one on the Huawei Mate RS Porsche Design. Setup is straightforward; you just need to apply more pressure than usual onto the display glass. Accuracy is on point most of the time.
However, it's not as fast as the conventional reader on the back of the Galaxy Note 9. Then again, Samsung's fingerprint sensor can be difficult to reach unless you're holding the device correctly. Luckily, both smartphones have facial-recognition systems that rely not just on a front camera, but also on other dedicated components.
The Huawei Mate 20 Pro features 3D face unlocking, similar to Apple's Face ID, which incorporates an IR camera, a dot projector, and a flood illuminator for secure unlocking. The company says it's advanced enough to analyze and match your face with millimeter-level accuracy.
Samsung's latest high-end handset doesn't read your face in three dimensions, but it pairs a selfie camera with an iris scanner for quickly and securely getting to the home screen, as with previous Galaxy flagships. The drawback — and this can be said for the Mate 20 Pro as well — is that you can set up only one face to use the feature.
Both face-unlock systems should be equally secure, but in daily use, the Mate 20 Pro ends up being slightly faster at unlocking the phone with its 3D camera compared to the Note 9. It's more reliable in dim lighting, too.
Sweet Android Pie
Then there's the software: The new Mate is one of the few devices that ship with Google's latest Android 9.0 Pie operating system preinstalled, albeit with Huawei's custom EMUI 9.0 skin enabled. The UI is now more lightweight and more refined than ever. It runs smoother and loads apps faster, too.
At the same time, EMUI 9.0 is now better suited for full-screen displays, offering swipe-based gesture controls for navigating your device. You can manually enable it in the settings menu. Otherwise, you're still free to use the conventional, three-button Android navigation scheme.
The Mate 20 Pro includes a desktop mode, which lets you connect the phone to a larger screen via a wired or wireless connection for improved productivity or entertainment.
You can have the functionality of an actual desktop using the Samsung Galaxy Note 9, too, though there's no wireless option here, so you're going to be tethered to whichever screen you're streaming to. The Mate 20 Pro's wireless technology lets you drop the wires altogether.
EMUI 9.0 also brings GPU Turbo 2.0 to the latest Huawei flagship. The new algorithms now support more games and improve system performance in select titles for smoother gameplay and reduced touch-input delay by up to 36 percent.
The Galaxy Note 9, on the other hand, ships with an interface design based on an older Android Oreo operating system. There's also no gesture-input system, so moving around the home screen and jumping in and out of apps can prove to be more difficult on a phone with a massive screen like this one, unless you use the S Pen stylus.
Which flagship wins the pricing battle?
The Huawei Mate 20 Pro is officially priced at P49,990 (around $942) in the Philippines. The 128GB version of the Samsung Galaxy Note 9, on the other hand, costs P55,990 ($1,055) in local stores.
Samsung's pricing even goes up to a whopping P75,990 ($1,432) for the Note 9 with 512GB of storage. MicroSD expansion up to 512GB, however, is available in the Note handset, which makes the decision to splurge on the fully specced-out model a bit easier.
Still, the new Mate is more affordable, more attractive, and packs more features than any current Samsung phone, the Note 9 with its S Pen and extra functionalities included. And if that isn't fantastic value, then we don't know what else to say.
Final thoughts
With the Huawei Mate 20 Pro and Samsung Galaxy Note 9, you've got two of the most desirable and feature-packed Android smartphones on the market right now. Both give you big and color-rich OLED displays that will please your eyes, even if some of the technical pizzazz are tipped in Huawei's favor.
And as far as how well they can take a picture, the Mate 20 Pro has more tools at its disposal to impress you more regardless of the lighting condition. Both handsets offer a lot and plenty more similar between them, but the considerable difference in pricing seals the deal for us.
All hail the new king of Android phones, the Mate 20 Pro. Huawei should be proud.
Huawei Mate 20 Pro specs
6.39-inch OLED display, 3,120 x 1,440 resolution
Octa-core Kirin 980 processor
6GB RAM
128GB expandable storage (via nanoSD card)
Triple rear cameras with Leica lens and LED flash (40MP main camera, 20MP ultra-wide camera, 8MP telephoto camera)
24-megapixel front camera with 3D system for face unlock
IP68 dust- and water-resistance rating
Fingerprint sensor (in-display), facial recognition
4,200mAh battery with 40-watt fast charging, support for wireless charging and wireless reverse charging
Android 9.0 Pie
Samsung Galaxy Note 9 specs
6.4-inch Quad HD+ Super AMOLED screen, 2,960 x 1,440 resolution, 516ppi, 18.5:9
Octa-core Exynos 9810/Qualcomm Snapdragon 845, depending on the market (Exynos for the Philippines)
6GB/8GB RAM
128GB/512GB expandable storage
12-megapixel (wide angle, f/1.5-2.4 aperture) + 12-megapixel (telephoto, f/2.4 aperture) rear cameras
8-megapixel front camera (f/1.7 aperture)
IP68 dust- and water-resistance rating
Iris scanner, fingerprint scanner, facial recognition
4,000mAh battery, fast charging, support for wireless charging
Android 8.1 Oreo
S Pen
---