The Huawei Y6 Pro 2019 is one of the latest phones out now in the Philippines. It's one of the more interesting ones, too.
(Update, March 7: We compared this Huawei with other similarly priced phones. Read Huawei Y6 Pro 2019 vs Samsung Galaxy J4 Plus vs OPPO A3s.)
For starters, it retails at P6,990 (around $133 converted) in local stores, which is a reasonable price for what it offers. It's also the cheapest phone out there with a small, dew-drop notch, just enough to fit the 8-megapixel front camera. And it's powered by a MediaTek Helio A22 instead of Huawei's own Kirin chip.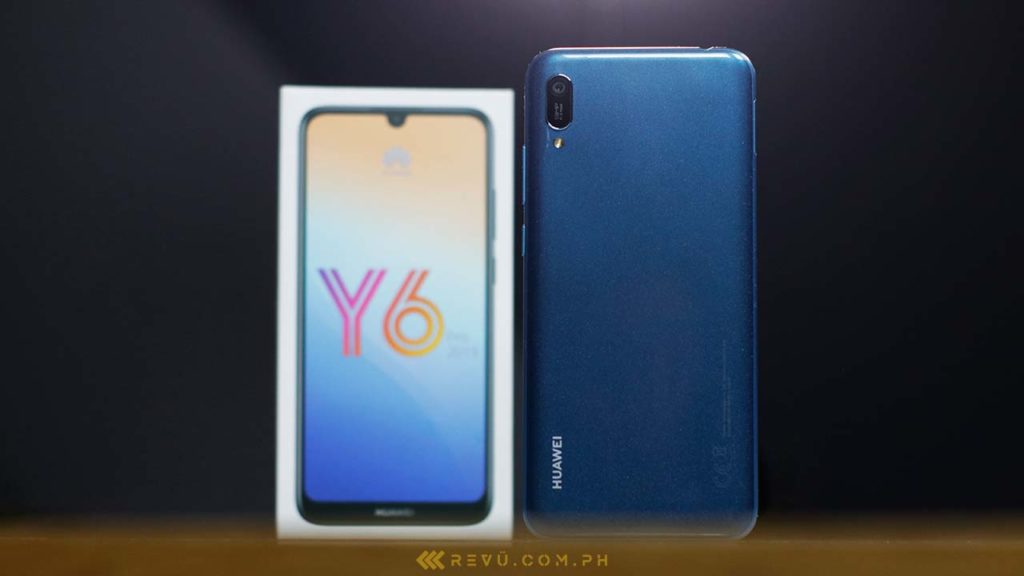 The Helio A22 is a cost-effective processor that's also found inside the Xiaomi Redmi 6A. It pairs four ARM Cortex-A53 cores with IMG PowerVR GE-class graphics and delivers up to 30 percent faster CPU performance and a 72 percent faster GPU than the direct competition, according to MediaTek. All this sounds promising on paper, especially at this price point.
But the big question is: Can the Huawei Y6 Pro 2019 game? The short answer is sure; the longer one is that this phone will run graphics-intensive games at a respectable frame rate, though your mileage will vary depending on the app you have in mind.
SEE ALSO: Huawei Y7 Pro 2019 retail price, availability in PH
To give you a sense of what to expect from the Y6 Pro 2019, gaming-wise, we're going to focus on three popular games we've tested and share our observations, as well as some stats courtesy of GameBench, a multi-platform benchmark tool that allows users to measure frames per second, or FPS, as well as battery drain during gameplay.
GameBench also provides a detailed report of each gaming session that can be uploaded and accessed from any device with a web browser.
READ ALSO: PH price of Huawei Y Max with big screen, battery revealed
So on to the games. To test the Huawei Y6 Pro 2019's gaming performance, we downloaded and installed Mobile Legends: Bang Bang, NBA 2K19, and PUBG Mobile onto our unit. These titles are pretty much staples for testing new devices, and many people play them on a regular basis.
It definitely helps that they have good graphics, though this also means their hardware requirements are not lenient, so not all devices will run them smoothly. The Y6 Pro 2019, thankfully, can keep things humming along nicely even when several apps run in the background.
Mobile Legends: Bang Bang
Mobile Legends is a multiplayer online battle arena game, or MOBA, that's hugely popular in Asian countries, including the Philippines. While it's not as demanding as the two other titles, it requires an internet connection to play, and this can lead to hiccups if your service provider isn't up to the task.
On the Huawei Y6 Pro 2019, GameBench detected a median FPS of 25 and FPS stability of 63 percent, which is considered "excellent" by the benchmark tool.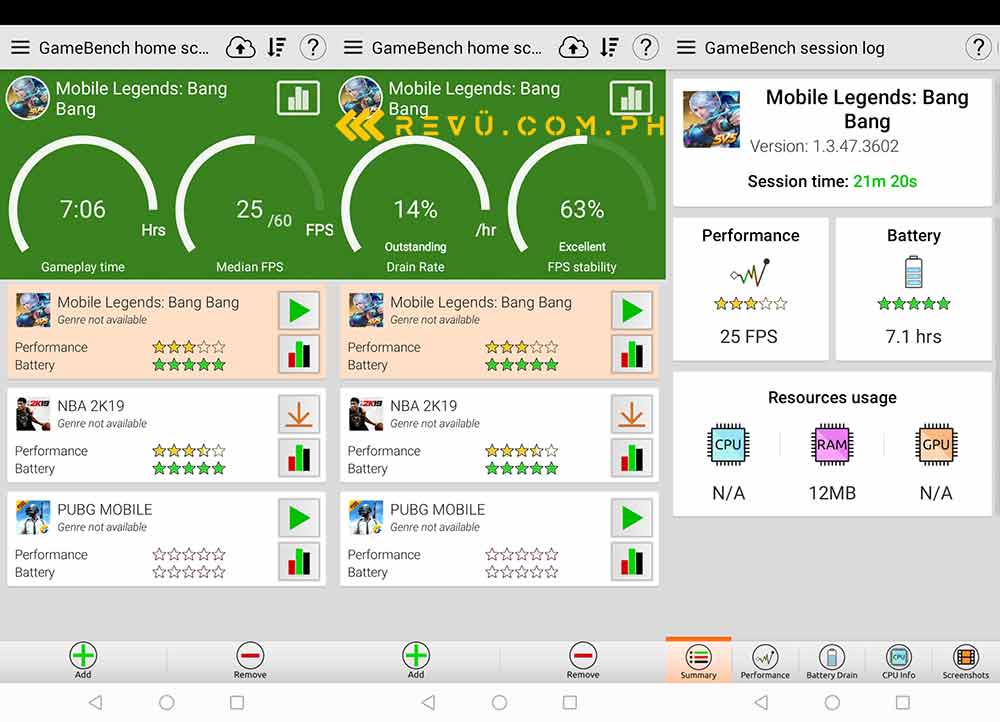 NBA 2K19
This year's entry in the series probably needs no introduction to the mobile-gaming crowd. But just to recap, NBA 2K19 brings improved graphics and gameplay to an already compelling basketball game that lets you play as much as you want with no strings attached. Pay for it once, then you can own it forever.
NBA 2K19 produced an average of 29 frames per second at an impressive 86 percent clip in terms of consistency, according to GameBench. Those numbers are pretty solid for a phone priced at P6,990 ($133). Additionally, battery drain per hour was estimated at 18 percent through multiple gameplay sessions, which is impressive given how demanding the game is.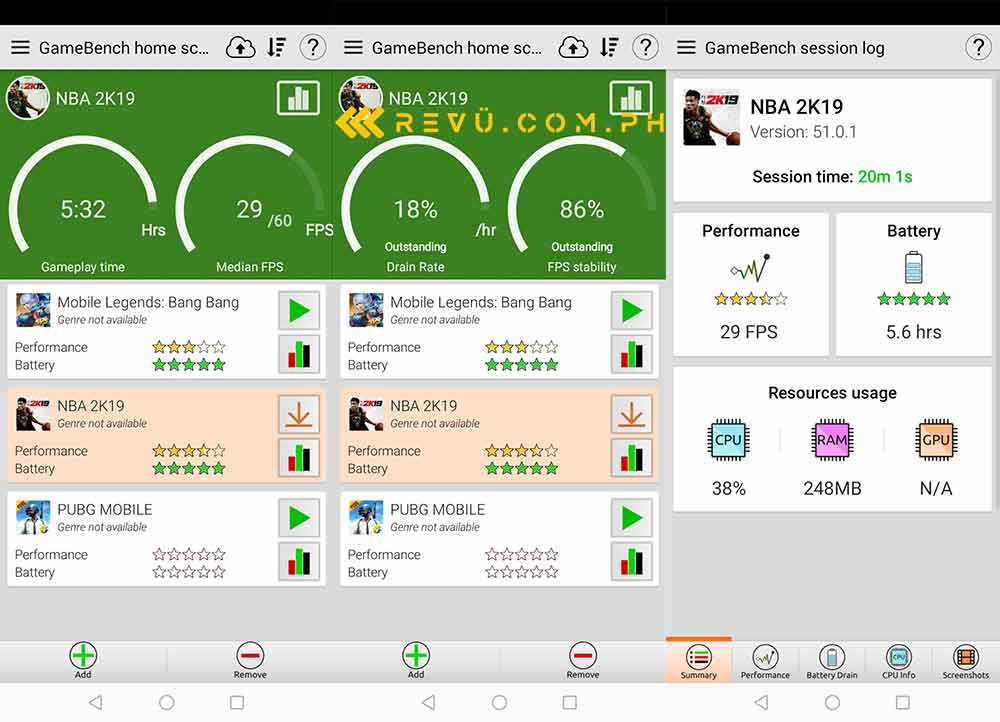 PUBG Mobile
This is one of the best-looking titles not only in its genre, but also on the broader app marketplace. Understandably, it needs powerful graphics to run smoothly, which means the Helio A22 has its work cut out for it.
Surprisingly, we saw the game run decently enough in our testing, although we weren't able to get GameBench to run properly on our unit, so we don't have the numbers from our hours of participating in random battle-royale matches. But we have some actual gameplay footage to show you.
Gaming on the Huawei Y6 Pro 2019: PUBG Mobile (start), Mobile Legends (4:59), and NBA 2K19 (10:03)
Final thoughts
Budget phones are affordable for a reason. And most lack the hardware to play modern games without stuttering and freezing issues. Thankfully, however, the Huawei Y6 Pro 2019 has proven itself to be a respectable piece of hardware if gaming is one of your priorities. It won't blow your mind, but it won't blow your budget either. So long as your expectations are realistic, it won't disappoint.
With the Y6 Pro 2019, Huawei has done an excellent job of bringing a decent gaming experience down into a device that manages to duck the P7,000 ($134) price point.
Huawei has done an excellent job of bringing a decent gaming experience down into a device that manages to duck the P7,000 ($134) price point. This is one to watch if your cash on hand won't cover a new midrange or flagship handset.
Huawei Y6 Pro 2019 specs
6.09-inch dewdrop display, 1,560 x 720 resolution (18:9)
Quad-core MediaTek 6761 processor
3GB RAM
32GB built-in memory
MicroSD card
13-megapixel rear auto-focus camera, f/1.8
8-megapixel front camera with LED flash
3,020mAh battery
Android 9.0 Pie (EMUI 9.0)
156.28mm x 73.5mm x 8.0mm
150g (including battery)
Plastic
Colors: Sapphire Blue, Midnight Black
---