Huawei recently released two new additions to its Y series of budget smartphones, giving it a welcome shot of modern in more ways than one.

Here, we explore the Huawei Y6 Pro 2019 and see how it stacks up against the Samsung Galaxy J4 Plus and OPPO A3s, arguably two of the most popular low-cost choices in the Philippines. These handsets are all priced at P6,990, or about $135 converted, in local stores (we're obviously referring to the 2GB RAM / 16GB storage model of the A3s).

But which of these devices provide the best value for money? What are the differences and similarities between the Huawei Y6 Pro 2019, Samsung Galaxy J4 Plus, and OPPO A3s? We've lived with all three and had plenty of time to test and evaluate them. Here's how these devices compare.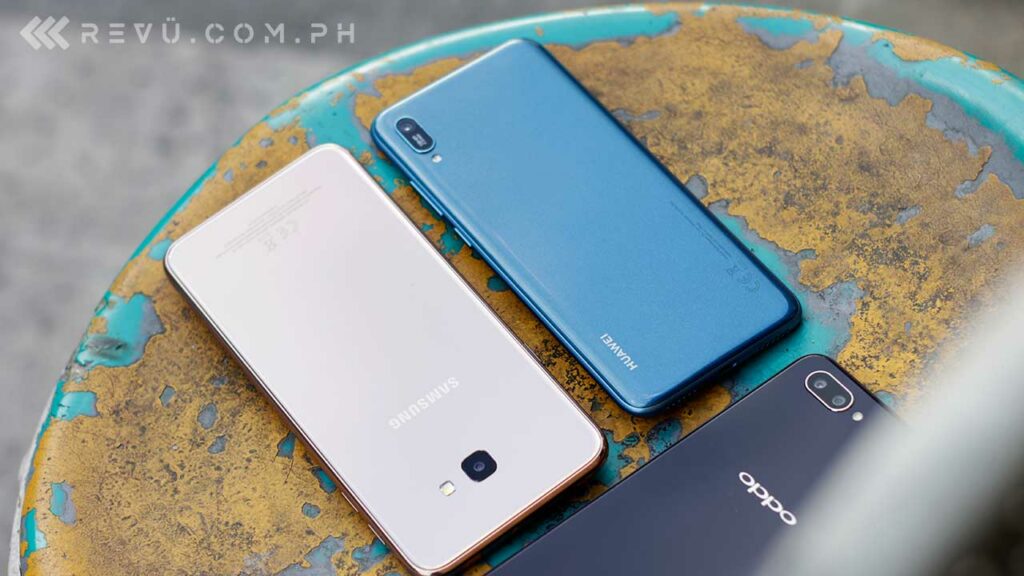 Design and build quality

All the phones sport plastic designs with tall LCD screens on the front and share the same lack of a fingerprint reader, although face unlock comes standard in the trio. However, it's the Huawei Y6 Pro 2019 that looks the most attractive and feels the most comfortable in the hand.

They are pretty lightweight yet solidly built. They don't feel cheap at all, which is what you'd want if you're after a low-cost smartphone that ought to last a couple of years at least.

SEE ALSO: Huawei Y6 Pro 2019 gaming review: Can this budget phone game?
The Y6 Pro 2019 features a curved back that tapers to an impressively thin frame — the slimmest of the bunch, actually — while the glossy, glittery surface is appealing and gives this phone character.

The smaller, dewdrop-style notch at the top of the screen is another nice touch, just big enough to accommodate the front-facing camera and nothing else — the earpiece speaker sits at the top edge of the display, alongside a pulsating notification light. It's barely noticeable even when the screen is active.

Meanwhile, the unassuming OPPO A3s, with its straightforward design and chunky, rectangular form, comes in second in the looks department. It feels better than it looks. And it does have a much bigger notch than the Huawei phone because it crams in a selfie camera, a sensor, and an earpiece.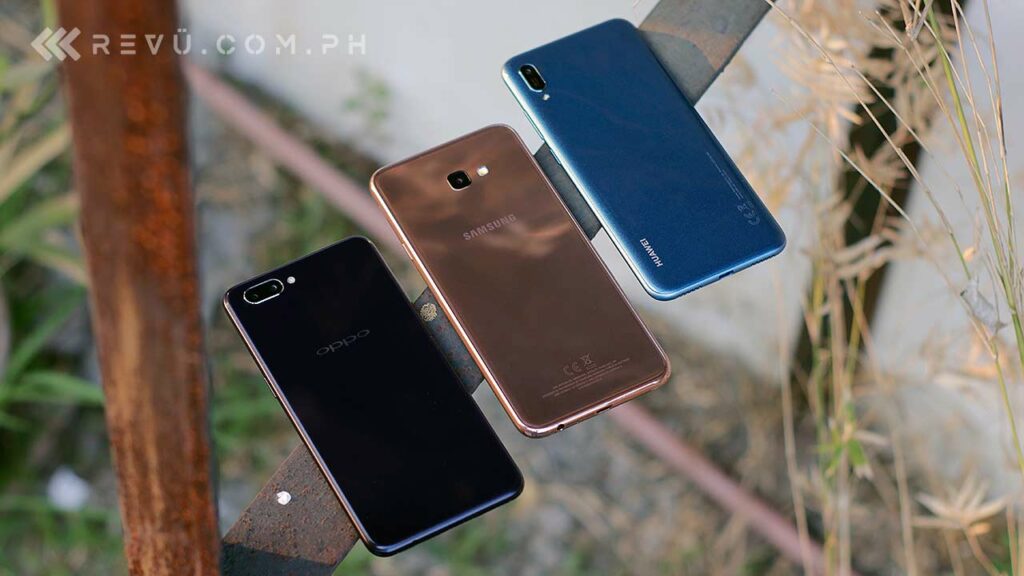 Samsung skips the notch and opts for symmetrical but sizable bezels on the forehead and chin area of the Galaxy J4 Plus. Its side bezels are the thickest of the three as well. The look of the display alone makes this Galaxy seem more like a handset from years ago, not from 2018. The plastic surface on the rear panel is fingerprint-magnet and gets covered with smudges quickly, even to the slightest touch. But then again, this is usual to the material, so that's to be expected.

One more thing about the Samsung Galaxy J4 Plus: Its size is extraordinary for a modern 6-inch handset. It's quite easily the biggest 6-incher we've seen in recent months. Obviously, those bezels are the reason why. Comparing it side by side with two notched phones with smaller chins only exacerbates Samsung's poor design choice.

Screen

All three devices feature 720p IPS-LCD displays with a taller vertical resolution and a wider aspect ratio when looked at in landscape mode. The Huawei Y6 Pro 2019 gets a 1,560 x 720, 19.5:9 display; the Samsung Galaxy J4 Plus is 1,480 x 720 and 18.5:9; and the OPPO A3s has a 1,520 x 720-pixel screen at an aspect ratio of 19:9.

When it comes to size, the OPPO A3s offers the most screen real estate — 6.2 inches across diagonally, to be precise. However, the Huawei Y6 Pro 2019 is the sharpest with 282 pixels per inch. It's not quite at full-HD heights, but it's more than enough for most day-to-day tasks. It will render HD movies with great clarity, so you won't exactly be squinting while watching.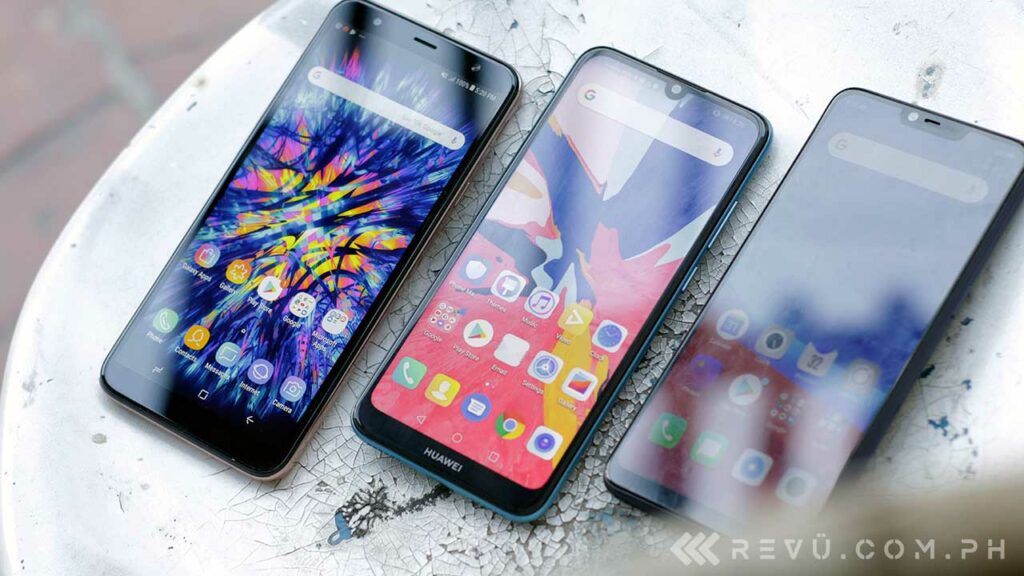 Another area where the Y6 Pro 2019 shines is screen-to-body ratio. In fact, about 87 percent of the front is display, which gives you a better view of videos, photos, and every other content on it. The screen-to-body ratio is among the highest, if not the highest, we've seen from a budget phone, and this wouldn't be possible without the dewdrop notch Huawei has opted for here.

READ ALSO: OPPO A3s vs. Xiaomi Redmi 6A: Which is the better-value phone?
Both the A3s and Y6 Pro 2019 are capable of producing a nice, balanced picture with decent contrast and vibrancy when viewed from most angles. They can get bright enough for use outdoors, too.

In our testing, we found that the display of the Galaxy J4 Plus has a warm tint, which makes whites appear unnaturally yellowish in tone. It's something to keep in mind, but it's not a deal-breaker. Still, the option to tweak the color temperature in the settings menu to get a better picture would have been a nice addition.

Speaker

All three devices have a single speaker either at the bottom or on the side. They're pretty standard in terms of clarity and sound quality. However, when it comes to loudness, the difference in power of the Huawei Y6 Pro 2019, with its SuperSound volume-boost feature, puts the other two to shame. The resulting sound is generally loud enough to be audible even from outside the room where the phone is resting.

The Y6 Pro 2019 has built-in FM radio functionality that does not require wired earphones, too. Both the Galaxy J4 Plus and A3s need an external antenna plugged in at all times to get their respective FM radio apps to work.

Cameras

Budget phones don't usually have remarkable cameras, which is understandable given their price points. And while these three don't stand out particularly, the Huawei Y6 Pro 2019, Samsung Galaxy J4 Plus, and OPPO A3s can produce impressive pictures given the right conditions.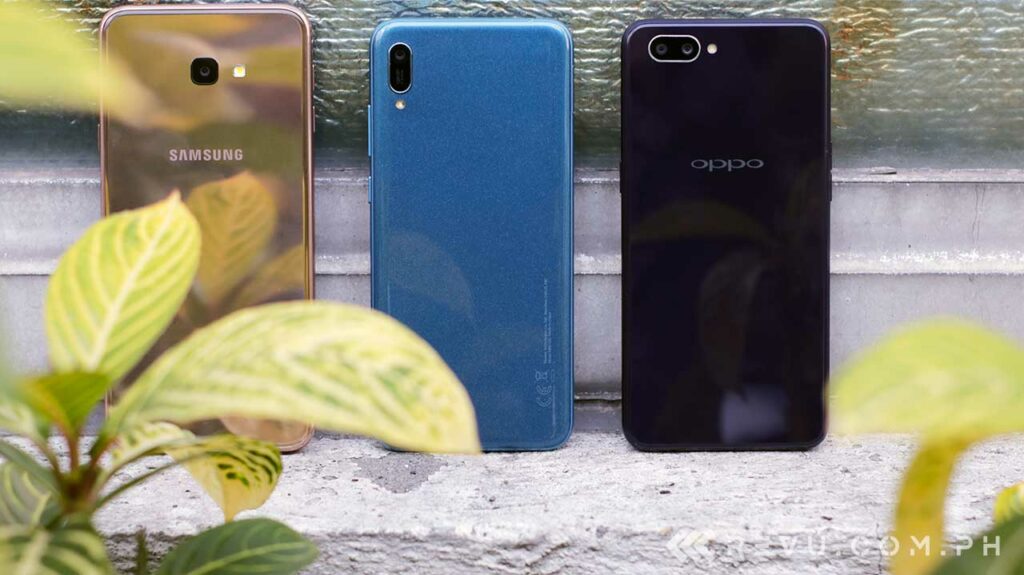 They're also pretty good for snapping selfies, something many of you will find useful. All three can capture video in 1080p quality, so it's high definition, though the lack of in-camera stabilization means footage may look a bit shaky without proper editing.

The Y6 Pro 2019 and Galaxy J4 Plus are equipped with single sensors on the front and back. The cameras of the Huawei handset clock in at 8 megapixels and 13 megapixels, respectively. Samsung's phone uses a 13-megapixel primary camera and a 5-megapixel one for selfies. The A3s also has a 13-megapixel camera on the back, but adds a 2-megapixel depth sensor in the mix for portrait-style shots.

In reality, though, stuffing more cameras into a phone doesn't necessarily yield superior outcomes in low light, as shown by these photos we took over the weekend.

Pictures taken with the Huawei Y6 Pro 2019. The phone produces the most accurate colors and is best for shooting up-close objects
Shot on the Samsung Galaxy J4 Plus, which does a terrific job at capturing details in highlights and shadows in areas where lighting isn't that good
Photos captured on the OPPO A3s, which is great for taking selfies and shooting outdoors with plenty of natural light to work with
Looking at them closely, it seems that the Galaxy J4 Plus does a better job at capturing details in highlights and shadows in areas where lighting isn't that great. The Y6 Pro 2019, meanwhile, generally produces more accurate colors. And the A3s? It is great for shooting outdoors with plenty of natural light to work with.

When it comes to focusing using the primary camera, the Huawei phone has the advantage and is able to lock onto the subject with greater speed and precision. This also makes shooting up-close objects with the Y6 Pro 2019 a lot easier compared with the other two. Macro photography is most difficult on the Samsung Galaxy J4 Plus.
As far as selfies go, the A3s establishes itself as the winner and provides a brighter and clearer picture, as well as skin tones rendered in a pleasant manner. The Y6 Pro 2019 is not far behind; its front-facing camera, combined with Huawei's Selfie Toning Flash 2.0 feature that brightens selfies snapped in low light, makes for a more well-rounded camera phone.

Gaming and day-to-day performance

A MediaTek Helio A22 processor powers the Huawei Y6 Pro 2019. You'll find a Qualcomm Snapdragon 425 and a Snapdragon 450 in the Samsung Galaxy J4 Plus and OPPO A3s, respectively. The OPPO handset enjoys a significant lead in terms of the number of CPU cores with eight, while the Y6 Pro 2019 and Galaxy J4 Plus are clubbed with four cores each.

SEE ALSO: Realme C1 vs. Samsung Galaxy J4+: Budget-phone battle
However, it's the Y6 Pro 2019 that boasts the highest memory configuration of 3GB RAM and 32GB native storage. The OPPO and Samsung devices start with 2GB RAM and 16GB storage, which leaves you with half the space to house your apps and files. Granted, getting a microSD card is a must. Then again, not every app can be moved to the SD card; some games have to stay on the phone's internal storage.

Plus, the Y6 Pro 2019's increased RAM size will allow you to multitask and switch between apps with greater ease. Even visually intensive games like NBA 2K19, Rules of Survival, and PUBG Mobile run reasonably well on our unit. Check out the GameBench results for the Y6 Pro 2019 below. (Spoiler alert: Unfortunately, we weren't able to get Rules of Survival and PUBG Mobile to run alongside the benchmark tool on our unit.)

First two GameBench benchmark results: Huawei Y6 Pro 2019. Last: Samsung Galaxy J4 Plus. We weren't able to run the tool on the OPPO A3s
As expected, the OPPO A3s is pretty good, too, for those times you need to take on multiple tasks or play a graphics-heavy game on your smartphone. However, managing that limited storage is a real concern. The Samsung Galaxy J4 Plus is comparatively slower than the other two, both in benchmarks and in general usage.

It's also worth noting that the A3s and Galaxy J4 Plus are based on the older Android 8.1 Oreo operating system, while the Y6 Pro 2019 runs the latest EMUI 9.0 based on Android 9.0 Pie. This OS already comes with Google's January 2019 security patch, as well as several new features, including full-screen gesture controls that take advantage of the phone's minimal bezels.

Battery life

The Huawei Y6 Pro 2019 uses a 3,020mAh battery; the Samsung Galaxy J4 Plus is backed by a 3,300mAh cell; and the OPPO A3s has the highest capacity with a 4,230mAh unit inside. In our tests, the A3s consistently lasted two days on a charge, while the Y6 Pro 2019 and Galaxy J4 Plus essentially allowed for a full workday's use with little left over for a second day.

All of the charging is done on contact via a microUSB cable. And yes, the A3s, which has the largest battery among the three, does take the longest to charge, taking more than two hours to get a dead battery to full capacity. Below, you'll find the results of our PCMark battery-rundown test.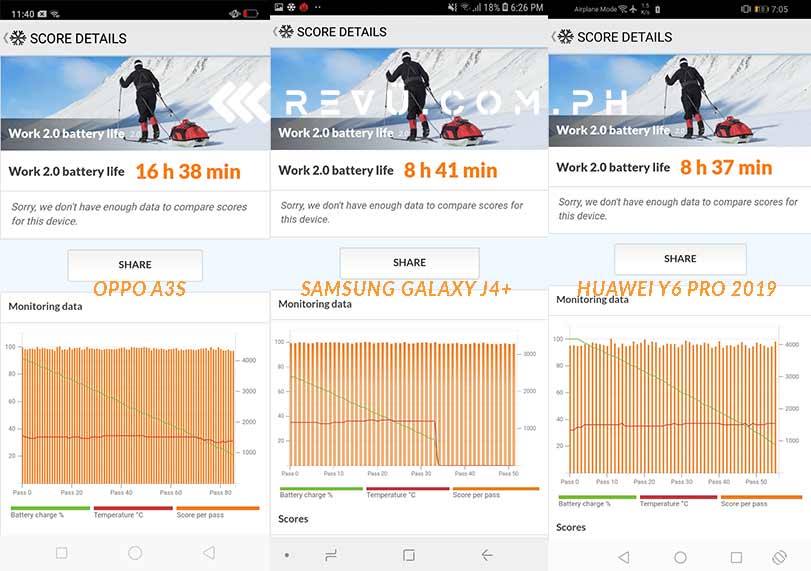 Final thoughts

In the Philippines, all three devices are priced at P6,990 ($135), which makes them attractive options for budget-phone buyers in 2019.

Based on our own review, as well as third-party analysis, we recommend the Huawei Y6 Pro 2019 for its emphasis on design, usability, and all-around performance. Having twice as much storage along with 3GB RAM will also make using it more practical, and you'll spend less time managing your apps and media.

The OPPO A3s is a solid choice if you value battery life and selfies over ergonomics and having more memory to start and keep background apps open. The Samsung Galaxy J4 Plus, while a good shooter, just doesn't have the performance needed to make it a viable daily driver, not to mention those big bezels provide zero utility and have no place on a modern smartphone.

---