Samsung's latest flagship smartphones are official. But unlike in previous years, three new handsets have made their debut instead of two.

Specifically, there's the Samsung Galaxy S10, Galaxy S10 Plus, and the lower-specced but more affordable Galaxy S10e, which we've touched on more in this separate article. Our focus here is on Samsung's two mainstream flagships, the ones that have people most excited. And expectations are higher than normal.
While still the world's biggest smartphone vendor, Samsung is losing significant market share to Chinese brands like Huawei, OPPO, Vivo, and Xiaomi. Apple remains a threat. Perhaps more crucially, Samsung no longer finds itself at the forefront of broader trends in the industry.
SEE ALSO: Date of Samsung Galaxy S10, S10+, S10e Philippine launch
It wasn't the first to release a punch-hole camera phone; Huawei introduced the world to wireless reverse charging; many other companies have adopted wide-angle lenses for use in their devices before Samsung; OPPO's 50-watt Super VOOC wired charging is still the fastest out there; Vivo has moved its under-display fingerprint scanner down to its midrange line.
Don't get us wrong — the Samsung Galaxy S10 and Galaxy S10 Plus are significant upgrades. But they're hardly new, hardly groundbreaking. And they're hardly the most economical flagships around.
In the Philippines, the Samsung Galaxy S10 will set you back P49,990 (around $963), while the Galaxy S10 Plus is priced at P55,990 ($1,078). If 128GB storage isn't enough, there's also a limited-edition variant with 1TB (yes, a terabyte) of memory that goes for P89,990 ($1,733). Preorders start February 22 through March 3, with the local retail release slated for March 8.
In the Philippines, the Samsung Galaxy S10 retails at P49,990 ($963), while the Galaxy S10 Plus is priced at P55,990 ($1,078). If 128GB storage isn't enough, there's also a limited-edition variant with 1TB of memory that goes for P89,990 ($1,733).
As we previously reported, those who pre-purchase any Galaxy S10 model will receive up to P30,698 (roughly $591) worth of freebies, depending on the unit. Your color options here are Prism White, Prism Green, Prism Black, and Ceramic Black for the top-end model with 1TB storage.
Visually, the two phones are quite similar, except the Plus model obviously gets the bigger screen spec and beefier internals. Both combine glass and metal in their construction, offer water resistance, and bring back the headphone jack — because why not? In typical Samsung fashion, the Super AMOLED displays are bright, crisp, and vibrant with deep, true blacks.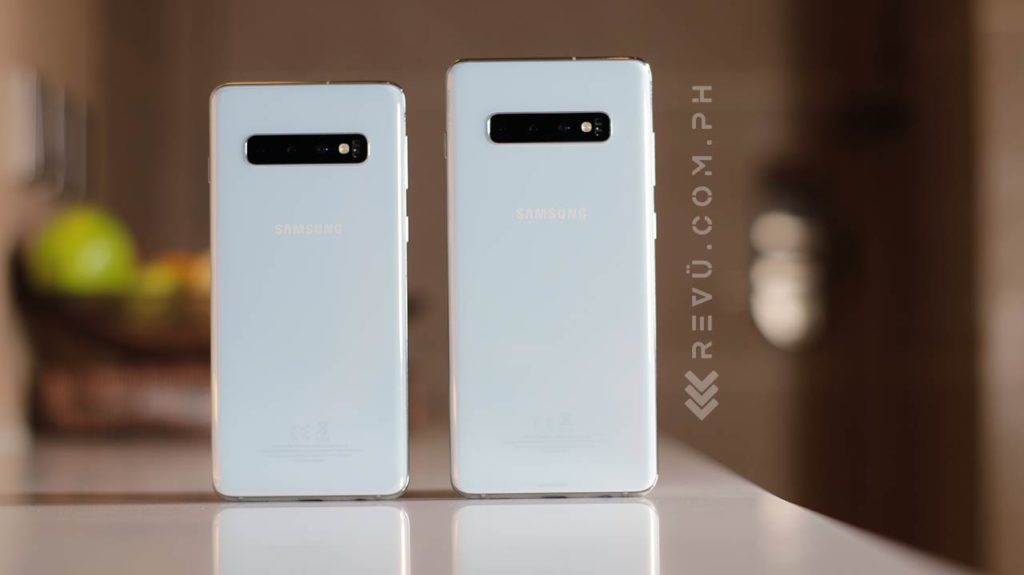 The bezels are slim all around, too. But it will take some time to wrap your head around the punch-hole design, especially if you're used to the selfie camera occupying the top bezel. The Galaxy S10 doesn't adopt the dual selfie cameras of the Galaxy S10 Plus, so expect the latter to take better and more creative photos with bokeh.
The Galaxy S10 series marks Samsung's first attempt at incorporating an in-screen fingerprint reader. Based on our initial testing, it performs well enough that we could see ourselves skipping face unlock on either phone.
Also new to the series, the Galaxy S10 and Galaxy S10 Plus have triple-sensor camera systems, with the main camera still sporting a 12-megapixel sensor and a variable aperture lens that can switch between f/1.5 and f/2.4. The telephoto camera offers optical image stabilization and optical zoom up to 2x.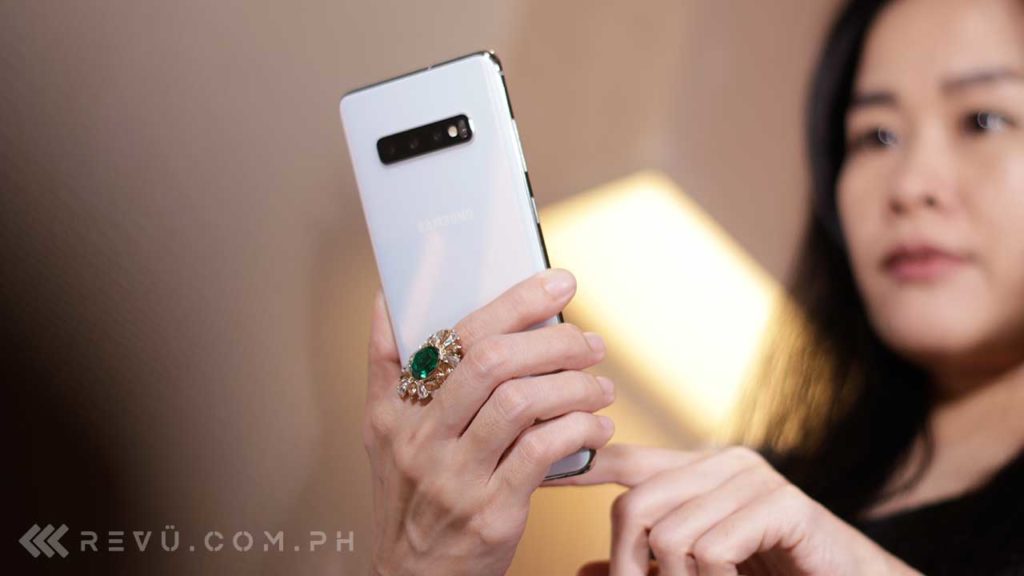 But for us, the most important spec here is the 16-megapixel ultra-wide camera that has a wider field of view than any smartphone camera we've used. The results can be pretty darn impressive, though we can't say with certainty if it can outperform the Huawei Mate 20 Pro in low light.
As with previous Galaxy S series offerings, the Galaxy S10 and Galaxy S10 Plus will be the first to ship with Samsung's latest and fastest Exynos processor (at least in markets outside of the United States and China) — which, in this case, would be the Exynos 9820.
READ ALSO: Samsung Galaxy M20, M10 launched. How they compare
The chip is fabricated on an 8-nanometer process and features eight cores consisting of two Mongoose 4 custom big cores, two Cortex-A75 middle cores, and four Cortex-A55 little cores. It also includes Mali-G76 MP12 graphics for high-end gaming experiences.
While not as cutting-edge as the 7-nanometer process the Huawei Kirin 980 and Apple A12 Bionic are fabricated on, it's a notable improvement over the previous 10-nanometer process the Exynos 9810 in the Galaxy S9 and Galaxy Note 9 was fabricated on.
SEE ALSO: Samsung Galaxy M30 launch confirmed for Feb 27
According to Samsung, the Exynos 9820 delivers up to 33 percent faster computing performance and consumes up to 15 percent less power while gaming compared to its predecessor, which should mean longer battery life on a charge for its new flagships.
It helps, of course, that Samsung has bumped up the battery capacities on the Galaxy S10 and Galaxy S10 Plus to 3,400mAh and 4,100mAh, respectively. For comparison, the Galaxy Note 9 sported a 4,000mAh cell. Fast wired and wireless charging add to your convenience, but even better, these new phones have wireless reverse charging. Just place two Qi-enabled devices back to back and the Galaxy S10 or Galaxy 10 Plus will juice the other up.

---