From today onward, you can purchase the Huawei P30 Lite in the Philippines. It is the most affordable Huawei with an ultra-wide-angle shooter and one of the least expensive devices out there with a wide camera that includes auto-focus and tracking.
The P30 Lite goes for P16,990 (around $329) in stores and is available in white, black, and gradient blue-violet colors. Assuming you can't splurge on the Huawei P30 or P30 Pro, is this phone still worth your hard-earned cash? We've used the device as our daily driver for the past few days; keep reading for our review below.
Design and build
Visually, the Huawei P30 Lite resembles the P30 a lot, with its triple cameras on the back — which has been curved just enough for comfort — and notched display with slim bezels on the front. The cheaper P30, however, appears to have a plastic backing that is made to look and feel like glass, but we're not sure. The frame that holds the front and back half of the phone into place is likely made of plastic as well.
SEE ALSO: 0% interest installment plans for Huawei P30, P30 Pro, P30 Lite
Regardless, the P30 Lite doesn't give the impression that it is a much more affordable alternative. Without the physical fingerprint reader to clearly indicate which phone is which, the average user would be hard-pressed to tell the two apart, and that's a compliment.
You won't be disappointed with its exterior; it feels solidly put together and more expensive than its actual price tag. Oh, and the fingerprint reader works as expected — quick and accurate in most cases. It won't allow you to enroll the same fingerprint more than once.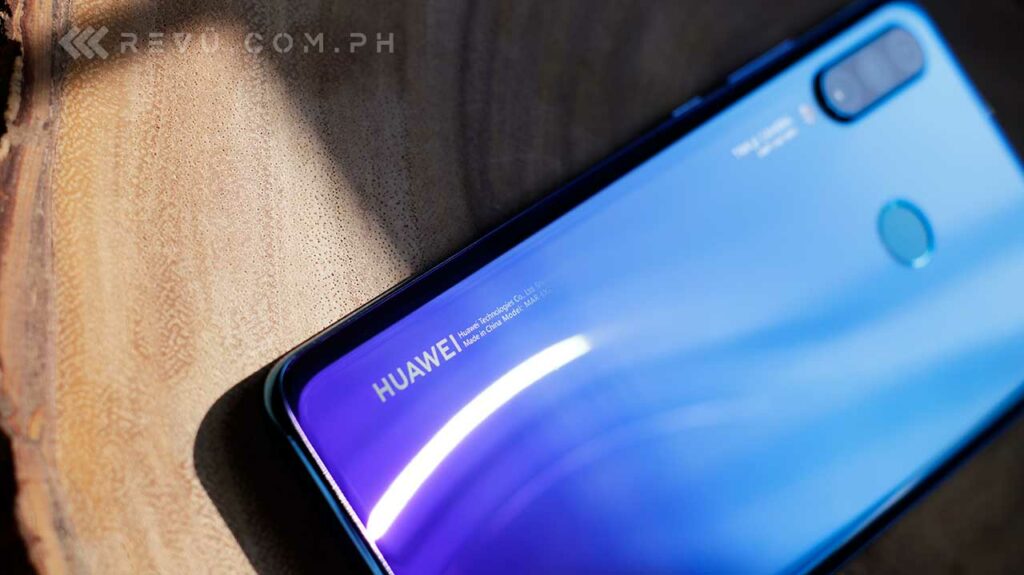 Plus, the Peacock Blue variant of the P30 Lite, which is what we have as our review sample, looks stunning in a dual-tone gradient that turns from blue to violet as one approaches the base of the handset.
The base is where you can find the single loudspeaker, charging port, and headphone jack, while the power key and volume rocker are located on the right-hand side. Up top is where Huawei chose to place the hybrid tray that can hold two SIM cards or one SIM card and a memory card for added capacity.
The front of the phone has a 6.15-inch display that lends itself well to one-handed use, even if you decide to keep the included silicone case on the phone. It also features a pleasingly almost-non-existent dewdrop notch that's only wide enough to fit a single camera for selfies. The top and side bezels are narrow, while the chin is slightly more visible.
If you want them to, apps and content can take up nearly the entire length and width of the panel. Not all apps work in the same way, though. Some, like Mobile Legends, will show a black bar to cover the notch, while others won't. There's an option to make the notch less visible at all times by blocking it off with a black bar. It doesn't really disappear.
Screen
One of the specs that immediately stands out is the display. The Huawei P30 Lite has an LCD panel, but it's surprisingly colorful and vibrant. It gets pretty bright, too, so you can use it outdoors, at times even under the harsh glare of a summer day. The resolution is 2,312 x 1,080, which means the pixel density is adequate on a screen this size.
Additionally, it offers excellent contrast for an LCD. It's especially visible when the color mode is set to Vivid instead of Normal. You can also manually adjust the color temperature of the screen, as well as text and display size, for a more comfy viewing experience.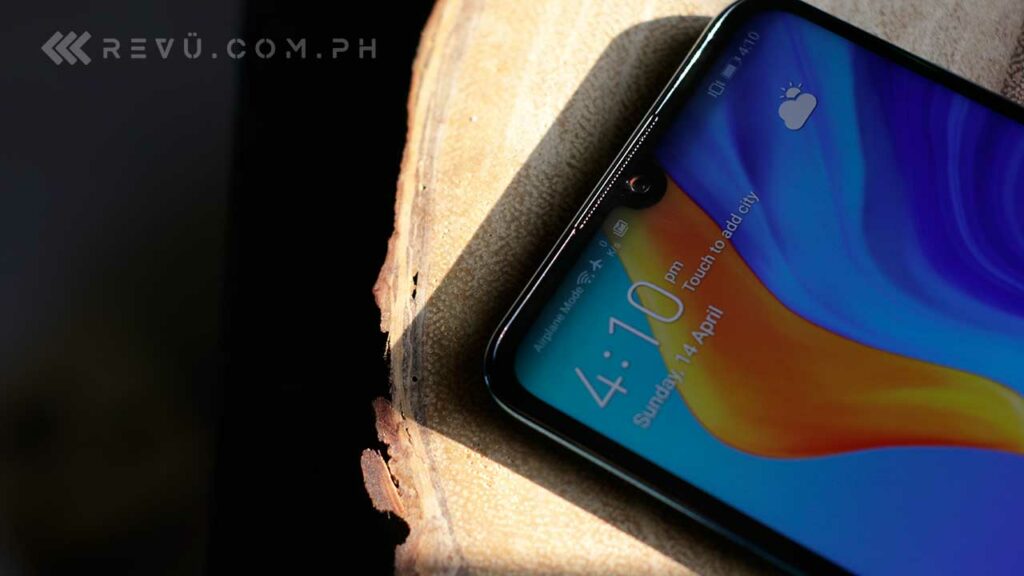 The P30 Lite supports EMUI 9.0's touchscreen gestures to navigate the Android 9.0 Pie-based user interface, though you can choose to stick to a three-button navigation bar that chips away from a full-screen experience. Both are good options, but we prefer the former because we've been so used to it already and the rounded edges of the display glass makes gestures and swiping actions easier to perform.
The screen looks really good overall. Color reproduction is accurate and rich, and you can't see individual pixels. For the price, you won't likely find a more impressive display.
Cameras
The Huawei P30 Lite, just like the standard P30, is equipped with a three-sensor vertical array, which includes an ultra-wide-angle lens. The primary sensor is 24 megapixels and sits behind f/1.8 glass with a wider-than-normal field of view.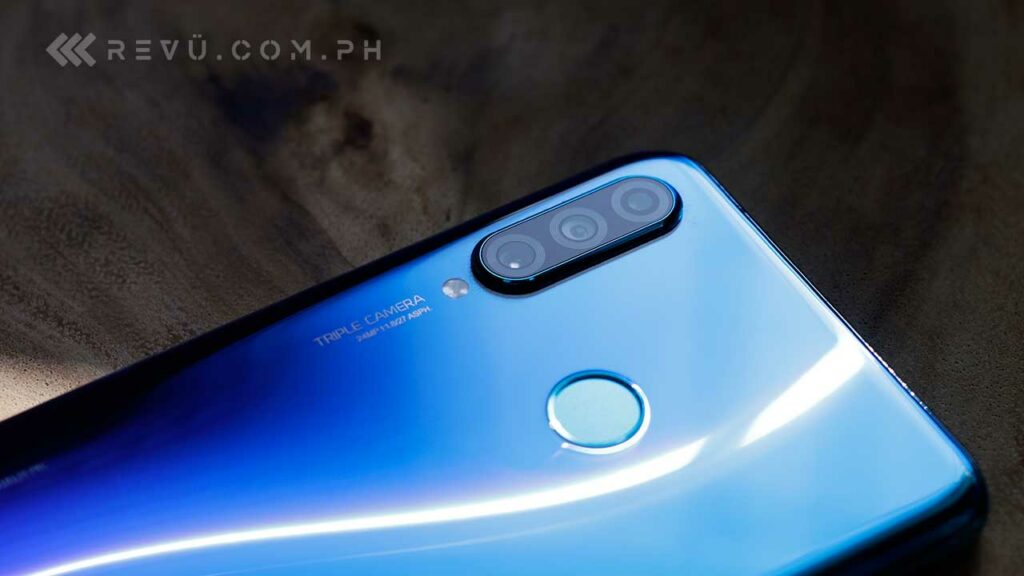 Meanwhile, the super-wide camera is 8 megapixels, with a 13mm equivalent focal length similar to the P30 and P30 Pro. You can use it to record video at up to 1080p. It even has auto-focus and object tracking to help you avoid taking blurry images and footage. Most wide cameras at this price point don't offer such features. A 2-megapixel depth sensor that helps with bokeh shots rounds out the package on the rear.
Ultra-wide-angle vs 1x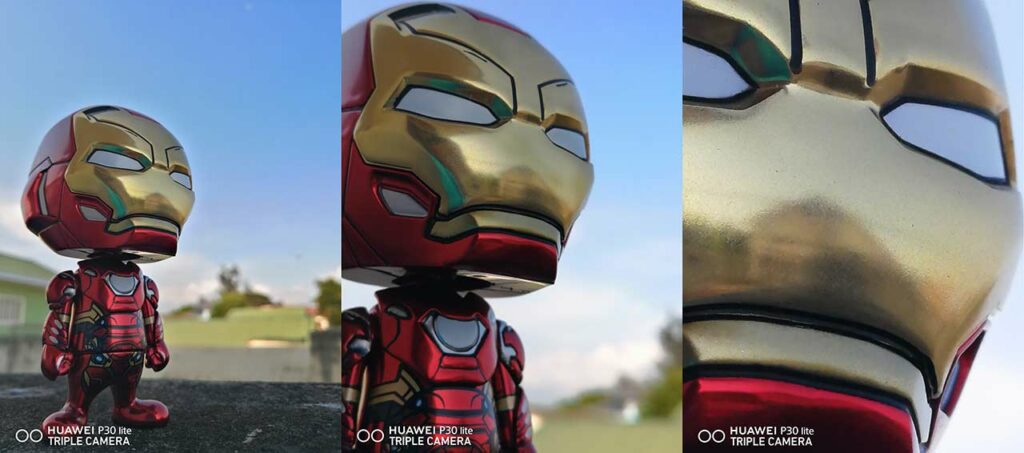 The front camera, on the other hand, packs a whopping 32 megapixels — the most of any camera on the phone itself. Predictably, selfies turn out to be plenty sharp, and colors and skin tones look pleasing and accurate.
Selfies captured on the Huawei P30 Lite: Indoors (portrait and auto) vs outdoors (portrait and auto)
The P30 Lite also offers a wide range of shooting modes in the default camera app, including Night, HDR, Portrait, Panorama, and AR Lens. Most are self-explanatory, such as Night and Portrait, whereas the AR lens feature uses the front-facing camera to capture real-time facial expressions to animate a 3D model.
Both the rear and front cameras have artificial intelligence-based features, including scene recognition that optimizes the camera settings based on what the camera is pointed at as well as where you are shooting, to make objects like flowers and buildings appear brighter and more colorful. We found the AI to be pretty handy, particularly when we were trying to take a picture of something as quickly as possible.
But the biggest revelation for us so far is the night-shooting mode that simulates a long exposure by snapping a series of pictures over a period of up to four seconds and combining the details to produce one composite image. It really stands out with its ability to pick up details in low light and produce usable photos in situations that would normally require a tripod or gimbal.
Shot on the Huawei P30 Lite: Night mode vs auto mode
Performance
Internally, the Huawei P30 Lite pairs a Kirin 710 processor with 6GB RAM and 128GB of native storage. And while the processor isn't new to Huawei's mid-tier line, it is still decent hardware that can play modern games at medium-high settings without stuttering or dropping too many frames.
NBA 2K19 and Mobile Legends, for instance, both run fine at the highest detail settings. PUBG Mobile remains playable when the graphics is set to medium, though it chugs at times when you get into large firefights. Still, most games won't give you any trouble, assuming you're not a hardcore gamer.
Can the Huawei P30 Lite — also known in China as the Huawei Nova 4e — game? Watch this gameplay of Mobile Legends, NBA 2K19 (5:09 mark), and PUBG Mobile (10:12) on the phone!
Day-to-day performance is mostly solid. Apps open and switch quickly, moving throughout the Android Pie-based EMUI 9 operating system is smooth, and touch response is as good as you'd expect in this category. We haven't encountered any significant slowdown in our use.
Talking about benchmarks, our review sample scored 132,510 points on Antutu Benchmark, while the latest build of Geekbench gave it a score of 1,512 and 5,167 on single-core and multi-core tests, respectively.
Battery life and charging
The Huawei P30 Lite sees a 3,340mAh battery inside, which is decent and should still be sufficient to give most users a full day of use per charge. Plus, the Kirin 710 has been designed with performance and battery life in mind and is an efficient processor when running less demanding tasks. In our testing, the phone does manage to last a day with normal use before needing a charger plugged into its USB-C port.
USB-C, if you're not familiar, is the latest standard for connecting devices and accessories, so it's nice to see one on this Huawei. The port is reversible, which means it doesn't matter which side is up when you plug a cable into it.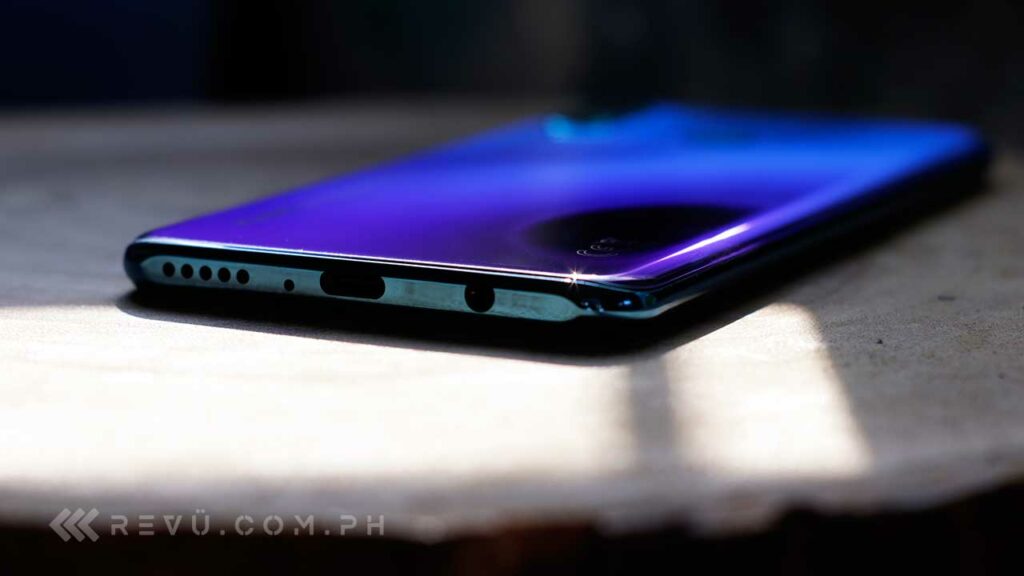 Fast charging is onboard; you should be able to top up the P30 Lite to an appropriate level in about half an hour. Getting the battery from zero to full capacity will take about 105 minutes. Most devices, even those with flagship status, take longer to charge.
Our thoughts
The Huawei P30 Lite has the looks, presence, and performance of a premium handset minus the heavy price tag. Its screen is one of the most vibrant you'll find at this price, and the bezels are narrow around the sides and top.
Meanwhile, the primary camera on the back lets you take photos with superb detail and clarity no matter the lighting conditions. The P30 Lite is also one of the most affordable choices out there with a wide camera that has auto-focus and object tracking when shooting both stills and video. Its front-facing camera is packed with megapixels, so your selfies can look better than ever.
READ ALSO: P650M in Huawei P30 series sales made at launch in the Philippines
But while the camera package is one of the best reasons to purchase the Huawei P30 Lite, the rest of the phone offers some great specs and features, on top of its uncompromising aesthetics and construction. It is the lightest on the wallet in the P30 series and lacks the top-shelf components and extras of its stablemates. However, it is anything but lightweight.
The Huawei P30 Lite is the lightest on the wallet in the P30 series and lacks the top-shelf components and extras of its stablemates. However, it is anything but lightweight
Huawei P30 Lite specs
6.15-inch display, 2,312 x 1,080 resolution
Octa-core Huawei Kirin 710 processor clocked at 2.1GHz
Mali-G51 MP4 GPU
6GB RAM
128GB expandable memory
Triple rear cameras with 24 megapixels, 8 megapixels (wide), and 2 megapixels (depth sensor)
32-megapixel front camera
Fingerprint sensor (rear-mounted)
3,340mAh battery with 18-watt fast charging via USB-C
Android 9.0 Pie based on EMUI 9.0
---