Just when Samsung finally caught up with Huawei in camera-rating organization DxOMark's ranking, here comes the new P30 Pro with a highest-ever score of 112 — three points ahead of the Mate 20 Pro, P20 Pro, and Galaxy S10 Plus. The throne now solely belongs to Huawei.
Some people say it's just a hype. But is it really? We spent a few days touring Paris, Wetzlar, and Frankfurt after the P30 series global launch to test the Huawei P30 Pro's camera system.
No light? No problem
In case you didn't know, the setup on the back is composed of four sensors. The main one — called SuperSpectrum — is an entirely new sensor created in collaboration with long-time partner Leica. It is 40 megapixels with f/1.6 aperture and optical image stabilization and one that opts for RYYB instead of the conventional RGGB Bayer filter. By replacing green pixels with yellow pixels, the P30 Pro is able to get a whopping maximum ISO rating of 409,600, something that you may not usually use, but still.
SEE ALSO: Huawei P30, P30 Pro: Philippine prices, preorder details and Globe, Smart postpaid plans for Huawei P30, P30 Pro
In normal-speak, all of the technologies combined should translate into brilliant photos and videos — even those captured in extremely dark situations. These two sets of pictures should give you an idea of what we're referring to when we mentioned the latter.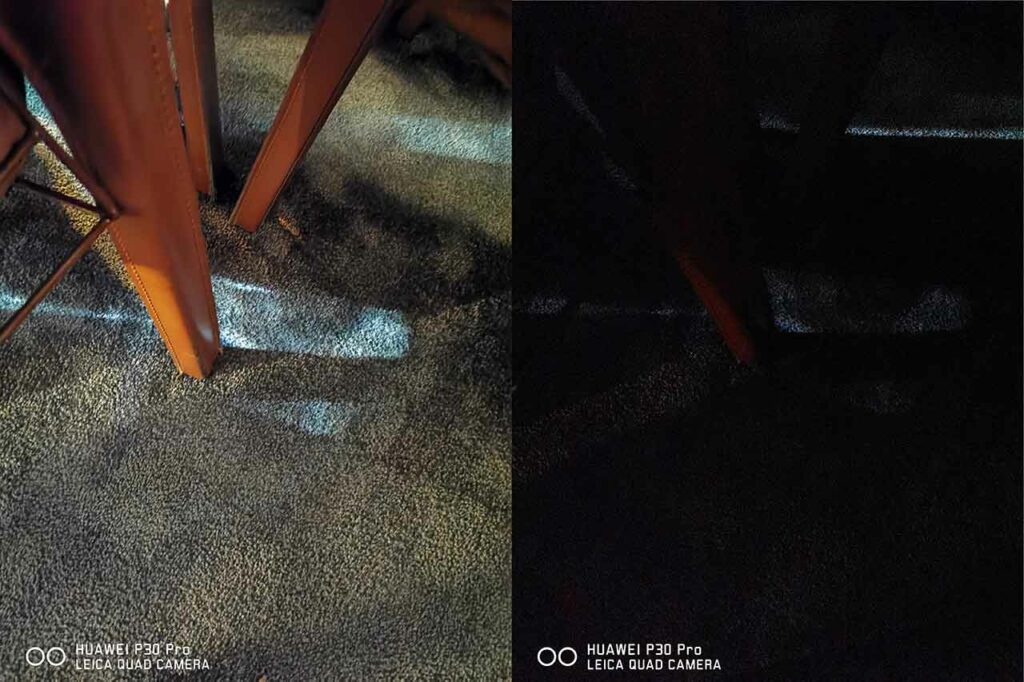 We were doubtful of Huawei's claim when it first teased the P30 Pro as a smartphone that can see the unseen in the dark. So we apologize — we were wrong. And to think we took the shots on the left side in Photo mode, not in Pro mode, where we could have chosen the ISO ourselves.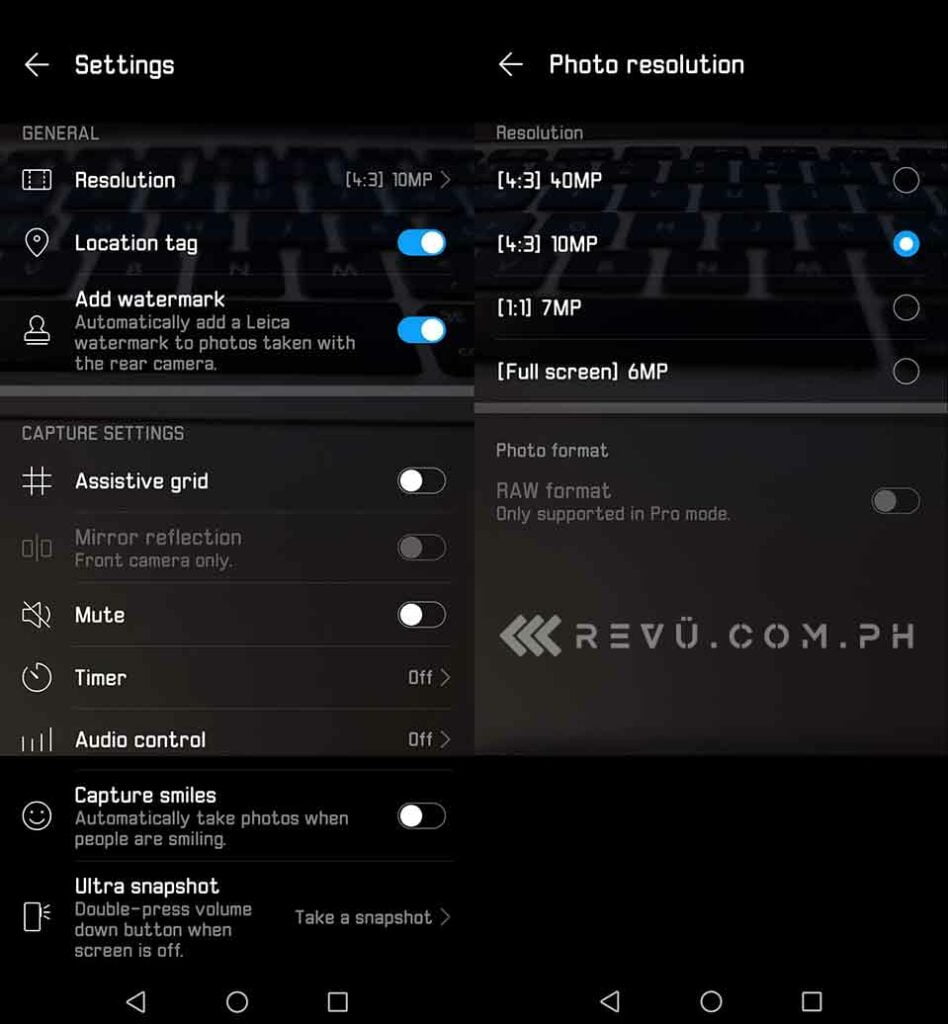 A quick explanation of why pictures look brighter on the 10-megapixel shooting option: This setting uses Huawei's software algorithms and pixel binning, which combines four pixels into one larger pixel, to enhance the camera's light sensitivity and produce better images in low light.
From ultra-wide to 50x zoom
Another one of the four rear sensors is the widely publicized 8-megapixel telephoto camera, which has OIS, too. Huawei calls it the SuperZoom Lens, and it's capable of 5x optical zoom, 10x hybrid zoom, and up to 50x with software enhancement. You can use it in scenarios where you can't get close to the subject, like in a concert.
The design is like a periscope, with optical components being placed horizontally instead of vertically. A prism element in the telephoto lens is said to bend light at a 90-degree angle to maximize focal length while avoiding a large camera bump, hence the still-slim body of the Huawei P30 Pro.
READ ALSO: What makes the Huawei Mate 20 Pro's cameras a cut above the rest
Throw in an f/2.2 ultra-wide-angle shooter that delivers 20-megapixel images, and we've got a camera phone that allows for more room for creativity.
See the samples below to see how insane the P30 Pro's photography chops are. Take note that every set contains five photos — one in wide, one in standard, and one each at 5, 10, and 50 times zoom.
Eiffel Tower: Wide vs 1x vs 5x vs 10x vs 50x. Unbelievable quality, considering these were captured at night
Nighttime but indoors. At the Charles de Gaulle Airport
Night shots are insane; what more those taken at daytime? From the rooftop of Leica's headquarters in Germany
A little closer this time. By the Leica Museum Shop
From the Iron Bridge in Germany
Sacré-Cœur Basilica at Paris' Montmartre District, a former artists' village where artists Pablo Picasso and Salvador Dali once lived
At Montmartre. Bird caught on camera at 10 times zoom
Bokeh-licious?
A first time for a Huawei handset is a time-of-flight or TOF sensor, placed below the flash module, for getting better bokeh effect in Portrait mode.
The technology giant's official press release says there's a "Super Portrait feature [that] captures even the smallest details, such as individual strands of hair. It combines depth information and proprietary algorithms to produce outstanding images with defocused backgrounds and highlights the subject of the image in any scenario."
SEE ALSO: Blind camera-test results: Samsung Galaxy Note 9 vs Huawei Mate 20 Pro vs Apple iPhone XS
We can't find that anywhere in the settings, so we're not sure whether it is automatically enabled or it will be released through an over-the-air update. Whatever the case may be, the photos below should serve as proof that the Huawei P30 Pro's Portrait mode offers above-average detail rendering. Notice how well the phone managed to keep the entire person in the foreground sharp and in focus, whereas the action in the background was blurred.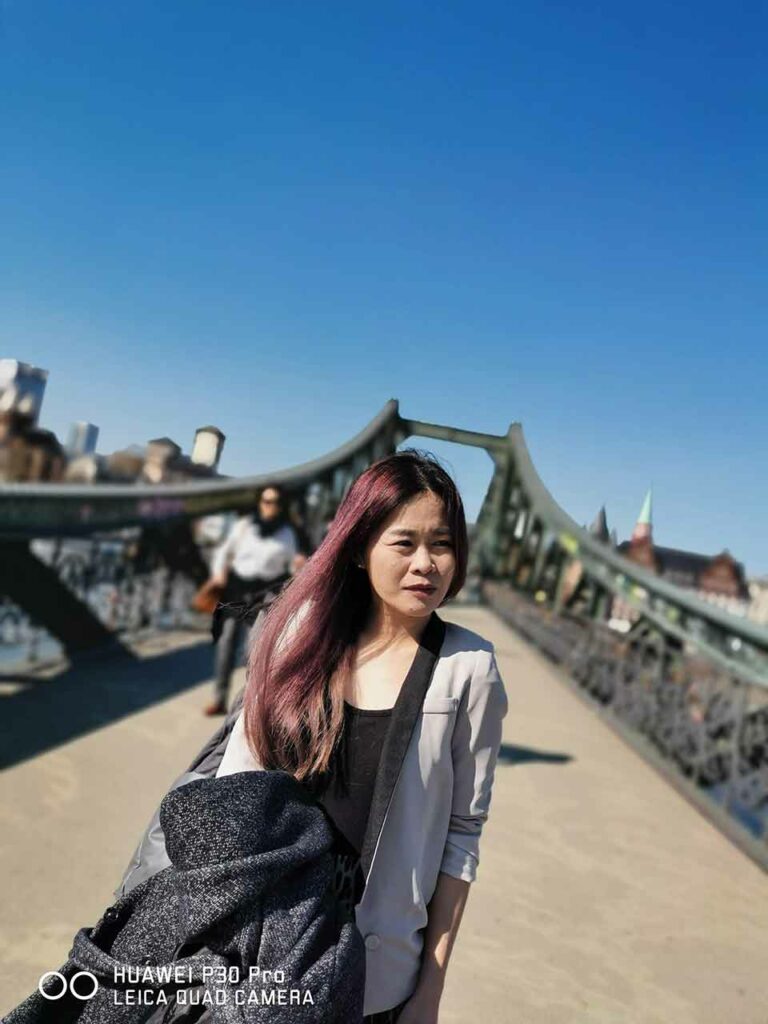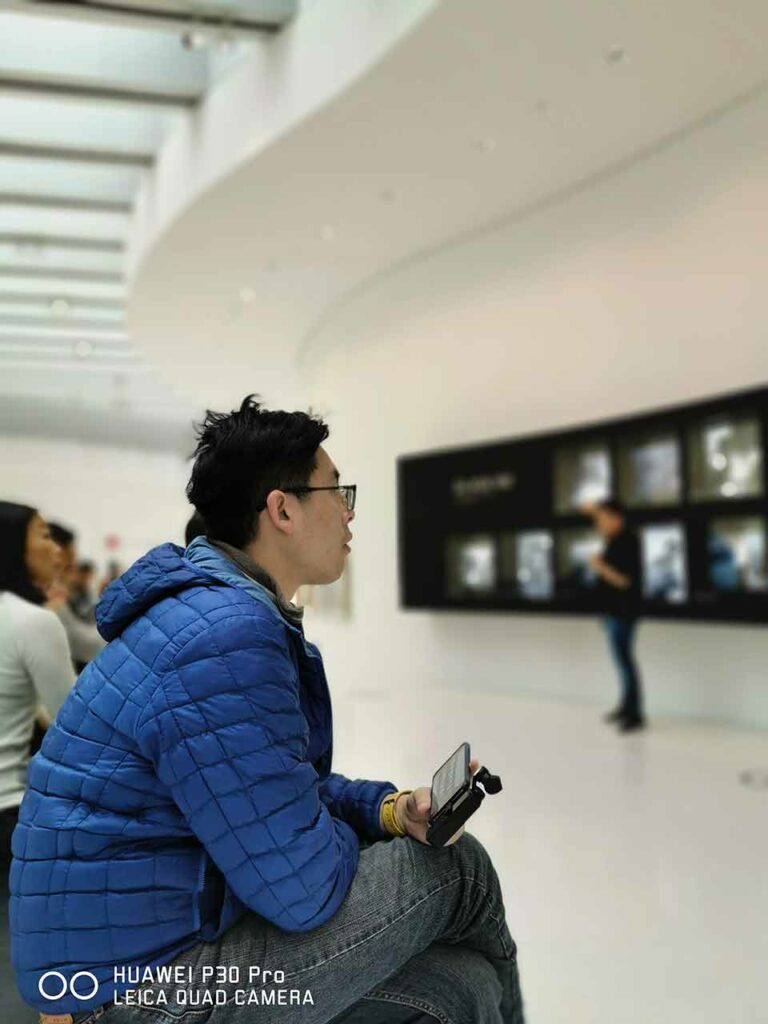 Much improved selfies
The quad-camera system on the back deserves two thumbs up — that much we've established by now. But where the P30 Pro really stands out when compared side by side with the Huawei P20 Pro is in the front-camera department. The leap in quality is huge.
While selfies captured on the latter tend to be washed out and lacking in detail, those shot on the 2019 flagship's lone 32-megapixel camera with f/2.0 aperture are crisp and have accurate white balance. There's still a big room for improvement, sure, but we're glad that Huawei is also finally focusing on what we believe is its weakest spot. It's about time.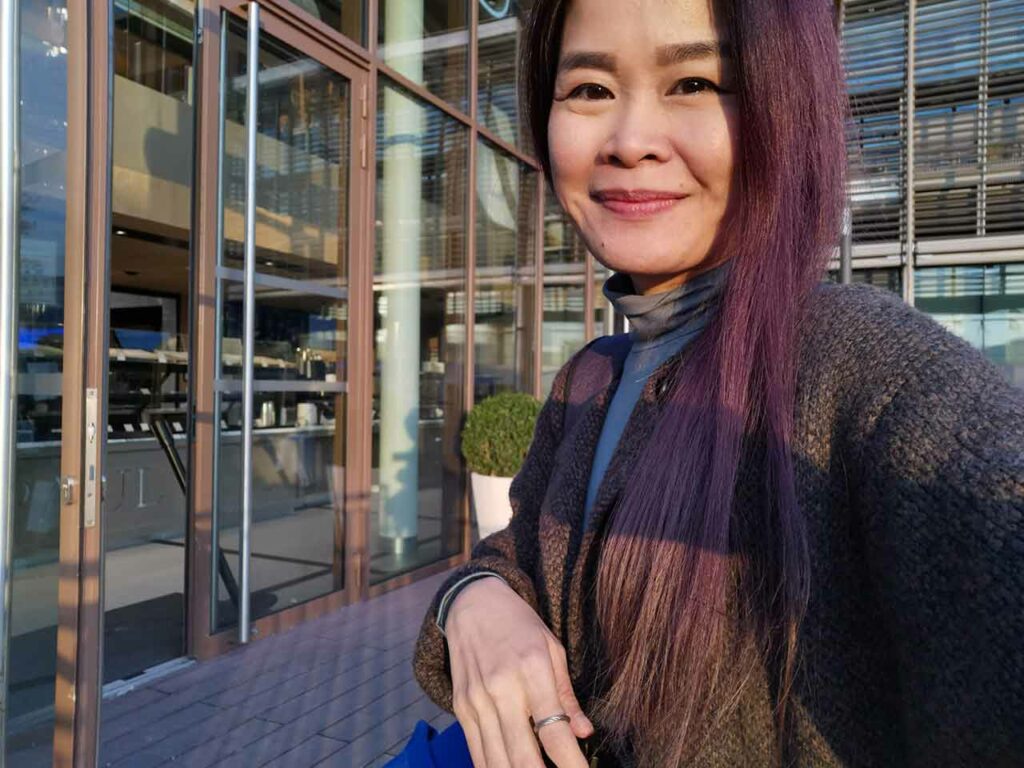 Groufie with Huawei Philippines executives and an industry colleague
More than stills
You've seen the still images. How about our sample videos? Don't worry, we placed two of them in one clip. The first was taken with the help of a smartphone gimbal, but by a person who has never used one before. We did away with that kind of support in the second part to give you an idea of how the P30 Pro performs without any stabilizer. Watch this.
Sample clips in one video
Not bad, yes? With the right equipment and editing tools and a dash of creativity, we dare say you can actually make production-quality videos with the new Huawei device.
Our thoughts
It's only been a week since we've started using the Huawei P30 Pro as our daily driver. But for a smartphone user who may not be a pro in photography but is very much interested in it, the unit has already rewritten the standards we have set for a camera phone. You've outdone yourself, Huawei. It won't hurt to take a bow.
Huawei P30 Pro specs (compared with the P30's)

---