The recently launched Samsung Galaxy S10 Plus is one of the top camera phones today, according to independent camera-testing website DxOMark.

In fact, Samsung's bigger flagship has tied with the class-leading Huawei Mate 20 Pro and P20 Pro for the best overall score. The Samsung Galaxy S10 Plus, like the two Huawei phones, achieved a score of 109 for stills and video taken with their rear camera systems. For selfies, however, the new Galaxy got a higher score of 96, in large part thanks to its dual-camera array on the front.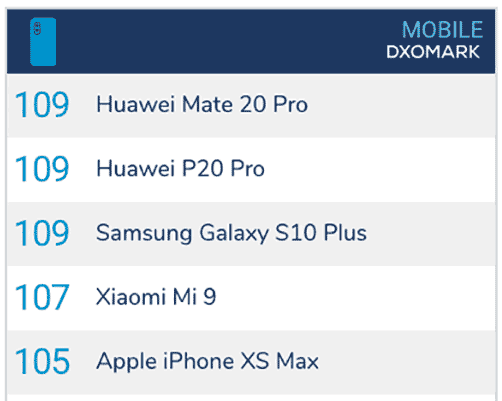 DxOMark says the Galaxy S10 Plus is capable of "outstanding dynamic range, as well as very good exposure, color, and bokeh simulation." It's also capable of color-accurate, well-balanced footage that don't look jittery.
As for the negatives, the website points to a lack of detail in most environments and loss of sharpness across the frame. At longer zoom settings, the picture can look too pixelated. Subject isolation is also hit-or-miss sometimes in Live Focus mode.
SEE ALSO: Samsung Galaxy S10e goes official. Price, specs, availability here
Do note that the Samsung phone is a 2019 model, so it's not surprising at all to hear it can outperform Huawei's outgoing flagships in some tests. If anything, those scores show that both the Mate 20 Pro and P20 Pro stand up well to the test of time. Recall that the P20 Pro was released in March 2018, almost a year ago now.
Will the upcoming Huawei P30 and P30 Pro phones blow the Galaxy S10 Plus out of the water? We'll see once Huawei makes the phones official on March 26 at an event in Paris, France.

---