In case you've been living under a rock, Apple has sent out invitations to its next iPhone event happening on September 10 in the United States (September 11 in the Philippines).
(Update, September 11: The three iPhones have been launched! See Meet the iPhone 11 Pro, iPhone 11 Pro Max. Specs, prices here and iPhone 11 now official. See its prices, specs, release date.)
Apple is rumored to launch three 2019 iPhones during its keynote presentation. These devices are reportedly called the iPhone 11, iPhone 11 Pro, and iPhone 11 Pro Max, and they are allegedly successors to the iPhone XR, iPhone XS, and iPhone XS Max.
SEE ALSO: Blind camera test: Samsung Galaxy Note 10+ vs Huawei P30 Pro
As in previous years, the company is expected to make the devices available in the same month they are announced, with a source familiar with Apple's U.S. carrier plans claiming preorders for the three upcoming handsets will start September 13. The first day of retail availability will reportedly fall on September 20 — or around the same time the Huawei Mate 30 and Mate 30 will be unveiled.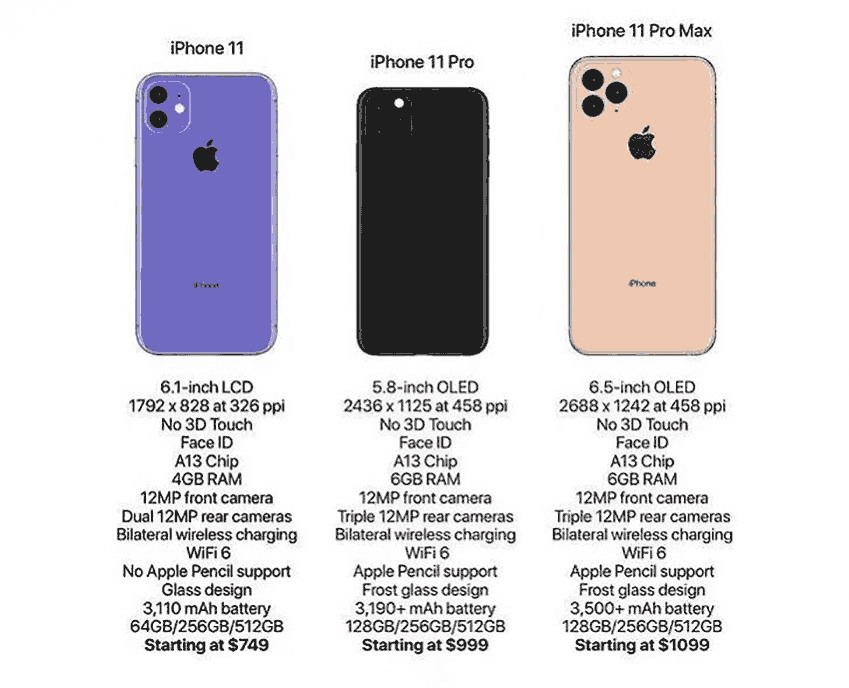 In related news, the latest report out of China claims the Apple iPhone 11 will start at $749 (around P39,062), like the iPhone XR. The iPhone 11 Pro and iPhone 11 Pro Max, on the other hand, could start at $999 (P52,100) and $1,099 (P57,316), respectively.
READ ALSO: Top 10 smartphone brands in Q2 2019
All three iPhones are expected to be powered by Apple's new A13 chip with either 4GB or 6GB RAM — depending on the model — and WiFi 6 support for the first time, enabling up to 3x faster wireless speeds. They'll also probably have a 12-megapixel camera for selfies, while their main camera systems will likely feature two or three lenses.
Apple Pencil support has been rumored for the iPhone 11 Pro and iPhone 11 Pro Max as well, which will mark a first for any handset from the U.S. tech giant.
---