One of the major differences between OPPO's newly launched Reno phones is the processor that powers them. As is the custom with Pro and non-Pro variants, the Qualcomm Snapdragon 765G-powered OPPO Reno 3 Pro is expected to perform better than the MediaTek Dimensity 1000L-powered OPPO Reno 3.
But a set of Antutu benchmark scores posted on Chinese social network Weibo reveals a surprising result that has the non-Pro version emerging the victor. At least on paper.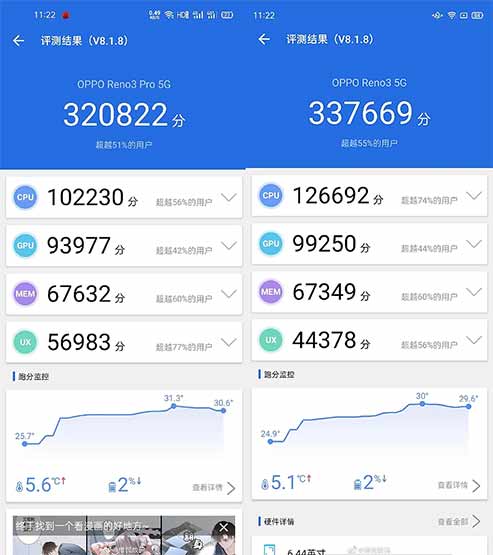 The OPPO Reno 3 garnered a score of 337,669, while the OPPO Reno 3 Pro got a 320,822 rating in the benchmark app. The results suggest MediaTek is finally able to move away from Qualcomm's shadow in the midrange and premium segment and are now able to offer a more competitive chipset.
A breakdown of the scores showed the Reno 3 beating the Pro variant in some key areas. The non-Pro model achieved a CPU score of 126,692, while the Reno 3 Pro garnered a rating of 102,230. The former also received a higher GPU score of 99,250 compared to the Pro's 93,977.
SEE ALSO: OPPO Reno 3, Reno 3 Pro: Prices, specs, availability
Where the Qualcomm Snapdragon 765G-powered OPPO Reno 3 Pro fared better were in the memory and UX categories. The OPPO Reno 3 got 56,983 and 44,378, respectively, in these categories. The Reno 3 Pro, on the other hand, scored 67,632 for memory and 67,349 for UX.
The smartphones share a lot of features, including support for dual-mode 5G networks. And if these benchmark scores are anything to go by, you might not be missing much for opting to get the OPPO Reno 3 over the OPPO Reno 3 Pro.
However, if a curved, 90Hz punch-hole screen (no notch!) and more features like a 5x hybrid zoom-capable telephoto camera are essential to you, then you might want to spring for the OPPO Reno 3 Pro. That is, if these 5G-ready handsets will make their way to the Philippines.
Main image via Weibo, via GizmoChina
---